On techieSpeak 012, I'm feeling the full force of Techtober! A lot has happened in the month of October, but it's only this week where I really felt that a lot is going on! I'm here to share the gist of what happened this week.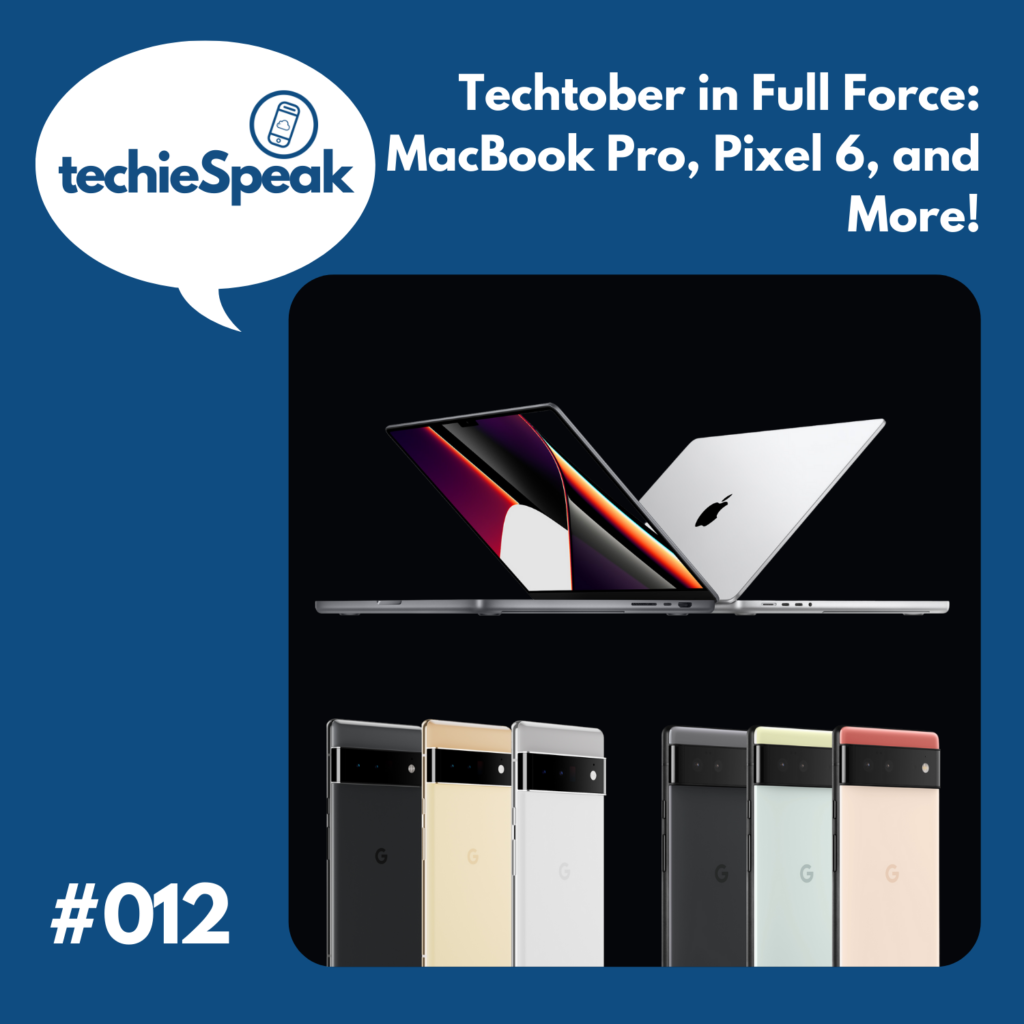 On this week's techieSpeak, I talk about all the events that happened this week. It includes the big Apple Unleashed event which saw the launch of the new 14-inch and 16-inch MacBook Pros with the M1 Pro and M1 Max chips! I also talk about Google's launch of the Pixel 6 and the Pixel 6 Pro (and a major complaint I have). There's also that small Samsung Unpacked event, realme's recent TechLife launch, and the upcoming Xiaomi 11T Series launch!
Hope you enjoy listening to techieSpeak 012 as much as I had fun recording it!
Listen to the episode here!
Follow the podcast on:
Spotify – bit.ly/techiespeak-spotify
Apple Podcasts – bit.ly/techiespeak-apple
(Go rate and review on here too! It really helps the podcast. Thanks!)
Let me know what topics I should talk about on social media:
facebook.com/utterlytechie
instagram.com/utterlytechie
twitter.com/utterlytechie
Follow me on social media!
facebook.com/julliansibi
instagram.com/julliansibi
twitter.com/julliansibi
SHOW NOTES:
Unleashed Apple Event highlights: https://utterlytechie.com/unleashed-apple-event-highlights/
14-inch and 16-inch MacBook Pro: https://utterlytechie.com/14-inch-16-inch-macbook-pro-features-pricing-specs/
Google Pixel 6 event highlights: https://pixelevent.withgoogle.com/
Galaxy Z Flip3 Bespoke Edition: https://www.samsungmobilepress.com/pressreleases/an-all-new-custom-galaxy-experience-introducing-galaxy-z-flip3-bespoke-edition
realme Pad: https://utterlytechie.com/realme-pad-philippines-pricing-availability/
The new realme TechLife devices! https://utterlytechie.com/get-to-know-these-new-realme-techlife-devices/
realme Band 2 Review: https://utterlytechie.com/realme-band-2-review-nice-health-fitness-buddy/
First Impressions of the realme TechLife Robot Vacuum: https://utterlytechie.com/realme-techlife-robot-vacuum-first-impressions/
Xiaomi 11T Series Launch: https://bit.ly/XiaomiPHNewProductLaunch