OPPO Philippines just recently had an event this week at Mövenpick Hotel Mactan Island Cebu. They wanted to show the power of their latest smartphone, the OPPO F1s! It's a phone that's squarely aimed at those people who want the best front camera for their selfies. Thus, they dubbed this phone the "Selfie Expert".
I wanted to know why OPPO really claimed that their phone has the best front camera. Not only did I find out that the claim is true, they also showed me other features that make the phone worth buying.
Without further ado, here are the 5 great things about the Oppo F1s:
Truly the Selfie Expert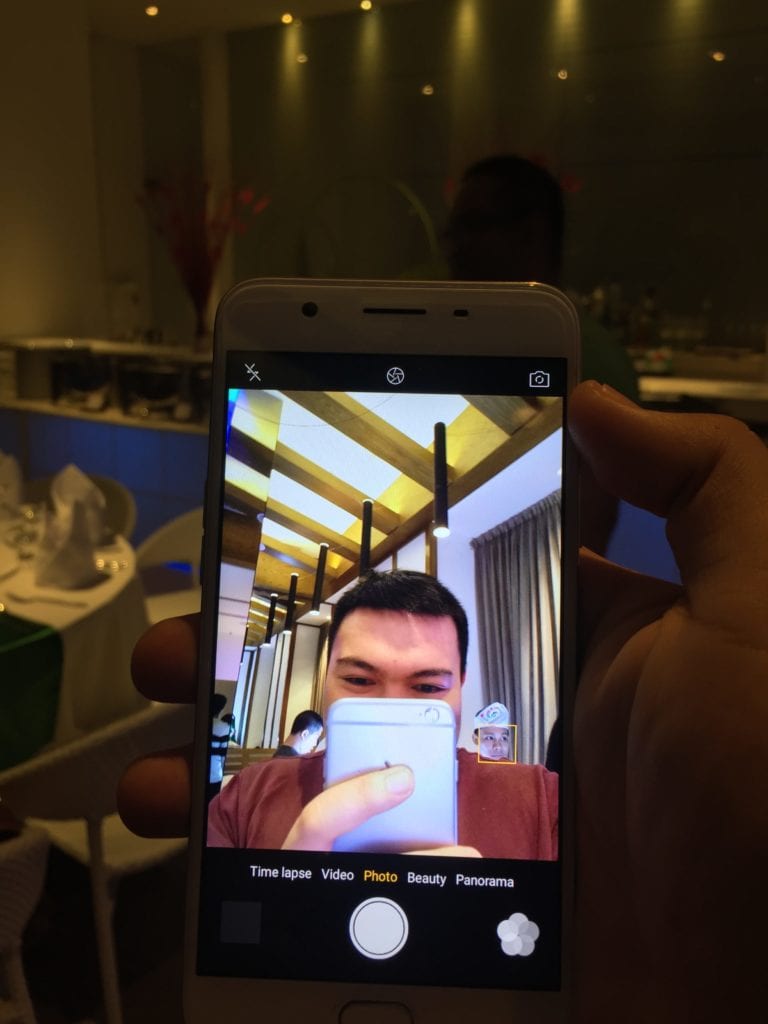 OPPO is really pushing for this claim so hard. It's in all their promotional material! I guess they can claim this all they want because the F1s has a BEAST of a front camera!
The OPPO F1s has a 16-megapixel front-facing camera with a 1/3.1″ sensor and a large f/2.0 aperture. It's even bigger than its rear camera coming in at 13 megapixels. We actually tried comparing its front camera with other flagship smartphones such as the Galaxy S7 and the iPhone 6s. It was both surprising and not that the F1s outperformed the other phones.
The front camera also has the ability to take panorama shots! This makes it easier to take 'groufies'. Another great feature of the front camera is using your palm to take those selfies faster! Wow, they're really making a case for this phone being the "selfie expert".
Rear Camera's No Slouch
Just because the front camera is the star doesn't mean that the rear camera was left in the dumps. The rear camera is a 13-megapixel shooter with an f/2.2 aperture. It also has its own tricks up its sleeve. One example is Expert Mode, which lets you control the advanced settings of the camera like ISO, Shutter Speed, and more. Other tricks include Ultra-HD, GIF creation, and Double Exposure!
High-End Design
I love the recent trend of smartphones where phone makers pay attention to the design of the phone. Most of them now put out phones with premium materials like metal or glass.
OPPO has made sure that they're not ignoring the other details of the phone with the F1s. The phone has a metal body with a 5.5″ HD display and uses Gorilla Glass 4. With this phone, you are sure to get an exceptional gaming and movie experience.
Fast Fingerprint Reader!
Another feature that's also been popping up on a lot of smartphones these days are fingerprint readers. Since our phones contain more and more personal data, it has become a necessity to have a fingerprint reader.
The OPPO F1s also has a fingerprint reader that claims to unlock your phone in 0.22 seconds! (We'll see about that if I get my hands on one for review!) A feature that OPPO's latest smartphone has is using the fingerprint reader to launch apps after unlocking the phone. After you register your fingerprint, you can set a shortcut to an app you use the most. It really is a useful feature especially to people who have apps they want to access right away.
You would think that all the stuff that I just mentioned would mean that the OPPO F1s would cost a lot. You couldn't be more wrong because…
The Oppo F1s is AFFORDABLE!
YES! I'm not kidding. OPPO is selling this smartphone for just P12,990! Imagine the stuff that they put in the phone for that price:
Best-in-class 16MP front camera
A great 13MP rear camera
Fast fingerprint reader
Metal body
3GB RAM
32GB internal storage
3075mAh
On top of that, a financial service provider named Home Credit is offering the F1s at 0% interest for 6 months! Being OPPO's longtime partner, this promo kicked off on the first day that the F1s is sold in stores.
---
Those are the 5 things that I think makes the OPPO F1s great! If you're looking for a great smartphone that won't break the bank and you'd like excellent selfies, then this is a great choice!
Oh before I go, I'd just like to thank the people at OPPO Philippines for having this event in Cebu. I hope they'll do more in different parts of this great island of Cebu. Hopefully a launch event for a new phone! Hehehe. Thanks again, OPPO Philippines!