By the time this review goes up, I have already posted a review of another phone in the realme 9 Series. Posting that so close to this review ended up making sense to me because a lot of what I'm about to say might at least be the same. Throughout this realme 9 review process, I realized that this phone is a way more sensible choice than the rest. I won't go too deep into comparing them here though. Instead, I'll tell you why I said what I said despite the higher asking price of P14,999 compared to its predecessor. This is my realme 9 review.
Disclaimer: realme Philippines sent this realme 9 review unit and it arrived on May 25, 2022. I opened the box on June 1 and have been using the realme 9 as my primary Android phone since then. Note that the review unit I got has 8GB of RAM instead of the 6GB that will be sold in the Philippines.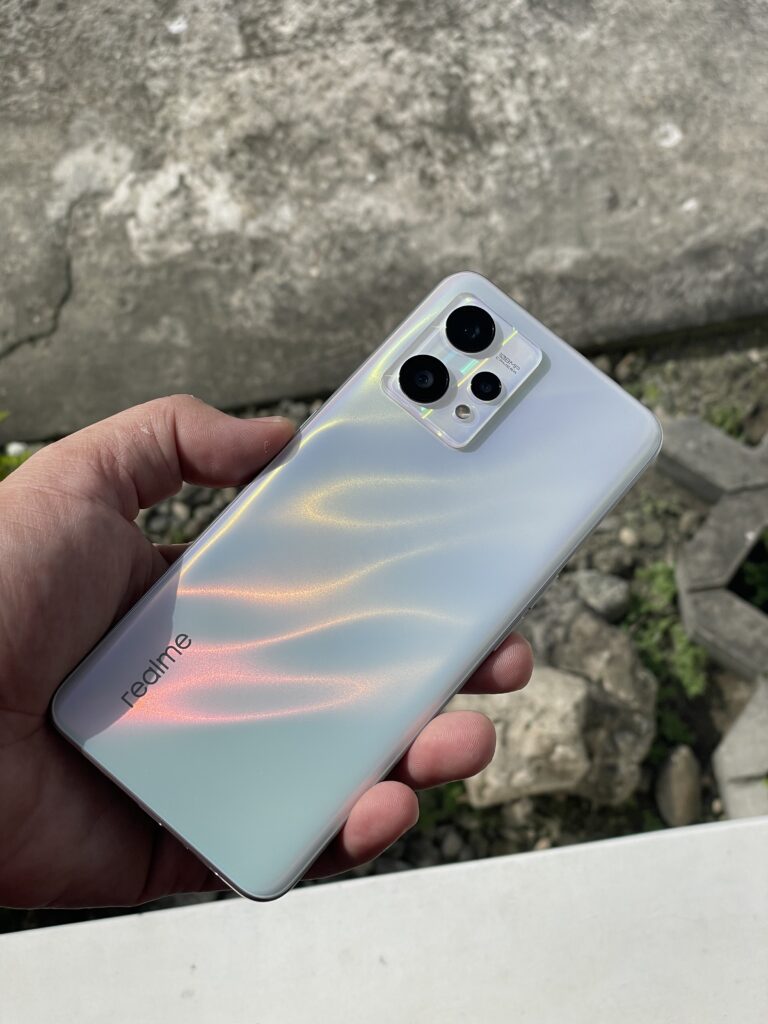 Design
As realme's phone releases kept going, I wasn't too impressed with the designs I was seeing so far. Good thing the realme 9 Series finally has one that I really like, and that's the Ripple Holographic Design on the realme 9.
I initially didn't like that I got the Stargaze White color since the Sunburst Gold one immediately stands out. After using this one for around two weeks, I actually prefer the white one more. The ripple effect on the back stands out more here compared to just having shades of yellow and orange on the Sunburst Gold. In case you want a simpler look, there's also the Meteor Black color.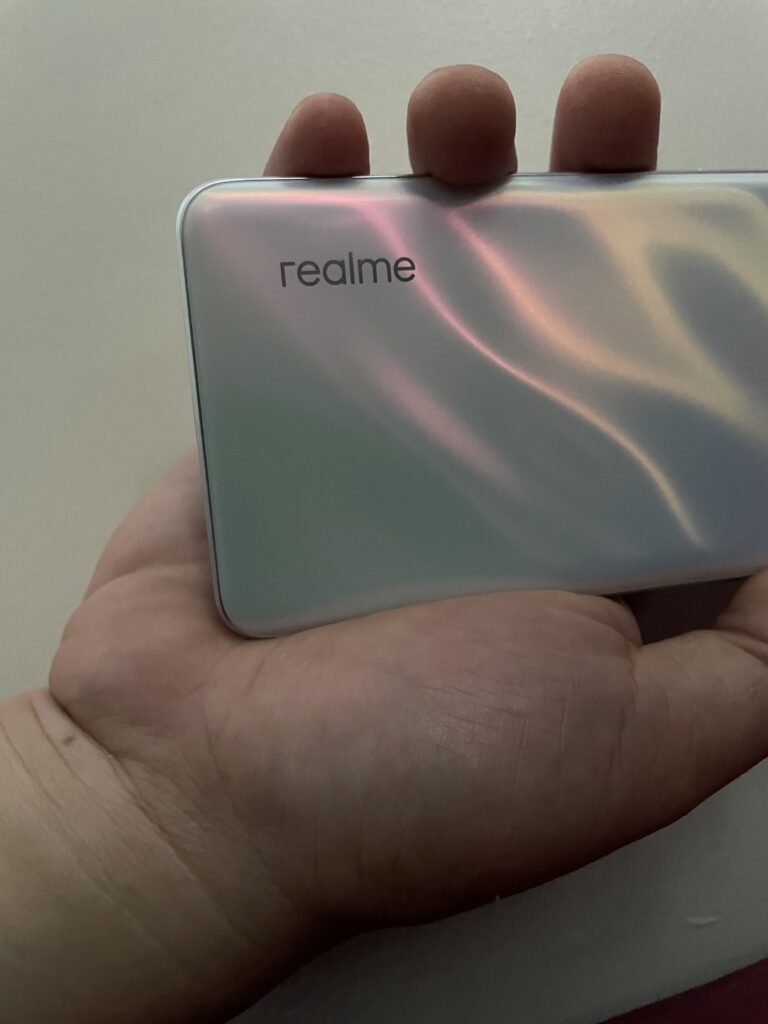 I just love the hand feel of the realme 9. It has all the ripple effects and gradients but managed to still have a matte back. Despite the side effect of being slippery, the plastic frame adds to the grip. As much as the flat sides are trendy these days, I really appreciate the comfort of the curved back which complements the Ripple Holographic Design.
All in all, I'm really into this design. Even with all of the things I mentioned, realme still manages to make this phone really slim at 7.99mm. (This is just as slim as the realme 9 Pro+. Take note of things like this as you will notice a theme as we go on with this realme 9 review.)
Display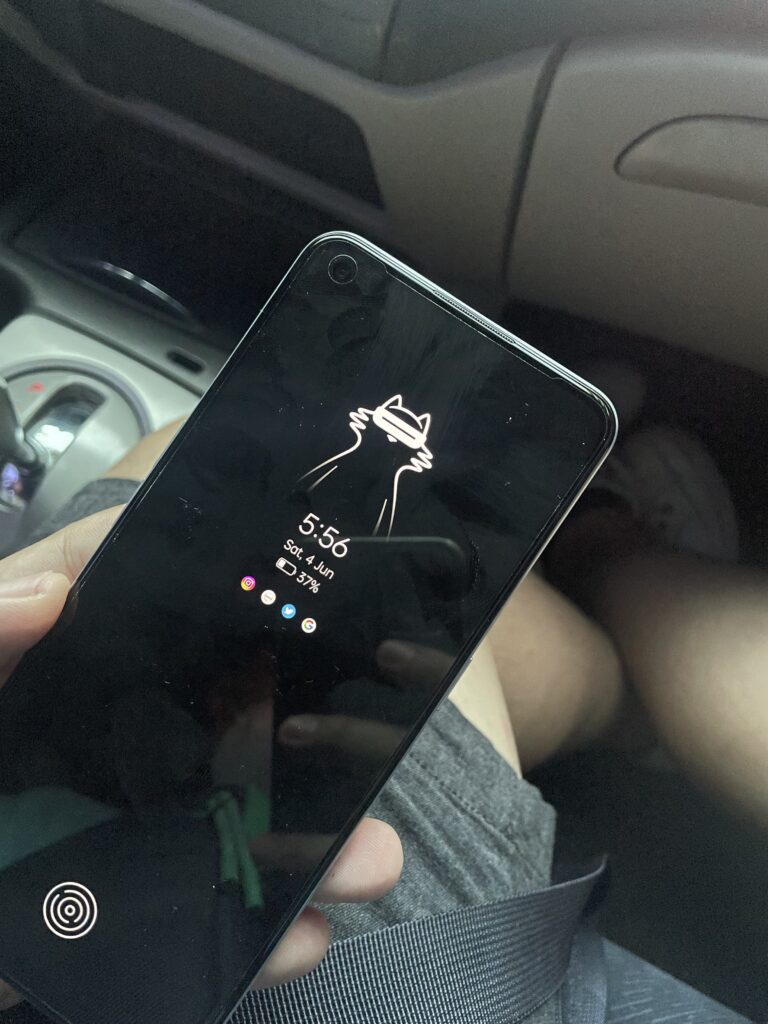 I wanted to show off the homescreen, but I think this is more appropriate. The realme 9 rocks a 6.4-inch 90Hz Super AMOLED Display with a resolution of 2400 x 1080. (If that sounds familiar, that's basically the same display on the more expensive realme 9 Pro+ smartphone!) Having 90Hz refresh rate makes this display feel smooth while using the phone. It also has a 360Hz touch sampling rate to make this phone feel more responsive, especially while playing games.
All of that contributes to a really good display that I can enjoy whether I watch YouTube videos, scroll through social media, or play games. A nice feature that comes with having an AMOLED display is an Always-on Display that lets you see upcoming notifications at a glance.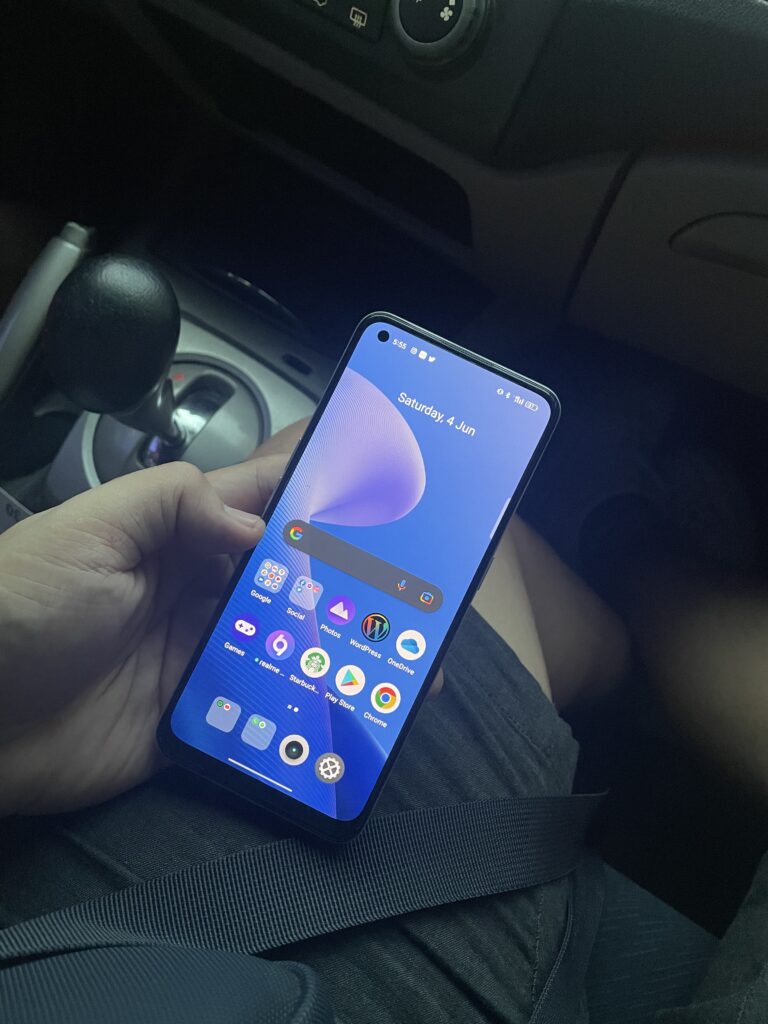 I don't really have much to say on the display front since this really reminds me of the display on realme's more expensive 9 Pro+ smartphone. (Yes, that includes the big chin below but it was never a big deal for me.)
The Number Series Inconsistent Display Dilemma…
My issue with this is not on the display itself, but with how realme deals with the inconsistencies of the displays on its smartphones. Both the realme 9i and the realme 9 Pro carry IPS LCD displays while the realme 9 and realme 9 Pro+ have AMOLED displays. This actually goes back to how the company handled the previous Pro models of the Number Series. Here's hoping next year's Number Series phones can make AMOLED displays the standard for all of them.
Performance and Software
I have to admit, the performance of the realme 9 is this phone's weak point. Despite being a sub-P15,000 phone, it still carries a Qualcomm Snapdragon 680 processor. (It's the same as the realme 9i.) Yes, it's a Snapdragon chip so game support will be better than other processors. It's just that I expected realme to use a better processor here.
I've recently done most of my gaming through the realme 9 and I was still able to game a lot! This phone was easily handling Pokémon UNITE at High graphics and High frame rates. Playing Asphalt 9 was really smooth as well despite its graphics not being the best. Despite just having a single speaker, it's a really loud one that I would adjust my grip for it.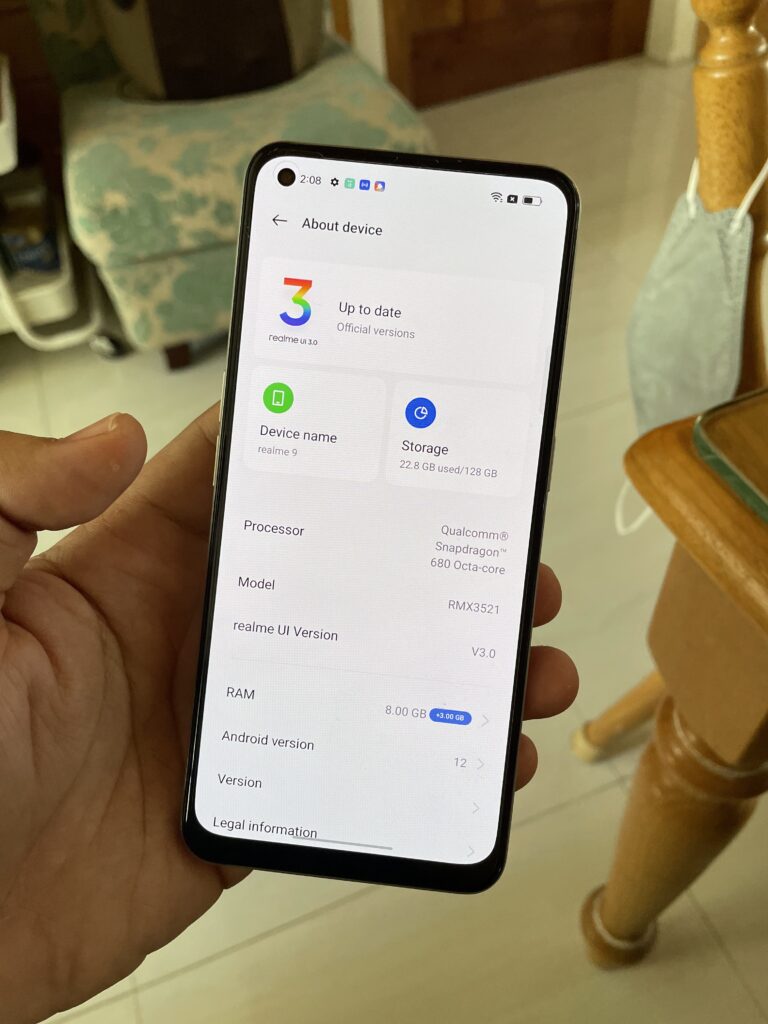 It's a good thing that the realme 9 has realme UI 3.0 based on Android 12 out of the box! I've said it before: realme UI is one of the fastest Android skins I've tried.
I just want to mention that the review unit I have has 8GB of RAM meanwhile the phones being sold in the Philippines only get 6GB of RAM. Take the AnTuTu benchmark results I'm showing you with a grain of salt.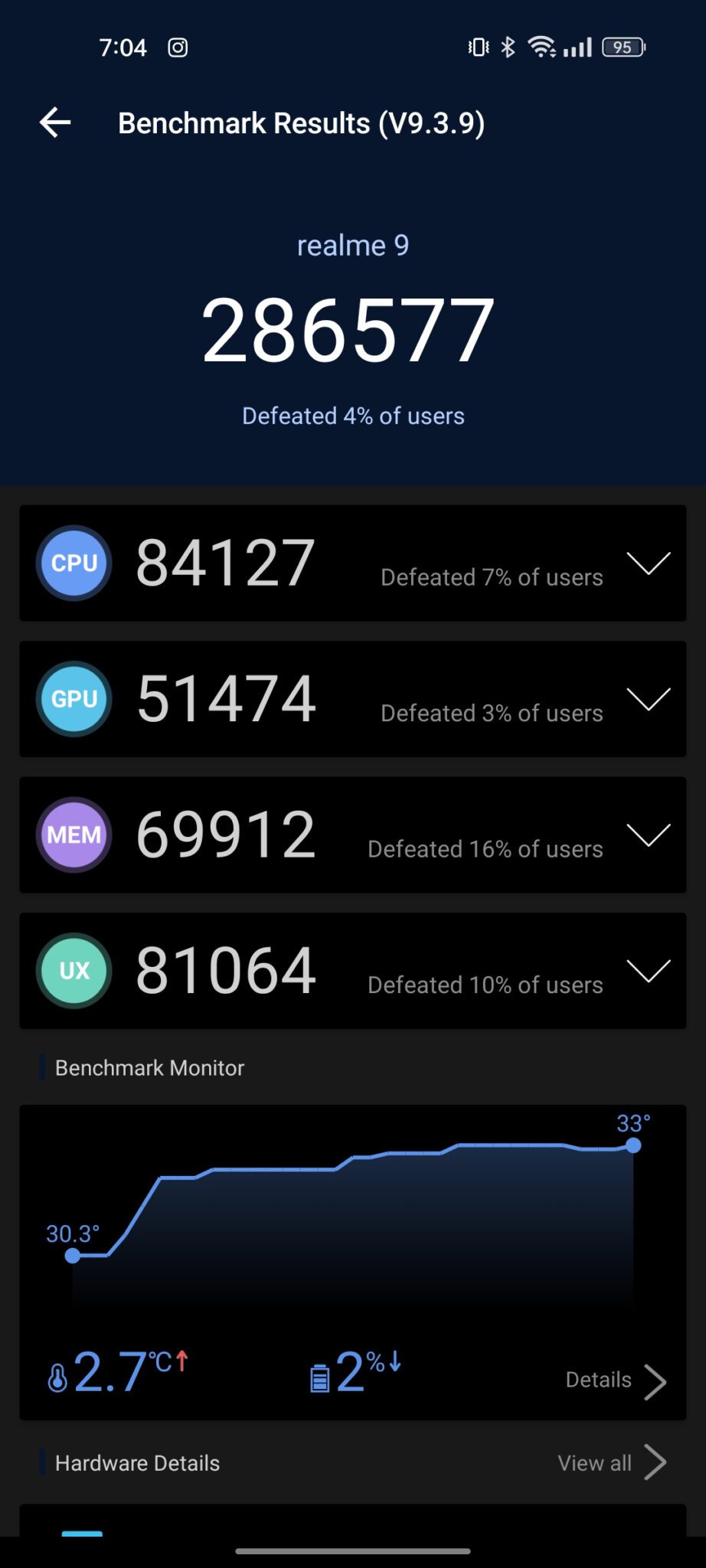 Despite what I just said, the realme 9 is a decent performer. It also helps that this phone also has Dynamic RAM Expansion which expands the total RAM with up to 5GB of virtual RAM. I never really encountered major issues that would deter me from using the phone well.
For transparency's sake, I did a separate AnTuTu benchmark run with 8GB RAM + just 3GB of virtual RAM. This is to somewhat simulate the default setting of 6GB RAM + 5GB of virtual RAM. That's quite a gap from the results up there, but this is probably closer to what you can expect from the ones you can buy.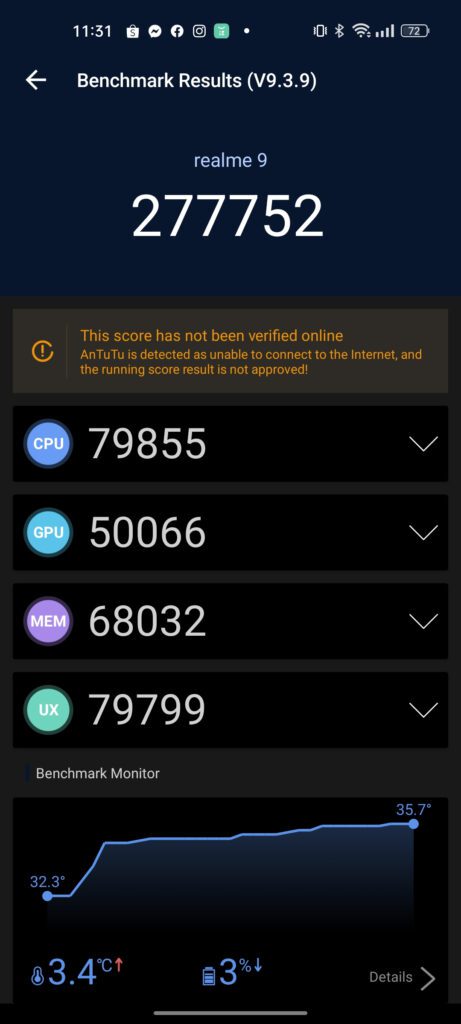 Battery Life
If there's one aspect that almost justifies realme's use of the Snapdragon 680 for this phone, it's battery life. The realme 9 has a 5000 mAh battery with 33W Dart Charge. (You do get that 33W Dart Charge power adapter in the box.) That PCMark result really surprised me when I saw it. After playing Pokémon UNITE for an hour, I got that screenshot on the right. I could easily get through a day and a half with the realme 9. Even if I really pushed it with gaming, social media, and YouTube watching, this phone can definitely hang.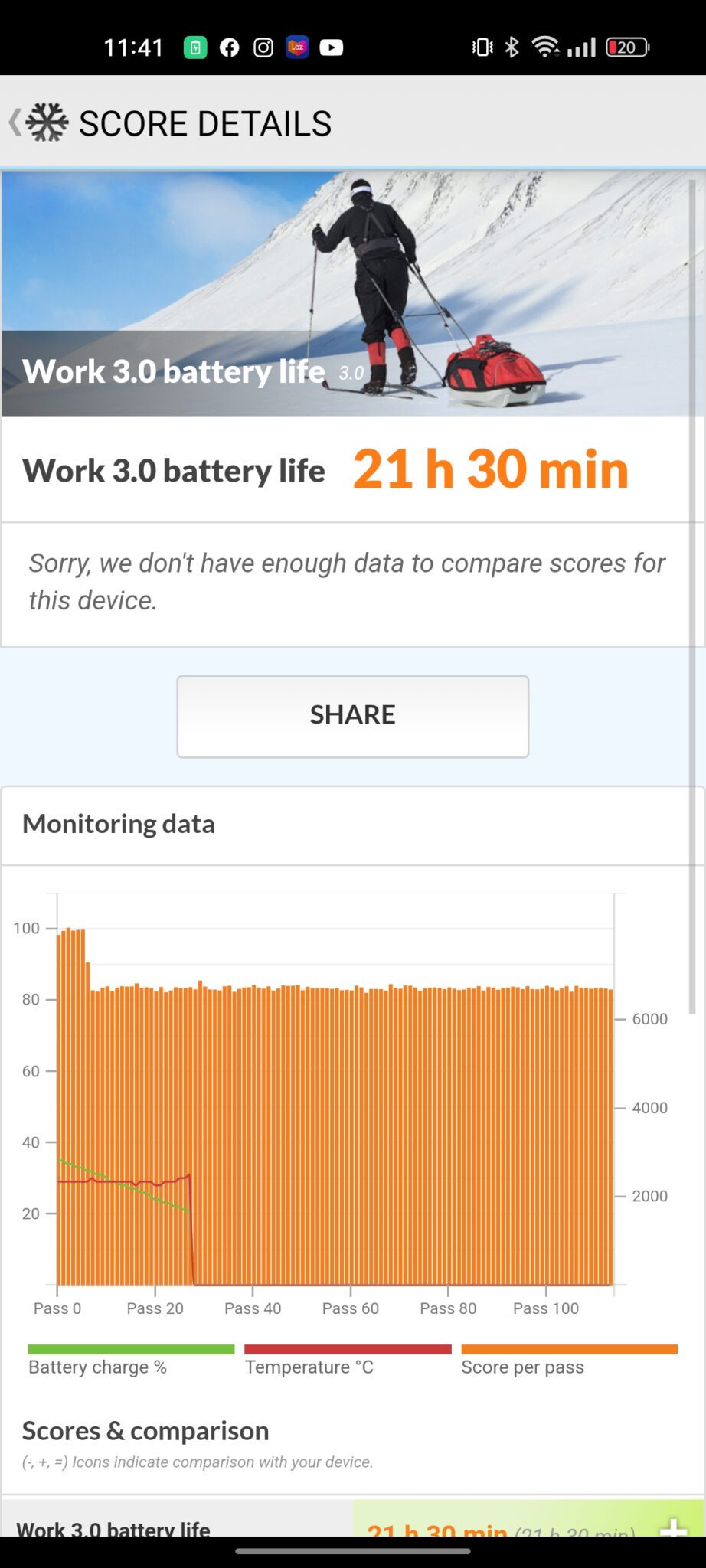 Cameras
The one thing that I really wanna find out in doing the realme 9 review is its cameras. This isn't the first time realme used a 108MP main camera. (That belongs to the realme 8 Pro.) It promotes this camera as the 108MP ProLight Camera. I had some reservations since my experience with the last one didn't blow me away. Alongside this 108MP main camera is an 8MP ultrawide camera and a 2MP macro camera. (Phone makers should just ditch this sad camera for a better ultrawide, to be honest.) The realme 9 also rocks a 16MP front camera for those nice selfies. Let's find out if the cameras on this phone are really good.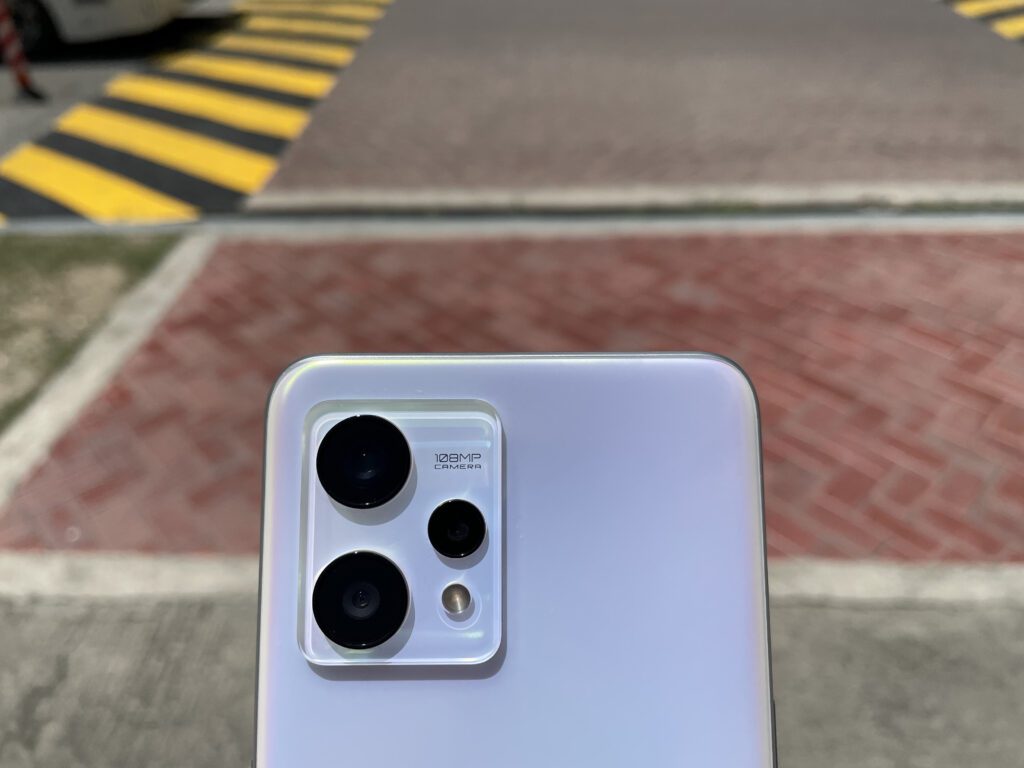 A quick background: I took most of the shots for this review during a birthday and thanksgiving celebration with the extended family. I also took some shots in other scenarios when appropriate.
Click on the photos for full-resolution versions!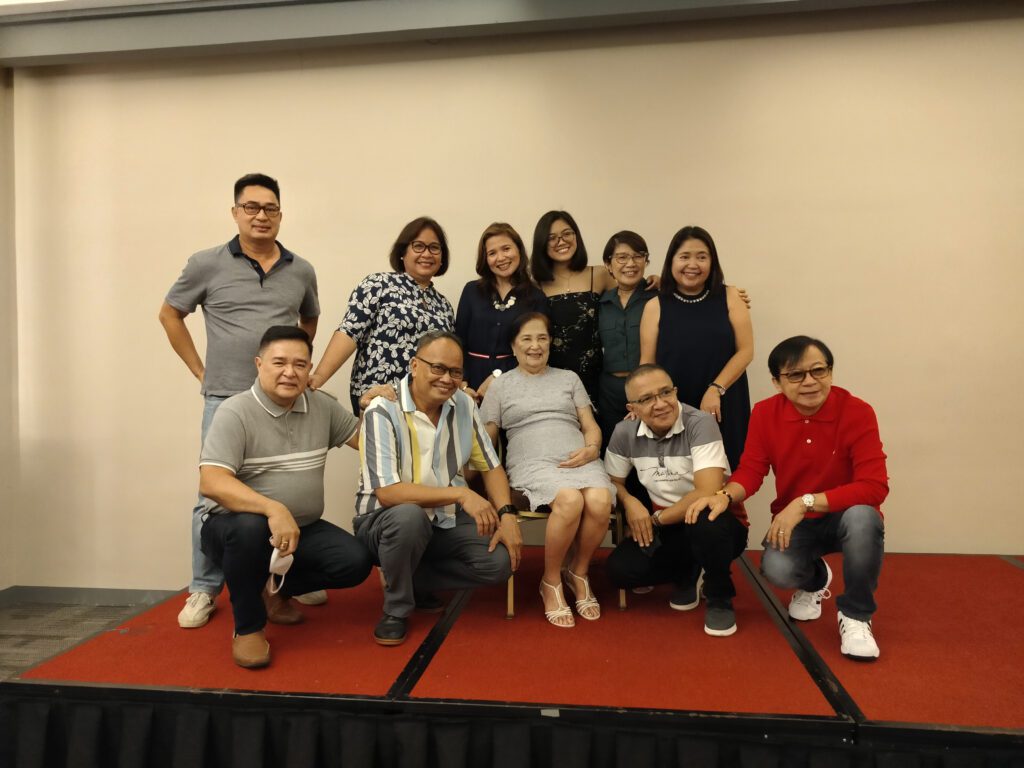 I'll start with this photo since it really highlights just how much detail this 108MP main camera gets. By default, this phone takes 12MP photos. What does realme do with the big 108MP Samsung ISOCELL HM6 sensor? It uses pixel binning which takes multiple pixels and combines them into one big pixel. This means that the camera was able to gather more light than a regular 12MP camera.
One thing I notice with cameras on realme phones is how they handle faces. You will see that faces are always clear and the only times they get blurred is if I screw it up on purpose.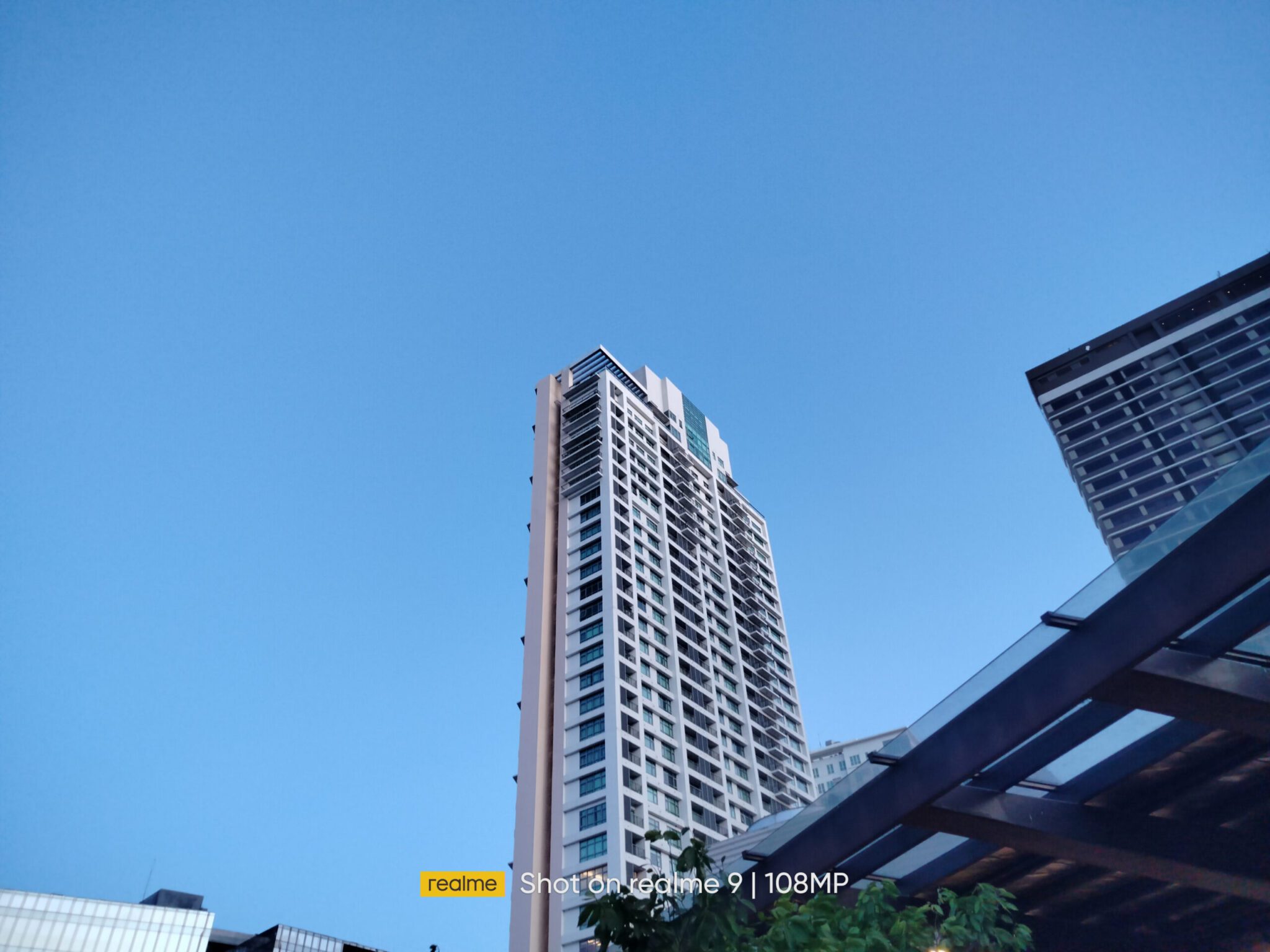 Since we don't get a telephoto camera here, only digital zoom is present on the realme 9. Thanks to that 108MP camera, you can get more detail in a zoom photo than usual. It is still a zoom photo so it'll end up soft, but at least it'll be more usable.
The Hit and Miss of the Ultrawide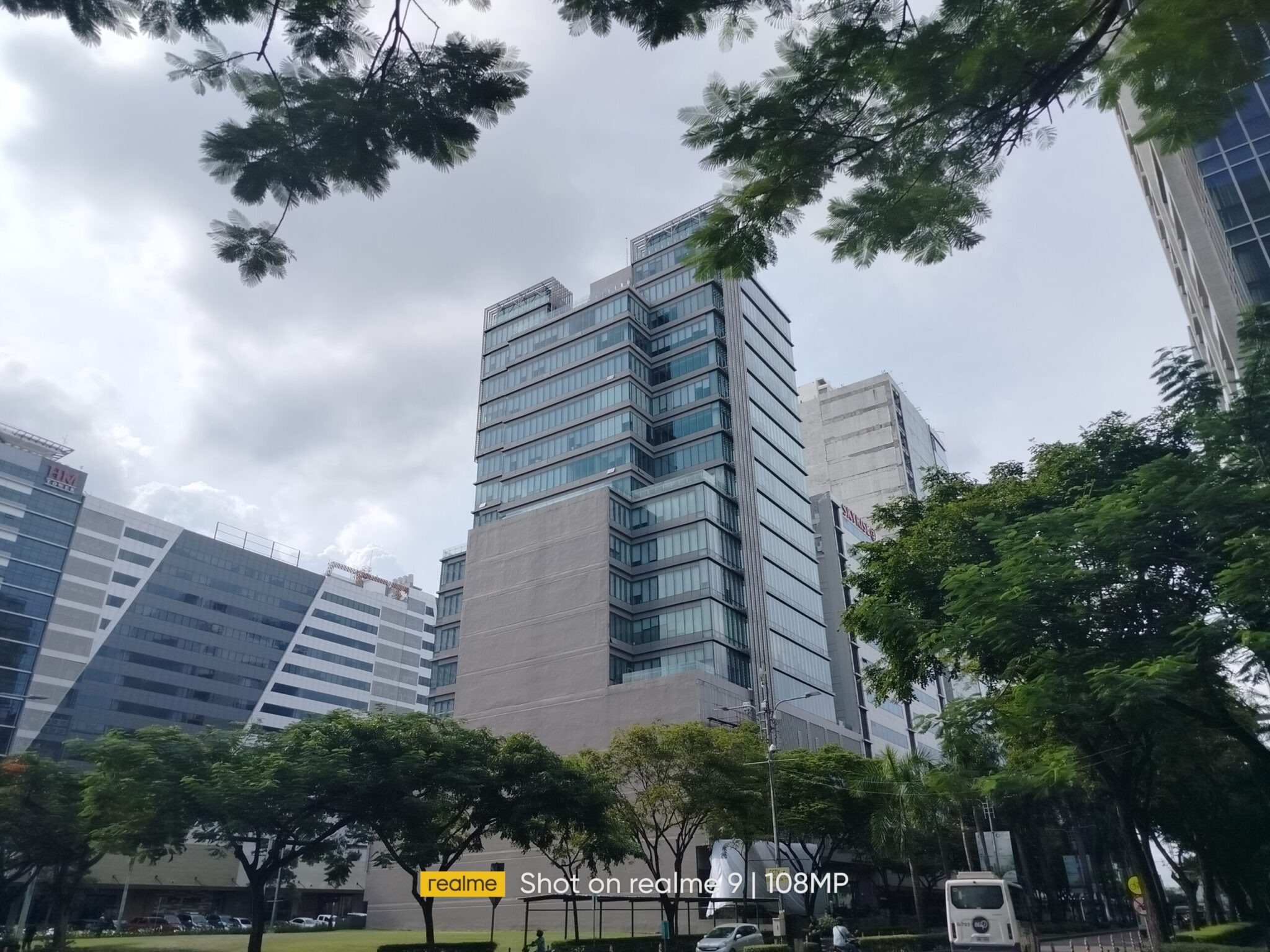 I honestly have no idea why a lot of Android phone makers still use an 8MP ultrawide camera. They're fun to use in situations like this where there's a lot of natural light. The color shifts are minor in this case, but the photo looks appealing.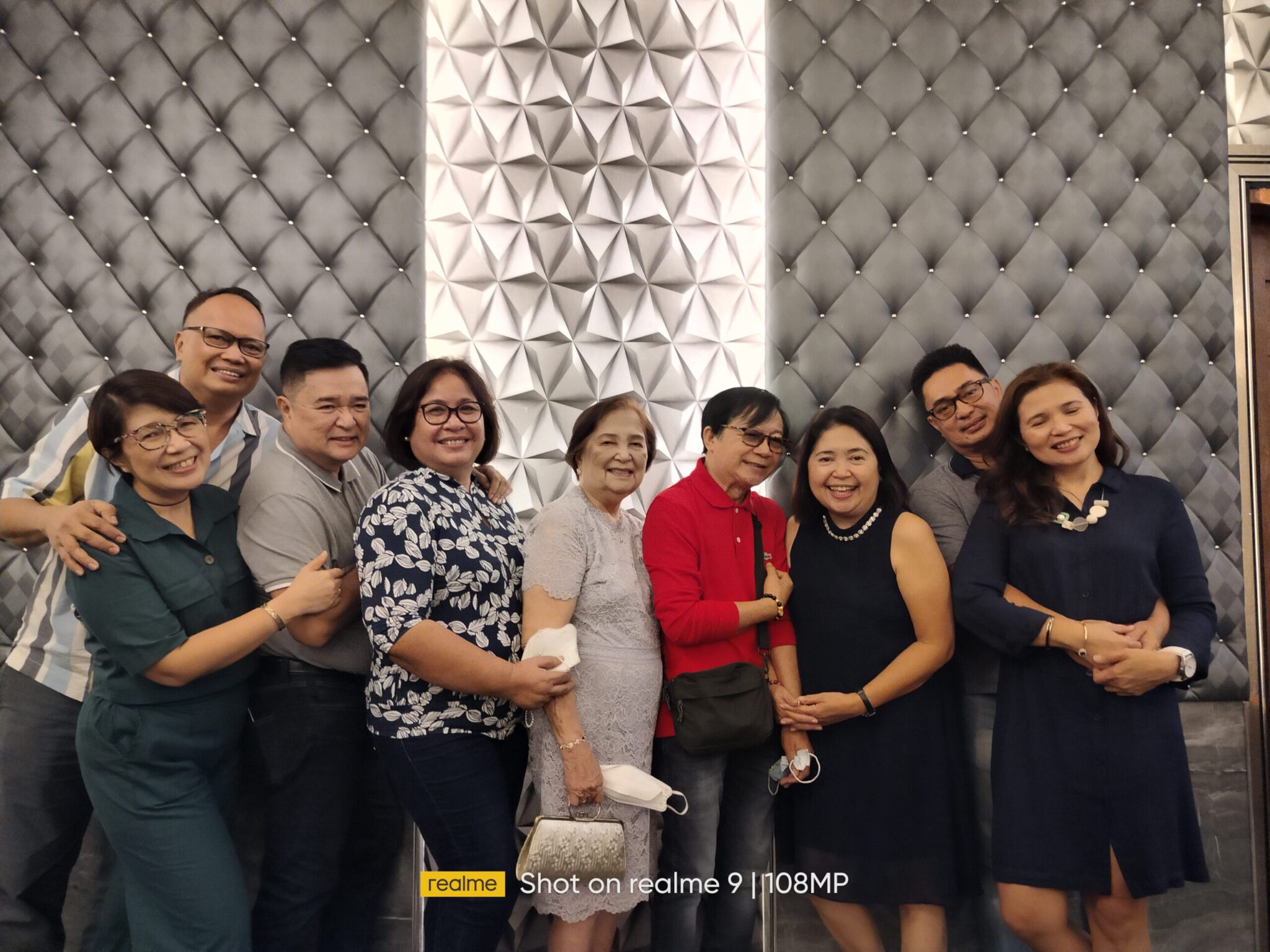 It's in indoor lighting scenarios where the ultrawide camera falls apart for me. The color tends to lean on the warmer side and the photo has significantly less detail. I recommend you use the main camera for indoor shots and just move back if you need to fit more people in the frame.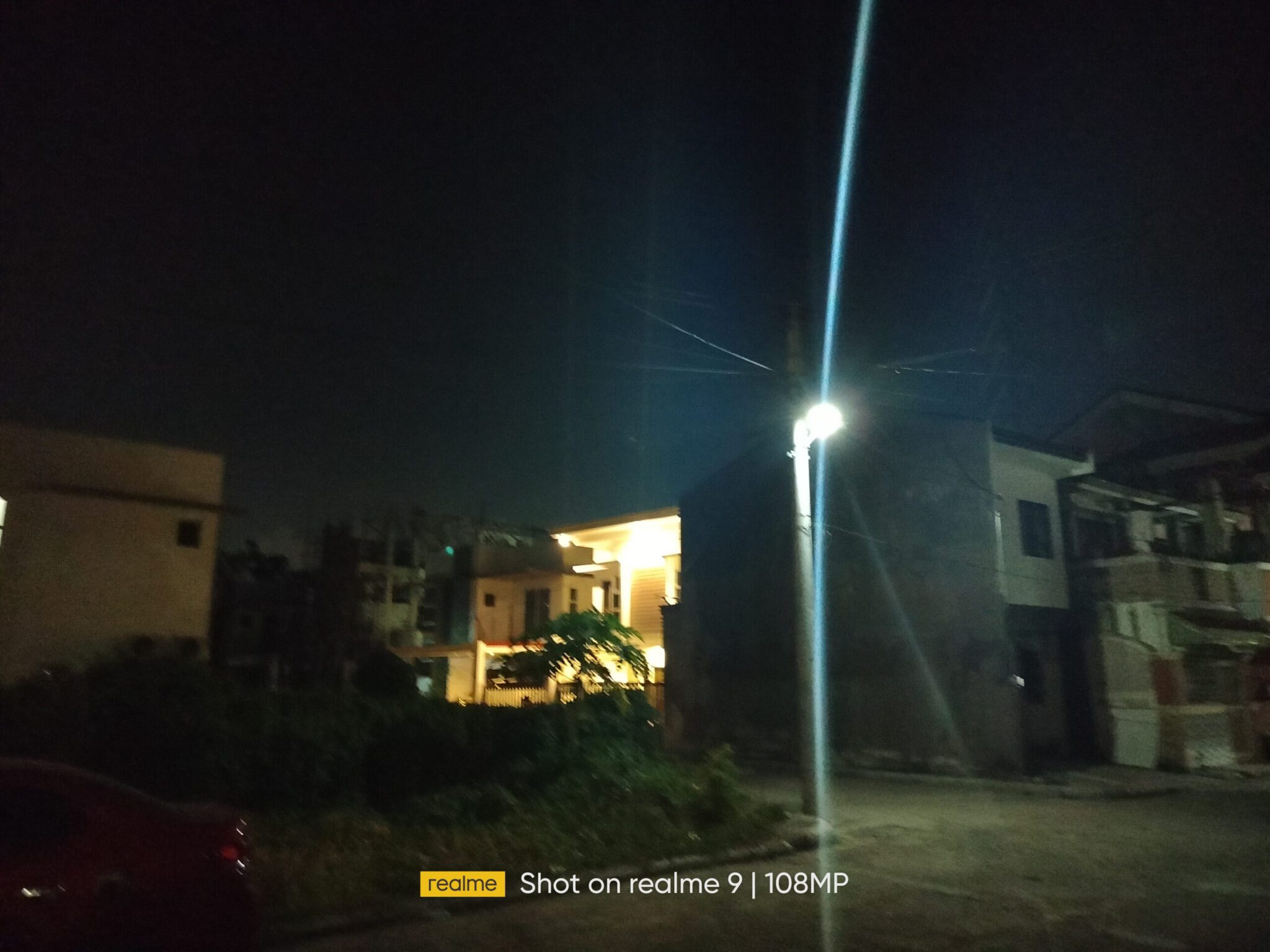 It still blows me away how good realme's Night Mode is. There's obviously more to see with the extra detail brought up by taking a long exposure shot. A better main sensor would obviously help but for what it is, it's good enough.
Front Camera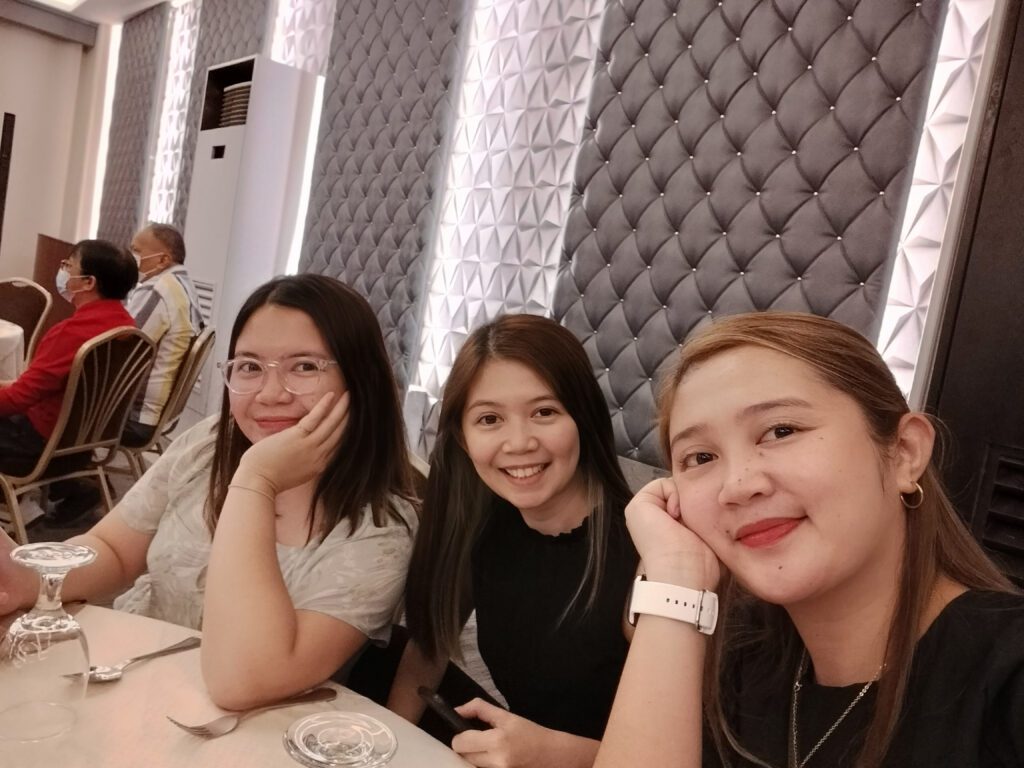 Selfies taken with the 16MP front camera are definitely good. It's clear that realme still has that selfie camera prowess. There are still some color shifts, but I still love the quality I'm seeing.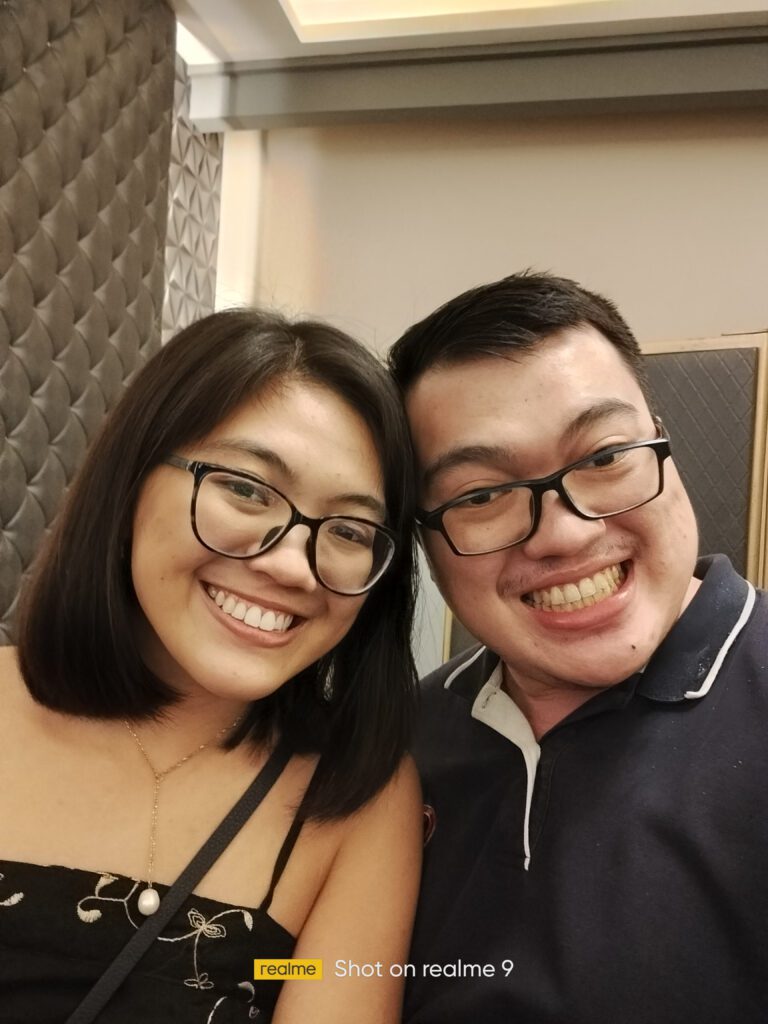 It's a downgrade that the realme 9 only has 1080p / 30fps video recording. Sure, not a lot of people will probably use 4K video recording. It just sucks that we're losing a capability that its predecessor had.
All in all, the realme 9 takes really good photos. You just have to make sure that you'll use the 108MP main camera most of the time.
Should You Buy the realme 9?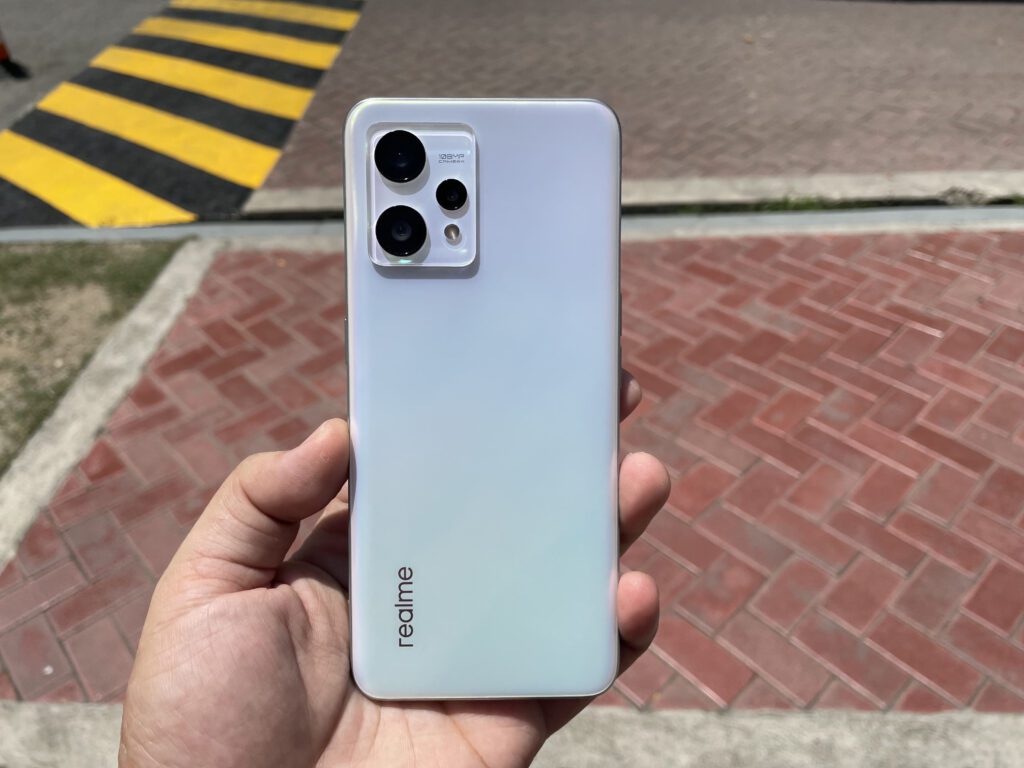 As I mentioned in the beginning, the realme 9 is a way more sensible choice than the rest of the realme 9 Series. It brings the best parts of the realme 9 Series into one phone (6.4-inch 90Hz Super AMOLED Display, a slim 7.99mm body, 5000 mAh battery, realme UI 3.0) while having features that help it stand out (Ripple Holographic Design, 108MP ProLight Camera). At P14,999 with 6GB of RAM and 128GB of storage, it may feel expensive to some. To be fair to realme, having the best parts of the realme 9 Series in one phone doesn't come cheap.
It's even a better deal if you wait for the upcoming realme Lazada Brand Day on June 19. This phone will get a P2,500 discount bringing the price down to P12,499. At that point? It's a pretty good deal.
Pros
90Hz Super AMOLED display + 360Hz touch sampling rate
Ripple Holographic Design is one of my favorite phone designs this year
Really good battery life thanks to 5000 mAh battery, 33W Dart Charge, and the Snapdragon 680 processor
A really good 108MP main camera
Cons
Single speaker for a P15,000 phone
Limited performance and camera capability thanks to the Snapdragon 680
Just having 6GB of RAM seems little for a P15,000 phone
A mostly pointless 2MP macro camera
Ultrawide camera can be a hit or miss