I've been covering realme phones ever since the company started promoting its arrival in the country in late 2018. Their growth since then is remarkable that they even became the number one smartphone brand in the Philippines! I honestly never tried a Pro model of the Number series. It was either too expensive for me to get or I get sent the non-Pro model. (To be perfectly clear, I appreciate every single review unit I get.) This is why I personally purchased the Pro model so I can try it out and review it here. This is my realme 8 Pro review.
Disclaimer: I purchased the realme 8 Pro for review from realme's official store on Lazada and it arrived on May 17. This phone was my daily driver Android phone since then and I've had around 3 months of use under my belt.
Design
I honestly think that realme is one of the companies with a reputation for making great design a priority on its phones. Unfortunately, I have mixed feelings about the design of the realme 8 Pro. Some people may like the DARE TO LEAP slogan on its back, but I initially didn't. I eventually got used to it though. Good thing this Infinite Black color really helps with making the text more subtle. Don't get me wrong! I still see it but it's not as overbearing as the Infinite Blue color.
One thing I do appreciate about it is its weight! At around 176g, it's even lighter than the iPhone 12 Pro (at 189g)! There's an advantage of a phone being heavy, but more people would appreciate it being light. It's gonna help because the realme 8 Pro is a tall boy! I can certainly reach the top corners of this phone, but smaller hands would probably need hand gymnastics to make it work.
I have to admit that holding the 8 Pro feels comfy. Despite my recent leaning towards phones with flat-edged designs, I really like its curved back giving me a good feel in the hand.
Display
Turning the realme 8 Pro to its front, we see that beautiful 6.4-inch Super AMOLED Fullscreen display. There's a hole punch on the top left that houses the 16MP selfie camera. (More on the cameras later.) For my first crack at a realme phone with an AMOLED display, it's a really good experience.
Although it can reach up to 1000 nits of peak brightness, I can't seem to get it to work properly when auto-brightness is turned on. I did turn it off and I managed to make the display brighter. I generally don't adjust the brightness on my phone, so that issue did irritate me a bit.
Other than that, it's a good display with general use. I sometimes go grab the 8 Pro over the iPhone when watching videos. I did miss the high refresh rate that was on the realme 7 a bit, but the 60Hz refresh rate on here wasn't a dealbreaker.
How's the In-Display Fingerprint Sensor?
It's just… fine. This fingerprint sensor works as expected. There are times when it wouldn't unlock when I use my left thumb. (It may be a problem with my thumb, but I couldn't really confirm that.) I didn't mind the speed at which it unlocks the phone though.
Performance: So We're Getting the Snapdragon 720G Processor Again…
When realme first announced both the realme 8 and 8 Pro, it surprised me that both phones still carried THE SAME PROCESSORS as their predecessors! In the case of the 8 Pro, it still rocks a Qualcomm Snapdragon 720G processor. You would think that a phone that costs P16,990 would come with something new, but they didn't.
However, I got used to it eventually. We've finally reached a point where most smartphone processors are good enough for most tasks. One sore spot that could dissuade you from this phone is games. Mobile Legends runs well for the most part. (You can even set it to Ultra graphics!)
I recently tried playing Genshin Impact using the realme 8 Pro and it surprised me. Even at Medium graphics quality, the game ran pretty well. There were some dropped frames, but it really didn't deter me from having fun!
Other games still run well on the realme 8 Pro, but I don't think performance is really the focus of this phone. You may not like that, but other phone brands have been doing that too.
Battery Life and Charging
If there's one aspect that realme does focus on, it's those charging speeds! The realme 8 Pro only has 50W SuperDart Charge compared to the 7 Pro's 65W. It doesn't really discount from the fact being able to charge the phone from 0 to 50 in 17 minutes! I've had situations where I needed to charge this phone in a pinch, and this kind of speed is very useful to me.
Battery life's good enough for me. I get around 4-5 hours of screen-on time with moderate to heavy use. I mostly use it to do social media, take photos, and watch a lot of YouTube videos. Since this is mainly a secondary phone for me, it lasts for 2-3 days! It should be a day or two for most people.
Is the 108MP Camera Worth It?
Up until this point in the realme 8 Pro review, I didn't say too many things on the other aspects. That's because I wanted to give more focus to its cameras. One does not claim to have a flagship-like camera and does not have the muscle to back it up. Does this 108MP camera hold up? And can the companion cameras really help out? They include the 8MP ultrawide camera and two 2MP macro and depth cameras. Let's see what it has to offer!
Click/tap on each photo to check the full resolution version!
When the subject looks muted, photos that were taken with the realme 8 Pro actually look good! It's when there are many bright colors outdoors that I find them oversaturated.
In this photo, the flowers really pop. That yellow may seem oversaturated, but it really fits in the overall vibe of the photo. Here's another photo that really shows the oversaturation:
This looks more like artwork than a realistic photo. Don't get me wrong, I'd like a stylized photo once in a while. It's just not good when I don't want that effect and get it anyway.
Here's one that's not as offensive but the sky and some of those trees and grass are oversaturated. I like the overall effect it brings to this photo but it's something to keep in mind.
Where it really shines for me is indoor shots. Colors are really accurate here, especially when using a white light source.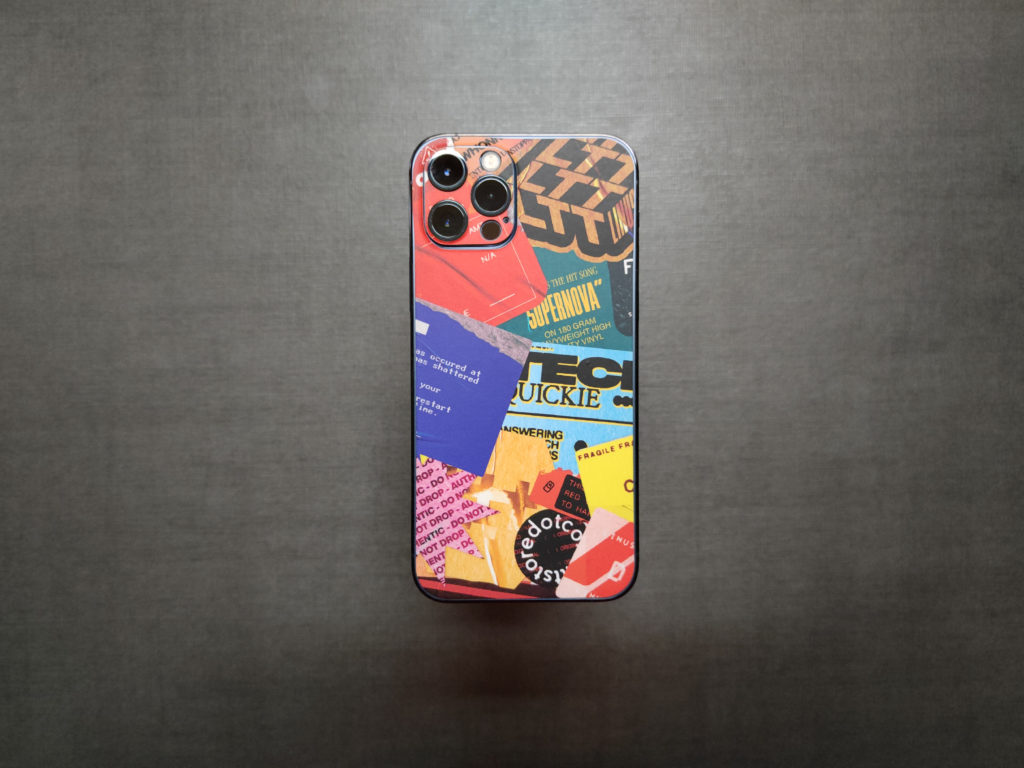 Even taking close-up shots is really detailed here. I didn't even use portrait mode to take that shot below. It's really good at giving a natural shallow depth-of-field here.
I noticed that the exposure tends to differ when I zoom in. This also happens with other phones but it wasn't as pronounced as when I'm using this camera. Check below for the ultrawide, 1x, 2x, and 5x shots.
Here's another example of the weird exposure and color changes between the main 108MP camera and the ultrawide camera. Took a landscape photo of a resort's shoreline and the colors between the two shots are really different. The photo taken with the 108MP camera is detailed but oversaturates the scene. I actually prefer the ultrawide shot.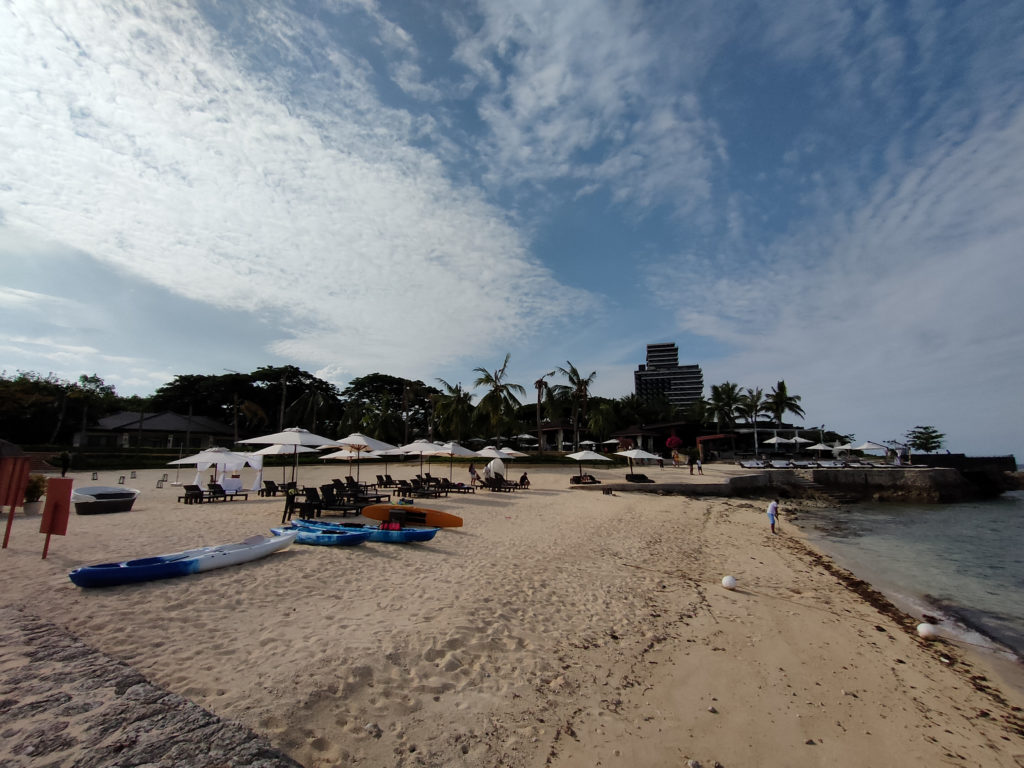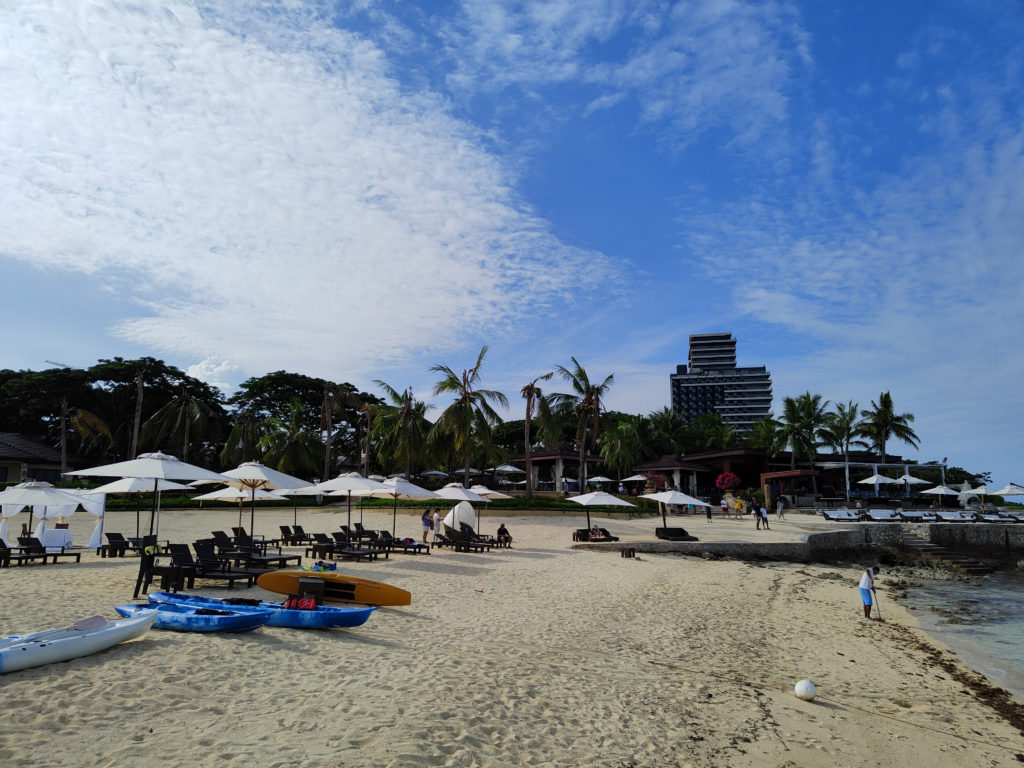 Capturing the Night
Another spot I expected to get decent photos was during the night. Depending on the situation, you could get some really nice photos like this one. It retains a lot of detail even in the dark. This is due to the 9-to-1 pixel binning technique used to get more light in the sensor. With that 108MP sensor and pixel binning, you can take brighter 12MP photos.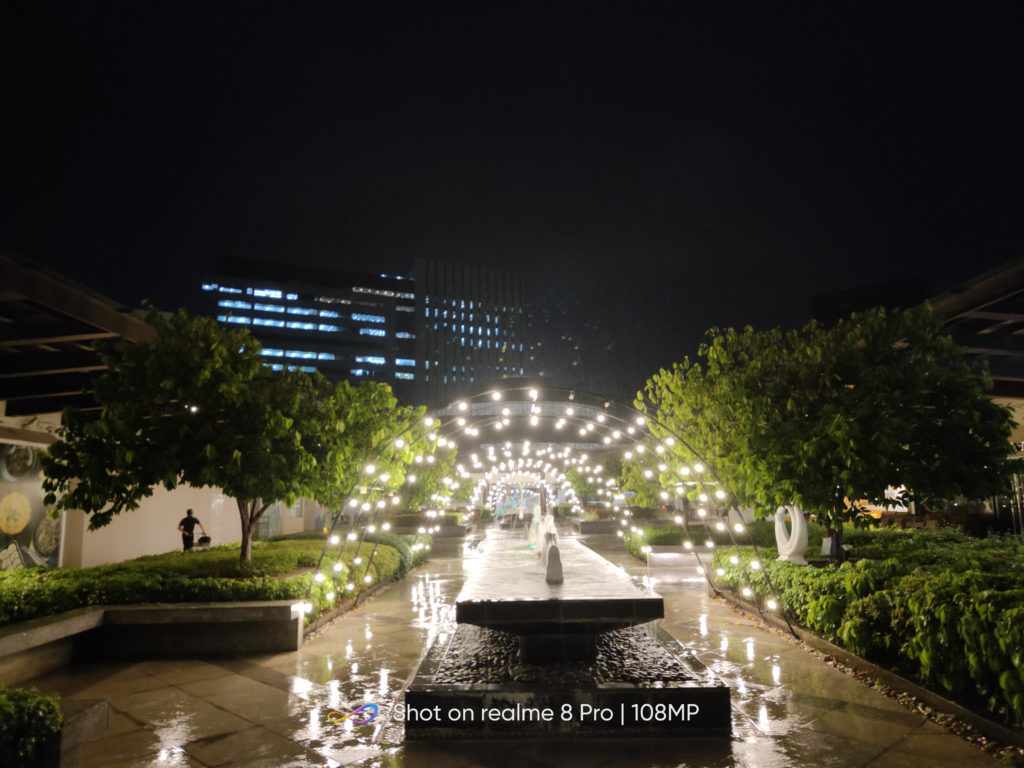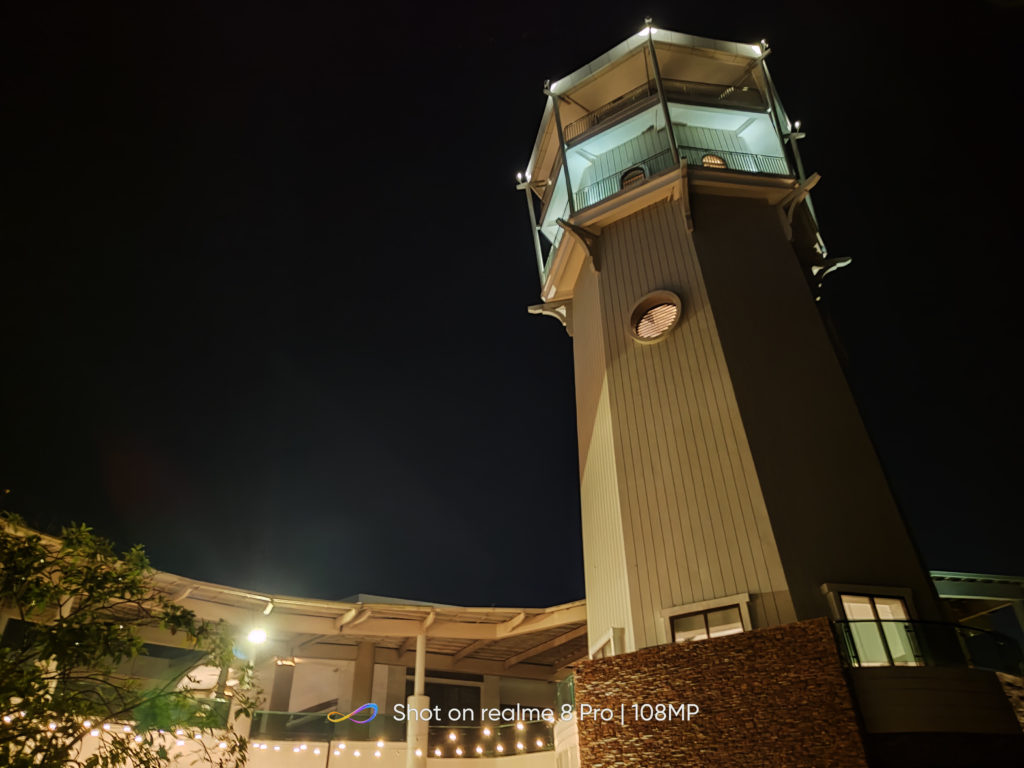 They're not always good though. Take the photo below of a swimming pool at night. Notice that the trees look like they blend in with the sky. It's not the worst thing in the world, but you can get misses at times.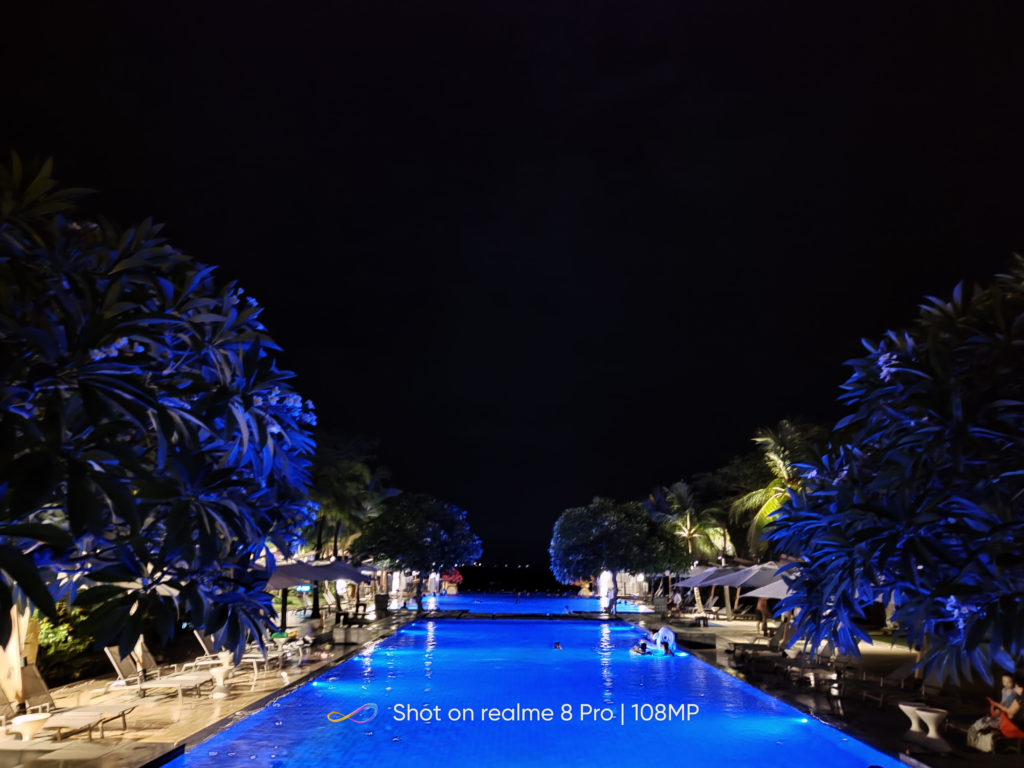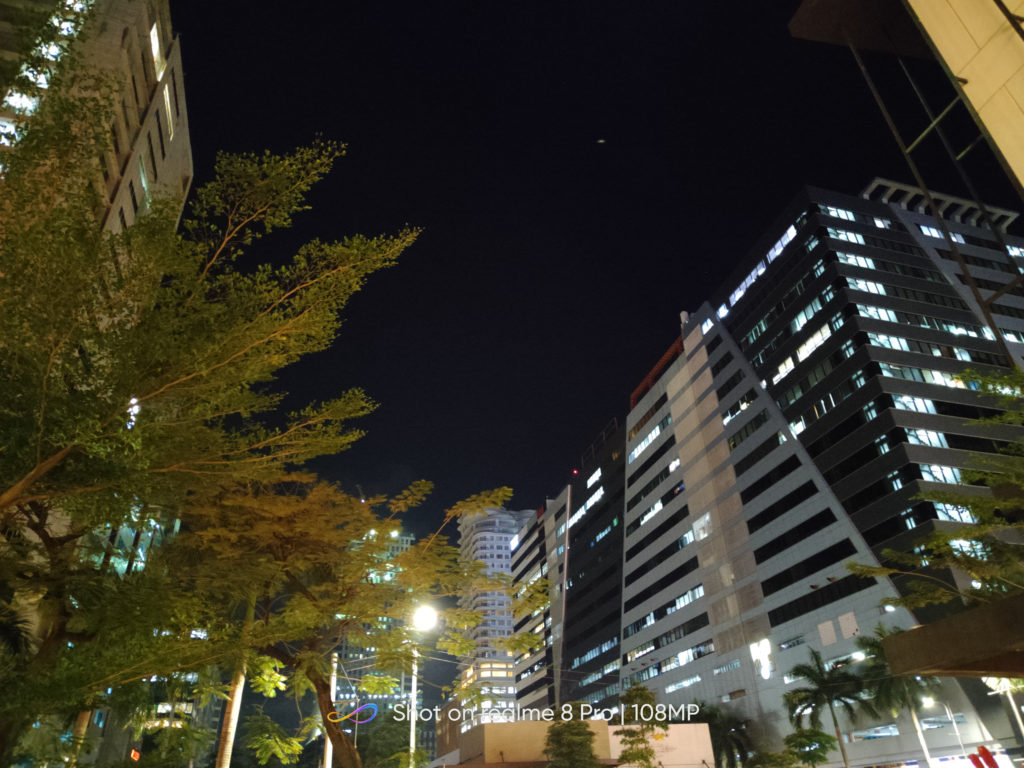 Even portrait photos in low light look really decent here.
The Selfie Camera Though!
It's nuts that there are even phones out there that have selfie cameras that are better than the main ones. Probably the biggest surprise I got camera-wise was this selfie camera! It may just be a 16MP camera but it has the Sony IMX471 sensor which gives me confidence that the photos are good. Let's start with a selfie of me.
If there's something I can really commend realme for is the selfie quality. The colors are really, really good! It even reached the point that the pimples on my forehead are clear enough. The background isn't too blown out, so it really did just focus on my face. I also appreciate it when the selfie camera is wide enough for group selfies like the one below!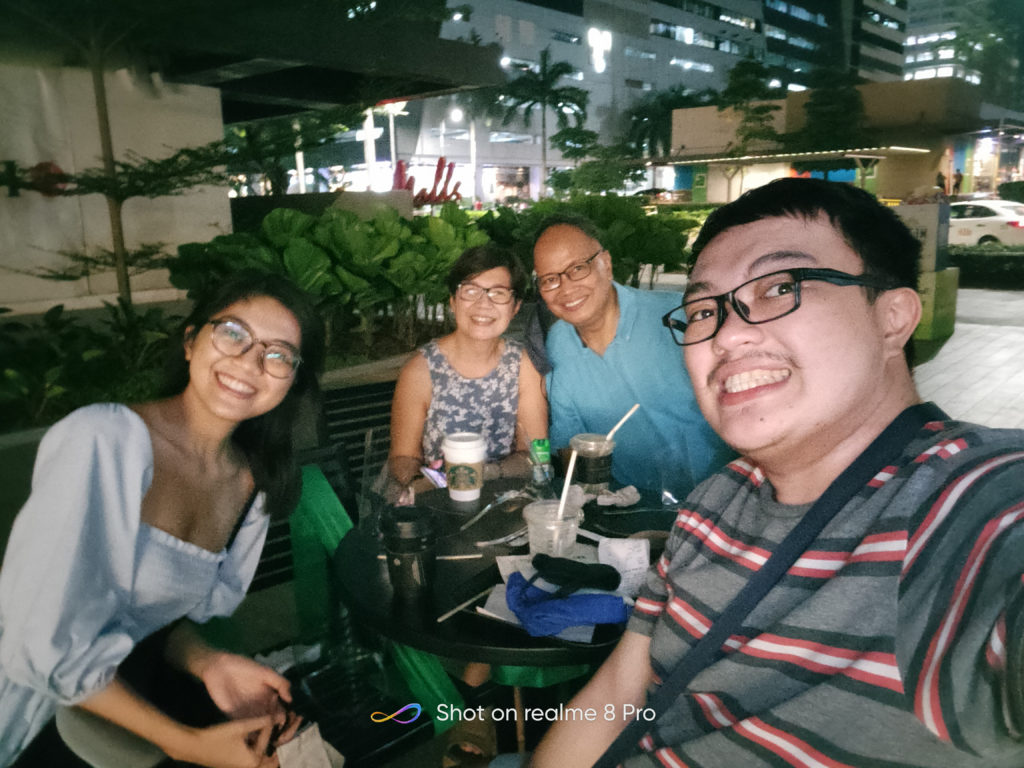 Selfies in low light are decent too, but they could be better. (It's very possible that I bungled up this photo too. Haha.)
Did the camera wow me that I would jump off my seat? Not really. Is it the best phone camera I've ever used? No. But it is a really reliable camera for me. I've used the realme 8 Pro as a backup camera and it serves me very well. I would sometimes prefer the shots I take on here, especially with the front camera.
I didn't tackle video, because I don't do much of it myself. After taking some videos with it, I would only use it for fun stuff on social media. If I would do anything more, I'd probably look elsewhere.
A Short Aside for realme UI
realme UI 2.0 really flies on the realme 8 Pro. The software experience is mostly good for my use. It never really bothered me with ads (except those App Market and Theme Store notifications; those are annoying). My usual qualms with the UI slowdowns don't really apply here. I always found realme UI to be one of the fast Android skins out there, and 2.0 is no different.
Should You Get the realme 8 Pro?
It was very clear during its launch event that the realme 8 Pro is the headline device of the realme 8 Series. I found it weird that it lacked 5G, but I wasn't really looking for it. Going into this realme 8 Pro review, its headline status went into question for me. This was thanks to the launch of the realme 8 5G for obvious reasons.
After using this phone for around 3 months, I realized that the realme 8 Pro is worthy of its headline status. It may still carry a Snapdragon 720G, but it didn't really deter me from enjoying this phone. Its camera, while having those color differences, is a capable and reliable shooter. Despite the somewhat controversial design, it actually grew on me, and holding it makes me wanna use it more.
The realme 8 Pro may seem pricey at P16,990, especially compared to similar offerings. You are still getting a lot for the money though. From the 108MP camera to its solid performance, you should get the realme 8 Pro if you're more into photography than gaming.