The timing couldn't be more appropriate for this. I wasn't able to write this review on time thanks to getting busy in Manila during the launch period. Instead, I'm posting this around the time its sibling, the realme 9, launches in the Philippines. It only makes sense though, since the realme 9i shares some of its specs with the realme 9. Is this phone worth P11,990? Find out in my realme 9i Review.
Disclaimer: realme Philippines provided this realme 9i review unit to me. I got it on May 2, 2022, and have been using it as my primary Android phone until the end of May. This unit only has 4GB RAM compared to the 6GB RAM you get with the retail unit.
Design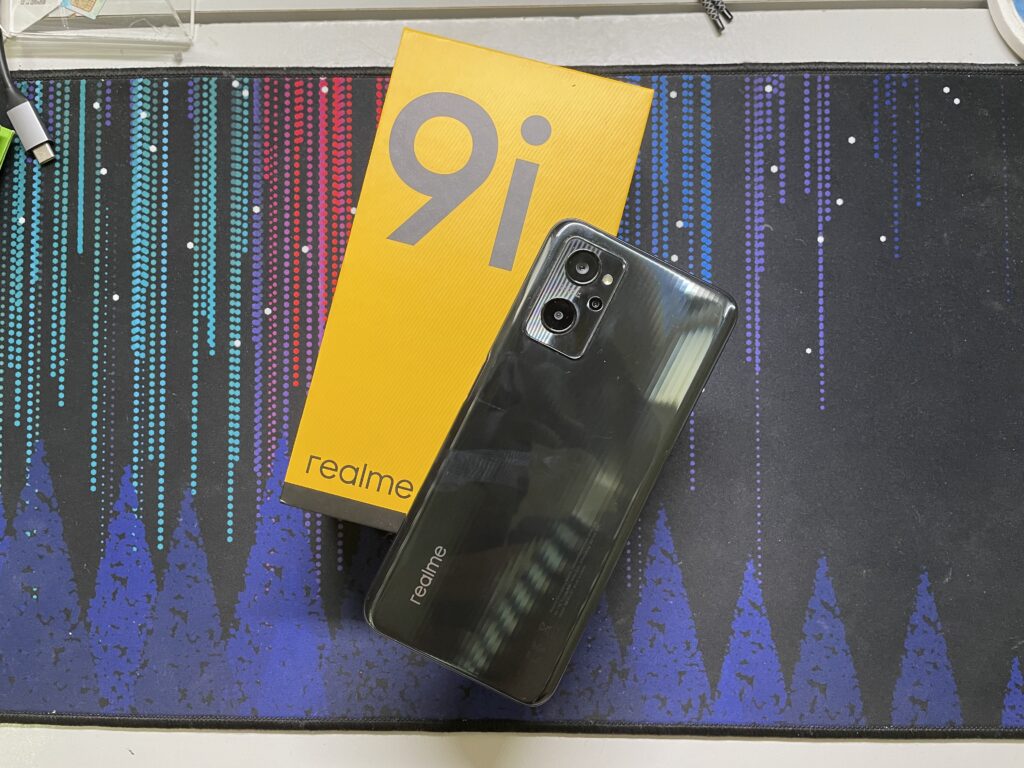 This is probably the first time in a while that I didn't like a realme-designed phone. Unfortunately, I'm not really into this Stereo Prism Design. I did say that I was into it in my first impressions, but that didn't age well. The Prism Black color does give off a more classy feel though. The two things that ultimately made me shy away from this design are how reflective it is and how much of a fingerprint magnet it is.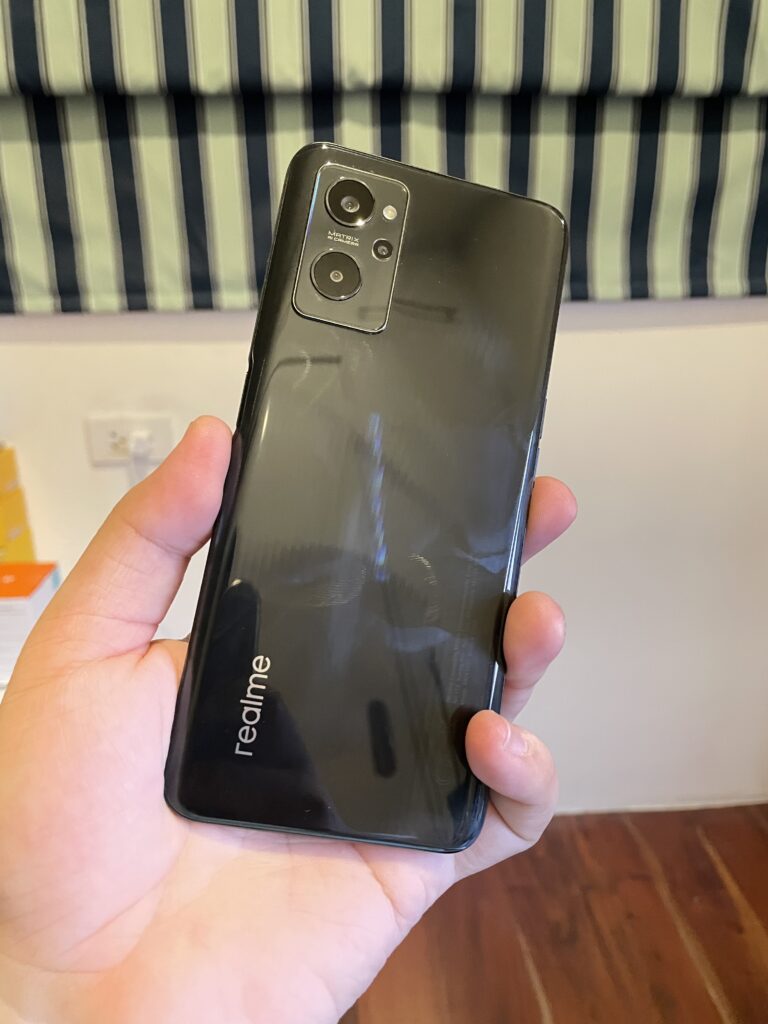 That's not to say that the design is bad. It's actually good!We are far removed from the nonsense phone designs of the early days. I'm just not into this one compared to the designs I see from realme as recent as this year. Good thing this phone's back and sides help with the grip. The side-mounted fingerprint sensor works well in my experience. I think all phones without AMOLED displays should use side-mounted fingerprint sensors.
Even I ended up not liking the design of the realme 9i, it's by no means a bad one. I'm just not into it is all.
Display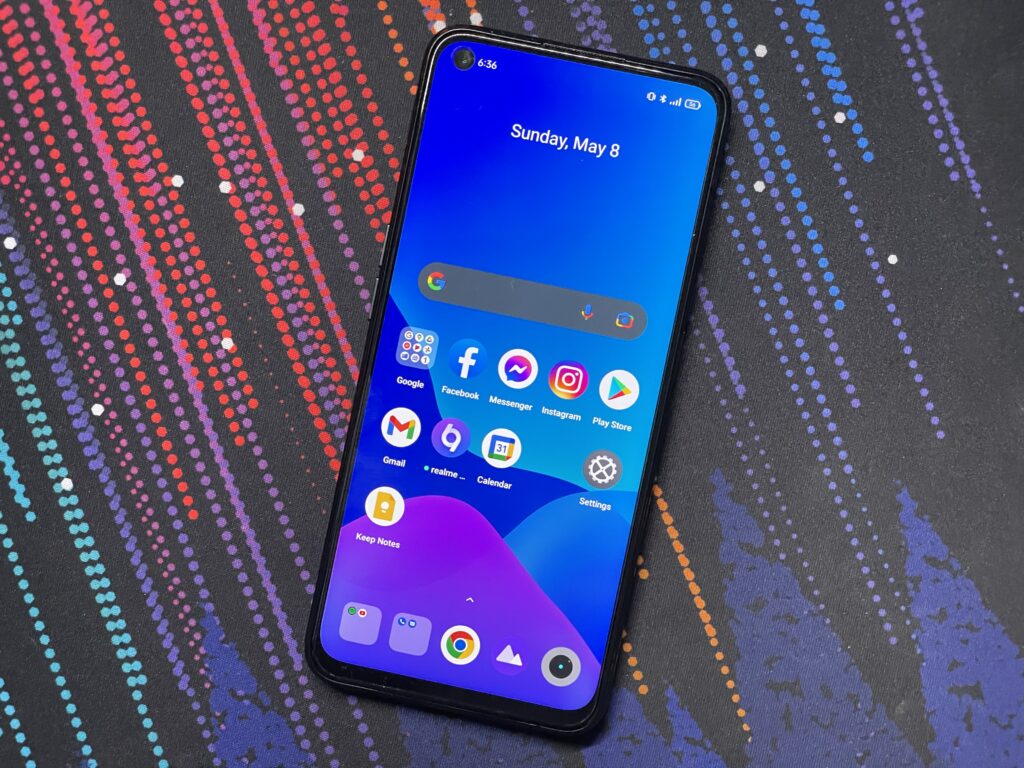 Unlike the design, I'm really satisfied with the display on the realme 9i. I'm actually reminded of another phone that the display resolution isn't the only indicator of quality. The realme 9i has a 6.6-inch 90Hz Ultra Smooth Display. This just means that it has an IPS LCD display with a 5-level adaptive refresh rate. That means you can expect the display can adapt its refresh rate depending on the content shown. This helps with battery life since it can go down to the refresh rate it needs to be.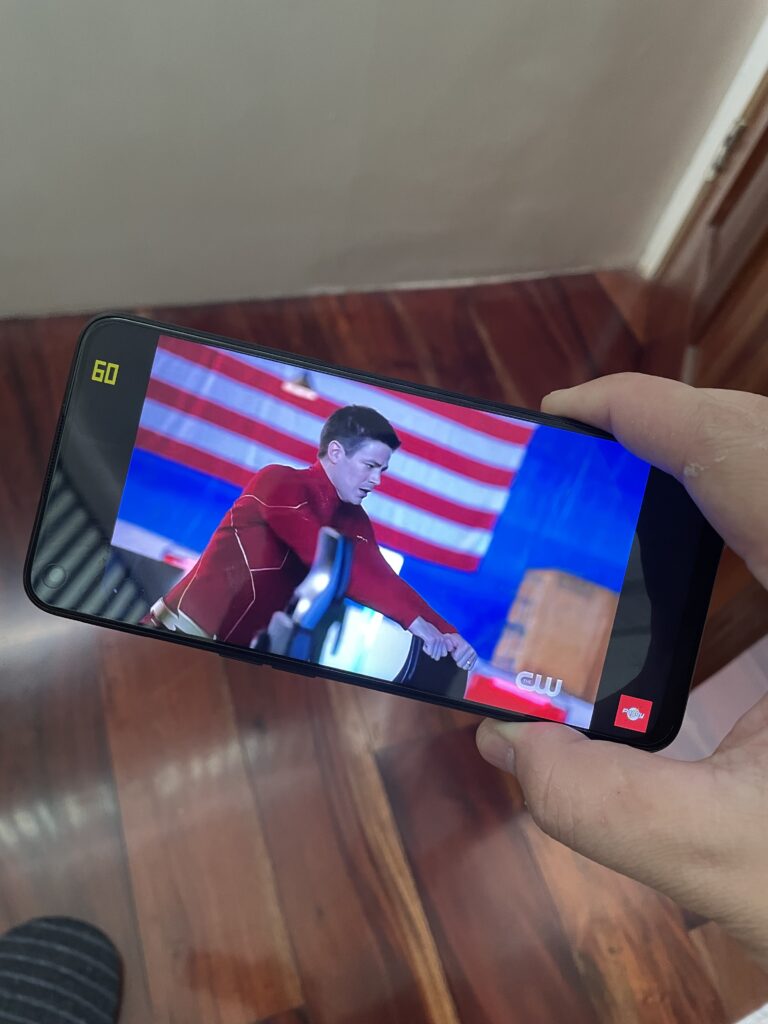 Unfortunately, I didn't really see the refresh rate go below 60Hz on YouTube. This could be a YouTube app thing but it would have made more sense for videos on YouTube to go down to 30 or 48Hz. Games did go to their appropriate refresh rate though. Other than that, I don't really have much to say about the display. It's basically par for the course with any realme phone.
Performance and Software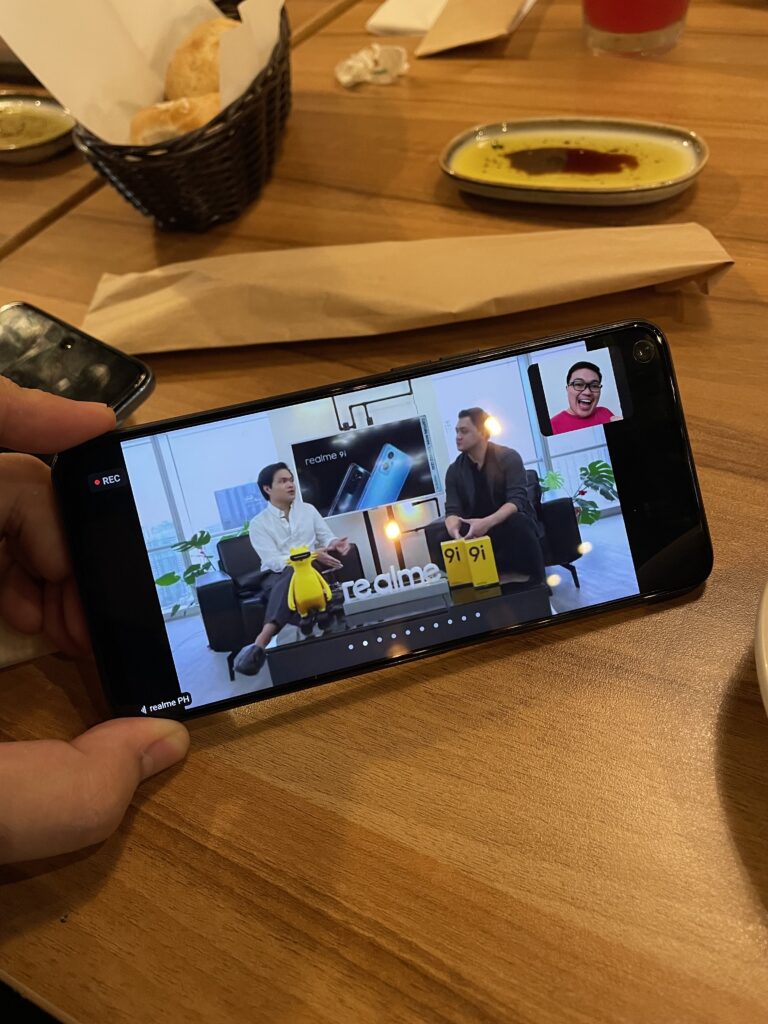 Yes yes, I just have to say it. The Qualcomm Snapdragon 680 processor is probably the most overused processor in 2022. Of all the phones I've tried this year, 5 of them use that processor. The realme 9i does have the Snapdragon 680 but it has realme UI to help it out in the performance department.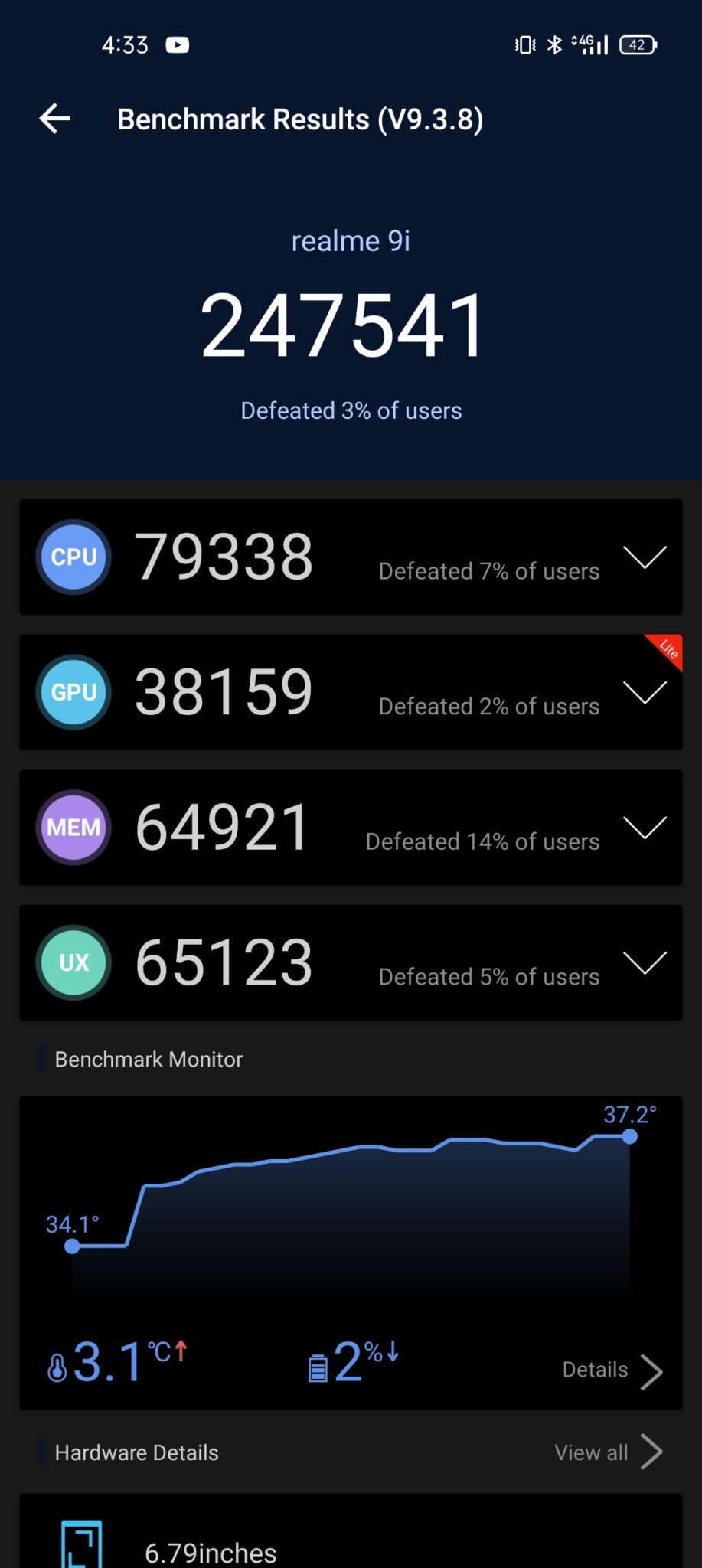 I should note that the review unit I got only had 4GB of RAM compared to the 6GB that's available in the Philippines. Despite that, the realme 9i is capable enough for most tasks. It does slow down a bit for me, but I can attribute some of that to the lower RAM. If you think that 6GB isn't enough, there's Dynamic RAM Expansion up to 5GB.
Games like Pokemon UNITE and Asphalt 9 run well with the realme 9i even if it wasn't at the highest graphical settings. I did run Pokemon at High graphics and High frame rates and it consistently ran between 58 and 60 fps. The good thing about having the 680 is that it doesn't really heat up that much compared to other chips at this price point.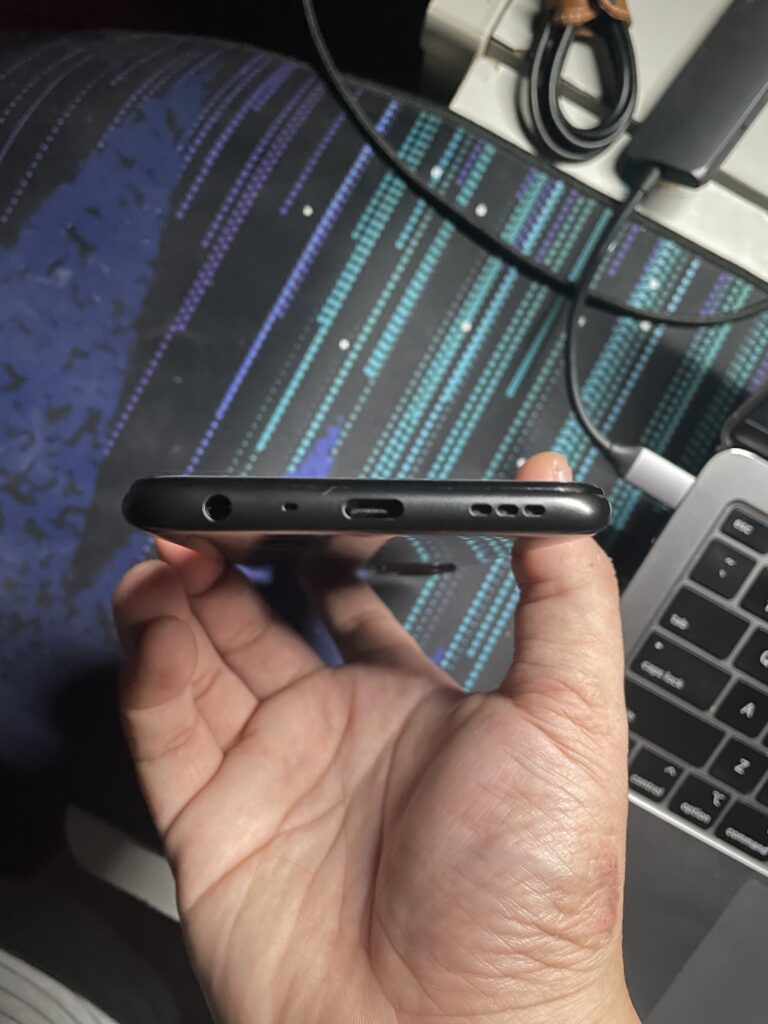 This phone also has stereo speakers and they're loud enough without being too tinny. There is a 3.5mm headphone jack if ever you just prefer wired headphones.
I'm kinda bummed that the realme 9i still runs realme UI 2.0 based on Android 11. I would have wanted to see realme UI 3.0 out of the box though. Good thing there's an update coming soon since the Early Access is already up in India. All in all, I'm totally okay with the performance of the realme 9i. If you want an absolute performer when it comes to games though, I suggest you look elsewhere.
Battery Life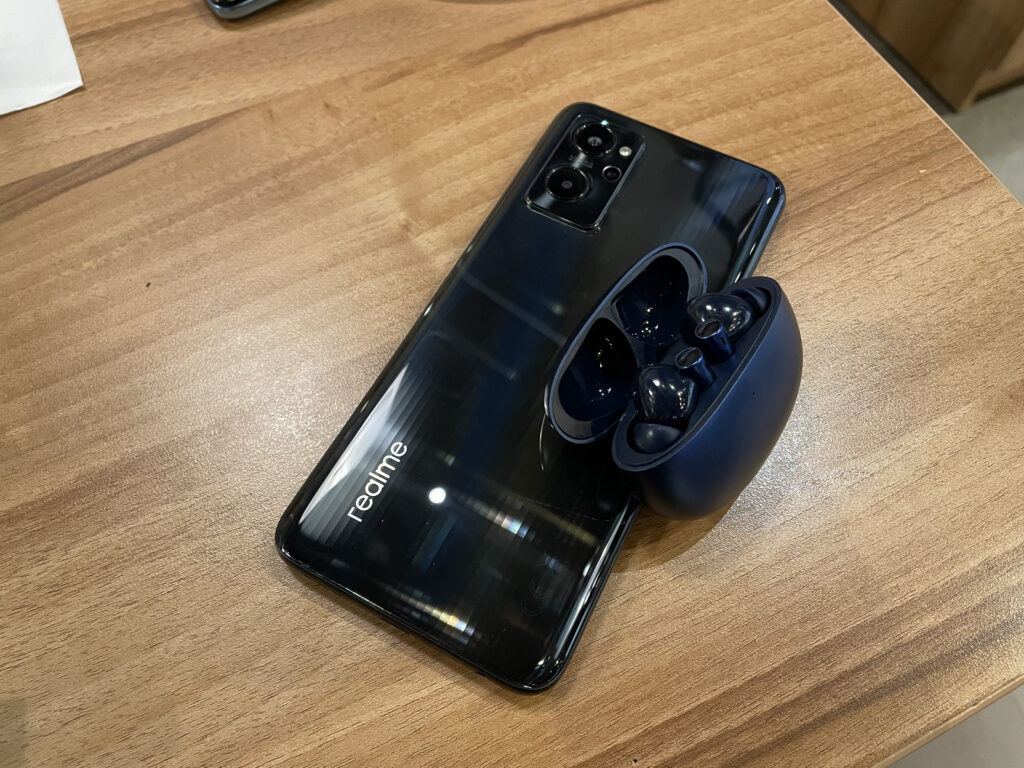 Another thing I didn't really take a good hard look at in this realme 9i review is the battery life. That's thanks to its 5000 mAh battery, 33W Dart Charge, and Snapdragon 680 processor. I typically get a day of battery life in moderate to heavy use, even longer when I'm only scrolling through social media. Even when leaving it be for half a day, I can confidently bring it out with me when I go out for dinner. As you see in the screenshots below, I can get up to 5 hours of screen-on time even if I leave it be for a day. It's kind of nuts if you think about it.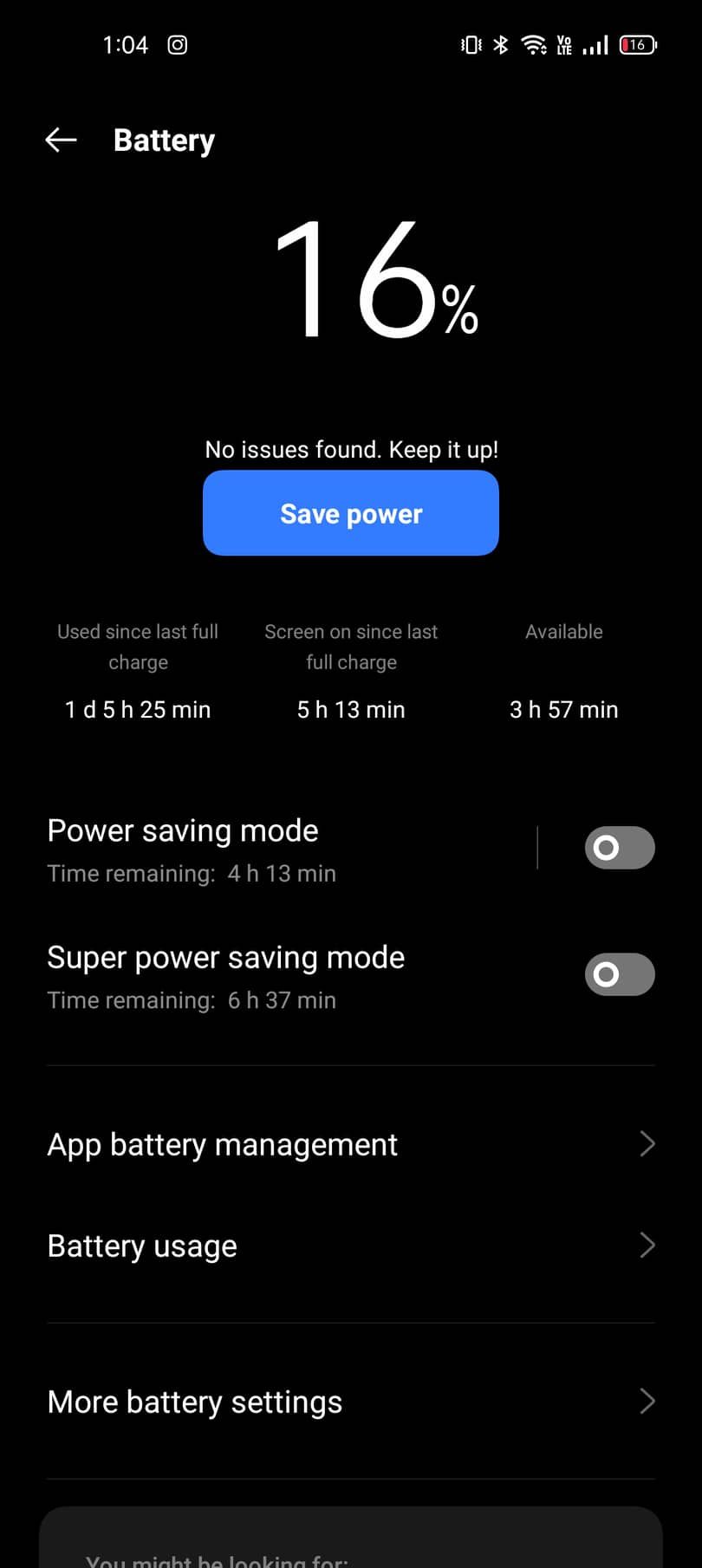 People who really focus on the performance of a phone (especially for gaming) won't really appreciate this. If you're a person who's always on the internet but doesn't do much beyond YouTube and social media, this might be a really good option for you.
Cameras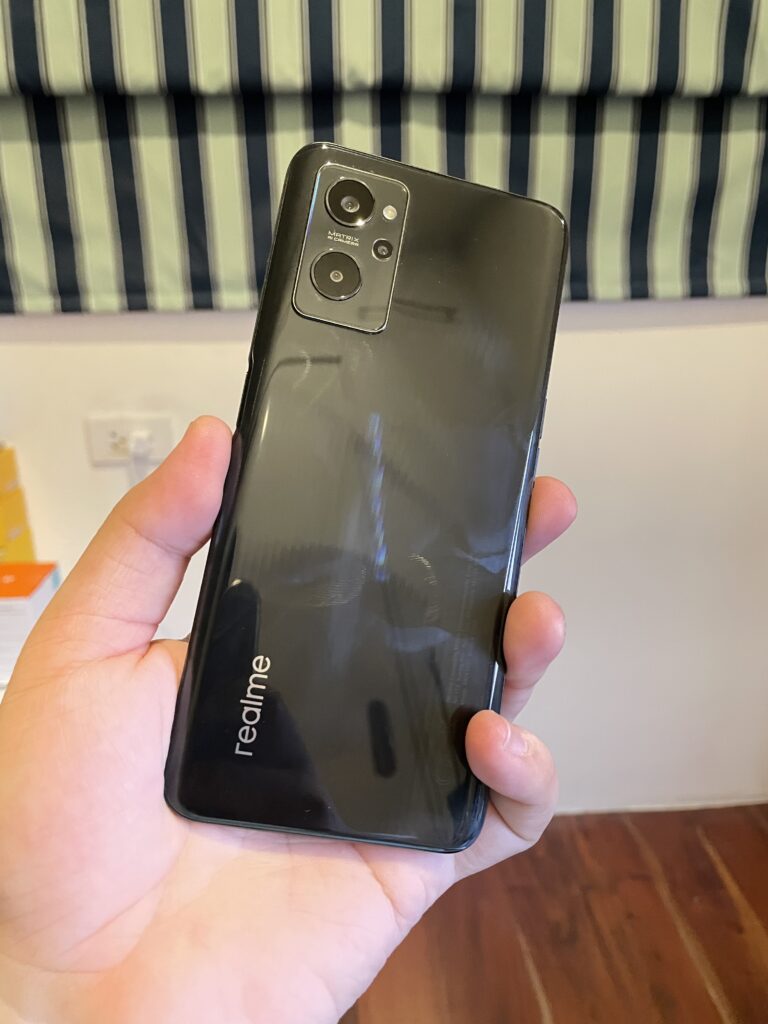 If there's one thing that I can count on in realme phones, it's the cameras. One of the main things I'm focused on for the realme 9i review is its 50MP AI Triple Camera system. It consists of a 50MP main camera, a 2MP macro camera, and a 2MP depth sensor. This phone also has a 16MP front camera for getting those good selfies. I gotta say, realme's post-processing plus this 50MP main camera makes this phone really good for the price.
Click on the photos for full-resolution versions!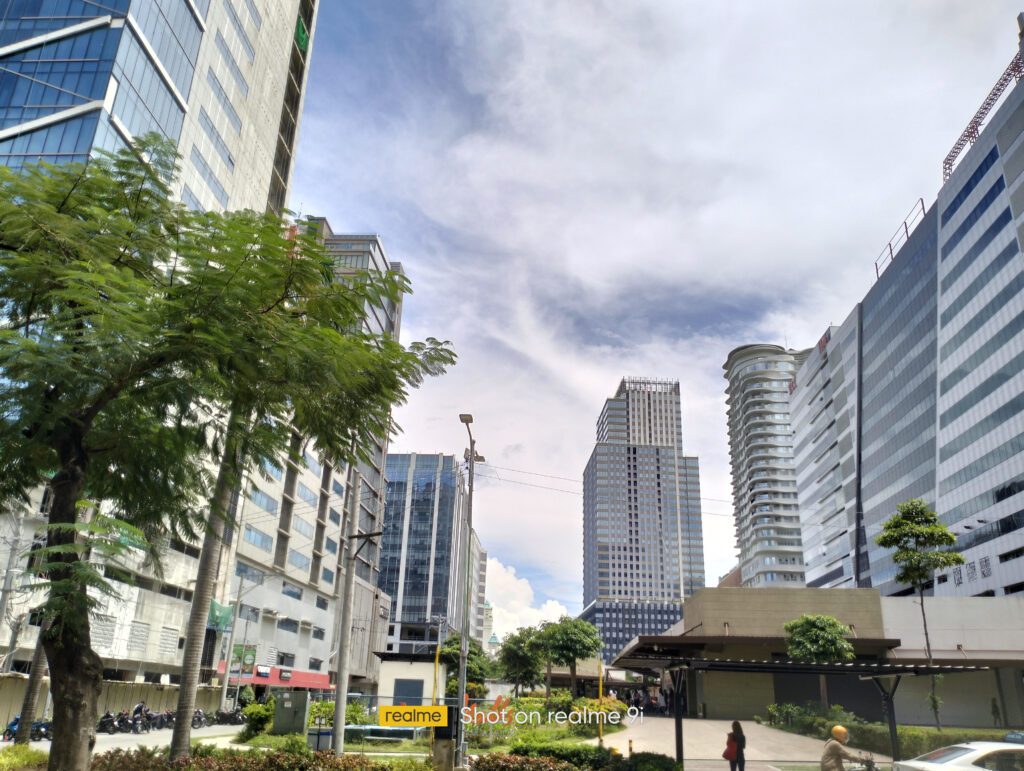 Take this photo of a landscape outdoors here in Cebu IT Park. The sky and the buildings have detail without softening the tree too much. I'm also happy that the colors aren't too saturated compared to some realme phones in the past. Let's hope we don't see those cameras come back again.
The 50MP main camera also has good autofocus and it especially helps with indoor shots. It tends to struggle when dealing with the exposure though. Just look at similar photos below. An ideal version of this shot would actually be the combination of the two. This is fairly minor for me, but it would be kind of annoying if you don't tinker too much.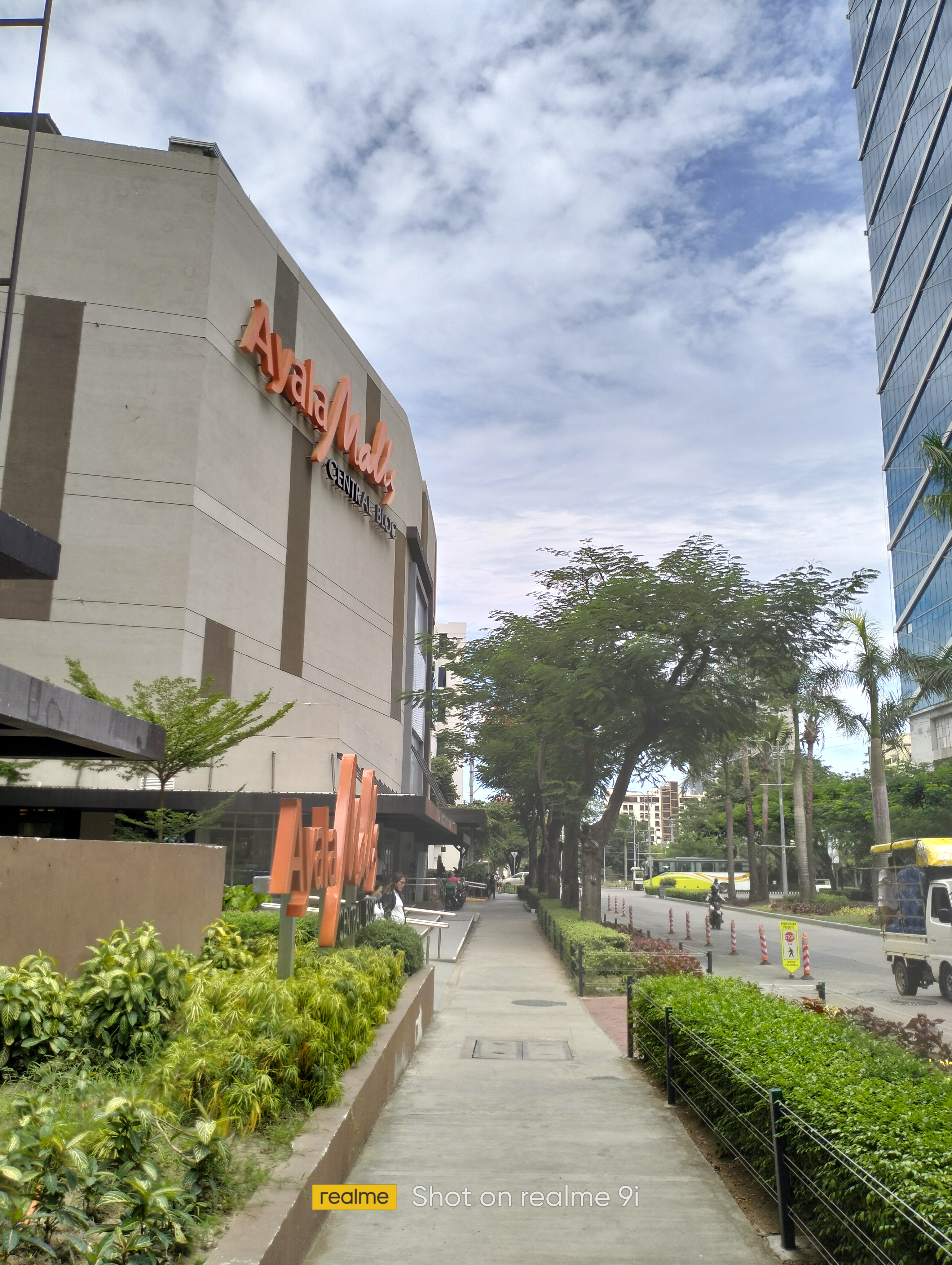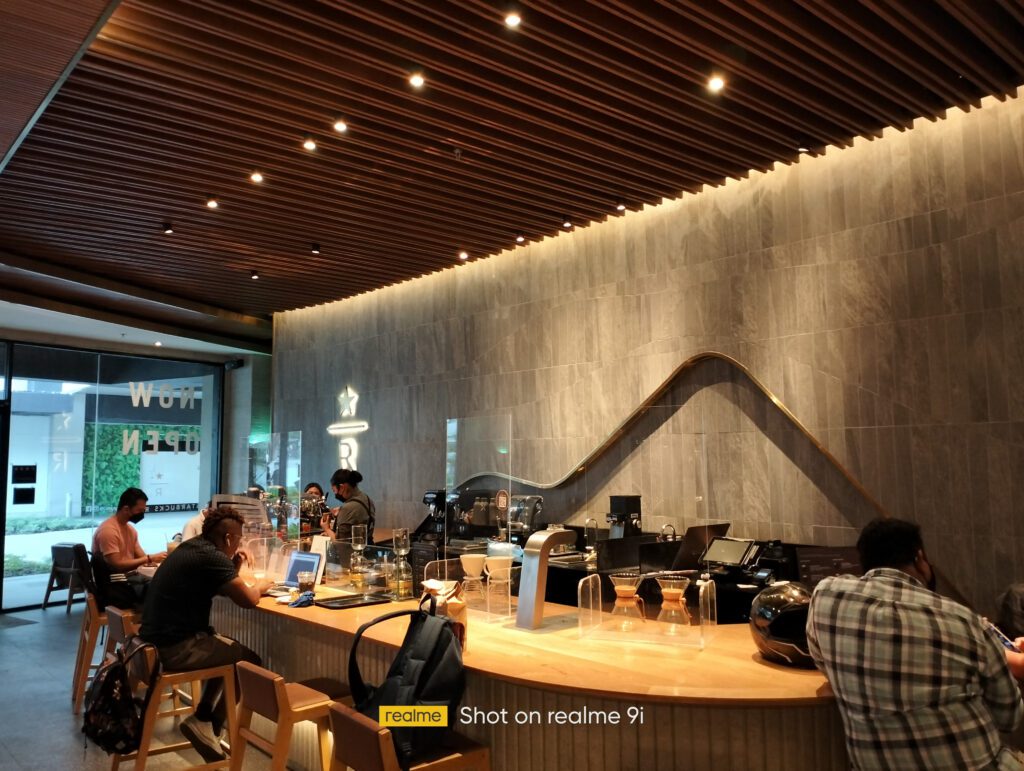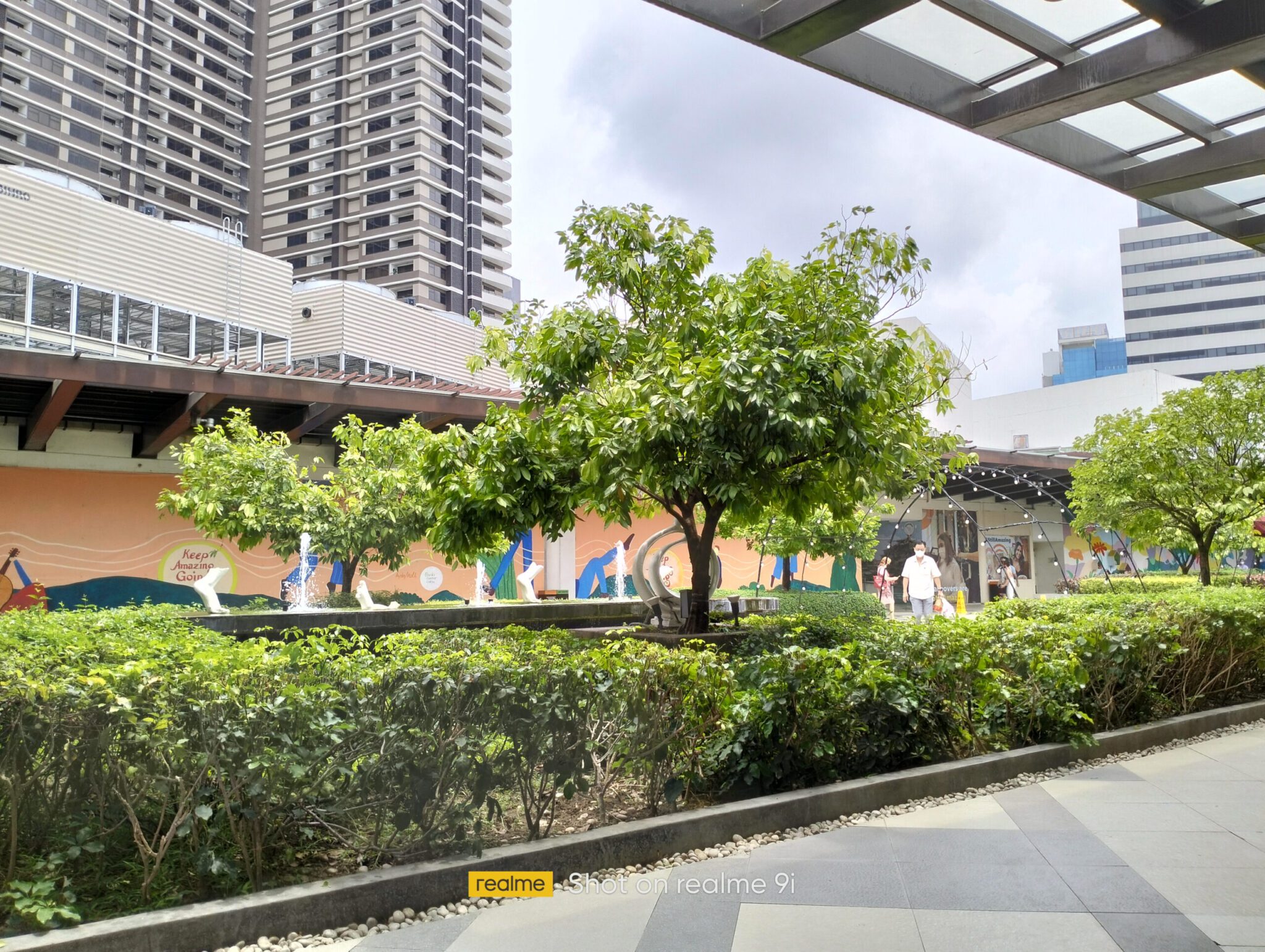 The 2x and 5x Zoom photos are decent enough, but you need a good light source though. The photos might end up being too soft if there isn't enough light. For low-light shots, you really need to use Night Mode. Photos without it can end up overexposing the light sources it captures. The lights in the photo with Night Mode turned on actually look closer to real life.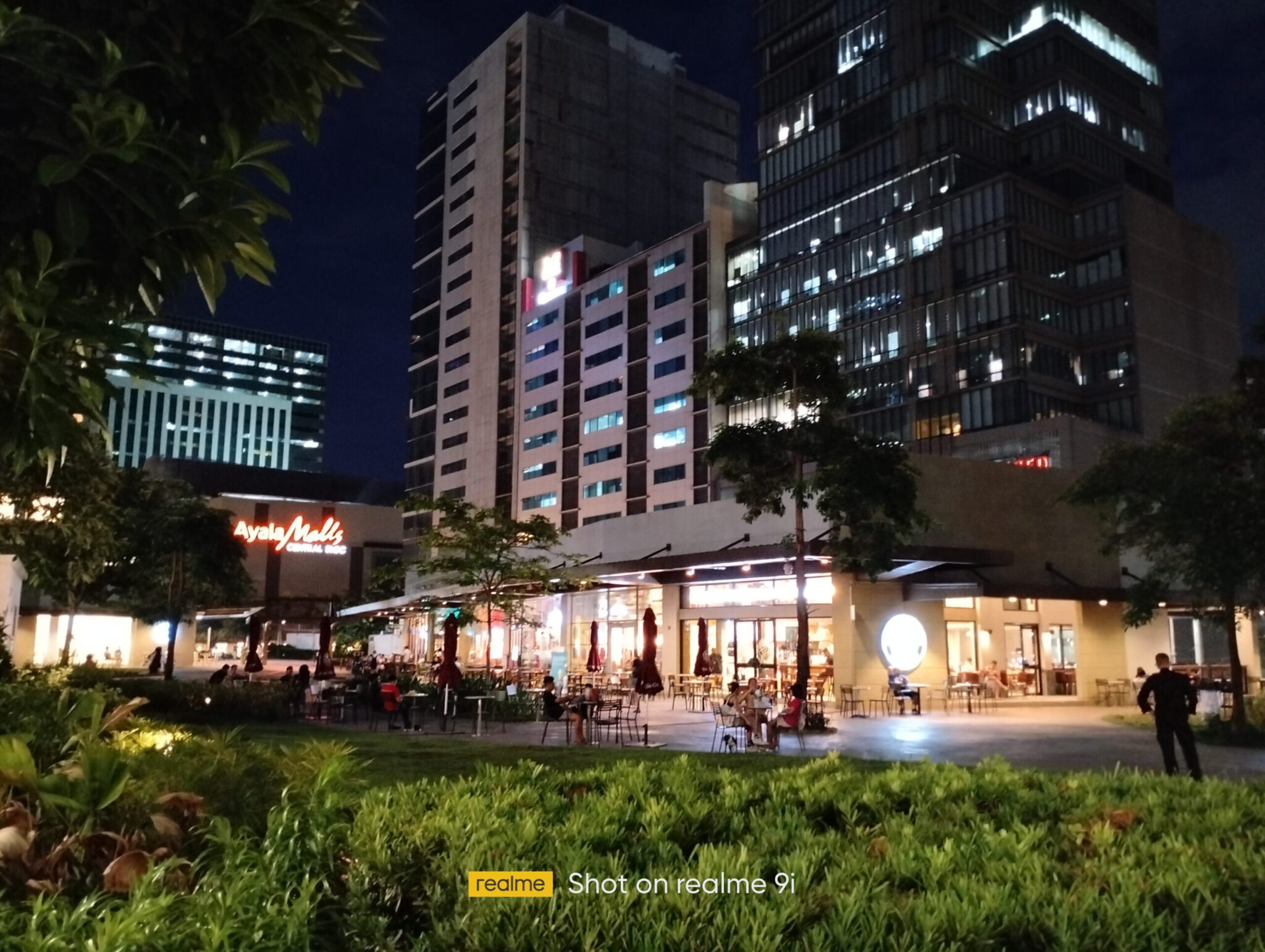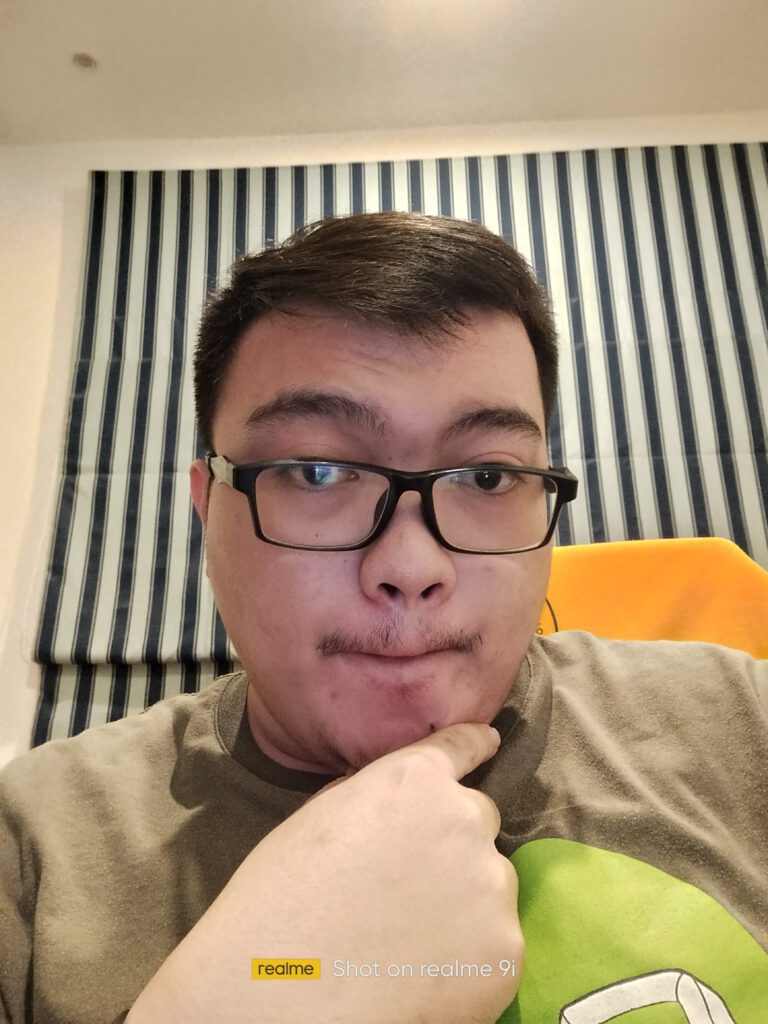 As for the selfies, they actually look good. realme's post-processing actually shines better in the 16MP front camera. I did turn Beauty Mode off for the photo you see up there. Not much smoothing to see here. I'm actually impressed by that!
All in all, the cameras on the realme 9i are really good for the price. Despite only having 1080p / 30fps video recording on the front and rear cameras, there's not a lot to complain here. Maybe the exposure thing can be really annoying, but you can deal with that through some tweaking.
Should You Buy the realme 9i?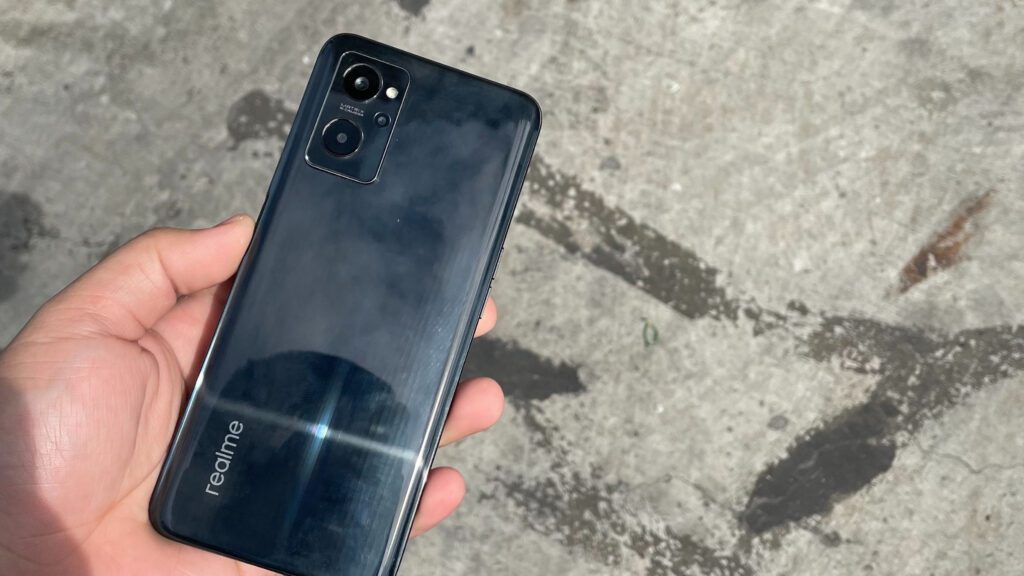 If there is one standout feature that the realme 9i has, it's DEFINITELY the battery life. The Snapdragon 680 has proven to be a very efficient processor despite the slightly disappointing performance. Even if it's priced at P11,990 with 6GB of RAM and 128GB of storage, its battery life, display, and cameras make it a sensible choice. This phone is for you if you value battery life so much. I just think there is a way more sensible choice.
Pros
Battery life is excellent (Combination of a 5000 mAh battery, 33W Dart Charge, and the Snapdragon 680 processor)
Phone is grippy enough
90Hz refresh rate + 1080p resolution
Gaming support is good for Snapdragon
Good quality photos from the 50MP main camera
Cons
Stereo Prism Design is too reflective
Still has an IPS LCD display for a P10,000+ phone
Has realme UI 2.0 / Android 11
No ultrawide camera
Only has 1080p / 30fps video recording