realme's Number Series is home to many of the brand's innovations in the entry-level and midrange smartphone segments. From bringing a quad rear camera system to the realme 5 series to the 108MP main camera on the realme 8 Pro, you pretty much expect one to pop up. Starting with the realme 10 Series, the brand introduced its Spire strategy that will heavily focus on bringing one major leap-forward technology for every new Number Series phone. It's pretty clear that for the realme 10 Pro+, it's that curved AMOLED display. With a lot of focus on the display, did realme manage to skimp on the rest of the phone? Are all these changes worth P19,999 for the 8GB+128GB variant and P24,999 for the 12GB+256GB variant? Find out in my realme 10 Pro+ review.
Disclaimer: realme Philippines sent me a realme 10 Pro+ Demo Unit in Dark Matter with 8GB RAM + 256GB storage that won't be available in the Philippines. It arrived on January 30, 2023, and I've been using it as my main Android phone for two weeks.
Design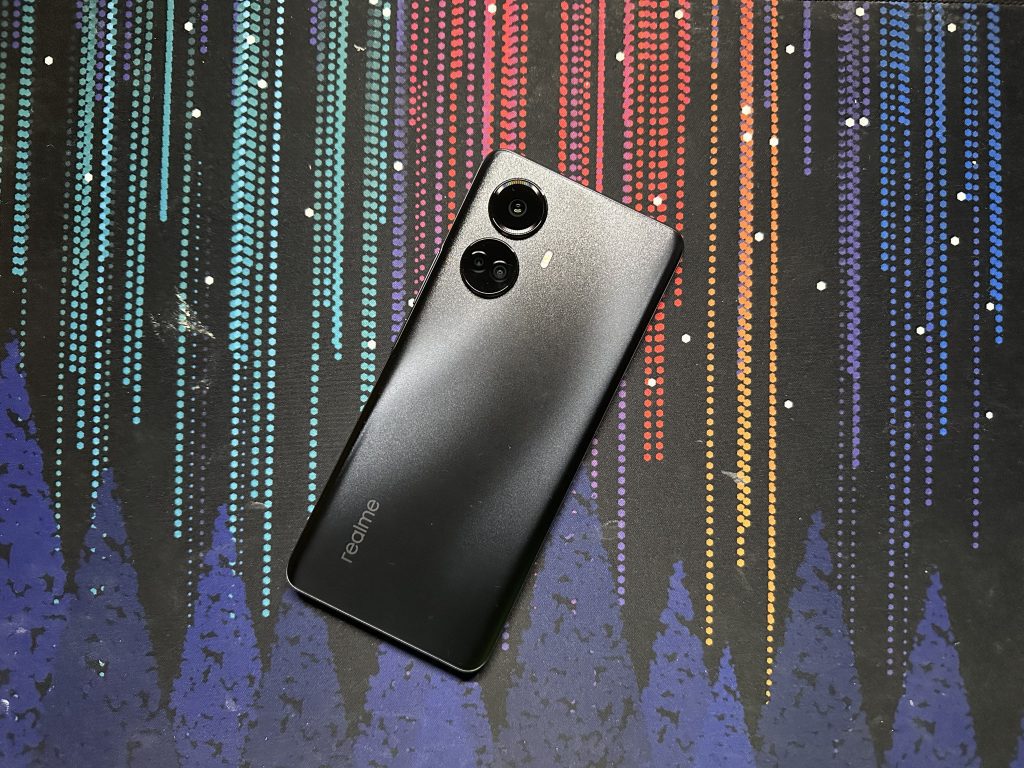 If there's one thing that realme continues to do really well, it's smartphone design. Although the realme 10 Pro+ reminds me of realme's past designs, this feels like one of its cleanest designs yet. This phone comes in two colors in the Philippines: Hyperspace Gold and Dark Matter.
I have to be honest: this Dark Matter color is probably one of my favorite kinds of black on a smartphone! Good thing that this phone also has a matte back and is REALLY THIN at 7.78mm! It should be noted that the Hyperspace Gold color is slightly thicker at 7.95mm and carries the Hyperspace Design. I personally prefer the one I have with me though.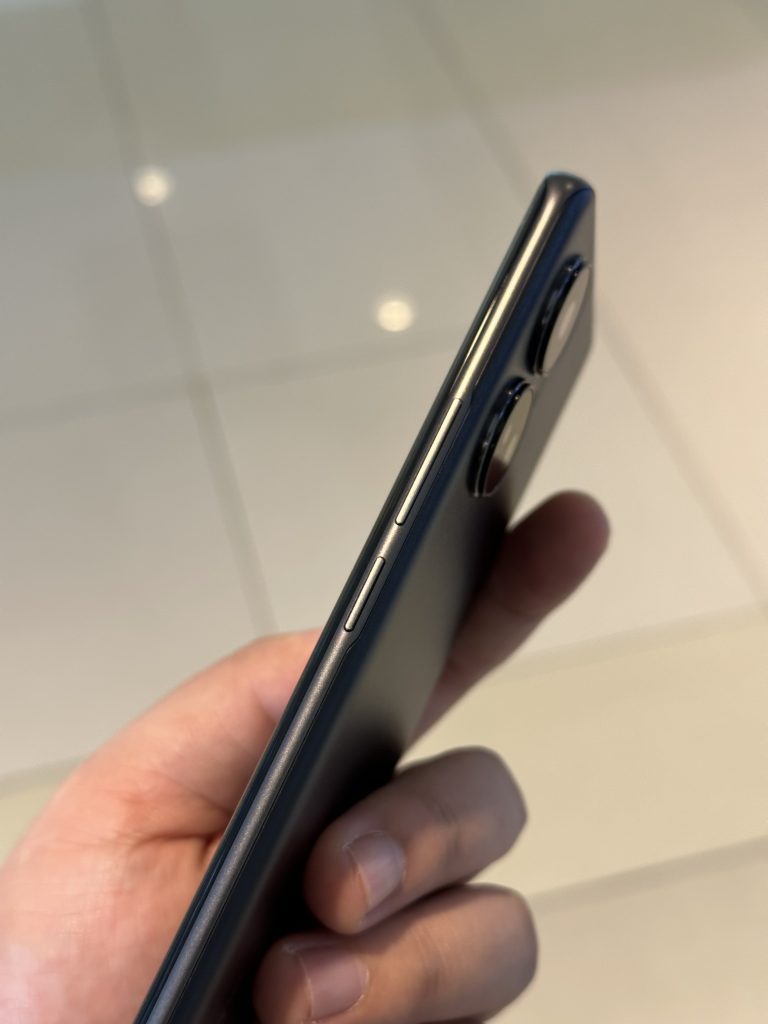 One more good thing about the design of this phone is its really thin 2.5mm sides. An advantage of using a curved display is to make the sides of the phone really thin. At first, I thought it would feel weird but its thin sides actually help with the grip a lot!
The power button and volume rocker are clicky but having them all on one side really doesn't help with my muscle memory. Having the volume buttons on the left side just helps with that, as well as having two separate buttons. This is mainly personal preference, but at the very least make the power button distinct from the volume buttons if they are all on one side.
Display
The clear star of this realme 10 Pro+ review is, of course, the display. With realme investing 15 Million USD on this alone, it better be a good one.
For the realme 10 Pro+, the company decided to go all in and went for a 6.7-inch 120Hz Curved AMOLED display. It has 800 nits of peak brightness, HDR10+ certification, 360Hz touch sampling w/ up to 1260Hz of Instantaneous Touch Sampling, and 2160Hz PWM dimming. All of these specs sound great on paper, but how do they all come together in real life?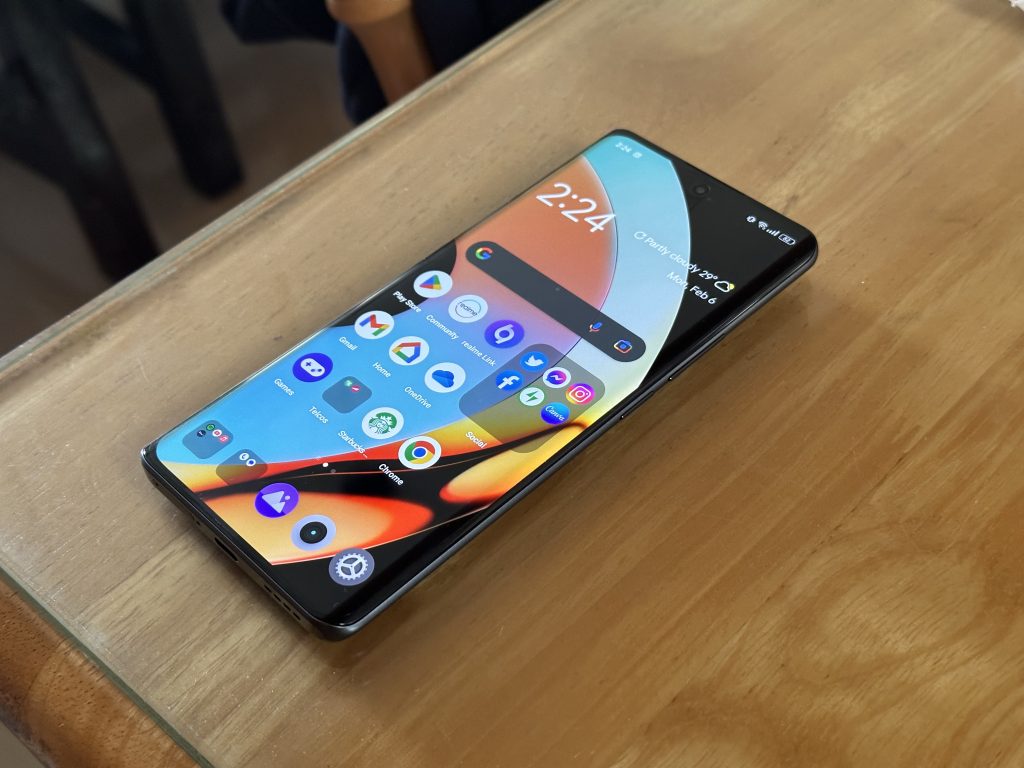 In my two weeks of use, I can say that this is the most premium display that realme ever added to a Number Series phone. (The GT2 Pro still has the most advanced display that realme put in a phone.) Not once did I have a problem with this display (except for the crappy screen protector which tends to get more scratches than usual). I personally prefer flat displays, but the curved display does give a more premium feel to the phone itself. It's also good to see 120Hz refresh rate here compared to 90Hz last year. Going from 90 to 120 Hz isn't a huge jump, but for those coming from earlier Number Series phones are in for a treat!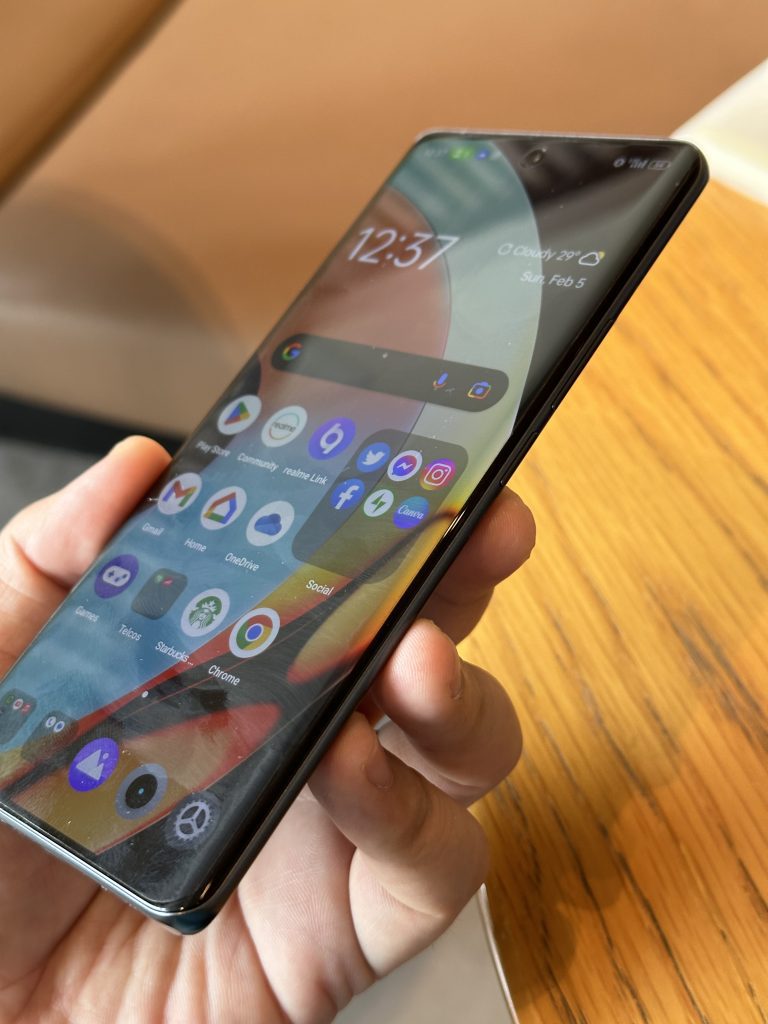 The display is plenty bright outdoors and the auto brightness on this phone doesn't mess with that. I had worries of the glare effect due to the curved display but it didn't bother me too much. My one complaint of this display is the occasional occurrence of accidental touches and unresponsive touches. I tend to find myself in a situation when tapping on the corners of the curved display doesn't do anything or I accidentally tap on an element. This is an issue with all phones having curved displays. I just wish realme already added ways to remedy this knowing it's a well-known issue.
That complaint aside, I still enjoy watching videos and playing games with this beautiful curved AMOLED display. It changed my perspective on curved displays despite the compromises they inherently have.
Performance and Software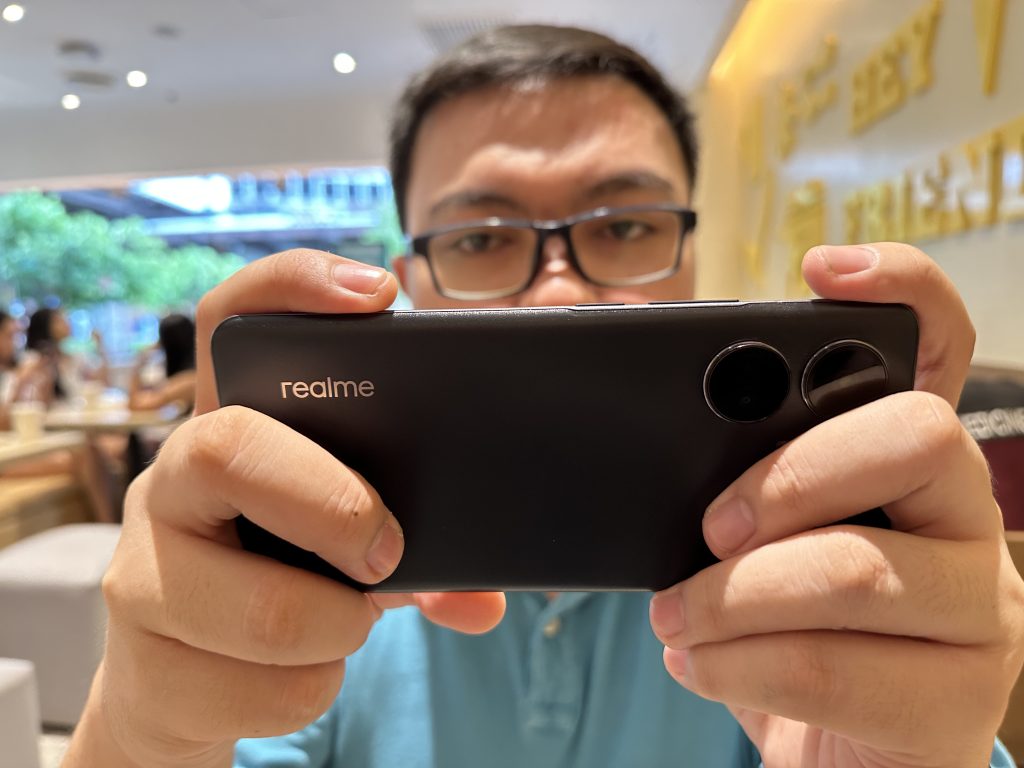 One aspect of the realme 10 Pro+ that I think the company decided to not do much with is its performance. Unlike the realme 10 Pro+ in India and China where it carries the new MediaTek Dimensity 1080 processor, the one in the Philippines just has the same MediaTek Dimensity 920 processor as last year's Pro+ phone. We get two variants of this phone: 8GB RAM + 128GB storage, and 12GB RAM + 256GB storage. Talking about this section's gonna be weird since I got a demo unit with 8GB RAM and 256GB storage. I don't think there would be much difference between the 8 and 12 GB of RAM besides being able to hold more apps.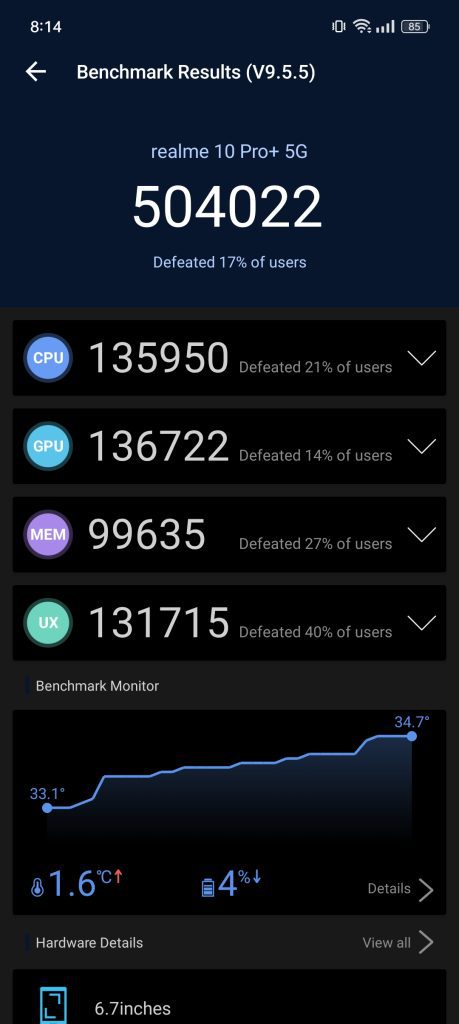 The performance of the realme 10 Pro+ is really good. It was already good enough last year. Based on the AnTuTu benchmark results I got, I get why realme kept the same processor here. It would have been nice to get a better processor (maybe the Dimensity 1300 or 8100).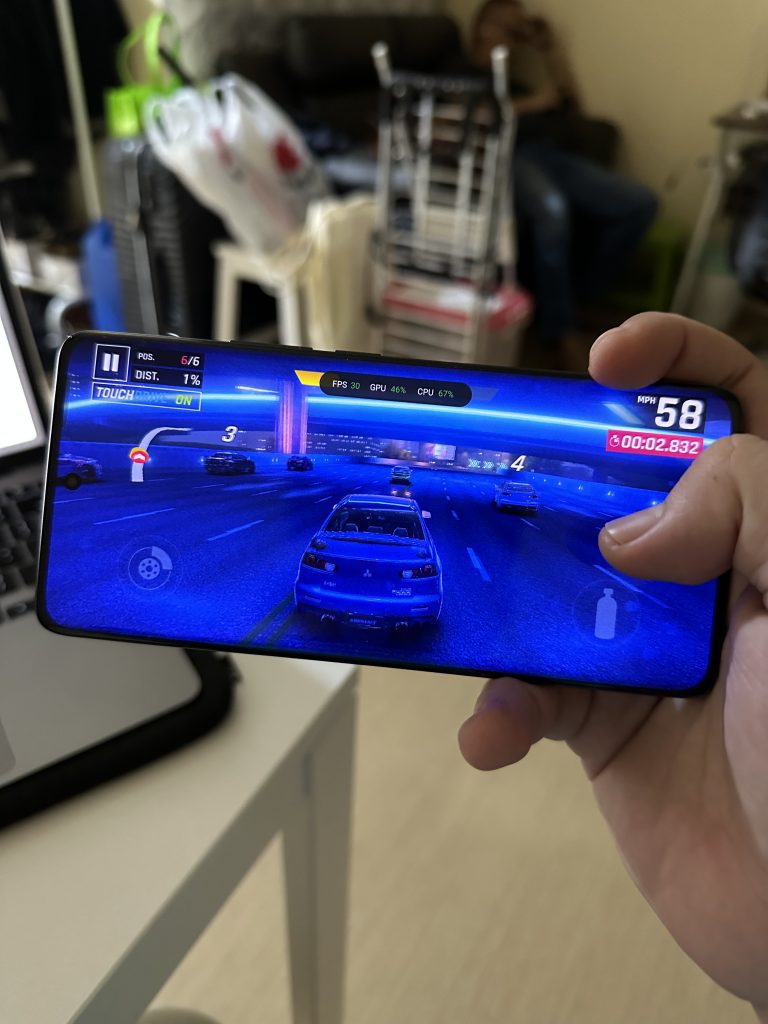 Playing MOBA games like Pokémon UNITE felt really smooth even when pushing it to the highest settings. Although I only saw Asphalt 9 go up to just 30 fps by default, the graphics really looked good. You might not be able to play at the highest possible settings for graphics-intensive games like Genshin Impact, but you can have fun with most mobile games out there.
Dual Speakers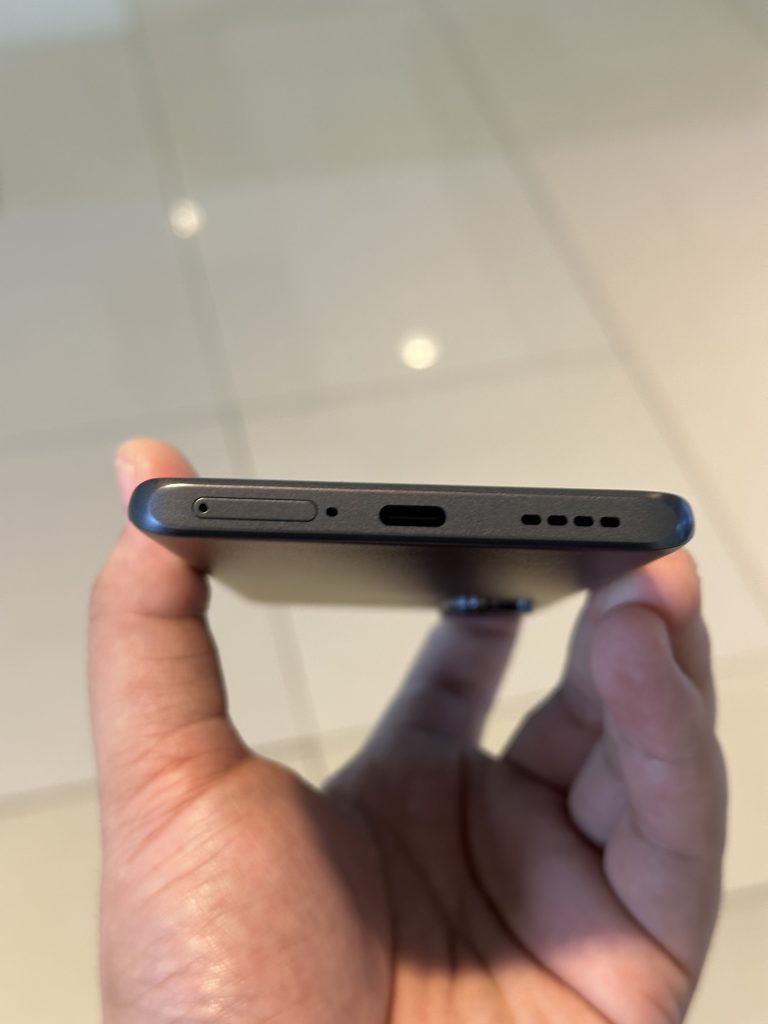 One little thing that I really enjoyed with the realme 10 Pro+ is its dual speakers. They really sound clearer than before and I tend to use these more. Although we don't get Dolby Atmos support here, I'd say that the quality is really good.
realme UI 4.0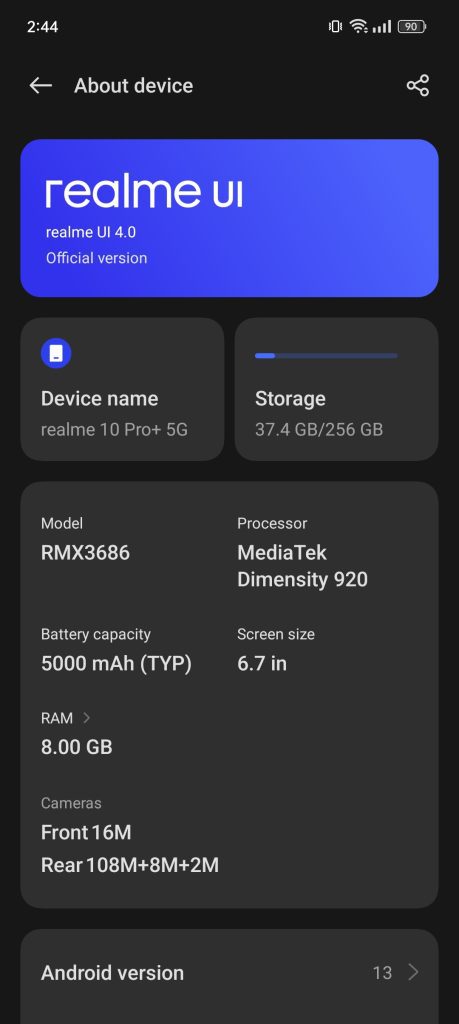 The realme 10 Pro+ comes with realme UI 4.0 based on Android 13 out of the box. It was nice to know that the realme 10 Series (that includes the vanilla realme 10) gets 3 years of software updates. realme UI is actually one of my favorite Android skins because of how fast the UI is. One new feature I like in realme UI 4.0 is having large folders on the home screen. It may not be totally new, but the one on realme UI feels really smooth to me.
As I complained in the display section of this review, I wish realme UI was able to handle accidental touches better. There were times that it got really annoying that I just stopped using the phone for a bit. I also noticed that the back gesture on the 10 Pro+ sometimes doesn't work that I had to restart the phone to get it to work again. Here's hoping these get fixed with a software update.
Besides those complaints, I still feel that the performance and software of this phone is good and the complaints can be fixed with software updates.
Battery Life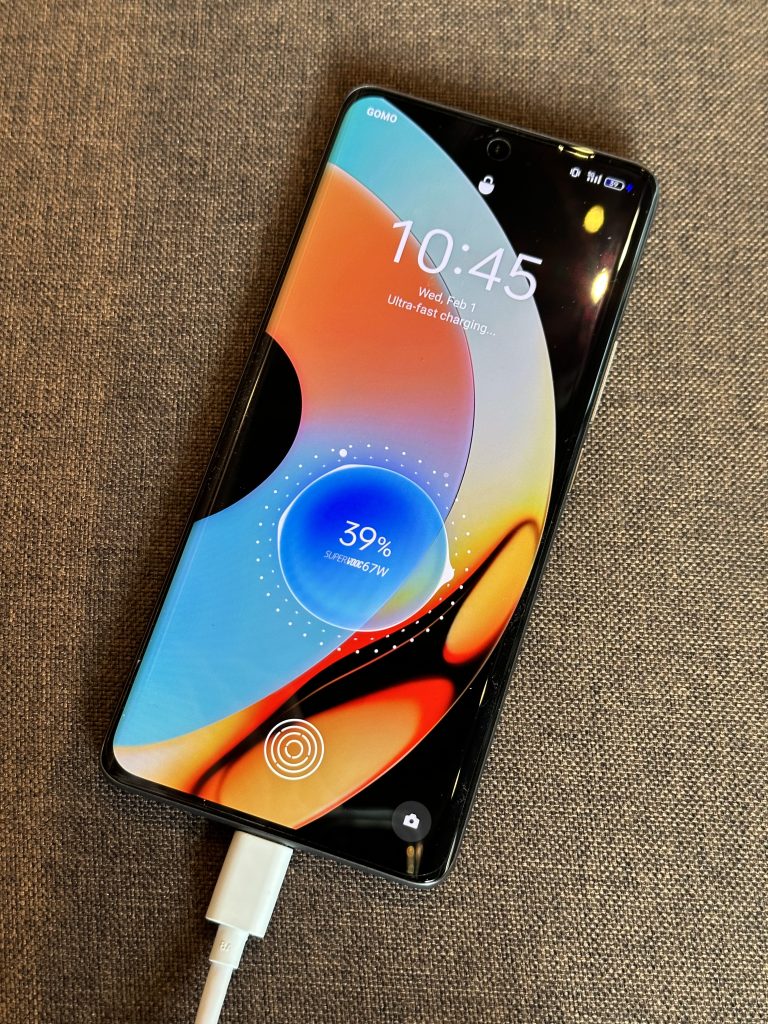 The realme 10 Pro+ has a 5000 mAh battery, which is bigger than last year's 4500 mAh battery. That alone is a nice upgrade, especially as the top model of the Number Series generally gets lower battery capacity than the rest. Coupled with 67W SUPERVOOC fast charging, this phone really nails the overall battery experience.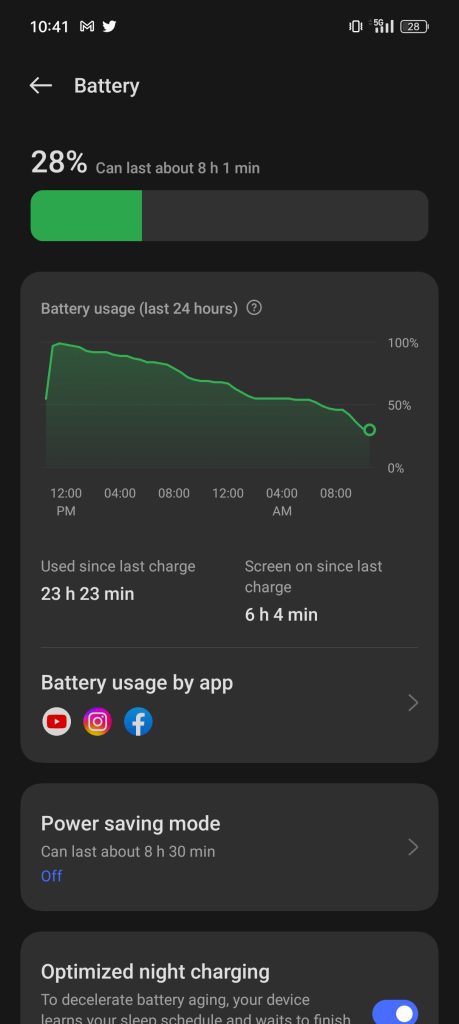 If the screen-on times I got are any indication, the battery life of this phone is actually better than I thought! I easily get through a day of moderate to heavy use with 6-7 hours of screen-on time. (You even see that crazy 11-hour screen-on time in the screenshot where I was mostly watching YouTube videos.) Charging time was fairly good as I'm getting 0 to 100% at around 45-60 minutes.
Cameras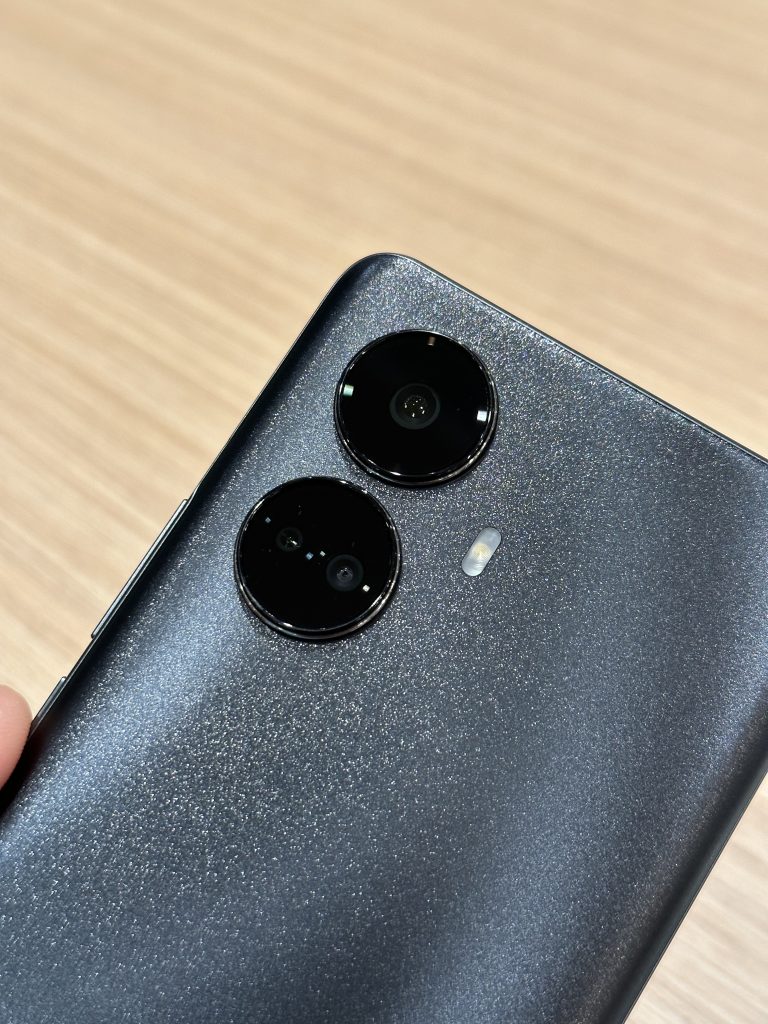 A big change that realme made with the 10 Pro+ is in the cameras. I was particularly worried with the change in the main camera. We now get a 108MP Samsung HM6 main camera coupled with the usual 8MP ultrawide camera and that 2MP macro camera. Another change that realme made that's promising is the HyperShot Imaging Architecture carried over from the GT Series. With all of that in mind, are the photos coming out of this phone worthy of that "Pro+" moniker? Here are my thoughts.
Click on the photos for full-resolution versions.
The main thing that I noticed when taking photos with this phone is the consistency of its color calibration. The first time I saw that consistency was taking two shots of the same scene with both the ultrawide and main cameras. Despite the lower-quality ultrawide camera, the image processing is doing really good work here.
I also love how zoom shots retain more quality thanks to that large 108MP sensor. It's a good thing too that the default zoom is at 3x since I think 2x doesn't feel like a proper zoom.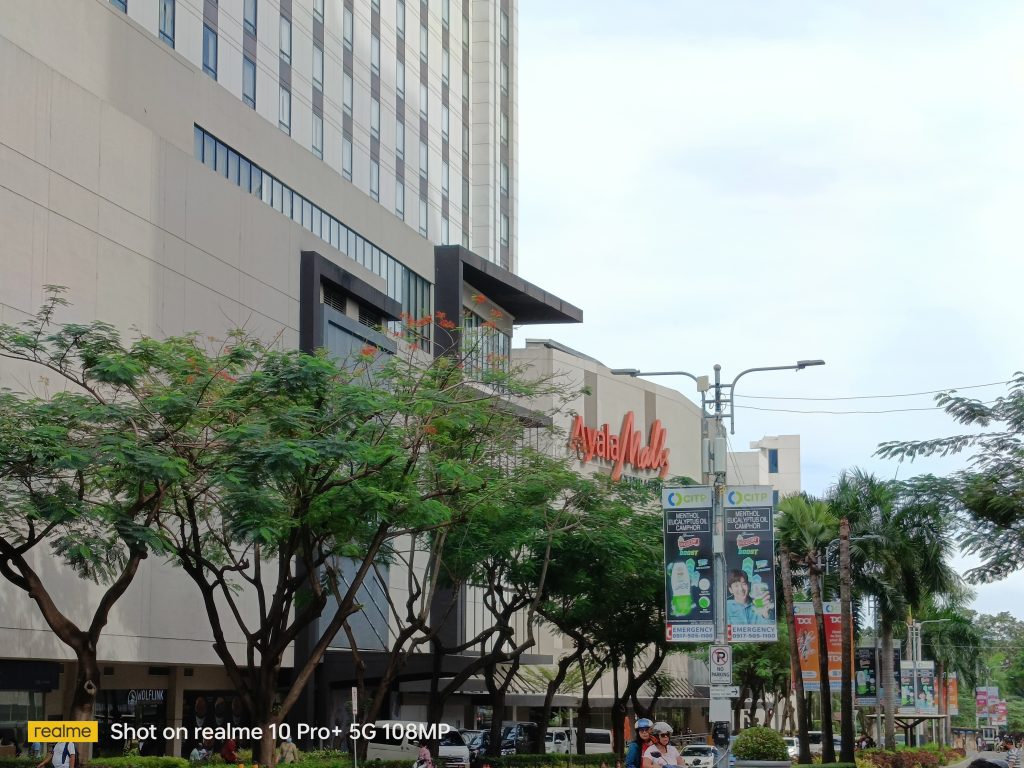 One place where the improved image processing really shows its prowess in this food photo: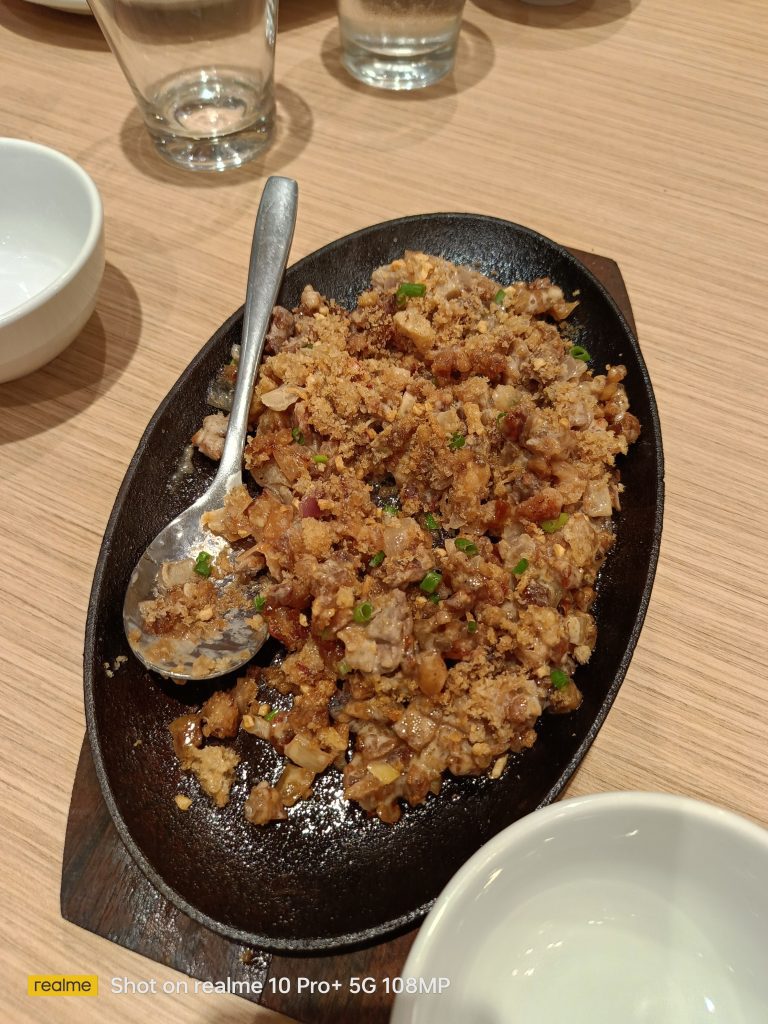 This photo just makes me want to eat this House Crispy Sisig from Manam again and again! Hehe. Food photos are generally good to show off how detailed photos taken from a phone are. Photos from the realme 10 Pro+ are generally detailed if you give it enough light.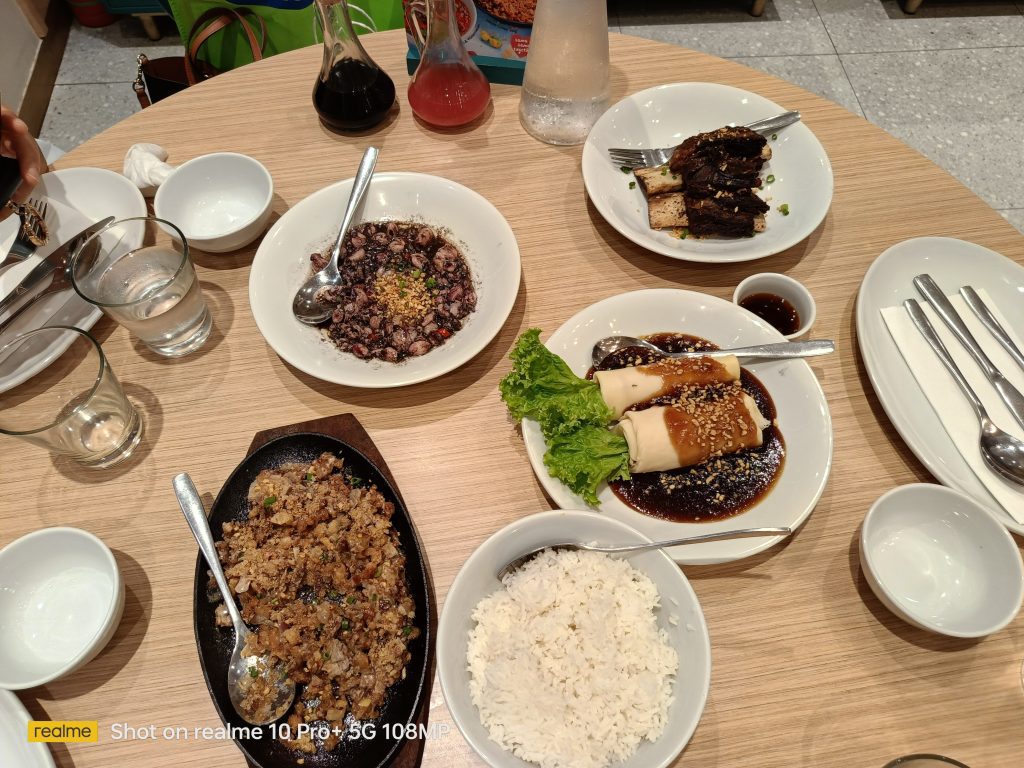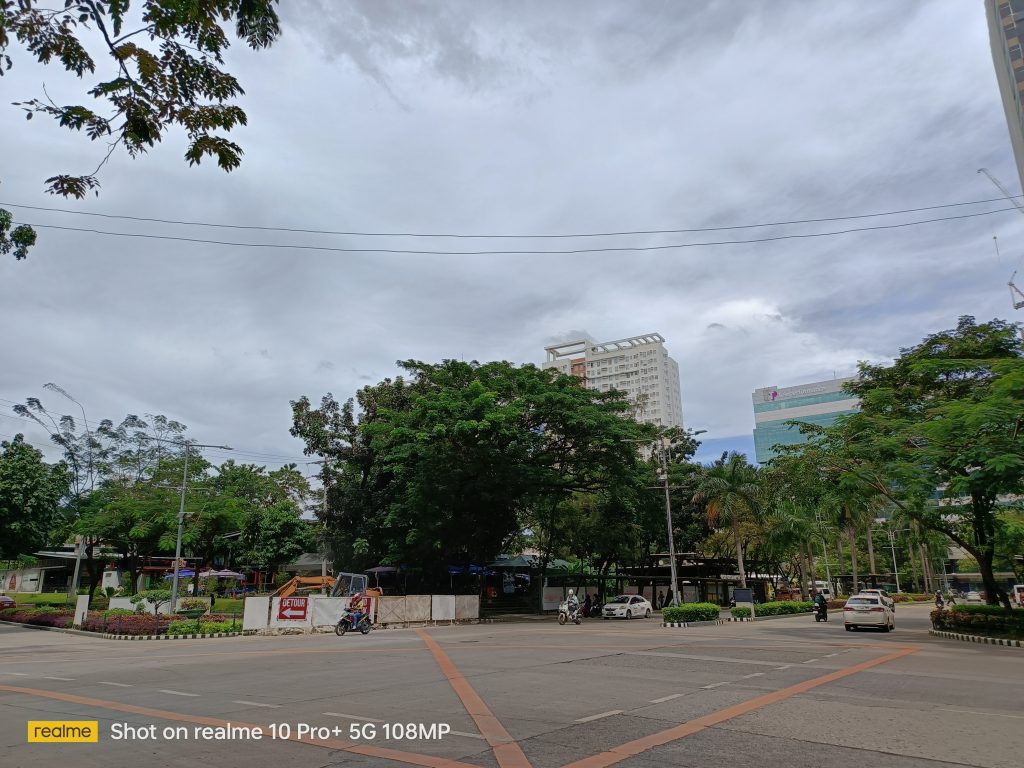 If there's one aspect that mainly took a dip, it's low-light photos. Although I still got good low-light shots, there is slightly more noise than its predecessor. It would have been worse if it weren't for the improved image processing.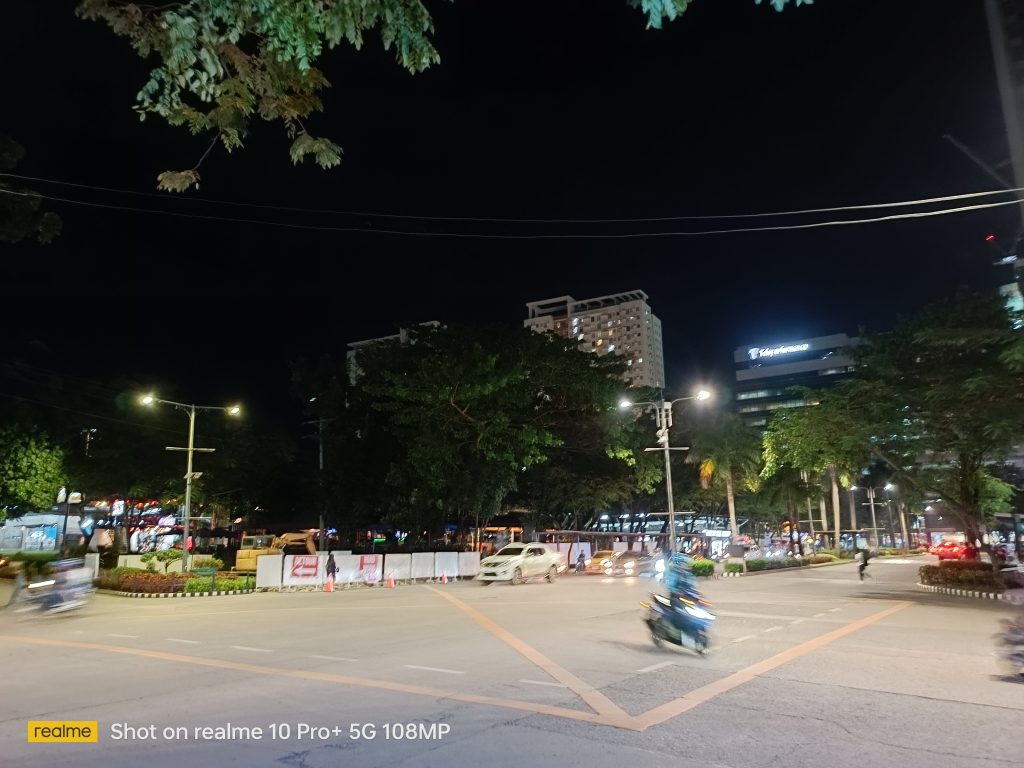 The photo below of The Terraces at Ayala Center Cebu just shows the mix of the 108MP sensor and the image processing at work. Said mix is more apparent when using the ultrawide camera, but it still can't totally overcome the limitations of that sensor.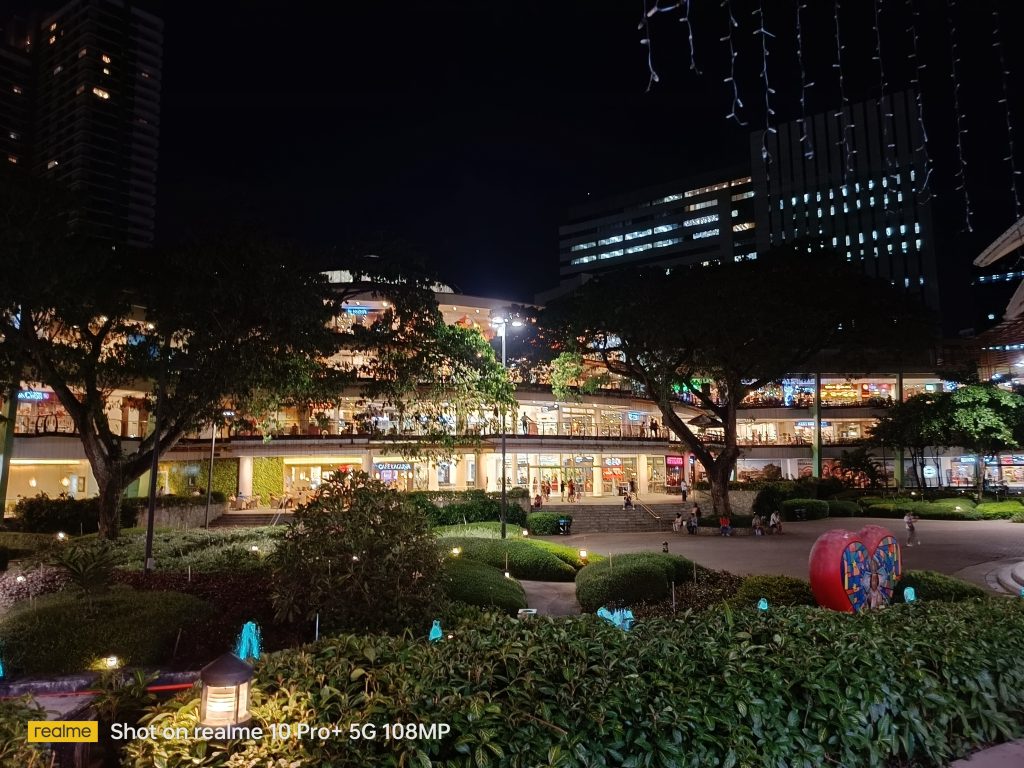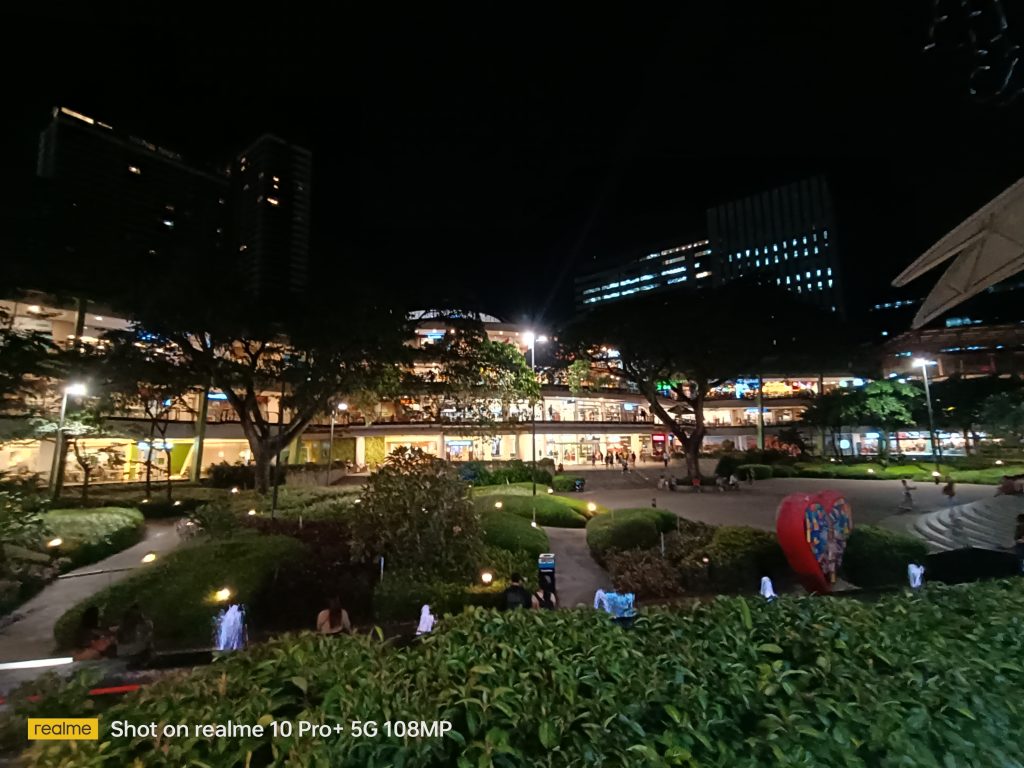 16MP Front Camera
The realme 10 Pro+ still carries a 16MP front camera like its predecessors. Thanks to that improved image processing, selfies tend to be brighter even in low light. I already like the results coming from selfie cameras of realme phones and the one in the 10 Pro+ builds on that.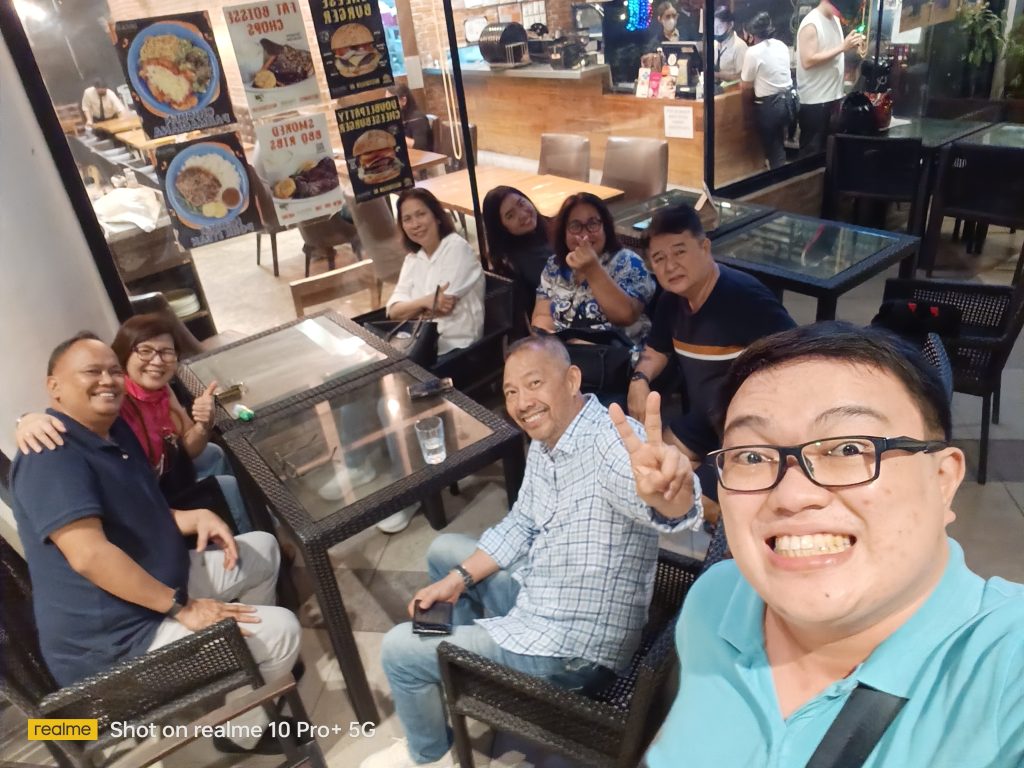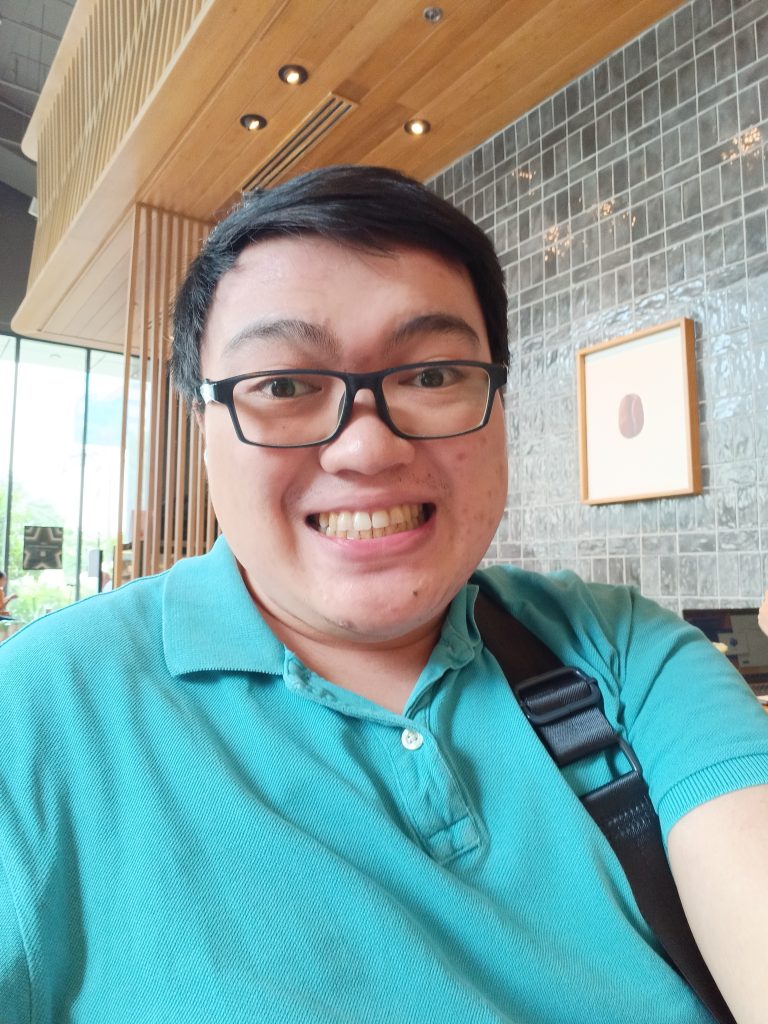 Sample 4K Video
The video coming out of the realme 10 Pro+ is good enough for social media use. Thanks to a lack of OIS, I wouldn't totally rely on this, especially in low light.
All in all, I'm pretty impressed with the cameras of the realme 10 Pro+. Although the sensor quality itself took a downgrade, the resulting shots coming from the phone are generally good. There are some scenarios where the result was slightly worse, but I would recommend it as a backup phone for taking photos.
Should You Buy the realme 10 Pro+?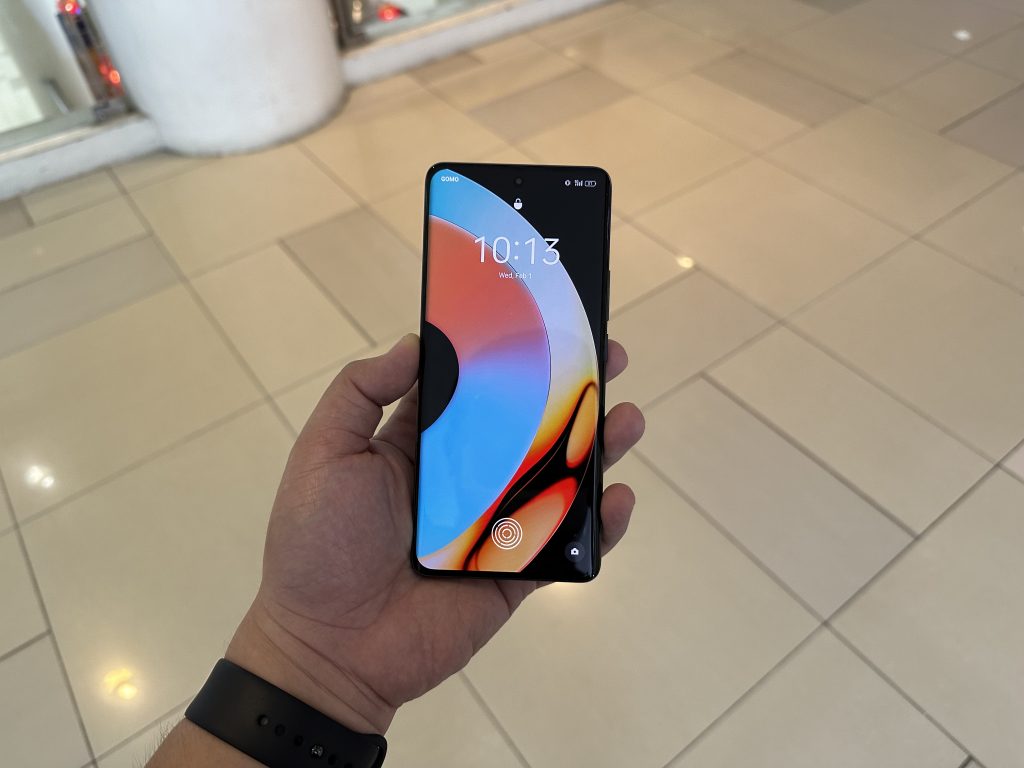 I would have felt totally mixed with my feelings on the realme 10 Pro+ if it weren't for the price. At P19,999 for the 8GB RAM + 128GB storage variant, it's a no-brainer to get this phone for the display alone. If the 12GB RAM + 256GB storage variant priced at P24,999 is the only variant available, it would have been a harder sell.
Everything else about the 10 Pro+ actually supports the overall proposition well. I just think that realme decided to make the display its priority for the realme 10 Pro+ and was willing to change up some things, including the main camera, to keep the costs down while providing that major leap-forward technology to more people.
The 120Hz Curved AMOLED Display is even better than what I imagined as it changed my perspective on curved displays in general. I'm actually torn about whether I should keep using the 10 Pro+ as my main Android phone after this review since it really feels more premium to me. As someone who values smartphone cameras a lot though, I might have to think twice.
Pros
Very premium design thanks to the thin sides
The Dark Matter color is basically one of the best black colors in a phone
That 120Hz Curved AMOLED Display is one of the best I've seen in the midrange
Really good dual speakers
Smooth performance and user experience thanks to the Dimensity 920 + realme UI 4.0
3 years of software updates
The HyperShot Imaging Architecture does a lot more work to bring better shots out of that 108MP Samsung HM6 sensor
Better color consistency between the main and ultrawide cameras
4K video recording is good for social media use
Selfies are really good here
Cons
The Hyperspace Design looks like it's going to be another fingerprint magnet
Even with the algorithms to mitigate accidental touches, I still get them with this curved display
Really crappy screen protector which is very unusual
That 200% UltraBoom speaker feature somehow feels more pointless here
Reused the MediaTek Dimensity 920 processor
Low-light photos take a slight hit thanks to the Samsung HM6 sensor
Still uses the 8MP ultrawide camera and the pointless 2MP macro camera
The realme 10 Pro+ 5G will be available for preorder starting February 27 until March 10. Both variants will be available for preorder: an 8GB RAM + 128GB storage variant for P19,999, and a 12GB RAM + 256GB storage variant for P24,999. Freebies await those who preorder! (realme Powerbank 2 and realme Buds Classic for 8GB + 128GB variant, DIZO Star 500 and realme Buds Classic for 12GB + 256GB variant)
Stay tuned to the blog for updates on online offers for this phone.