If there's one brand that had a major change in the past few years, it's OnePlus. After being the enthusiast darling for years, it's becoming a more mainstream brand in a lot of ways. From having more and more phones to OxygenOS basically just another version of ColorOS, the company isn't the same as it once was. The OnePlus 10T is a shining example of the current state of the company. Will this totally overshadow what this phone has to offer? Find out in my full review.
Disclaimer: OnePlus Philippines sent me a package containing a OnePlus 10T and two first-party cases. The variant I got was the 16GB+256GB one in Jade Green. It arrived on November 28, 2022, and I've used it as my main Android phone for about two weeks.
Design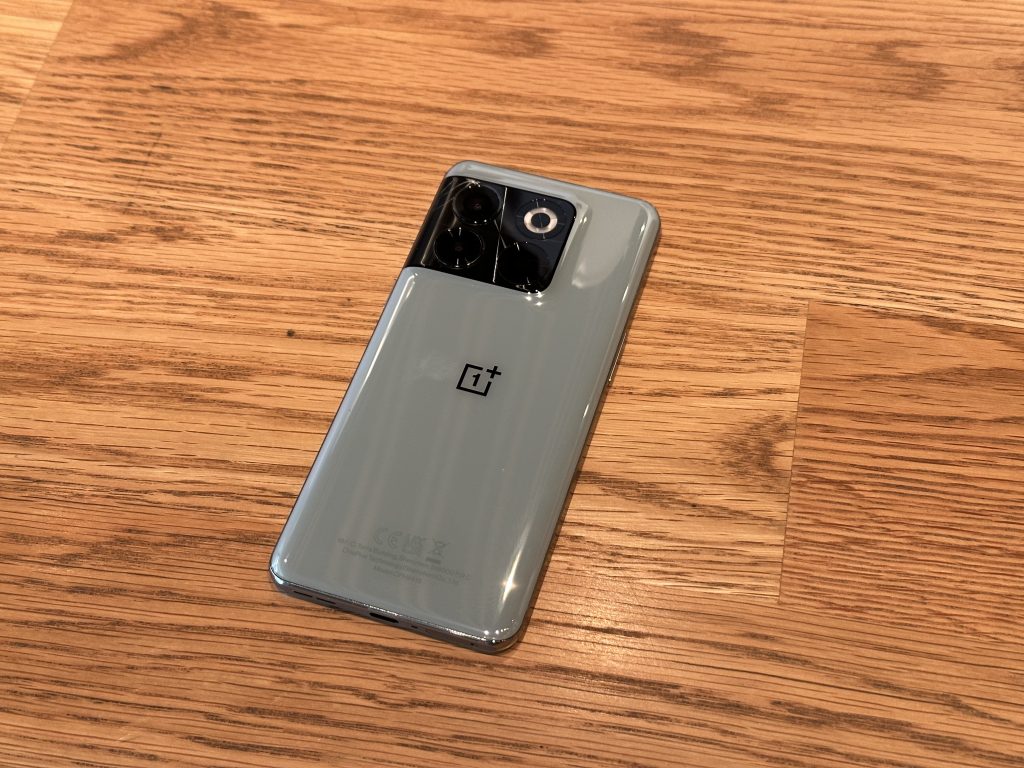 If there's one thing OnePlus learned throughout its history, it's that they really learned how to make good-looking phones. The 10T in particular isn't anything special, but it does feel really premium. As I mentioned in my unboxing and first impressions, this is the first time I've used an Android flagship. The glass back really makes this flagship experience feel good. I initially thought that this had a metal frame, but it's actually plastic. It didn't feel any cheaper and it wasn't noticeable besides its weight.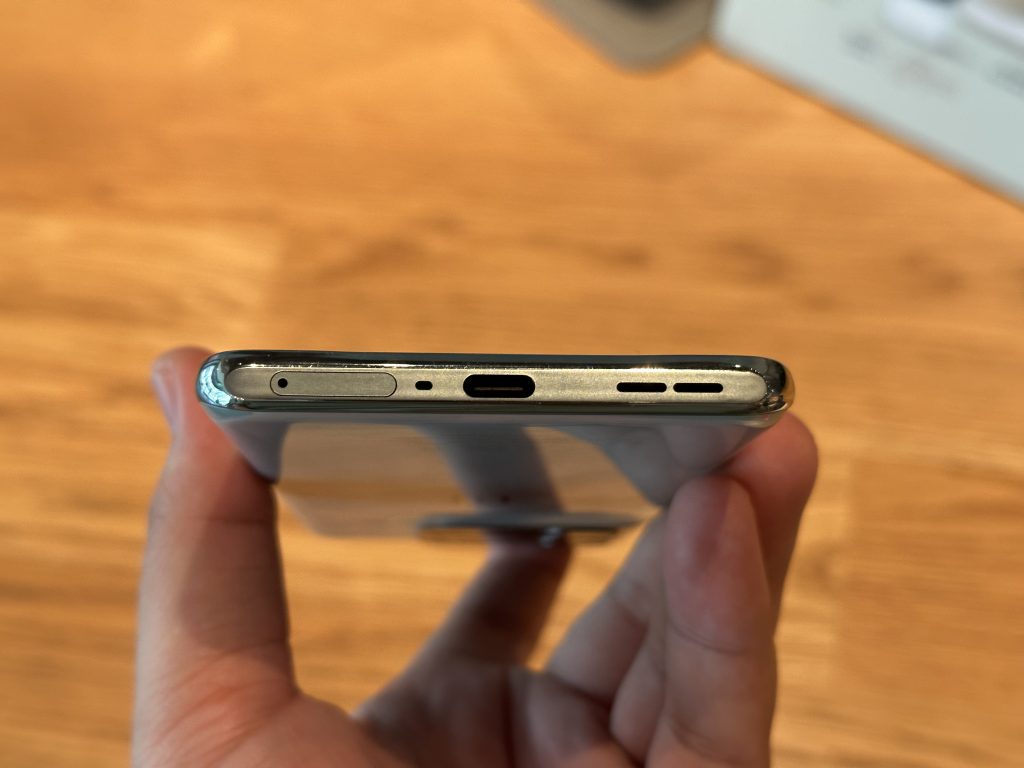 My main gripe is with the glossy back. I tried rocking this phone without a case but almost dropped it. It's honestly not too big of a deal, but even the OnePlus 10 Pro doesn't have a glossy back. Buttons are really clicky, but I'm personally not into the volume rocker. I could easily make the mistake of decreasing (or increasing) the volume when I wanted the other way around.
Almost forgot my other gripe with this phone: the lack of the alert slider. It's really weird to see OnePlus ditch this feature since I haven't seen other Android phones adopt it. This really was a warning sign to me that OnePlus is willing to compromise on its identity for the sake of putting more in the phone. Some people might not care about that (having more stuff is good on paper). When SO MANY Android phones look really similar, stuff that helps you stand out matters to me.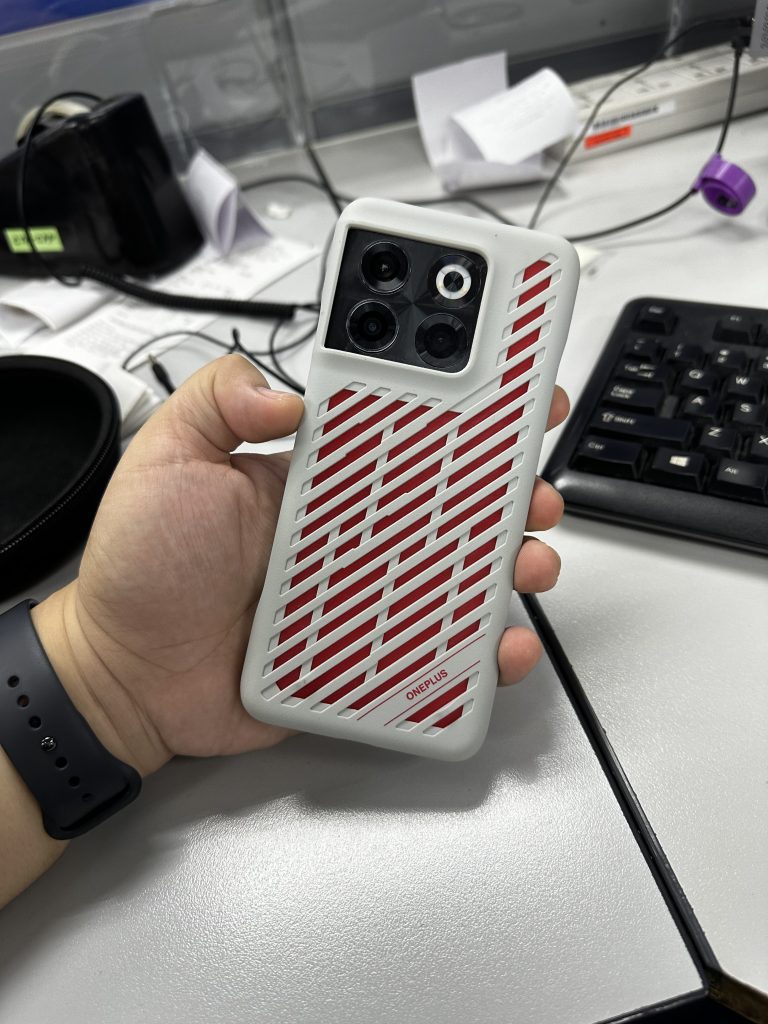 I just have to give a shoutout to the OnePlus 10T cases that I got to try during the review. If you have to pick between these two cases, I would go for the Bumper Case in Sandstone. I don't really game a lot and I wasn't into the Jade Green color, so using the bumper case made more sense to me. You could go for the Glacier Mat case if you play mobile games more often as it really helps when it comes to thermals.
All in all, the OnePlus 10T has a premium design that I like a lot despite the plastic frame and volume rocker. The essentials are good, but losing the alert slider just makes the 10T more generic.
Display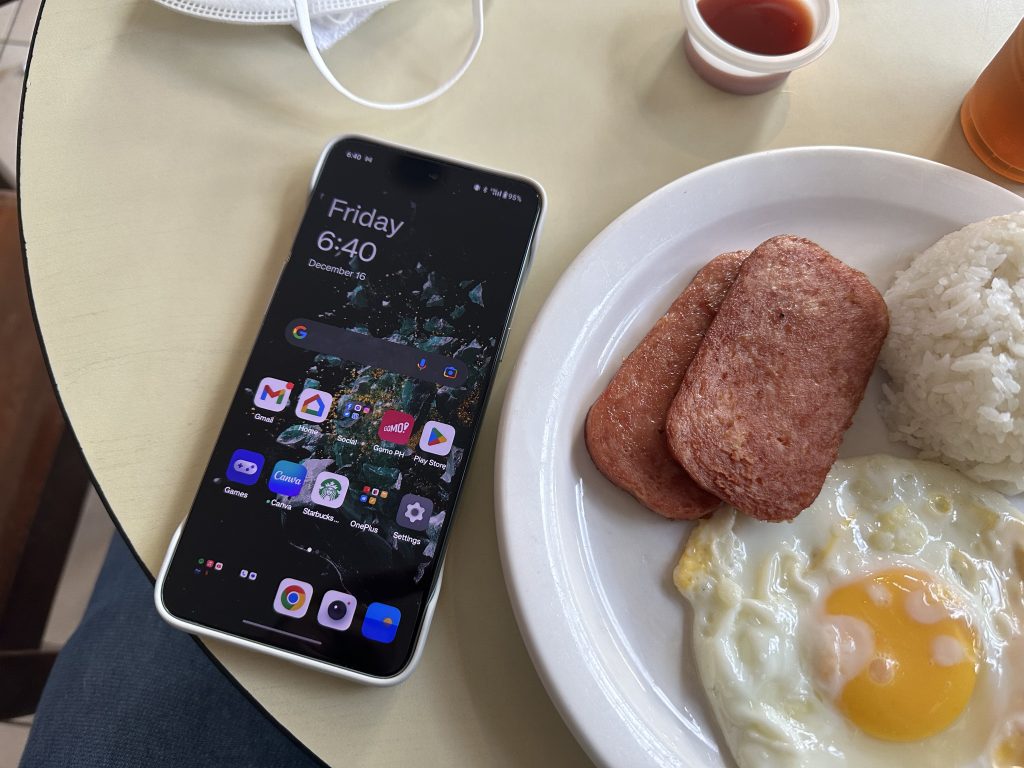 Unlike the design, the display of the OnePlus 10T is one of the best in its class. You get a 6.7-inch Fluid AMOLED display with a 120Hz refresh rate and a resolution of 2412 x 1080. It may not be the cream of the crop in terms of resolution, but everything else about this display screams flagship. I'm having a hard time justifying the 60Hz display on the non-Pro iPhones since a lot of the phones above P30,000 has a 120Hz refresh rate.
This display is bright enough to use outdoors and I pretty much don't have a complaint besides the center placement of the selfie camera. (I prefer the hole punch being on the top left or the top right of the display.) It is probably one of the least controversial parts of this phone.
Performance and Software
When I found out I was gonna review the OnePlus 10T, I got excited! That's because it would be my first actual review experience with a flagship processor in the Snapdragon 8+ Gen 1 processor. (It's not my first hands-on experience though. That goes to the time I used my mom's Galaxy Z Flip4.)
After using the OnePlus 10T as my main Android phone, I can definitely say that flagship performance is definitely legit. This phone is available in two variants: the 8GB RAM + 128GB storage variant in Moonstone Black, and the 16GB RAM + 256GB storage variant in Jade Green. I got the latter model and I really feel the difference of having more than enough RAM. Multitasking is basically a breeze with the OnePlus 10T and I didn't feel the need to close apps all the time.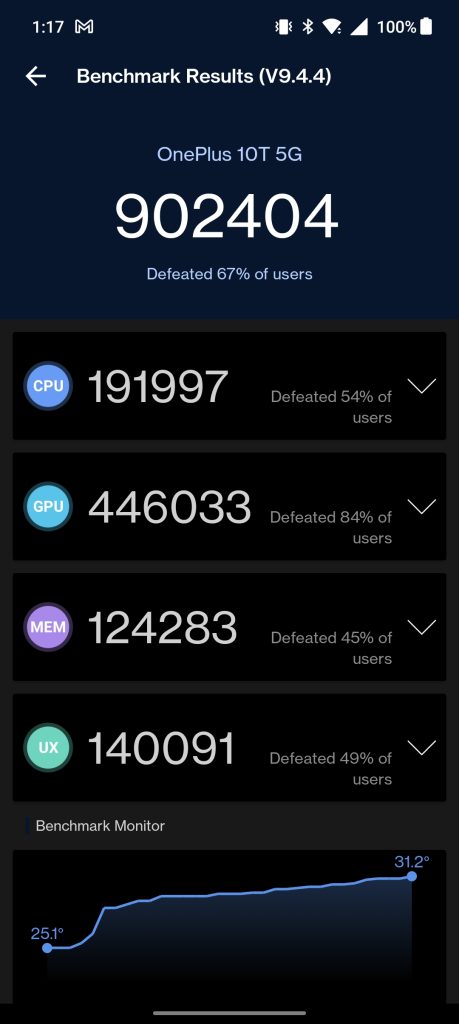 The AnTuTu benchmark results may disappoint, especially as I've seen some results higher than this on other 8+ Gen 1 phones. I'm still generally impressed at how far performance has come in smartphones. If I have to be honest, there's probably diminishing returns when you reach a certain level of performance on an Android phone. Despite not utilizing the full power of the 8+ Gen 1, it tends to heat up when playing intensive games.
Playing Genshin Impact was really nice on the OnePlus 10T, though I was only comfortable playing with Medium settings at 60 fps. I knew that Pokémon UNITE would run flawlessly on this phone, but it was nice knowing that there's a gaming mode available.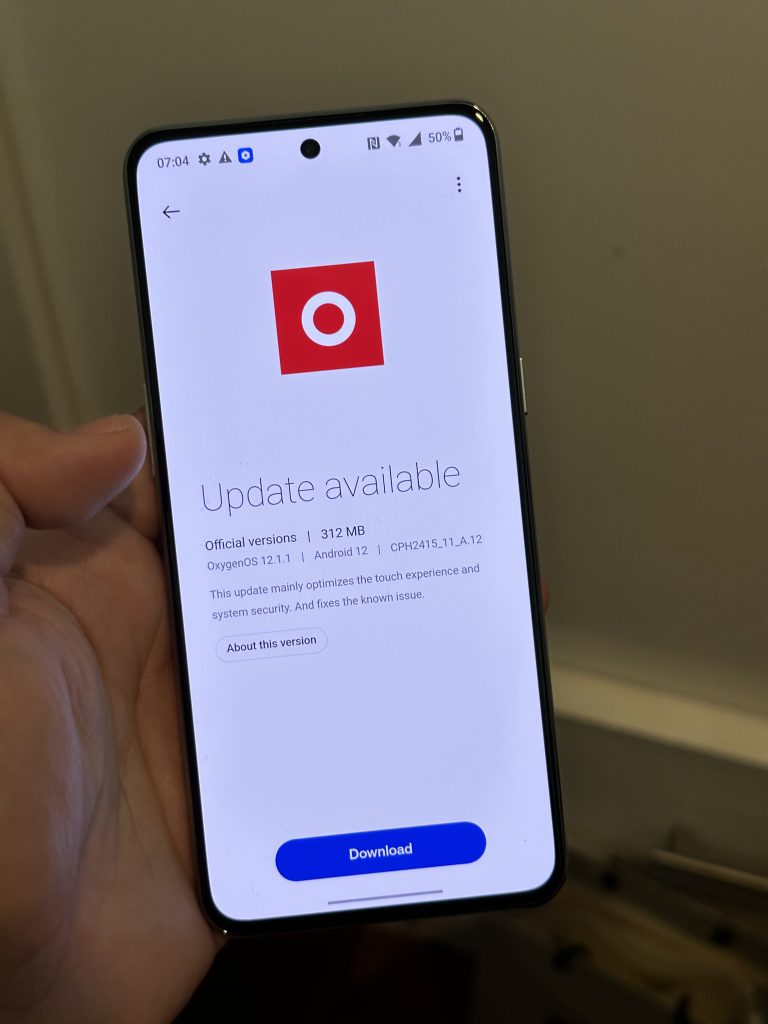 I knew I didn't wanna talk performance too long because I wanted to focus on the software. The OnePlus 10T runs OxygenOS 12 based on Android 12 out of the box. I'm glad that it got the OxygenOS 13 update that's based on Android 13. That's probably one of the fastest updates I've gotten on an Android phone. My experience with it is really smooth and having no bloatware is really nice. I personally don't use the Shelf feature that much since it feels redundant.
My main problem is this: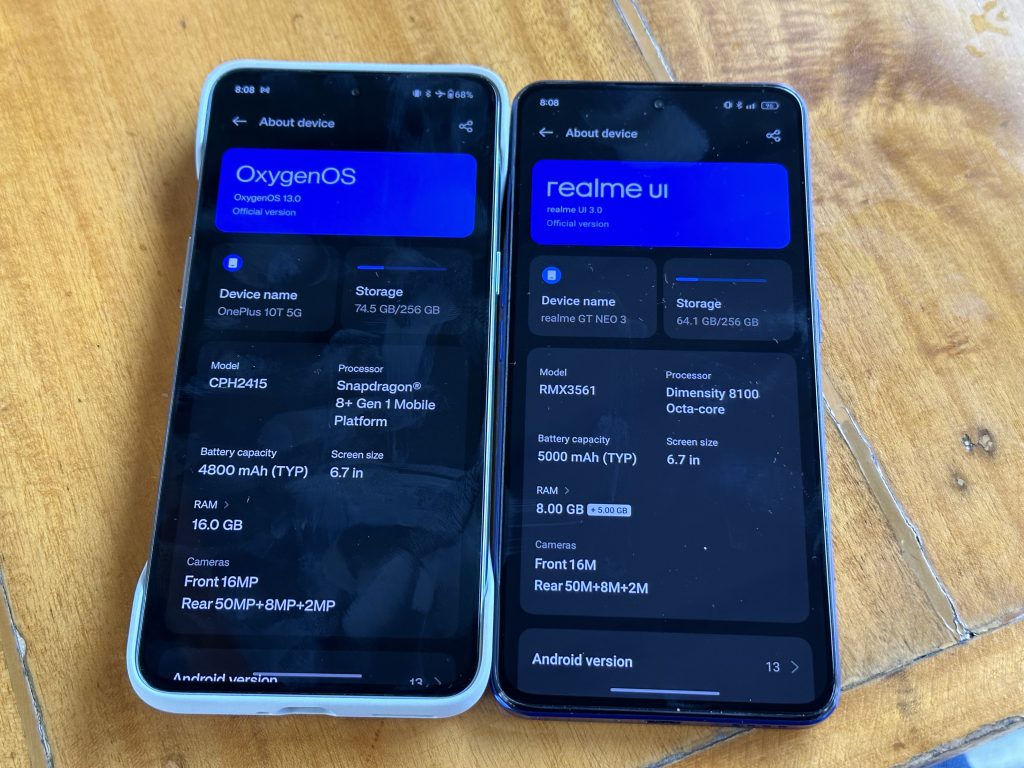 Besides the font, OxygenOS basically looks like realme UI which also looks like ColorOS. That's not a coincidence: both OxygenOS and realme UI are based on the work OPPO does with ColorOS. Most people actually won't care about this problem and this fact doesn't take away with how good this phone is performance-wise. This, however, has been a sticking point for longtime OnePlus users who simply feel that the original OnePlus spirit is gone.
All in all, the OnePlus 10T is a really good performer thanks to its flagship chip and the software keeps up. I'm just sad that I didn't get to try OnePlus software at its peak.
Battery Life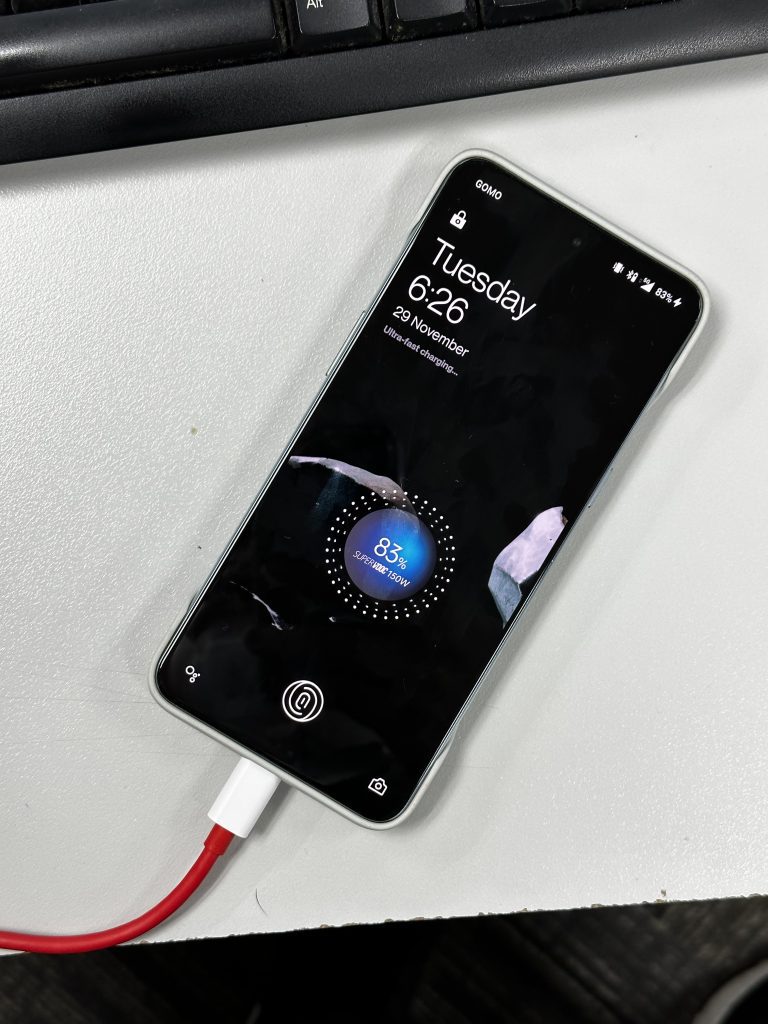 One of the things that excited me about the OnePlus 10T is its 150W SuperVOOC fast charging. It's NUTS that we've reached the point where phones can be fully charged in less than 30 minutes! You would think that it has this charging capability due to its 4800 mAh battery, but you'd be wrong!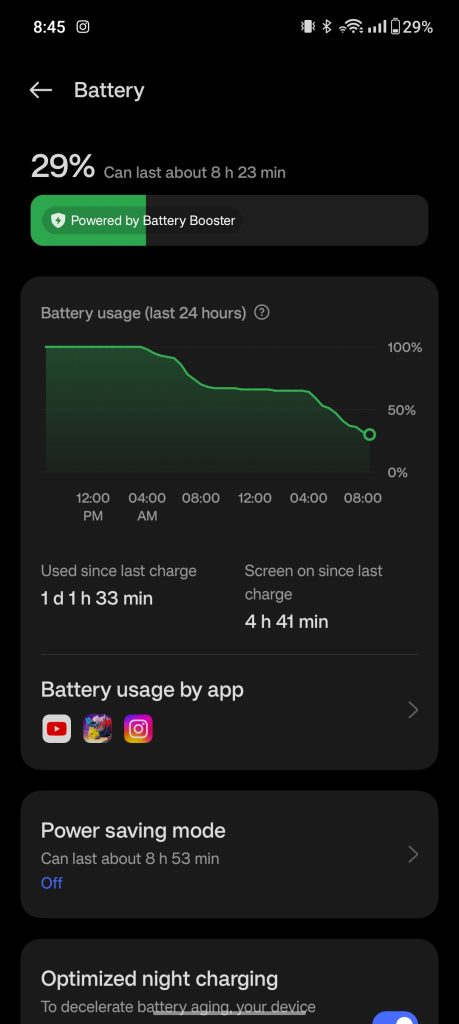 On lighter days when I would lean towards light Pokémon UNITE gaming, I could get around 24 hours of use! With a heavy day (playing Genshin Impact for around 2 hours), I could get more than 6 hours of screen time. I basically did not have a problem at all when it comes to the OnePlus 10T's battery life.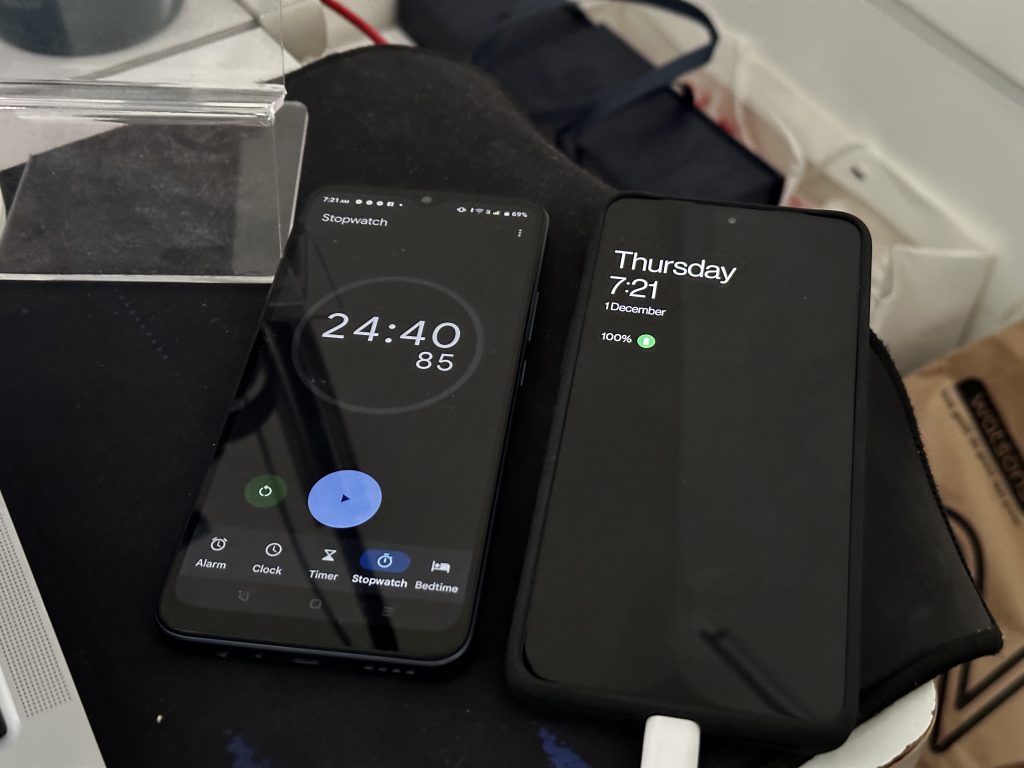 It just impresses me that a phone has really good battery life AND really fast charging! The OnePlus 10T charges from 0 to 100% in around 22-25 minutes based on my testing. (The photo above is just one of said tests.) It's really nice to have the convenience of being able to have a full battery when you need it. The phone did heat up during charging, but I wasn't that concerned since it slows down from the 80% mark.
Cameras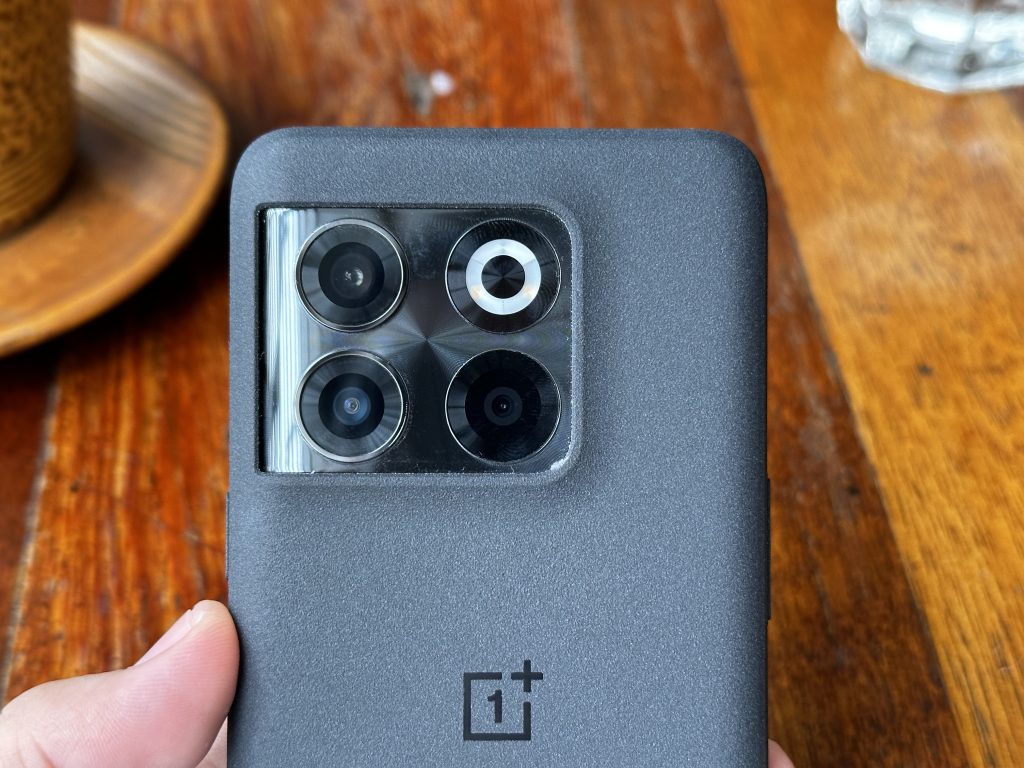 I have some level of expectation when it comes to cameras on flagship phones. As most of them are becoming good at the fundamentals, there are only a few aspects left where phone makers can stand out. On paper, the camera specs kinda alarmed me. Besides the 50MP Sony IMX766 main camera, I was not sure with the capabilities of the other cameras. With that in mind, I took a lot of photos with the OnePlus 10T before, during, and after my Manila trip. Here are the results: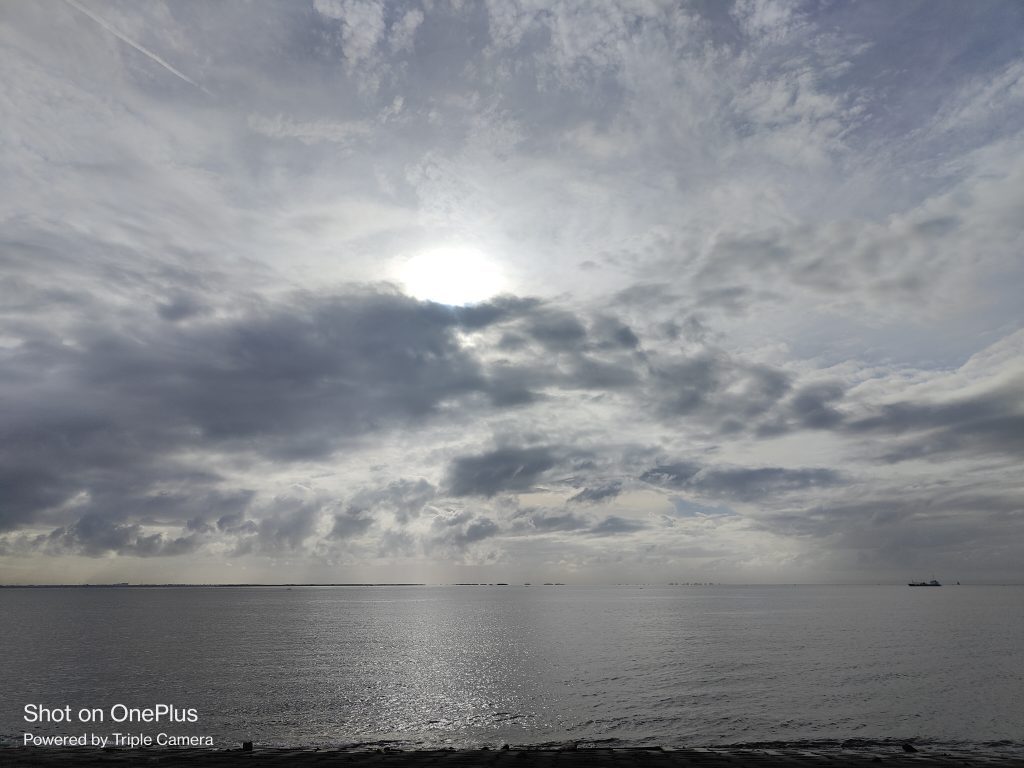 What really stood out to me was the image processing thanks to the software and the Snapdragon 8+ Gen 1. Photos tend to lean towards a more natural look outdoors. The photo above was a clear standout for me. Even the photo below made the food look really appealing.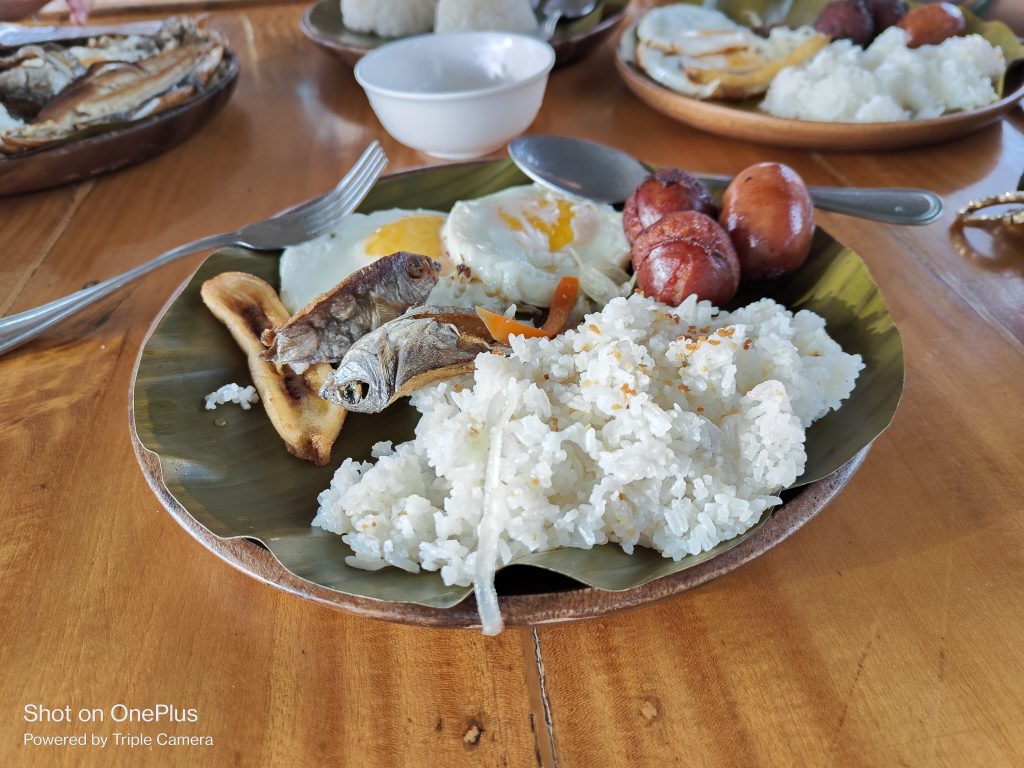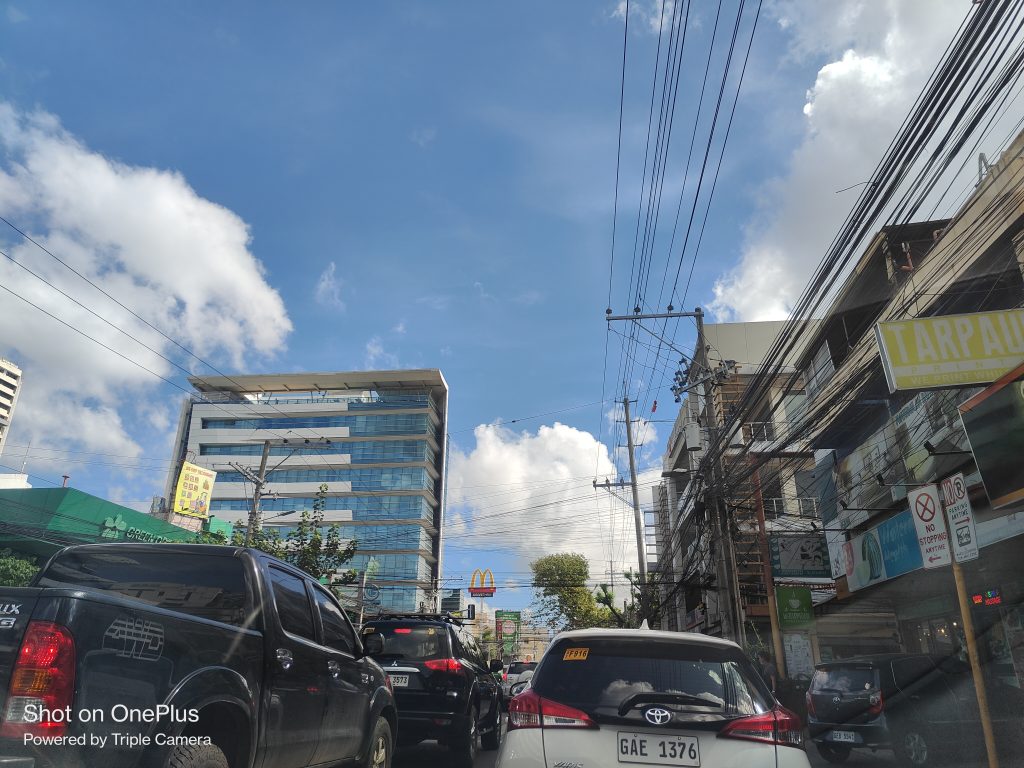 Despite some color consistencies, I still end up liking the results especially when the shot has the sky in the background. I still see a good amount of sharpness on both the photo above and below. (My preference is more of the top photo though.)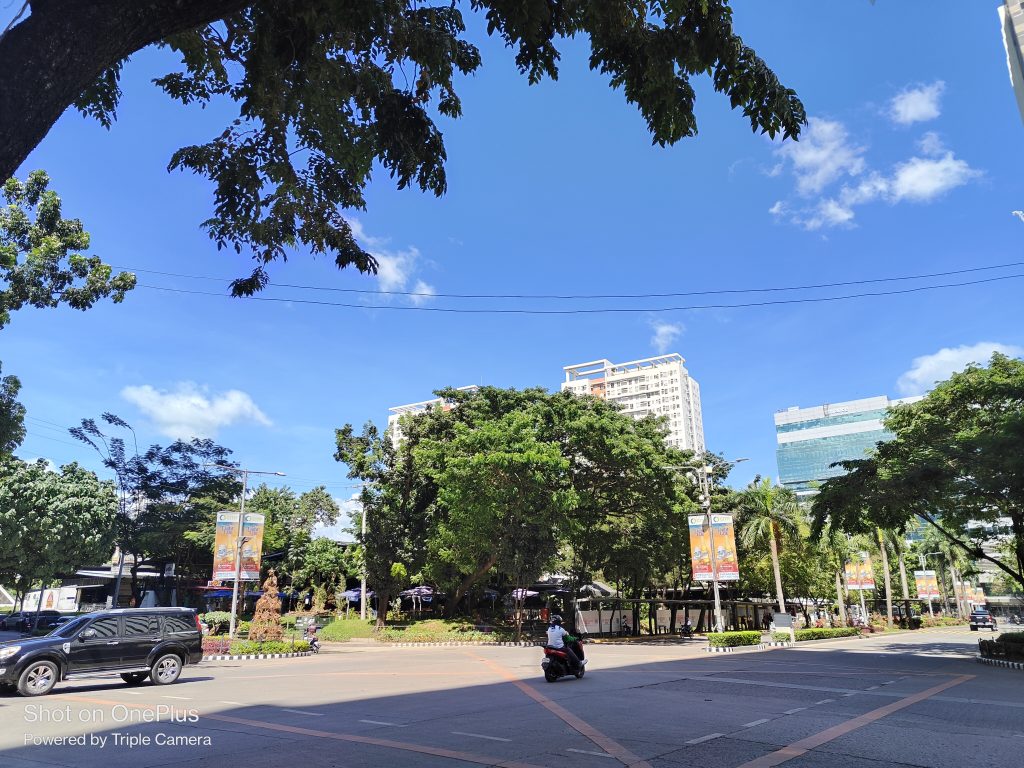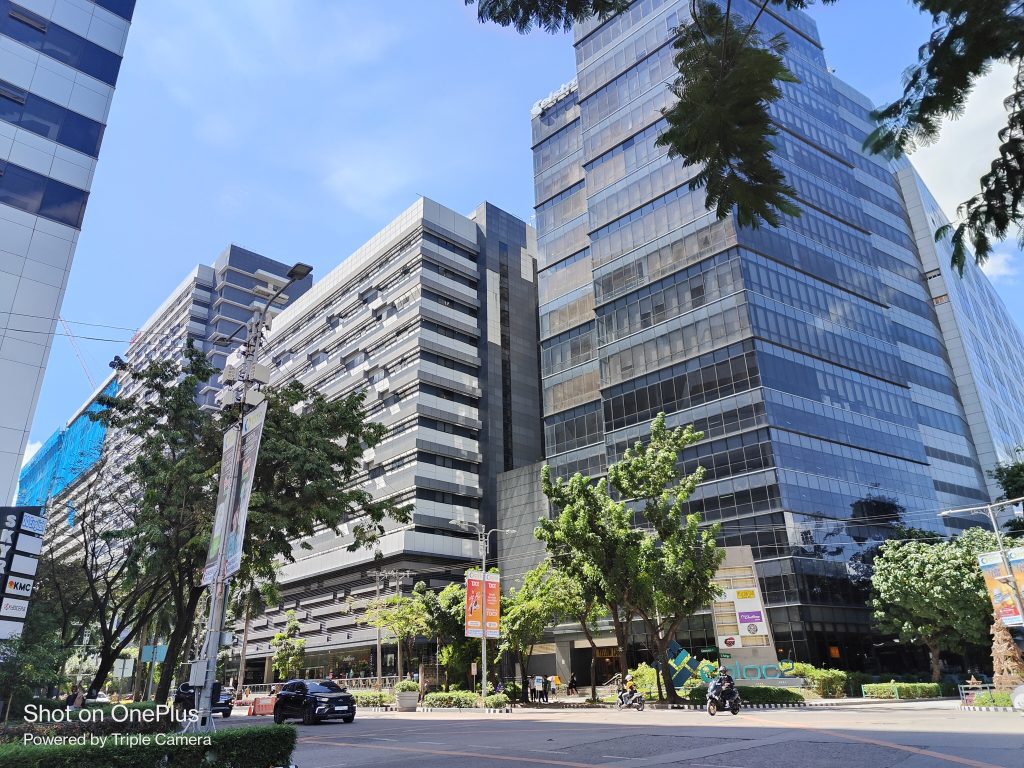 The strength of this camera is definitely with well-lit indoor shots. I took the photo below during Simbang Gabi and the colors here really pop. Even my typical coffee shop setup looks good in the photo.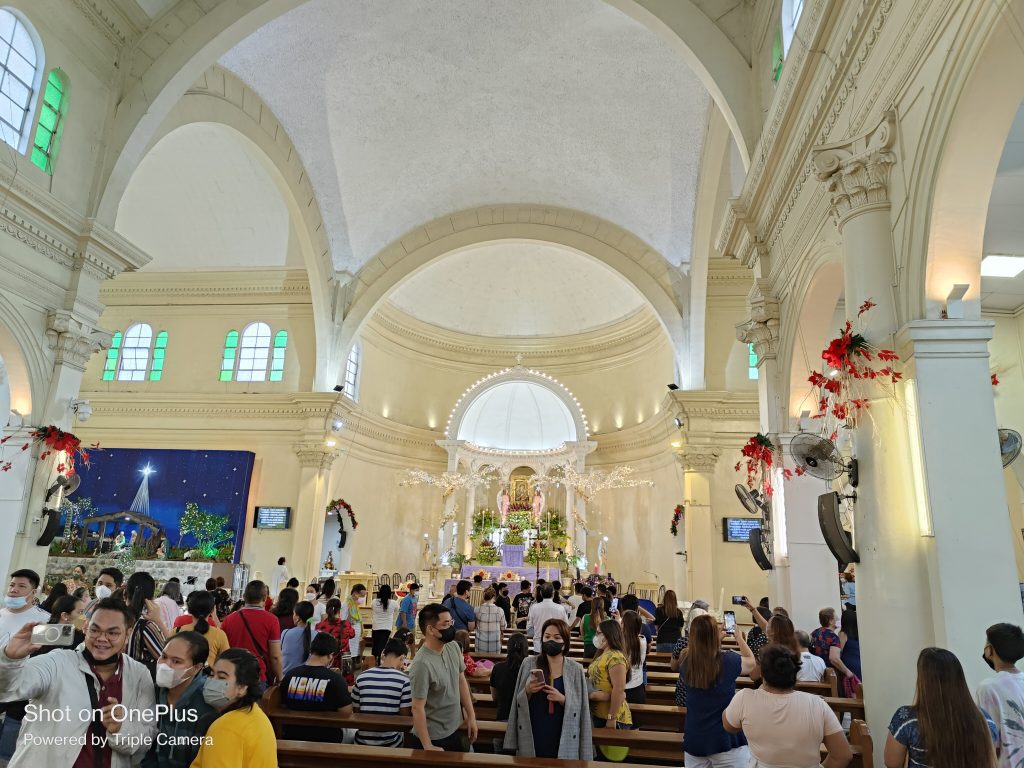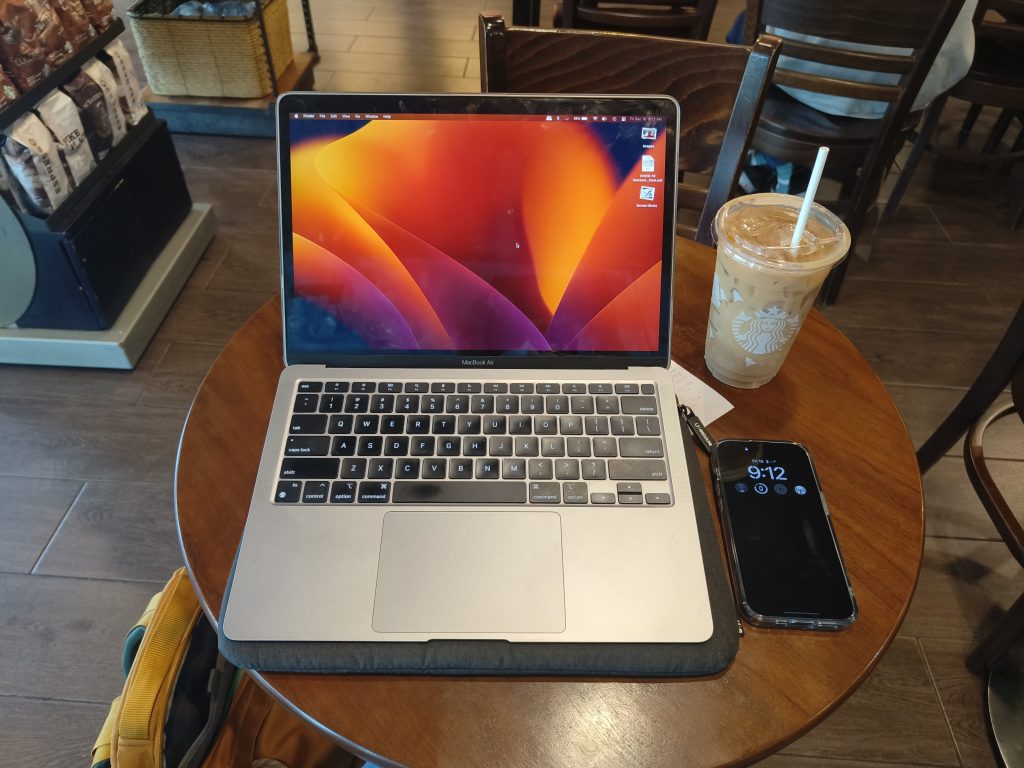 It's odd for me to start my thoughts on the night shots with a 1x/2x zoom, but this shows how good the Sony IMX766 sensor is. Paired with image processing, the quality of both photos is actually consistent. This gives me confidence that most night shots will look good, and it shows the other low-light photos.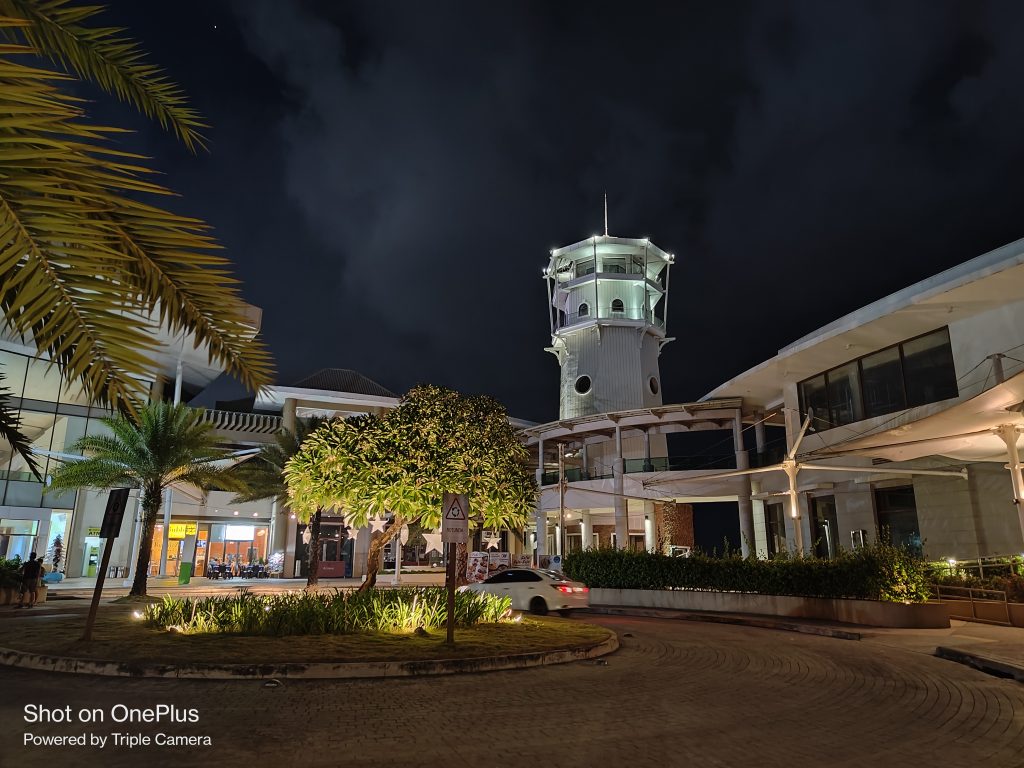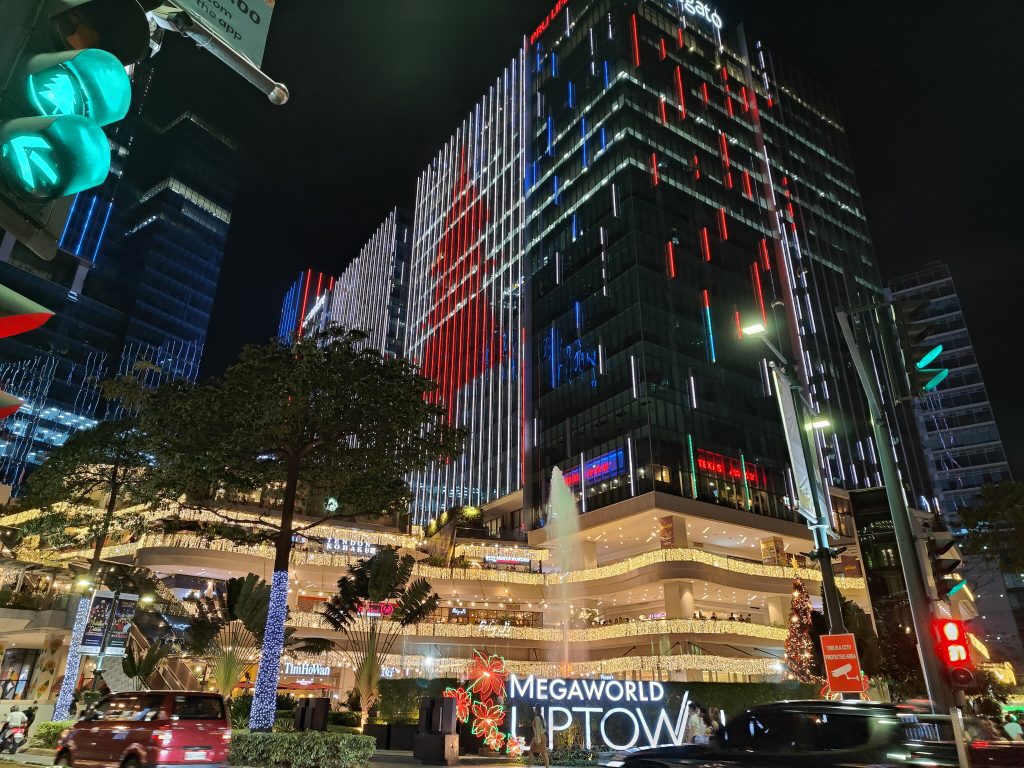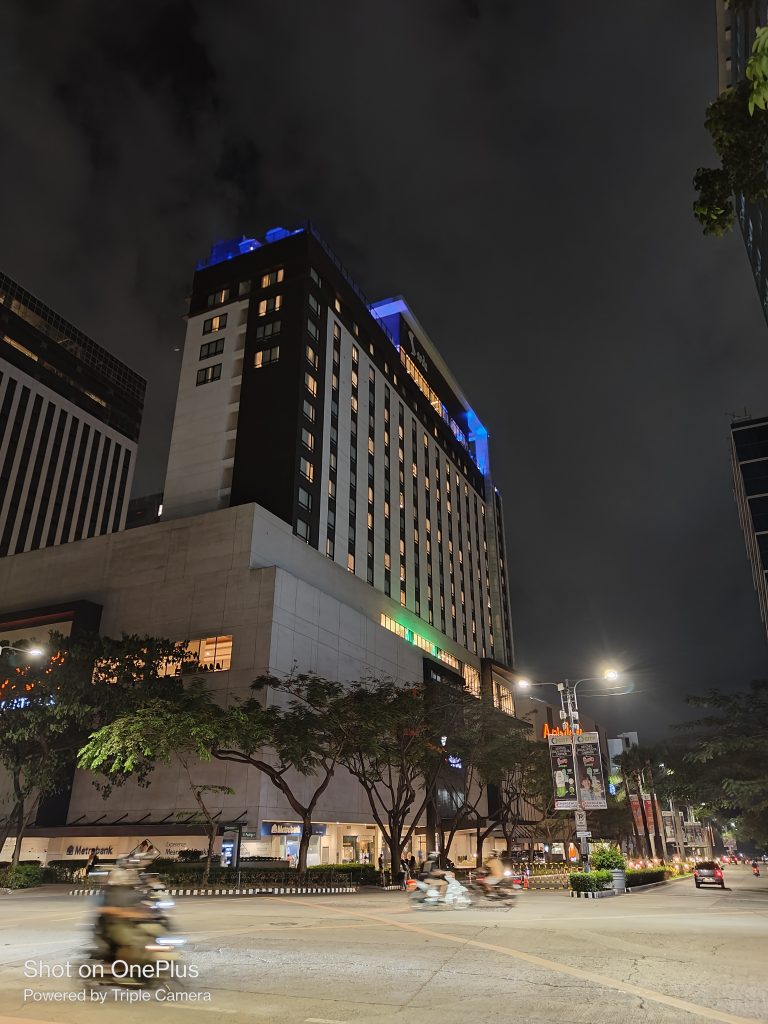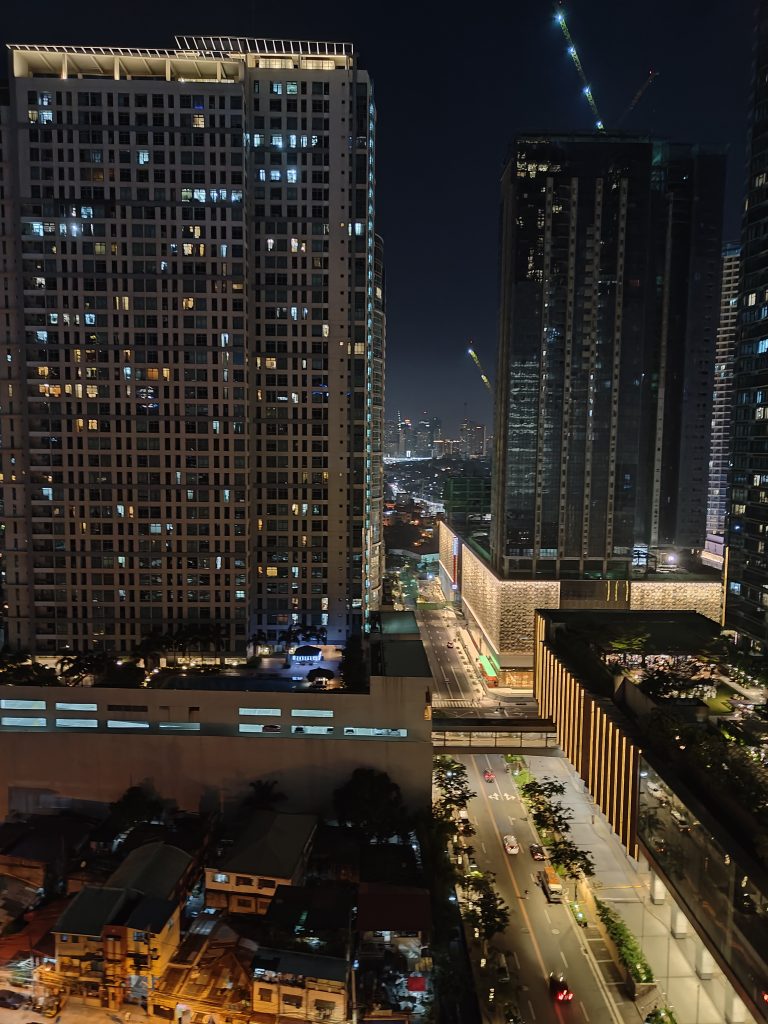 For all the good things I said about the main camera, I can't say the same for the 8MP ultrawide camera. The quality's actually fine for outdoor shots, but it's pretty underwhelming at night. I wish phone makers can go for a higher megapixel count on the ultrawide since pretty much everyone is still using it in the midrange segment. I honestly think that having quality disparity between the cameras in a flagship-caliber phone is simply inexcusable.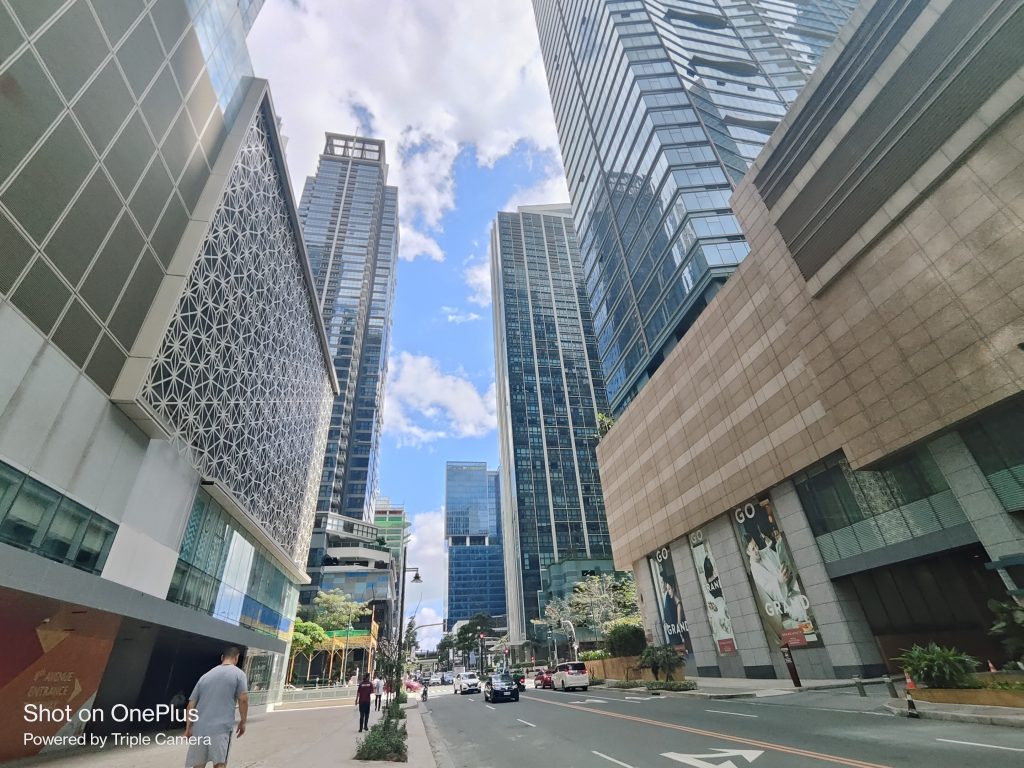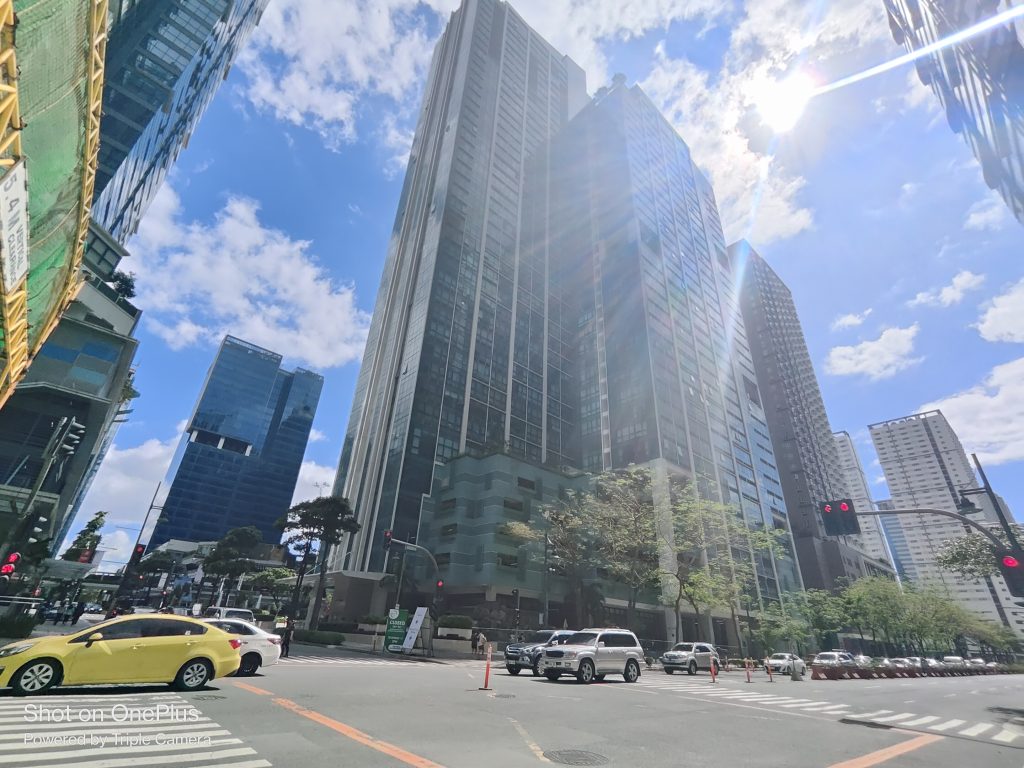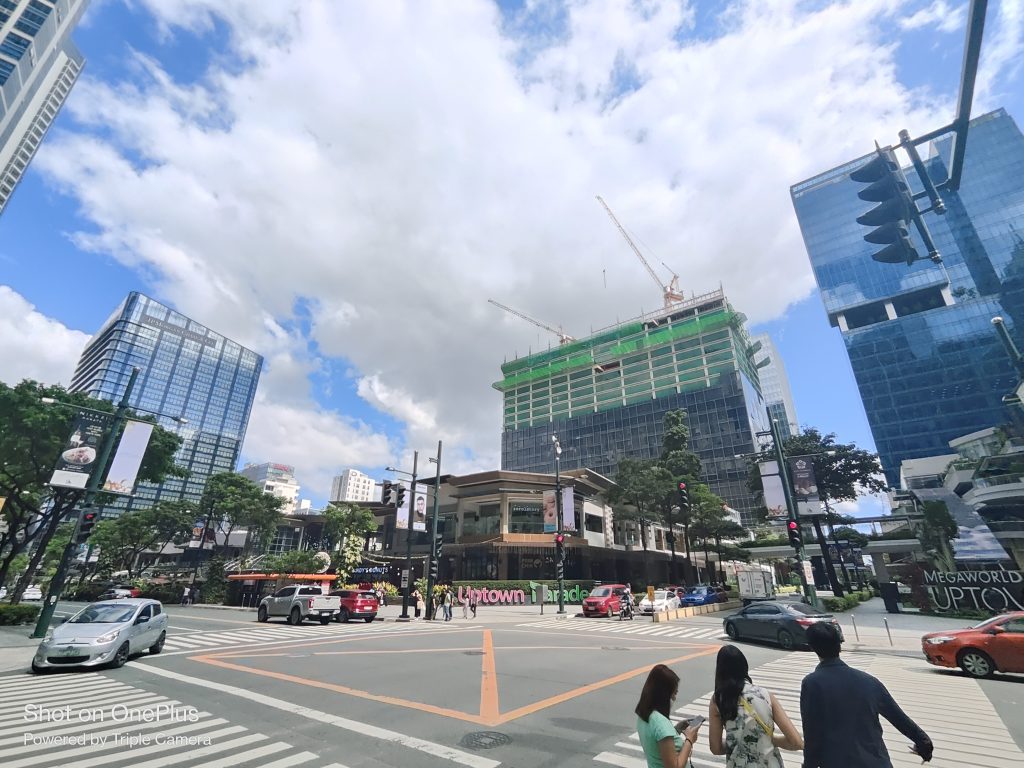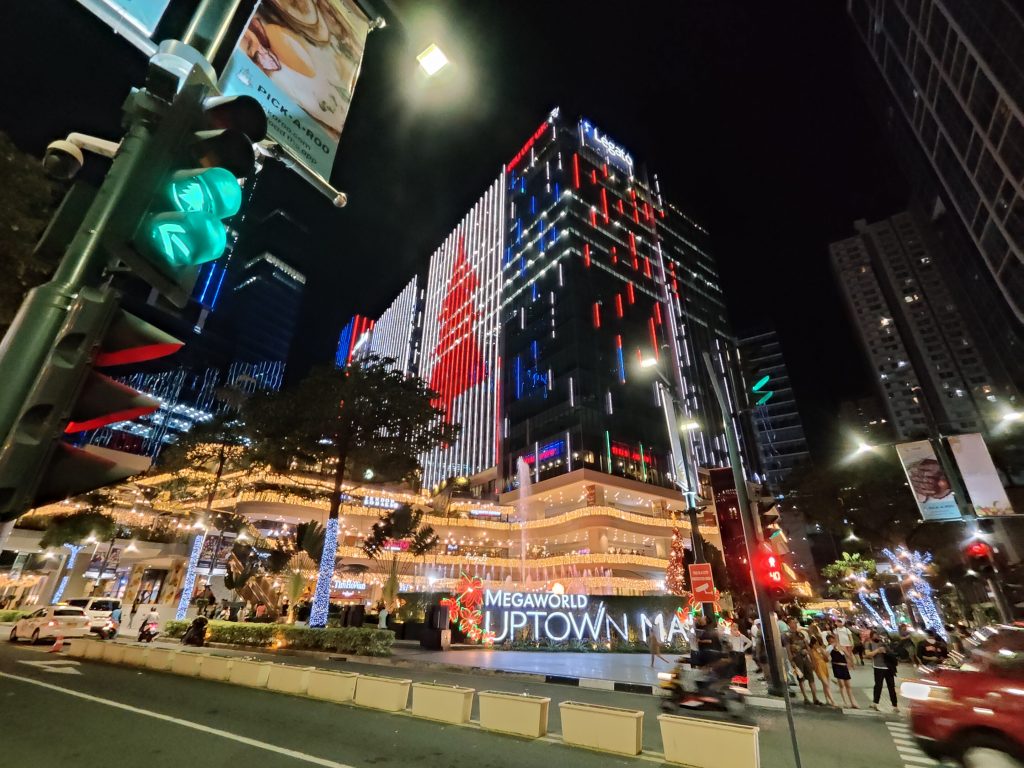 The 4K video on the OnePlus 10T is really good, though there would be weird glitches sometimes. It's not a big deal when using it for social media (besides the inferior camera experience with social media apps).
The 16MP front camera is good but I sometimes think that the photo tends to be flat. Maybe that's due to how saturated photos from the front cameras of other phones are sometimes.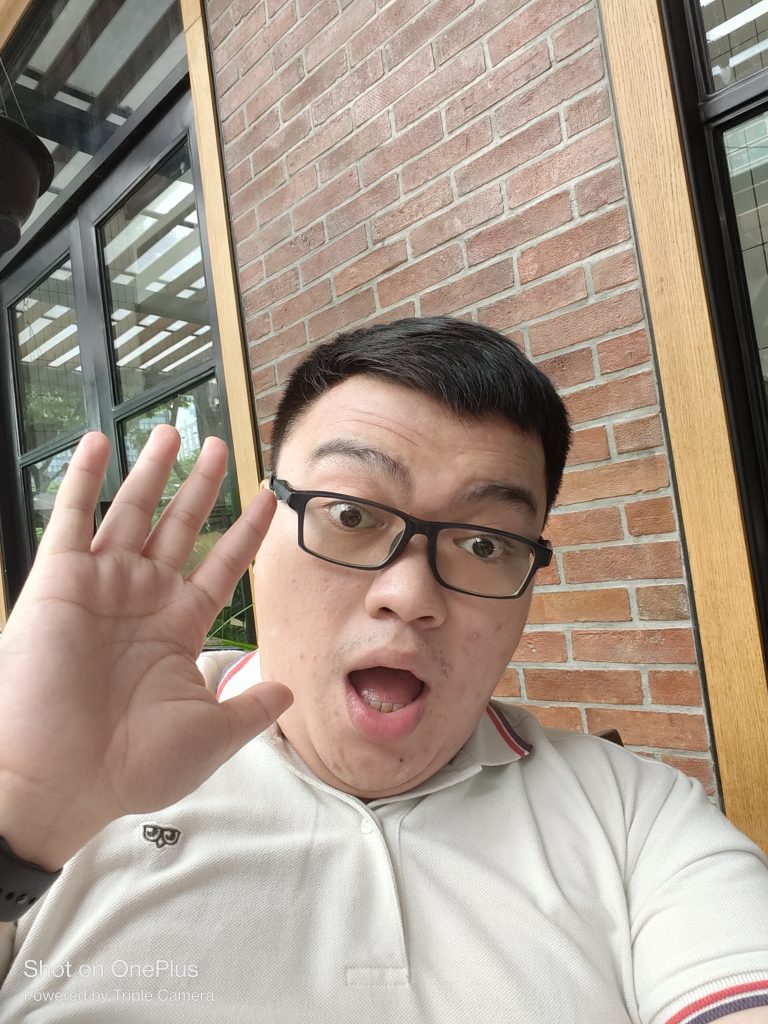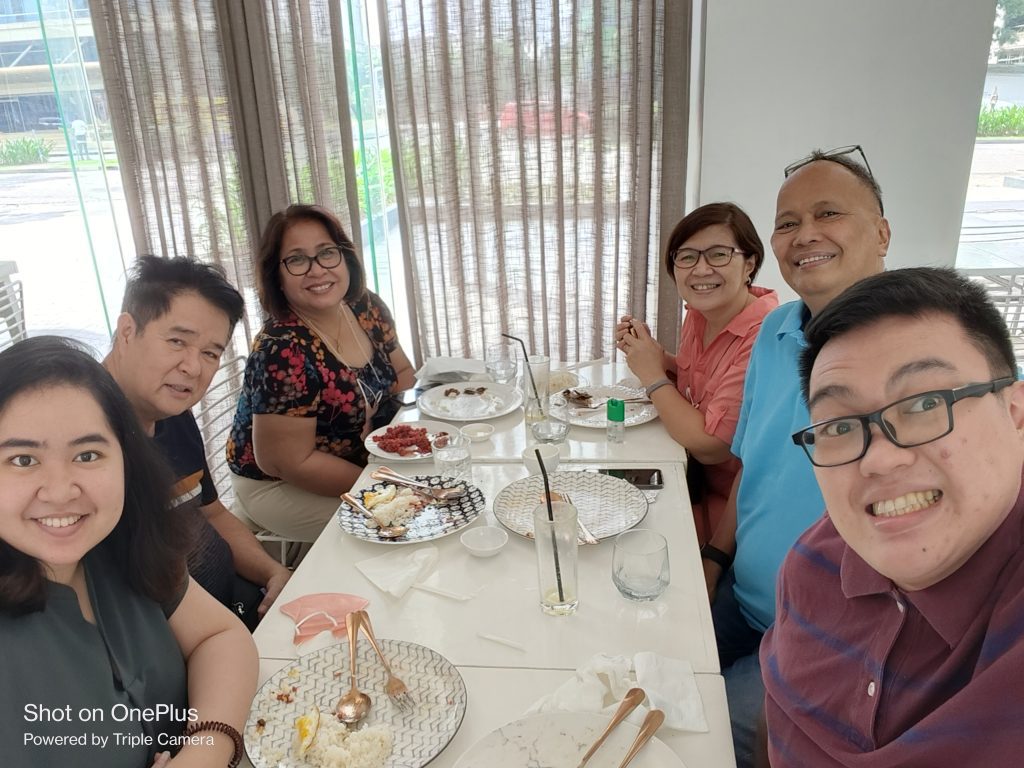 Overall, I'm happy with the cameras on this phone. Most of that can be attributed to the 50MP main camera and 16MP front camera. I would be disappointed if only those two cameras are on this phone, but the other cameras that are on this phone now are equally disappointing. It's also odd that OnePlus never utilized its partnership with Hasselblad here.
Should You Buy the OnePlus 10T?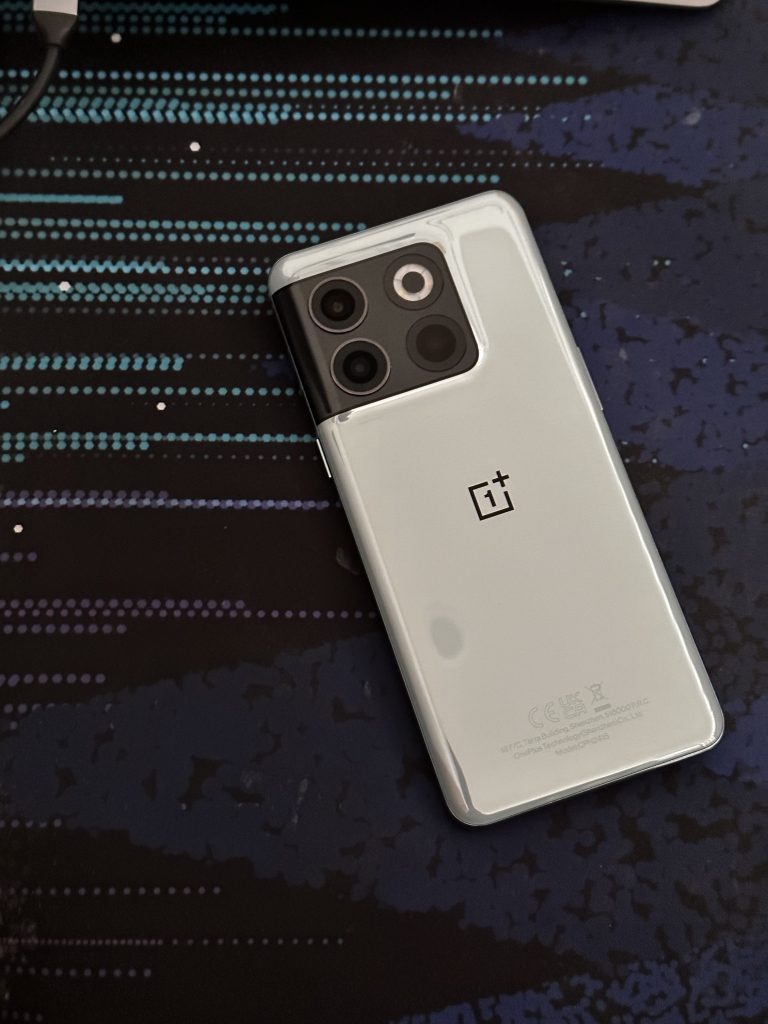 If you skipped straight to reading the Pros and Cons of this phone, then you'd see more pros than cons. The OnePlus 10T is actually a really good phone! I'm glad that my expectations of flagship performance were basically met! Having all that RAM and really fast charging helps out with the overall experience. If you're looking for those and clean software in a phone, then the OnePlus 10T is for you.
Those don't actually tell the whole story though. With a price of P35,990 for the 8GB+128GB model, I'm having a hard time recommending this phone over the realme GT NEO 3. You get most of what the 10T has in that phone for P6,000 less. Sure, the GT NEO 3 has bloatware and you get faster RAM and storage on the 10T. I just think that the 10T isn't worth that P6,000 difference since it lacks the things that made OnePlus stand out. If OnePlus keeps this up, it should just stop making T versions of its flagship phones.
Pros
Premium design despite the plastic frame
A premium display experience with its 6.7-inch 120Hz Fluid AMOLED display
Flagship performance with the Snapdragon 8+ Gen 1 processor
More RAM on an Android = doing A LOT MORE
Clean software with no bloatware at all
Really really good battery life for a phone with just a 4800 mAh battery
SUPER FAST charging with its support of 150W SuperVOOC
This 50MP Sony IMX766 main camera is really good in most scenarios
The video quality from the rear camera is actually good
The 16MP front camera is also good
Cons
Lack of an alert slider
This phone doesn't utilize the full power of the Snapdragon 8+ Gen 1, yet it heats up a bit
OxygenOS is basically just another flavor of ColorOS
Disappointing to see an 8MP ultrawide camera and a 2MP macro camera on a flagship-caliber phone
Also disappointing to not have 4K video recording on the front camera