I honestly don't know why I REALLY take my time with iPhone reviews. It's probably because I use it all the time that I forgo my review mindset altogether. And yes, my Apple product bias really shows on social media. It just hits different when you buy something for your own personal use. You notice stuff that's usually not in review videos you see on YouTube. With more or less 10 months under my belt, I'm finally ready to do my iPhone 12 Pro review.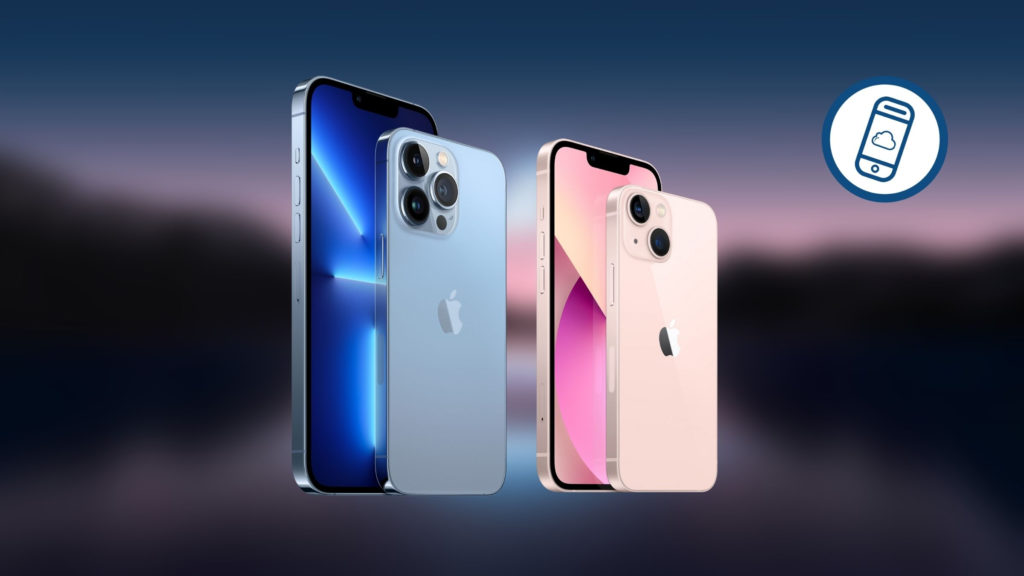 Yes yes, I know the iPhone 13 lineup is already out in the wild. I just wanted to share this review from a long-term use perspective. There were a lot of things I learned from the initial hype until now. This phone has been through a lot of software updates, including iOS 15. Without further ado, here's my iPhone 12 Pro review!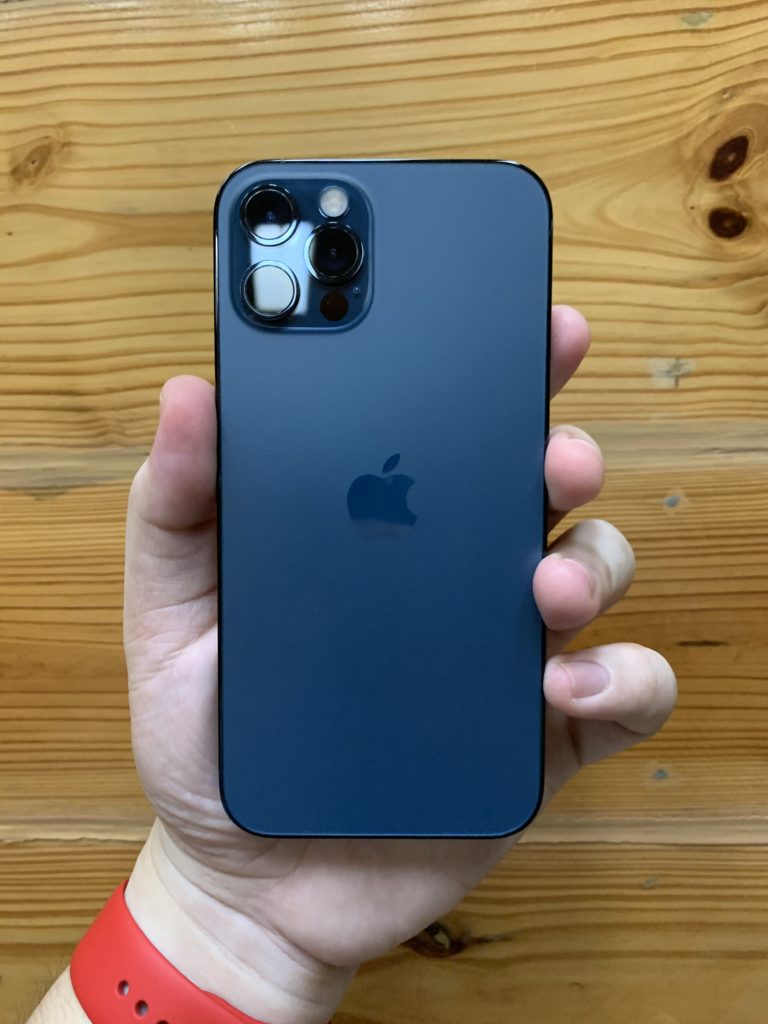 You Won't Feel Flat With This Design.
The iPhone 12 lineup brings back the flat design that we last saw in the 1st-generation iPhone SE. Back then, it was really small so I could basically clamp on the phone. Last year, we get those flat sides again. It felt different for me though. Since the phone is way bigger than that SE, the corners tend to sink in my hand. (You can even see the lower-left corner sunk in my hand there.)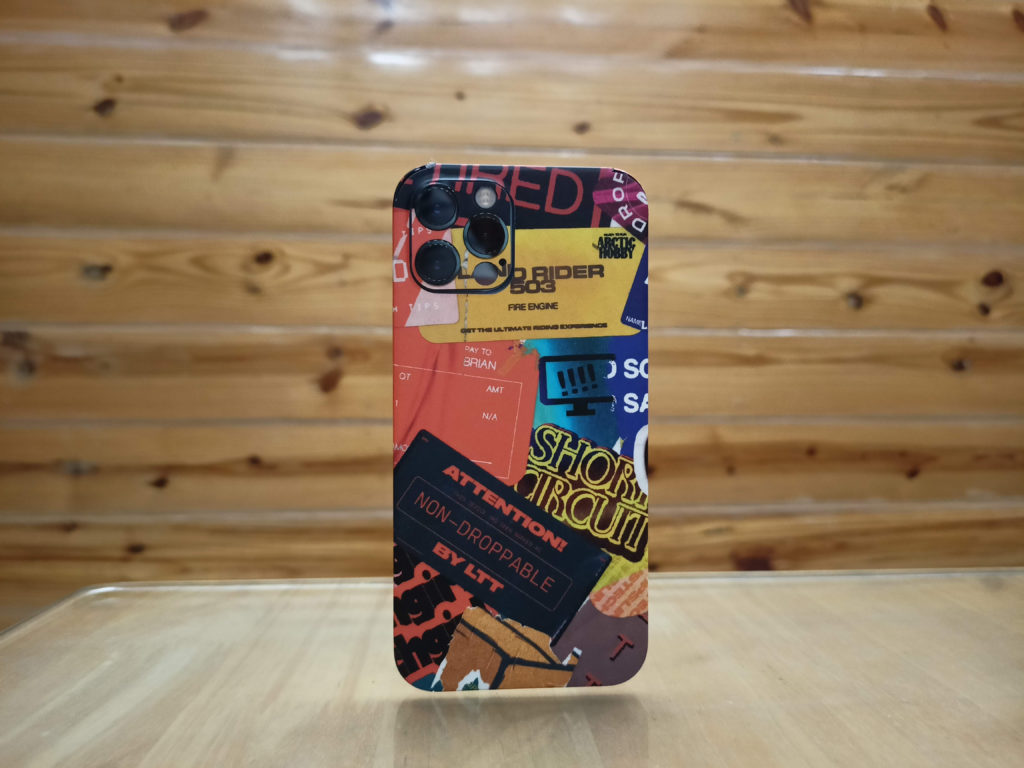 I didn't use the phone bare naked for most of those nine months though. The thing is, I also didn't want to just rock a case especially if it's just gonna cover the Pacific Blue color. That's why I went for a dbrand skin. (Yeah yeah, it still covers the phone's color. At least it doesn't feel bulky and this limited edition Linus Tech Tips skin is a sight to behold.) The skin actually helps with the grip since the phone's matte back tends to be slippery.
I did eventually switch to a more standard skin where only the back gets covered and I now see this all the time: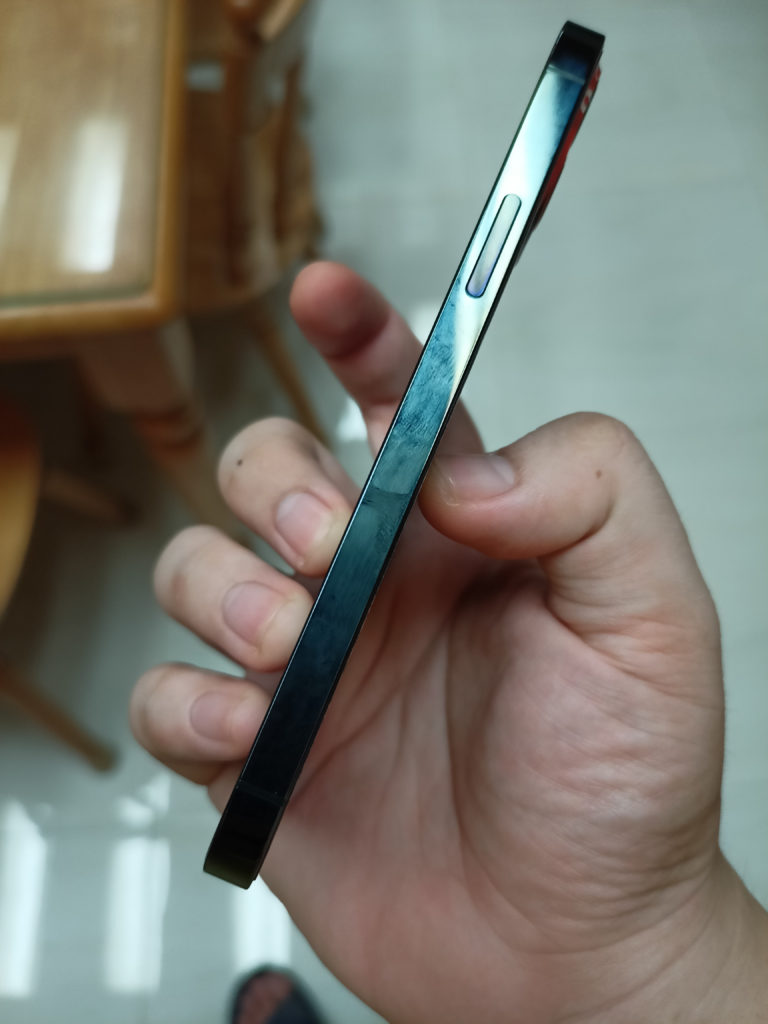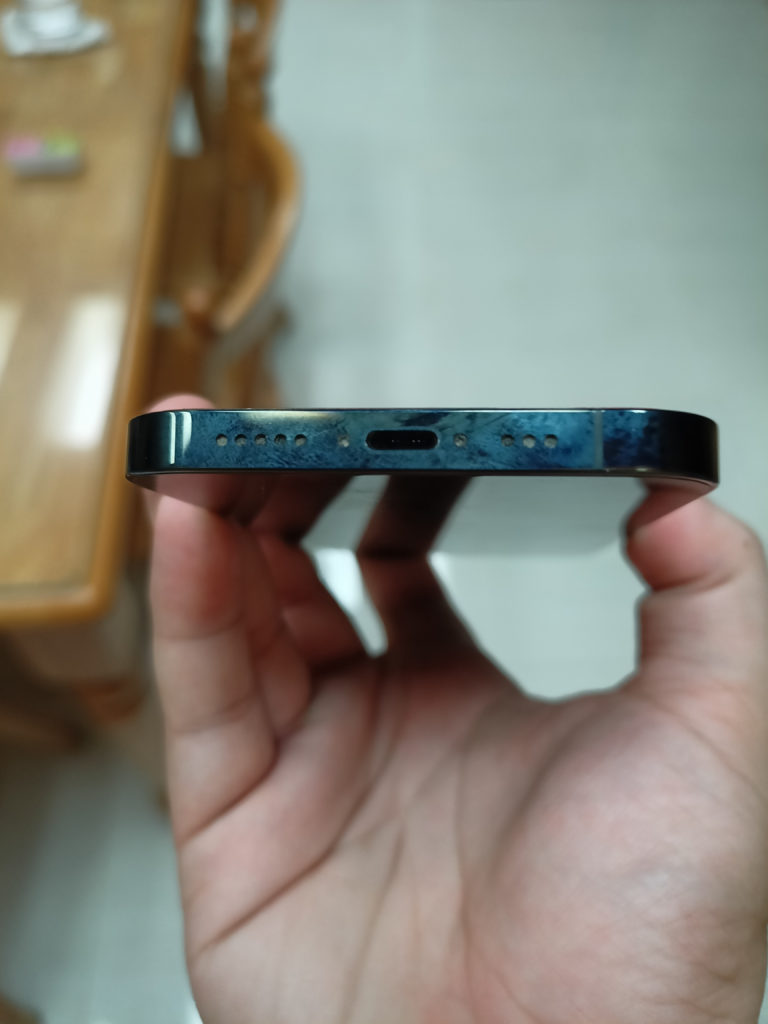 As much as I appreciate the durability of the stainless steel frame, I feel like it has its own personality. You cannot avoid leaving fingerprints on it! It's so annoying to clean it all the time that I just leave it alone now. For a premium product, that doesn't look premium at all.
Besides my beef with the stainless steel rails, I'm loving this flat design. It's a welcome retro-futuristic change from the boring curves since the iPhone 6.
AMOLED All The Way!
I didn't really like AMOLED at first. It seemed like a display technology that was really good but had some downsides like screen burn-in. The early ones also showed a more vivid color, but that was mainly a Samsung thing. It's not my first time using a phone with an AMOLED display though. The iPhone X got that honor. Since then, I'm really into AMOLED displays and I don't know why I dismissed them early on.
The iPhone 12 Pro has a Super Retina XDR display. It may be Apple marketing, but the display itself is no joke. I can confidently say that iPhones have one of the best implementations of auto-brightness in a smartphone. Entry-level and mid-range smartphones tend to struggle with this for some reason. I never got that with an iPhone.
Let's Talk About That Notch!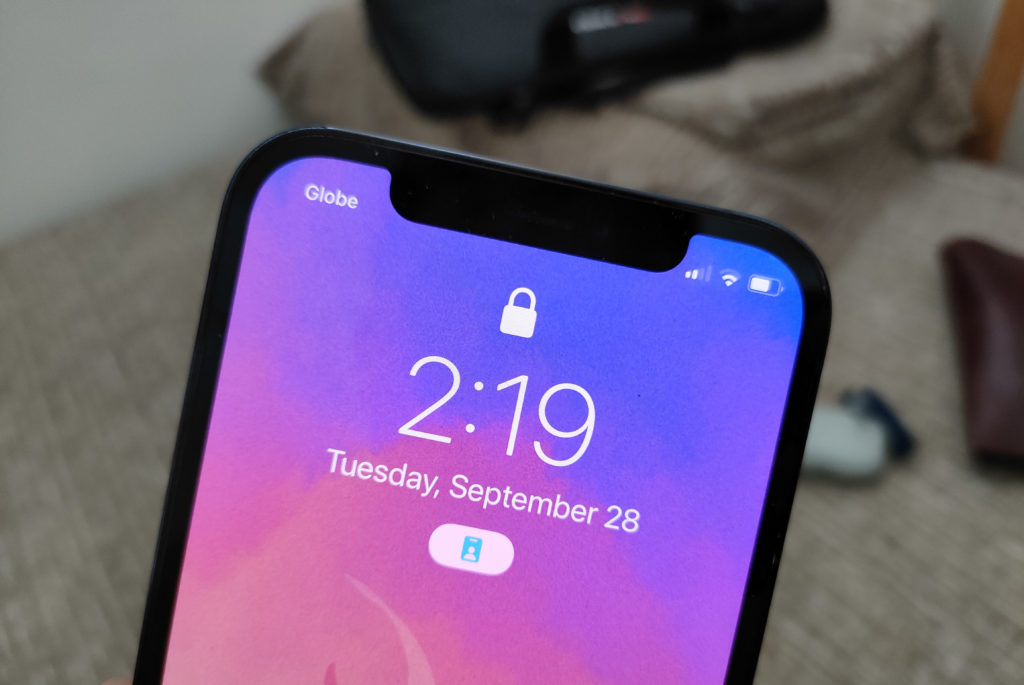 Yeah yeah. iPhones still have notches including the new ones. If you're an iPhone user, you're probably used to seeing that thing up there. It's still the place where the earpiece speaker, cameras, and Face ID sensors reside.
I pretty much got used to it since the iPhone X. There's always the constant complaint of why Apple keeps the notch for way longer than usual. I personally want to see Apple try to keep the notch. Okay, not really! (The display on my current Android daily driver is spoiling me.) I just want Apple to find a way to make future iPhones stand out more without resorting to a notch.
Performance and Software: Basically A Given Here
I've noticed this with recent iPhones, but none more so than with the iPhone 12 Pro. Yes, I've had some weird stutters on iOS 14 (and iOS 15 for that matter). A weird thing happened while using iOS 15 though.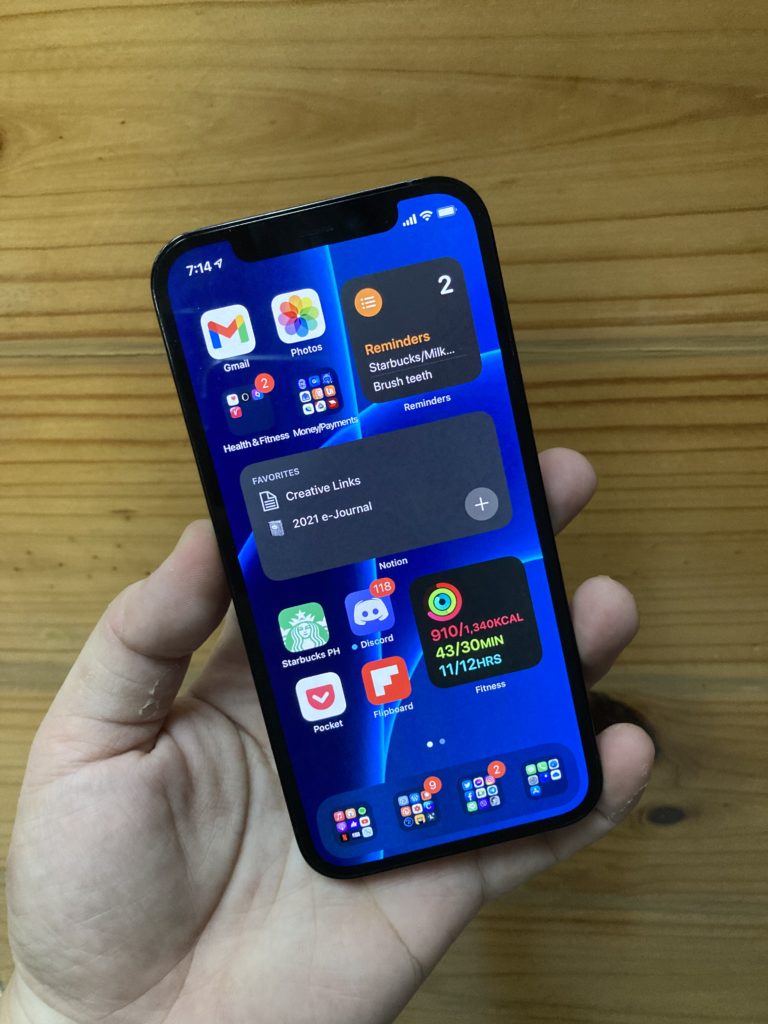 I found it weird that you need to wait a few seconds before you reopen an app after force closing it. This doesn't impede on my overall use of the iPhone 12 Pro though. I just thought you should know about this fact. All that aside, I would say that the 12 Pro really performs well. So well that I think you won't really notice the difference between iPhones.
That's right. If you're someone who upgrades every year, you'll know that there isn't much difference between the current iPhone and last year's iPhone. (We'll see if that holds true with the 120Hz refresh rate display in the iPhone 13 Pro.) Performance is really not an issue with iPhones unless you run really intensive games or are on their 3rd update.
Mobile Gaming on an iPhone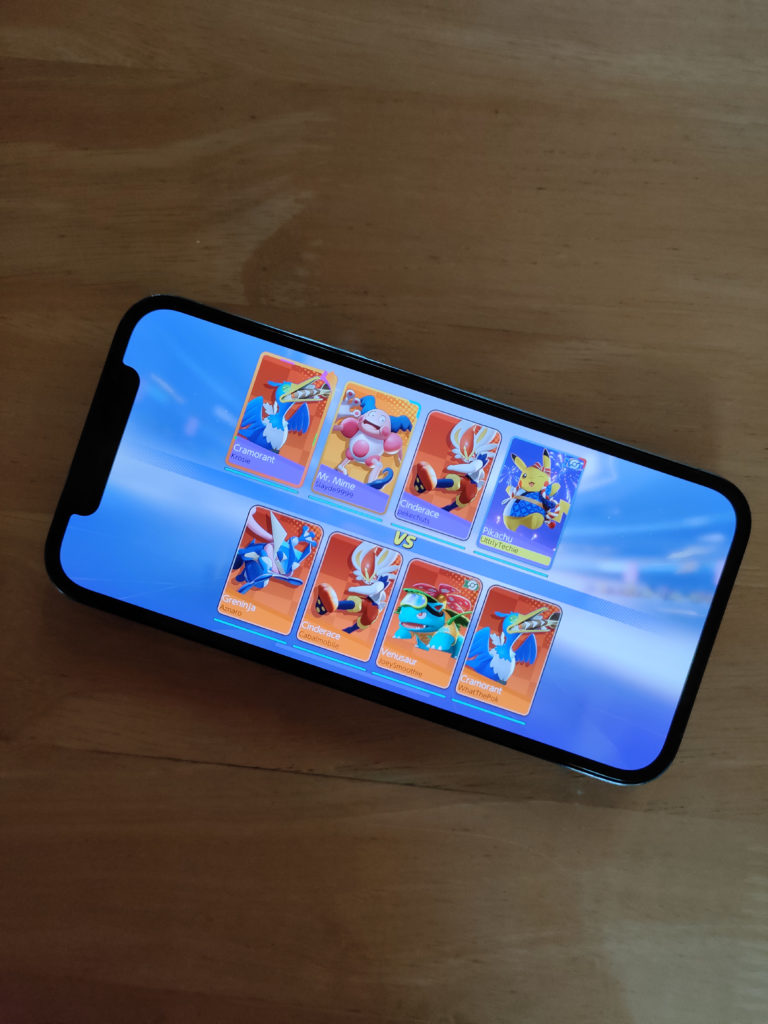 I rarely play games on the iPhone 12 Pro. It's just not something I prioritize when using a smartphone. If ever I do, it's mainly to pass the time.
The only game I seriously play lately is Pokémon UNITE. As I expected, there was no hint of any slowdown. (To be fair, this game isn't really too demanding.) I also tried playing heavy games like Genshin Impact, but it would heat up the phone after 10-15 minutes.
If you're a serious mobile gamer, I wouldn't recommend getting an iPhone in general. Better cooling isn't really a priority for Apple, so don't expect to do long gaming sessions on iPhones.
Disappointing Battery Life
Throughout my iPhone 12 Pro review, I didn't feel that the battery was really good. There wasn't a day when I thought my phone would last longer than I thought it would.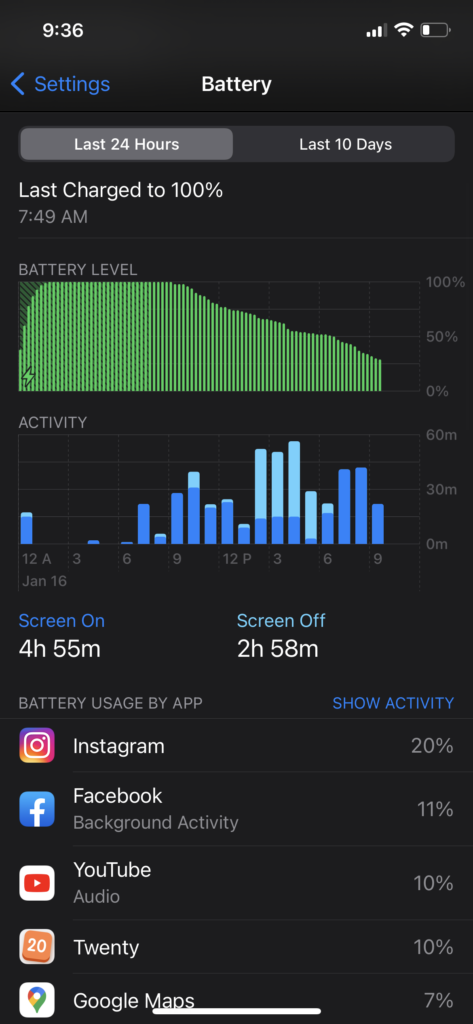 I'm showing screenshots of my battery usage at 5 different points in time from January – May 2021. All of them were taken at around 20% battery left. It's pretty disappointing to see this level of battery life on an iPhone. I usually can only last a full day of moderate use, but not much more.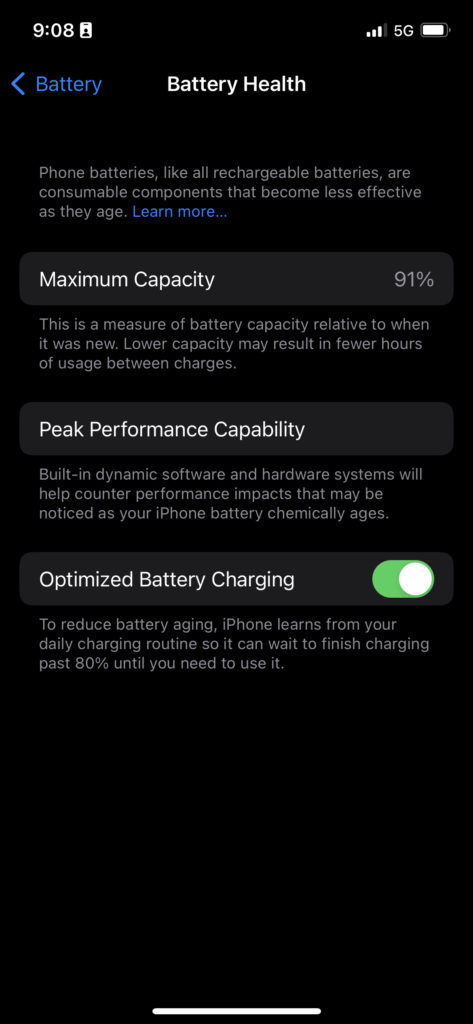 I may use my iPhone more than others, but seeing 5G drain my battery like no tomorrow is sad. Currently, my iPhone 12 Pro is already on 91% battery health. Not bad for my use, but this will only get worse as I go in year 2 with this phone. I hope I can maintain the battery health, but I might end up replacing the battery before handing it down.
A Small Note on MagSafe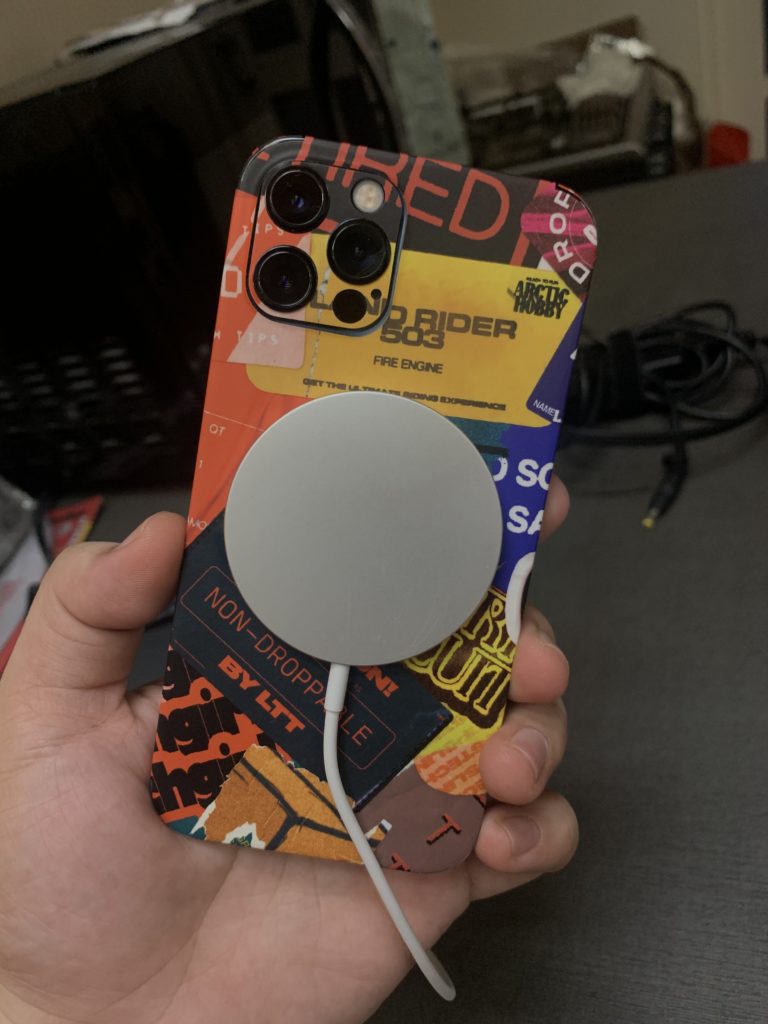 I almost forgot to mention the new feature Apple added for the iPhone 12 series: MagSafe. It uses magnets to keep the wireless charger in place. The phone still supports Qi wireless charging at 7.5W, but MagSafe brings it up to 15W provided you get a MagSafe charger.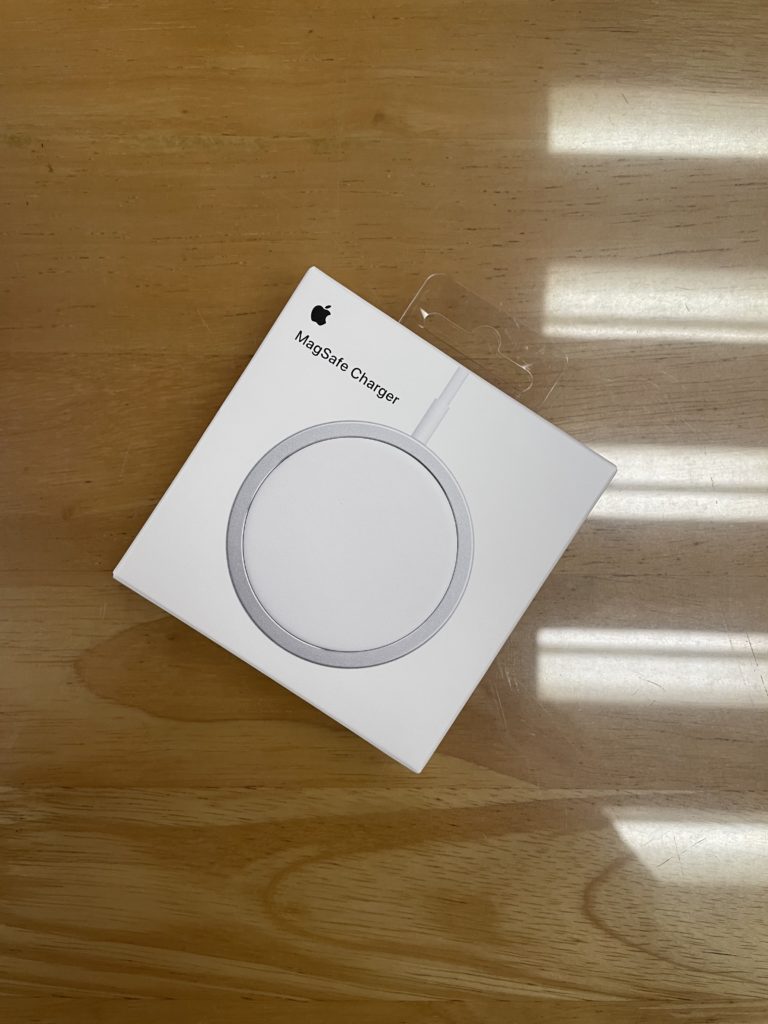 My problem with MagSafe right now is that only one major company sells a proper MagSafe charger: Apple. I haven't really seen other third-party accessory makers offer wireless chargers with official MagSafe support. Even a year later, there aren't more to choose from. Let's hope that'll change next year.
Let's Check Out the Cameras!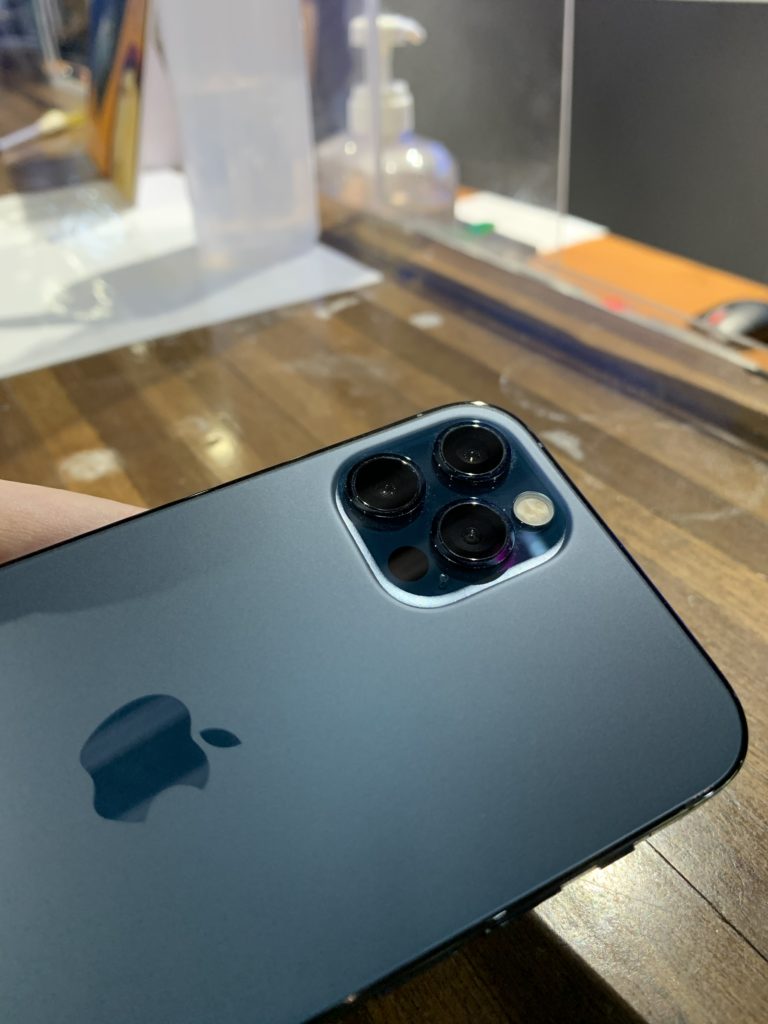 I've never been more excited for cameras on an iPhone until I got the 12 Pro. Yeah yeah, its successor definitely has a big jump in that department. But coming from an iPhone XR, this is a big upgrade! In this long-term iPhone 12 Pro review, I'll focus on this triple-camera system's good points and bad points.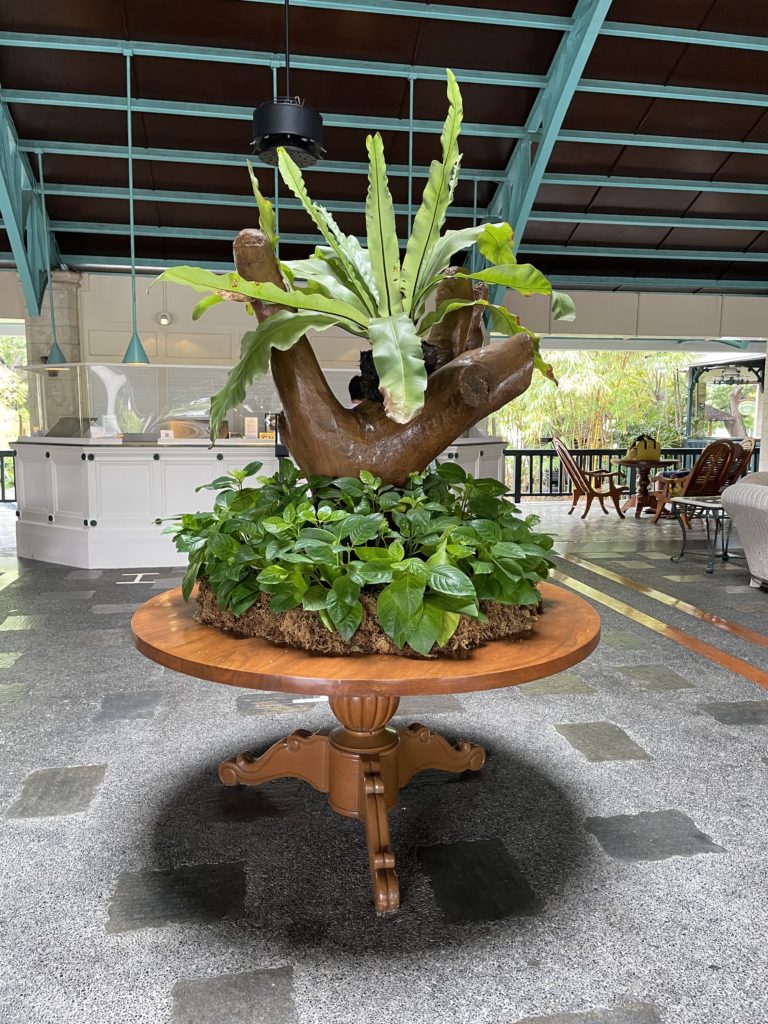 One thing that I really appreciate about iPhone photos is their consistency. Say what you will about the photos looking muted sometimes. At least I can get a feel for the character of iPhone photos. The iPhone 12 Pro tends to lean towards warmer colors, but they aren't too warm for my taste.
I probably took so many versions of this photo, but this is probably the best one yet. Having cloudy weather is probably the most favorable kind of situation for a smartphone camera. Even so, it's really a good photo.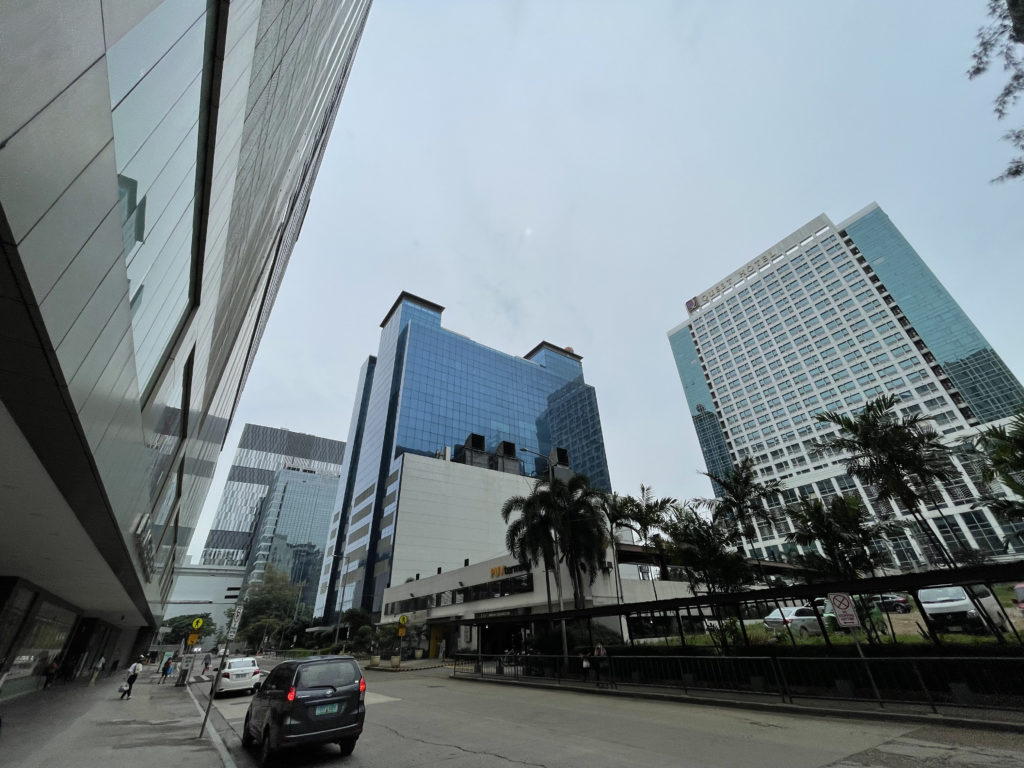 I really enjoy taking ultrawide photos on the iPhone 12 Pro. This was the camera that got me excited when doing that upgrade from the XR. Having that extra field of view makes me enjoy taking photos more. It may be the weakest among the three rear cameras, but I have the most fun with it!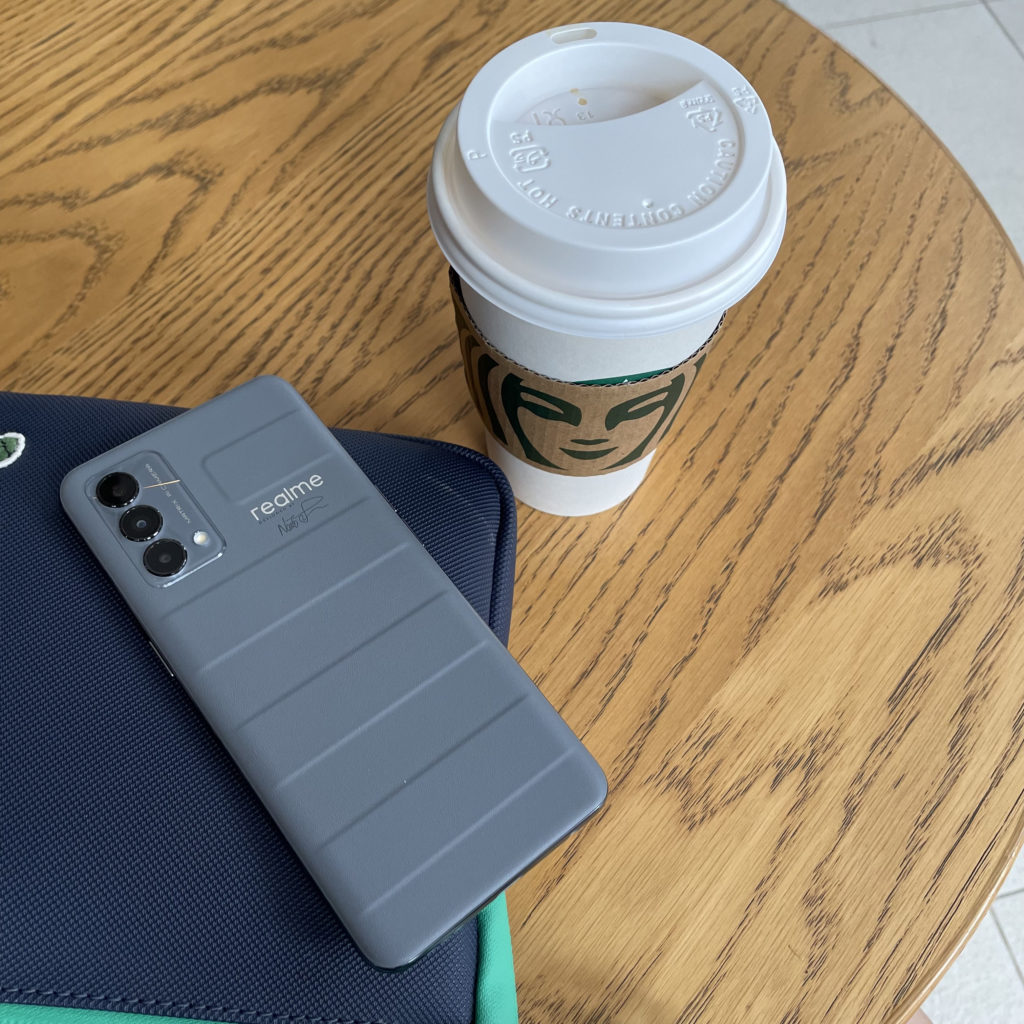 Here's another aspect that I don't really talk much about: I use my iPhone for product shots for the blog! Most (if not all) of the shots I use are from an iPhone. It's basically great for that purpose and until I do more video content, I don't plan on making a change anytime soon.
Take this photo of my Marshall Major IV, for example. I could replicate this with a better camera, but this one's good enough for me.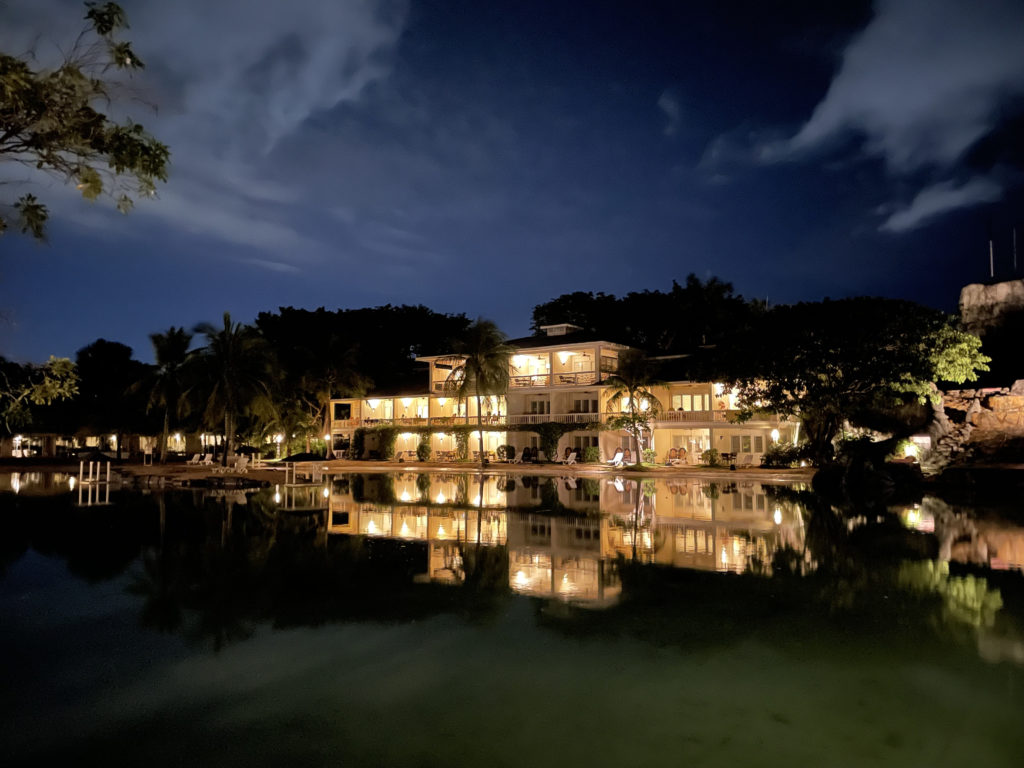 The biggest improvement I notice is in night shots. Coming from an XR, I knew that the Night Mode on the 12 Pro would really help me take better night photos. I didn't expect them to be very good though. That's because I skipped over the iPhone 11 series where Night Mode made its first appearance.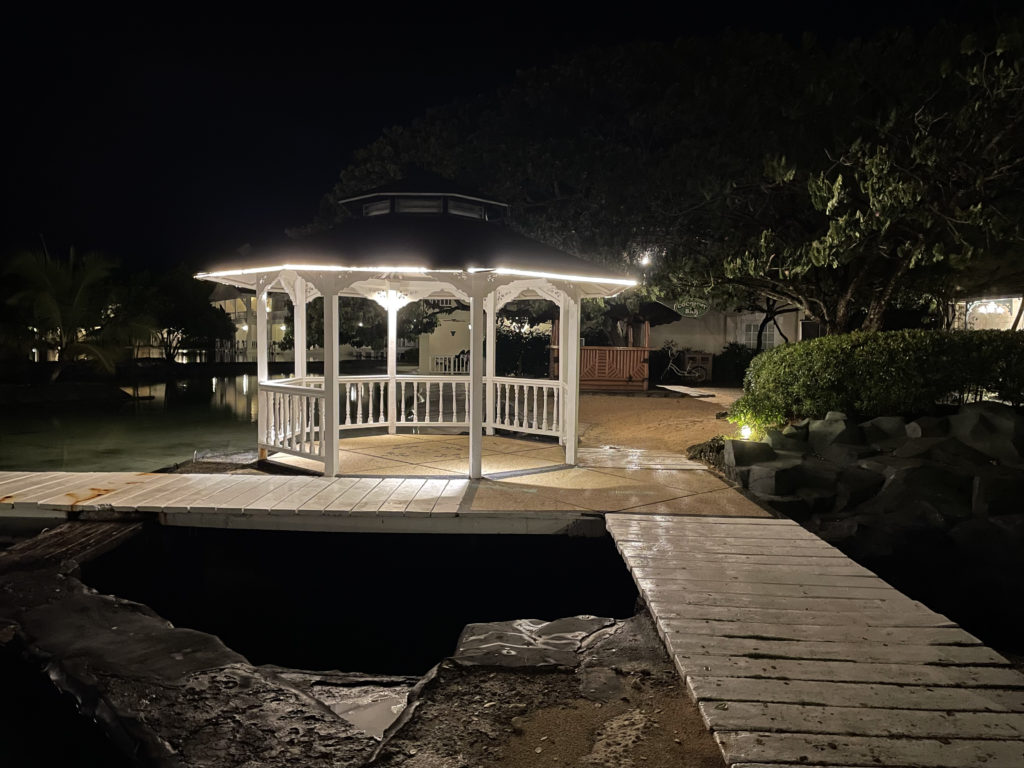 It's not perfect though since I can see some noise and the lens flare issue persists. (Even the iPhone 13 series still shows that.) I personally like the look it has, but you might not agree. I wouldn't really use the ultrawide camera for low-light photography though. The iPhone 12 Pro doesn't really offer a significant upgrade in that department.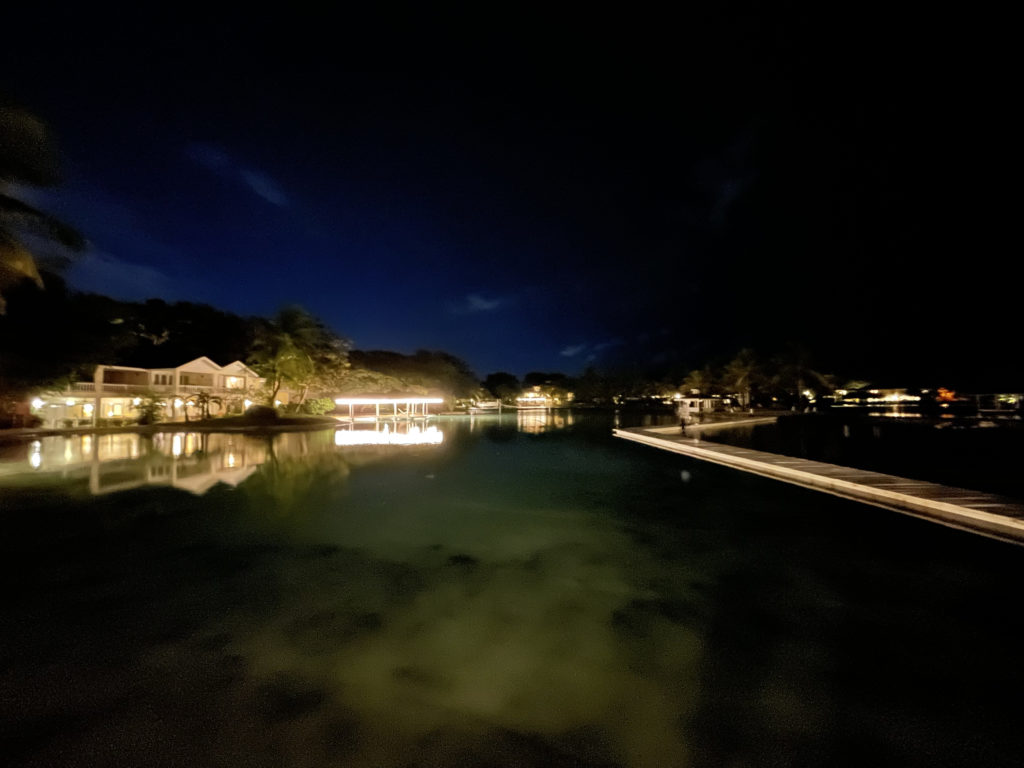 Loving the Selfie Shots!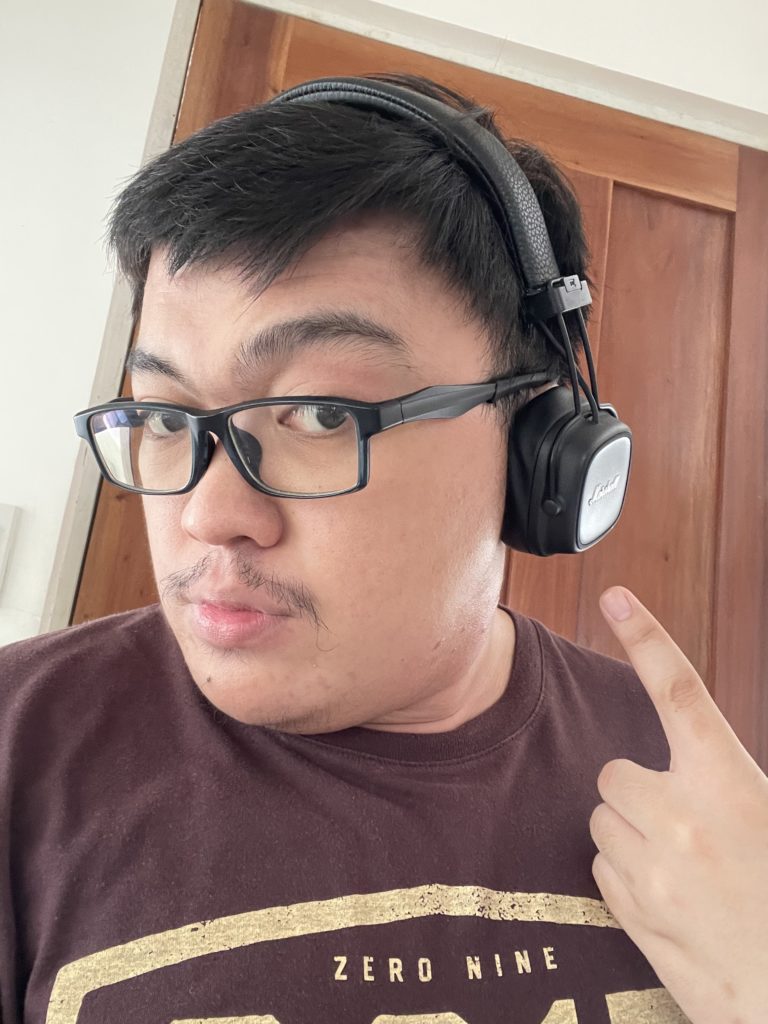 I remember the days when the front camera on iPhones was definitely bad. There were even midrange smartphones that were way better than the iPhone at the time. It's a good thing that Apple now uses 12MP sensors on all their cameras, especially the front one.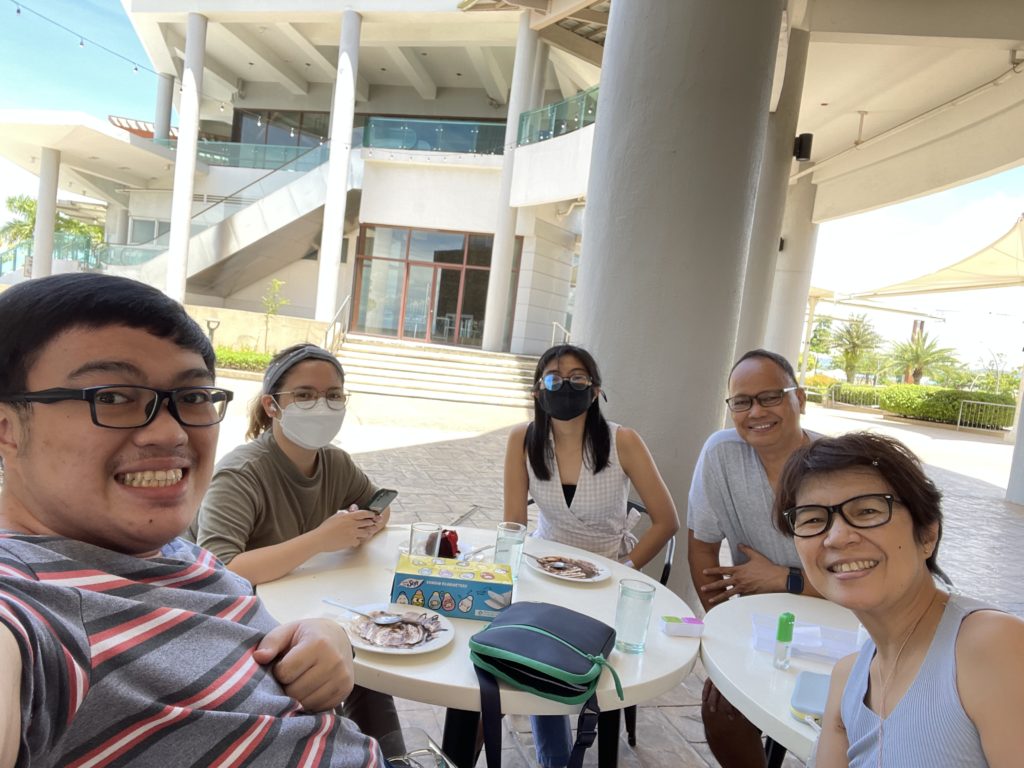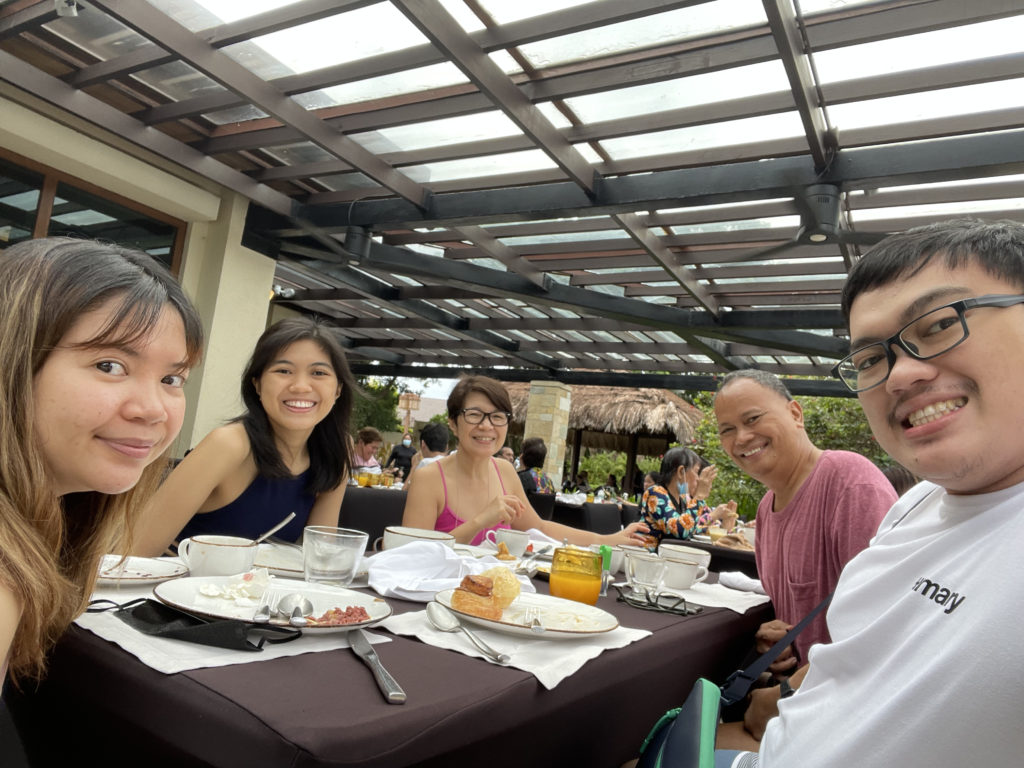 I'm generally happy with the front camera on the iPhone 12 Pro. Photos are bright in most cases. Although the quality doesn't really match up to the main rear camera, it's wide enough for those good group selfies. (The term groufies never took off.)
Even when going against the light, the front camera can still take good photos. (Under direct sunlight though? Not so much.) Skin tones are fine, but I rarely take photos of other people besides family and friends so I still need to check this.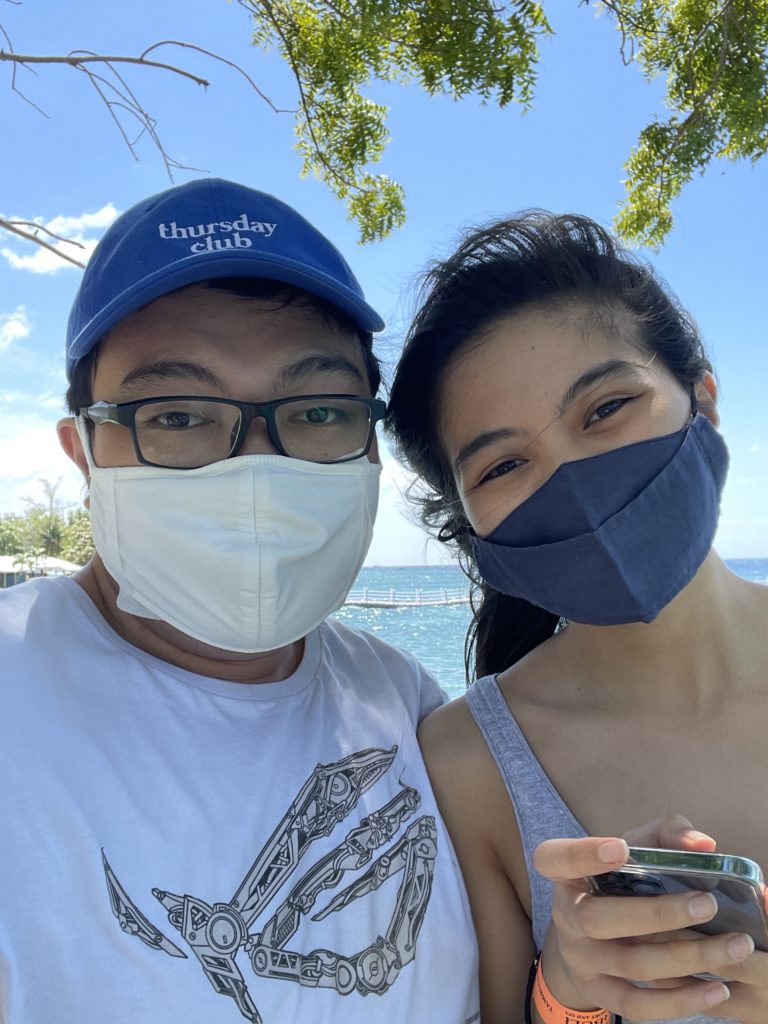 I tried taking selfies with Night Mode, but they just weren't good for me. For most cases, the main rear camera will continue to be the one I use for low-light photos.
A small aside on video quality here. It's really good. I can even say it is still one of the best smartphones in terms of video. For me, it's not really a big priority and I can get away with even my current Android daily driver for photo-taking. I just value having that flexibility knowing that the videos I take with the iPhone 12 Pro are of good quality.
Conclusion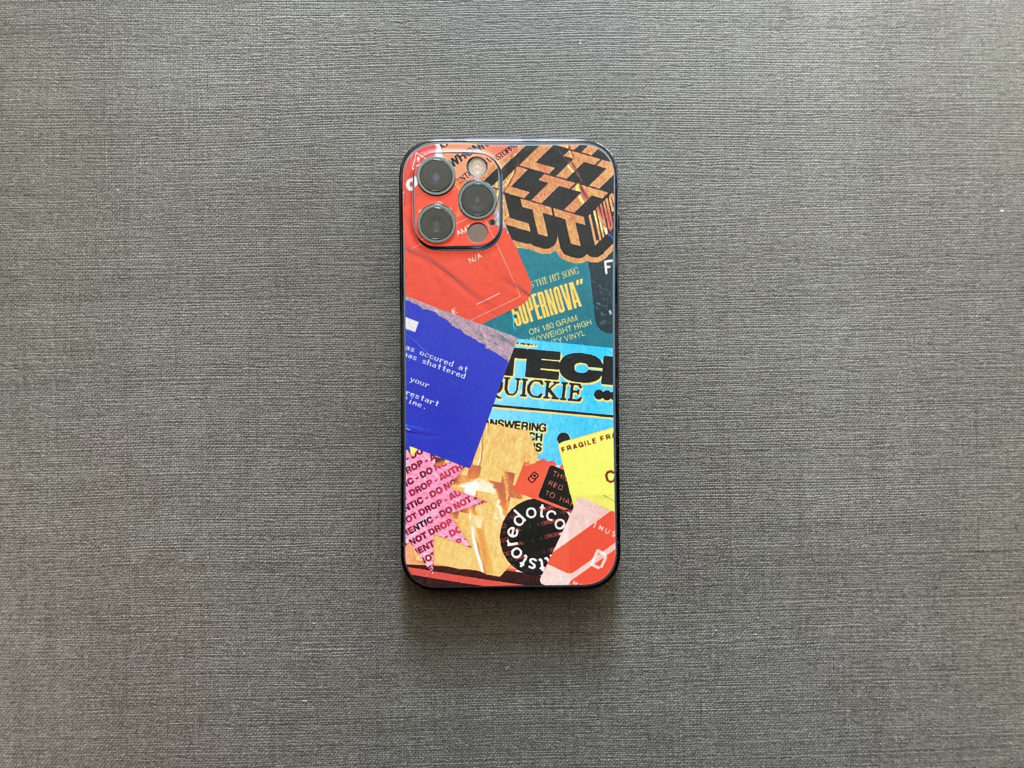 I actually found it weird to finish an iPhone 12 Pro review well after its successor came out. All the improvements I saw on the 13 Pro made me feel like I jumped on the wrong generation. This became more apparent after I saw the battery tests on YouTube. Even the camera upgrades are bigger on the 13 Pro.
Despite that, I think I still made the right choice on holding off that upgrade. The iPhone 12 Pro was a huge upgrade for me over the iPhone XR. I basically depend on the cameras of this phone to shoot most of the photos of this blog. Performance never really dropped off more than 10 months later. iOS 14 was surprisingly stable, but iOS 15 had a lot of bugs in the beginning. (They have mostly gone away after the iOS 15.1 update.)
Overall, I'm glad I went Pro. I honestly can't wait for what next year's iPhones can bring.
Pros
This flat design is a nice welcome change
Clicky buttons (didn't mention in the review, but a really underrated thing)
Its AMOLED (Super Retina XDR) display is simply amazing
iOS is pretty much familiar and good…
Performance is basically a given
MagSafe for iPhone feels really polished
LOVE having an ultrawide camera in general
Has one of the best cameras in a smartphone
Cons
Corners sink in the hand more
The stainless steel frame is a fingerprint/hand/oil magnet!
…until you realize how many bugs were in iOS 15
Said performance heats up the phone during gaming with little to no cooling solution to speak of
There aren't many MagSafe chargers outside Apple's
Disappointing battery life that was made much worse thanks to 5G