My last experience with a vivo smartphone didn't go so well. Despite that, the thought of reviewing a V Series phone from vivo excited me a lot! Unlike the Y Series which can vary in quality, the V Series is a tried-and-true lineup of phones that I know vivo is really focusing on. (If the Aura Portrait Algorithm and the built-in Aura Light of the V27 Series doesn't convince you that they are, I don't know what else to say.) I had low expectations coming into this vivo V27e review because it initially felt like an iterative upgrade over the V25e on paper. Is it really the case? Or is there more to the story? Find out in my vivo V27e review.
Disclaimer: vivo Philippines sent over the vivo V27e review unit in Lavender Purple. It arrived on April 19, 2023, and I've used it as my main Android phone for almost two weeks now.
Design
If there's one thing I can count on with vivo phones, it's the design. Even if it carries a similar frame as the V25e, I feel like the V27e is a better looking phone. I personally prefer this Lavender Purple color over the Photochromic backs of its predecessor. Even though it looks like feathers, the back actually shows a Lavender flower pattern. It gets kind of trippy at first, but it just adds to the more premium feel.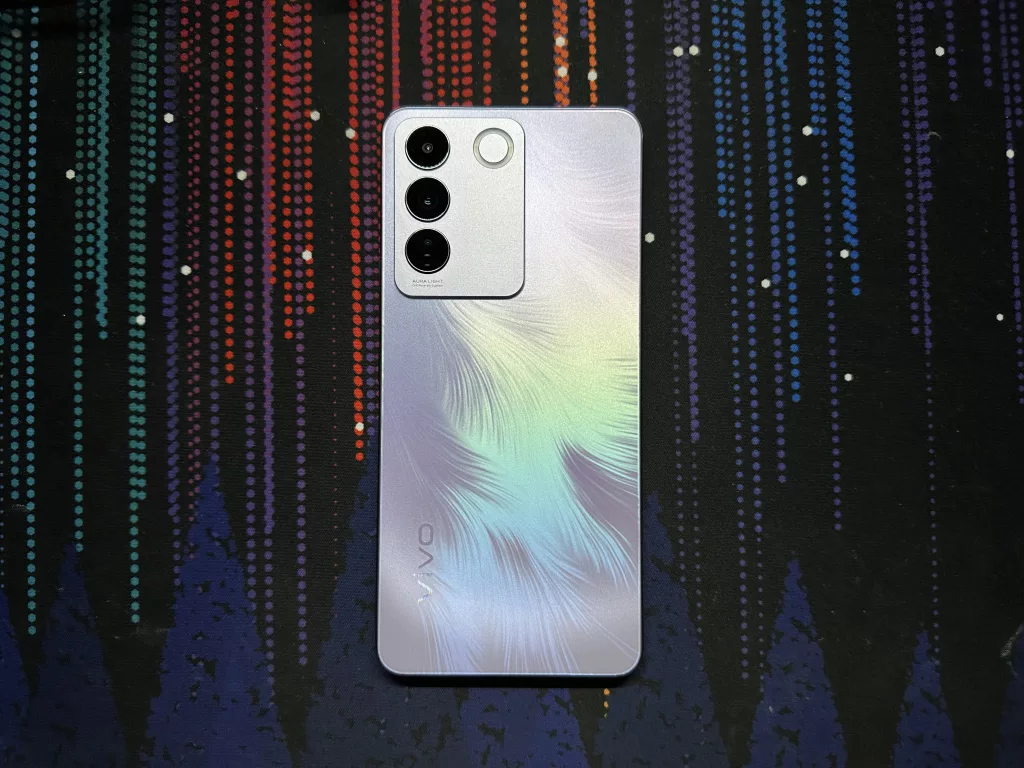 Speaking of premium feel, it is A JOY TO HOLD. At 7.7mm thin, it's probably one of the thinnest phones I've held in recent memory. (Flagship phones can no longer be this thin thanks to those chonky camera bumps.) Not having a headphone jack at this price point is starting to be a bummer, but I expect users shopping for midrange phones to consider getting wireless earbuds. It's a good thing it has microSD card support which takes up that second SIM slot if you're not into having two SIMs in the V27e.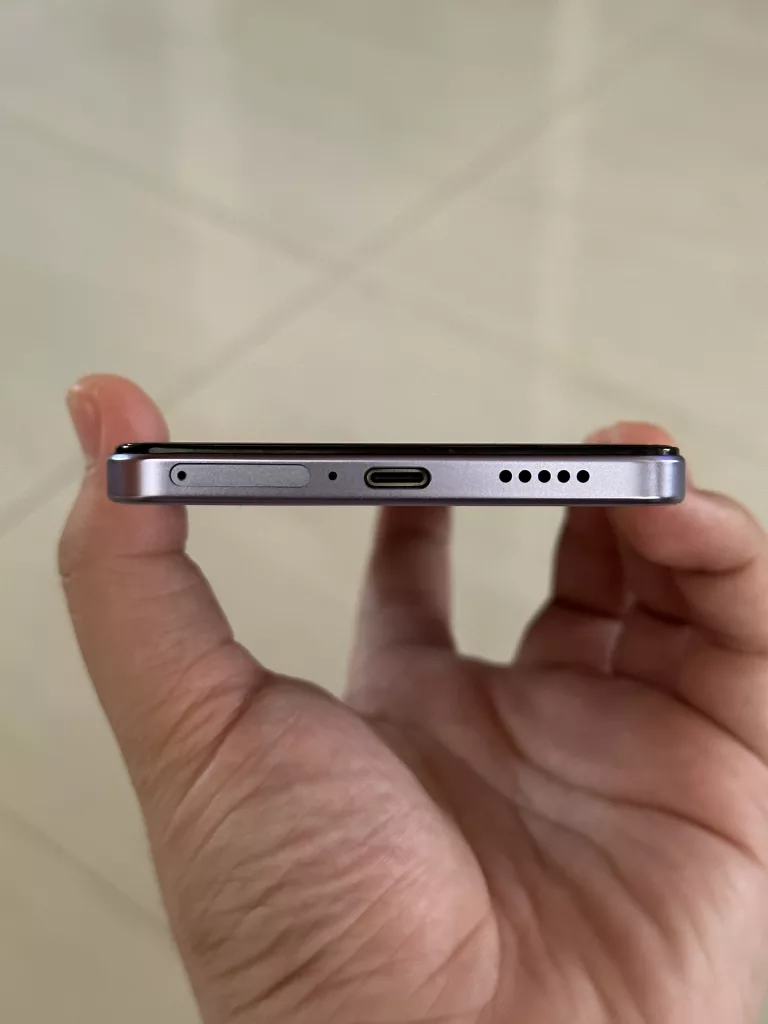 All in all, I LOVE the hand feel of the vivo V27e that it feels like a reimagining of what a flagship phone would be like if it can be this light. It also helps that this phone can withstand some splashes and dust thanks to its IP54 water and dust resistance rating.
Display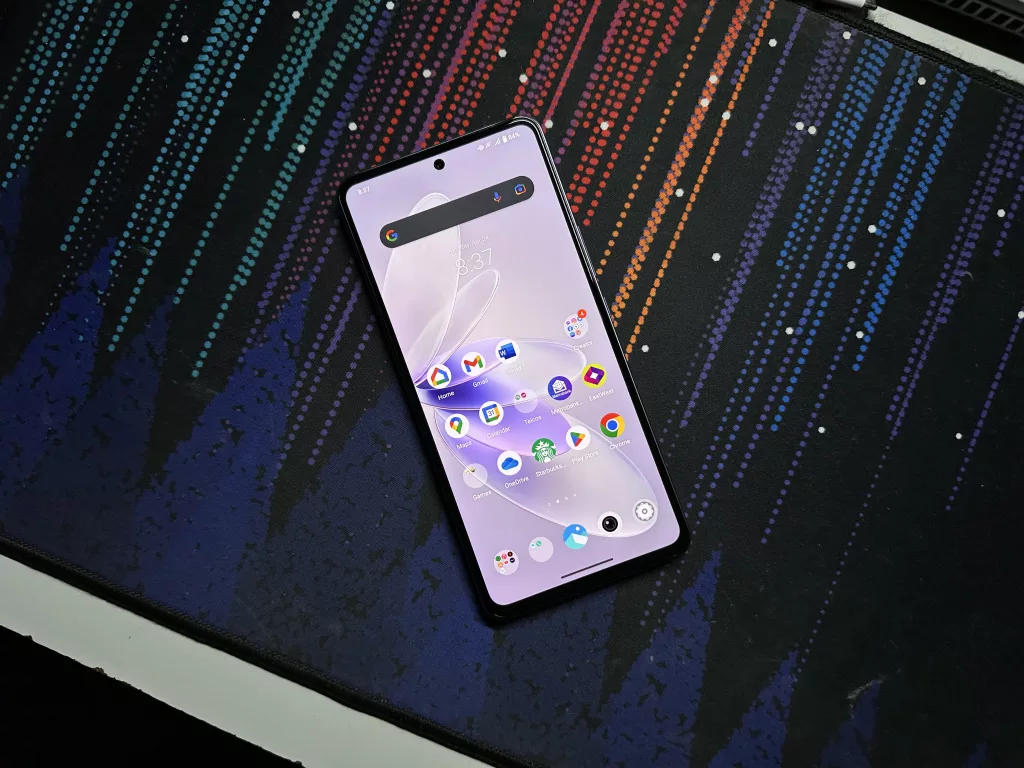 For some reason, I'm about to get desensitized with phone displays. It's probably because of either me getting older or just seeing the same specs on most phones. Whichever the case, the display on the vivo V27e is pretty much what you'd expect on a midrange phone.
It has a 6.62-inch FHD+ AMOLED display with a 120Hz refresh rate. vivo also touts this display as a Sunlight AMOLED display since it can go up to 1000 nits of peak brightness. I did notice how bright the display gets when I'm outside and the sun is really out.
Besides all that, the display on the vivo V27e is pretty much everything I expected. We're really at a point where most displays in the midrange are really good enough for most people.
Performance and Software
The vivo V27e uses a MediaTek Helio G99 processor with 8GB of LPDDR4X RAM and 256GB of UFS 2.2 storage. It may sound like this is a weak spot for this phone on paper. Of course, there is more to performance than just the specs on paper. Here are some AnTuTu benchmark results before I get into my thoughts: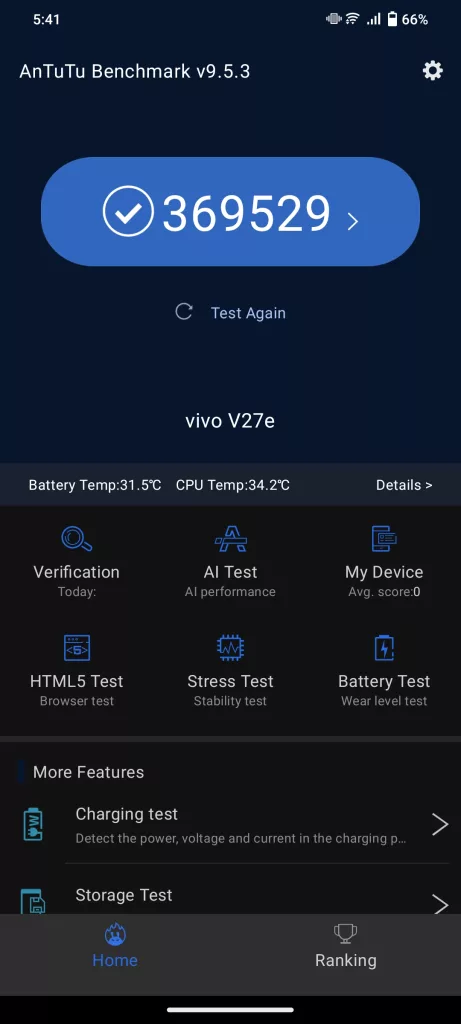 In terms of real-world performance, the vivo V27e actually doesn't stand in my way! Playing Pokémon UNITE and even Ragnarok Origin were really smooth for me. There may be times when certain apps aren't behaving well, but I blame that on the app makers more at this point (looking at you, Instagram). This phone supports Extended RAM which gets 8GB of your internal storage as dynamic RAM. If there's any downside to using Extended RAM, it's that there tends to be some hiccups. It's honestly not that drastic though, and I would personally keep it on for this phone.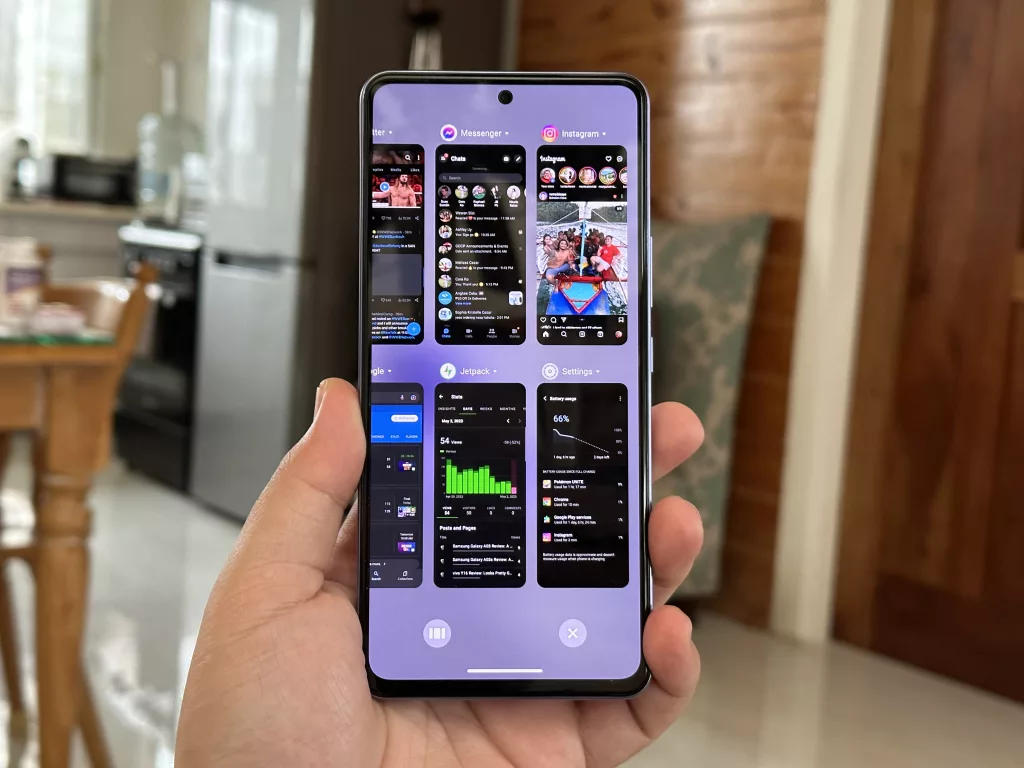 One aspect of the vivo V27e review that I was looking forward to is Funtouch OS 13. Based on Android 13, this is vivo's Android skin on phones for global markets. (vivo uses OriginOS 3 on phones for the Chinese market.)
What I mainly love about Funtouch OS 13 on this phone is how optimized it is. I know that Google makes Android, but I'm happy that vivo managed to make this experience smooth. Despite this phone retailing for P16,999, I think that the software isn't bogging it down. I have some issues in terms of certain UI elements (gesture navigation is kind of different), but it's a capable Android skin for me.
One aside: this phone just has a single speaker. Many phones at this price range (and even some lower) already have dual speakers. Honestly speaking, I don't really hear the effect of the All-round Audio Enhancement of this phone. I also manage to cover up
Battery Life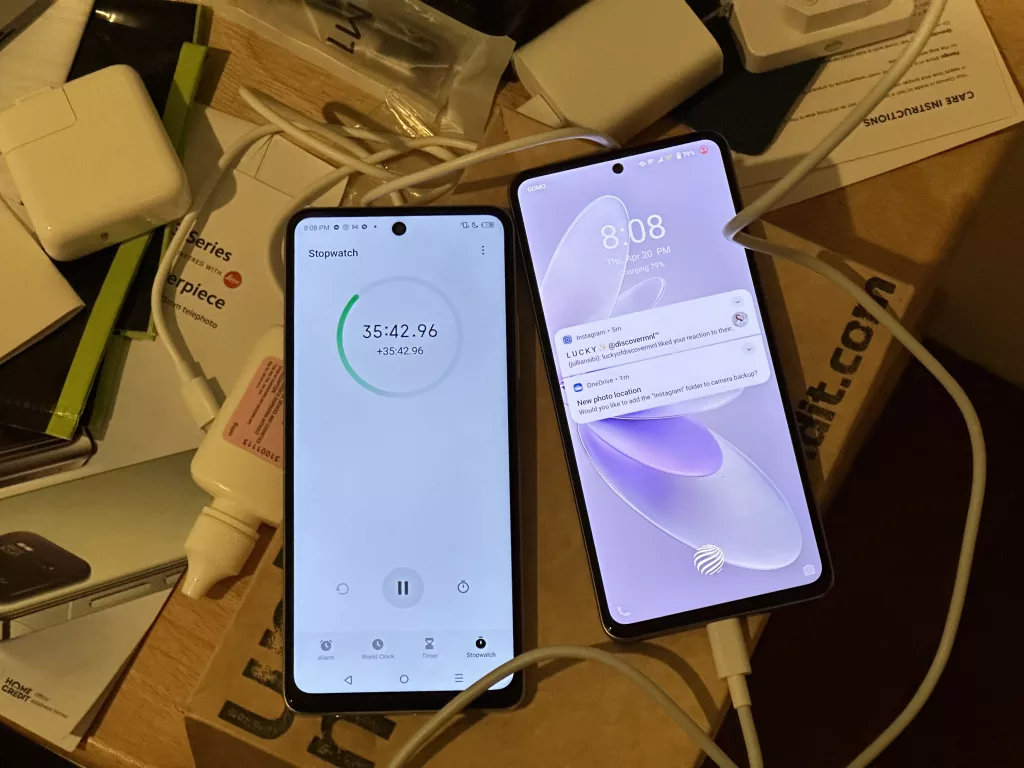 On paper, it seems like a balanced set of specs for the battery. We have a 4600 mAh battery with 66W FlashCharge fast charging. Little did I know that the vivo V27e is one of these sleeper battery champs! As you can see in the photo above, I got from 0 to 79% in around 35 mins! To be fair, the battery's smaller than usual so charging times should be faster.
I generally get a day and a half of mixed use with this phone. That's mainly with watching YouTube (and Floatplane) videos, Facebook and Instagram use, and some gaming.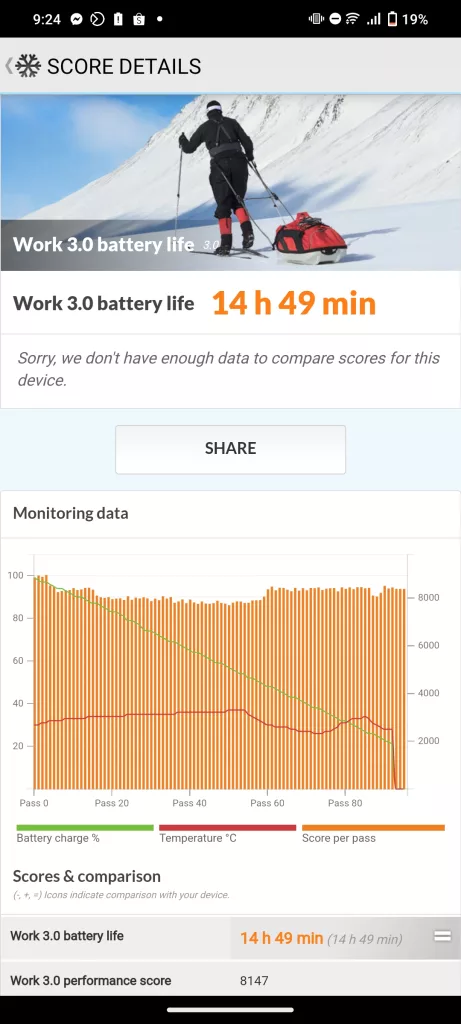 I've been including PCMark Work 3.0 battery life benchmark results recently in an effort to quantify battery life. Even if I've reviewed countless phones with 5000 mAh batteries, I usually get up to around 12 hours with said benchmark. The fact that a vivo phone with a 4600 mAh battery gets almost 15 hours here is a testament to how optimized Funtouch OS 13 is with this phone. This was a pleasant surprise to me.
Cameras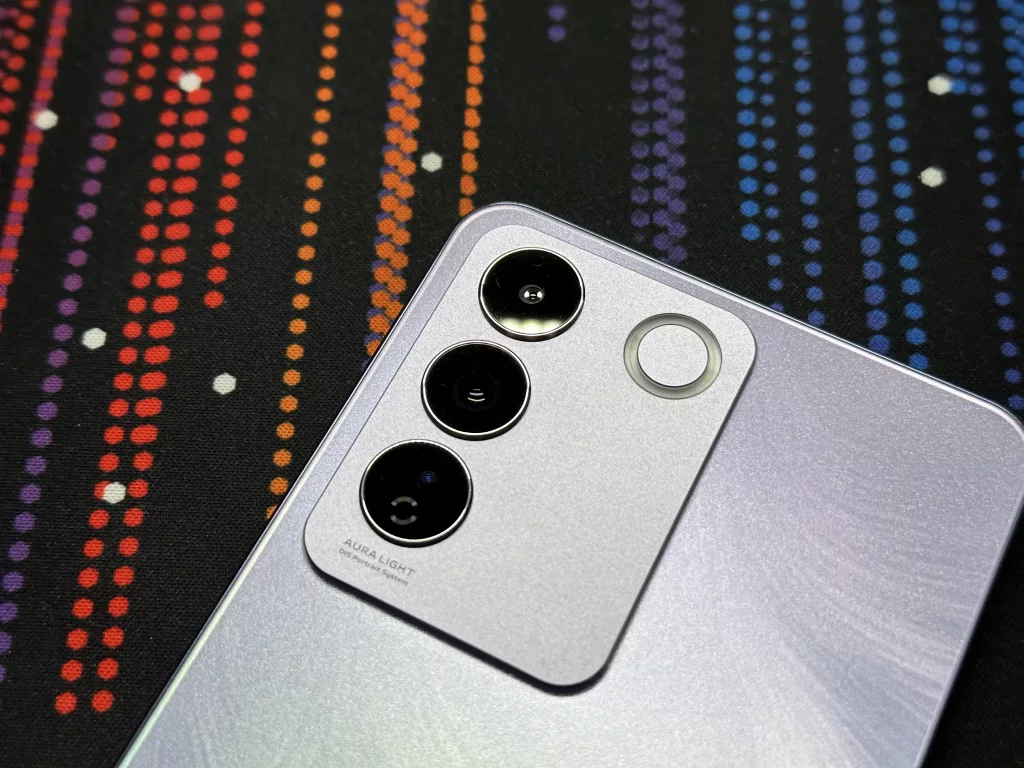 On to the main event of the vivo V27e review: the cameras. A major selling point of the V27 Series is its Aura Portrait Algorithm with that built-in Aura Light. This was actually the main reason why I wanted to review one of the V27 Series phones. I initially underestimated the V27e since it didn't have much bells and whistles compared to the V27 5G. The V27e has a triple rear camera system consisting of a 64MP main camera, a 2MP macro camera, and a 2MP depth camera. It also has a 32MP Eye AF front camera. On paper, I didn't really expect much.
Like most of what this phone has to offer, the cameras pleasantly surprised me. I'll tell you why.
Click on the photos for full-resolution versions!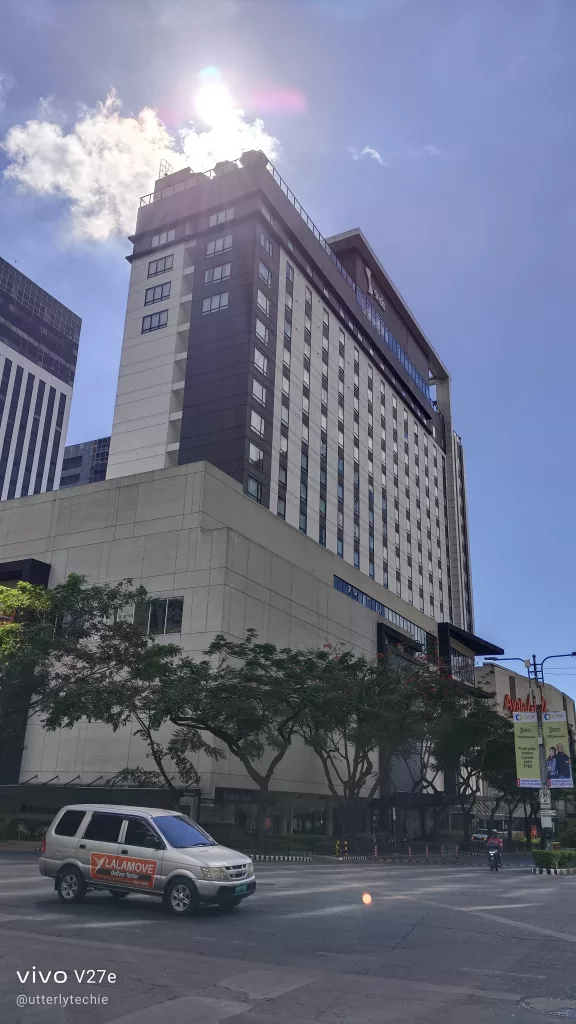 The first photo was unintentionally an overexposed shot. Fortunately, the phone managed to keep the colors in check with a slightly warmer tone. The V27e still struggles when faced with a variety in lighting.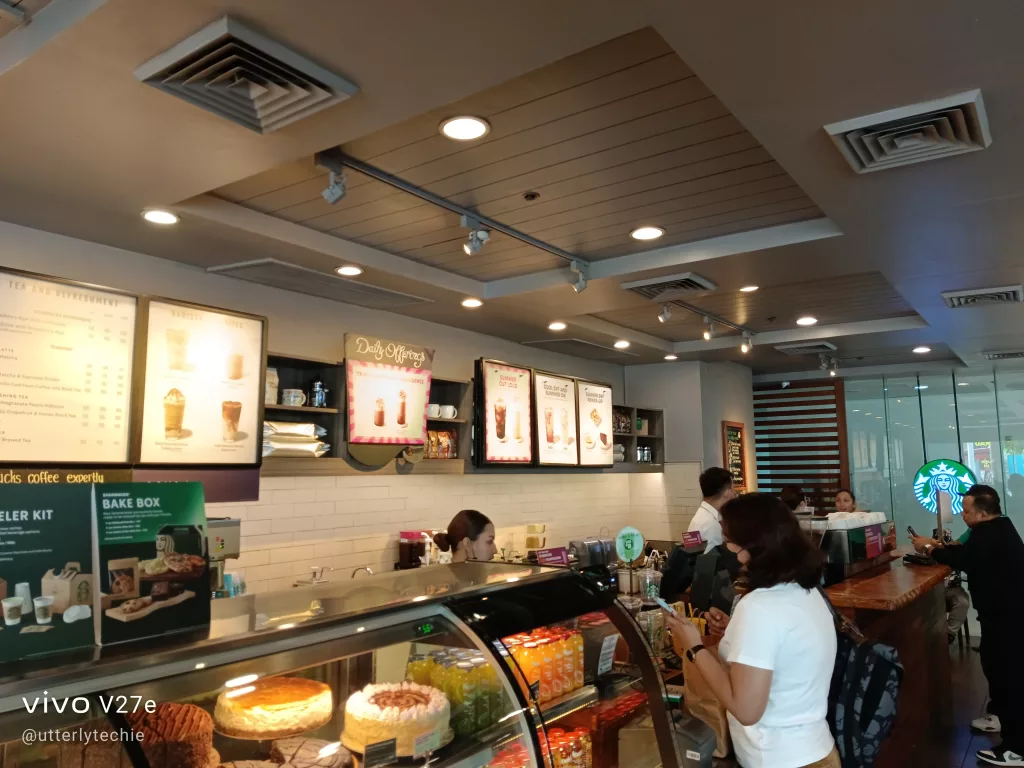 When focused on subjects like food, I think that the photos tend to lean brighter with natural light. Honestly, the food here looks more appealing. Hehe.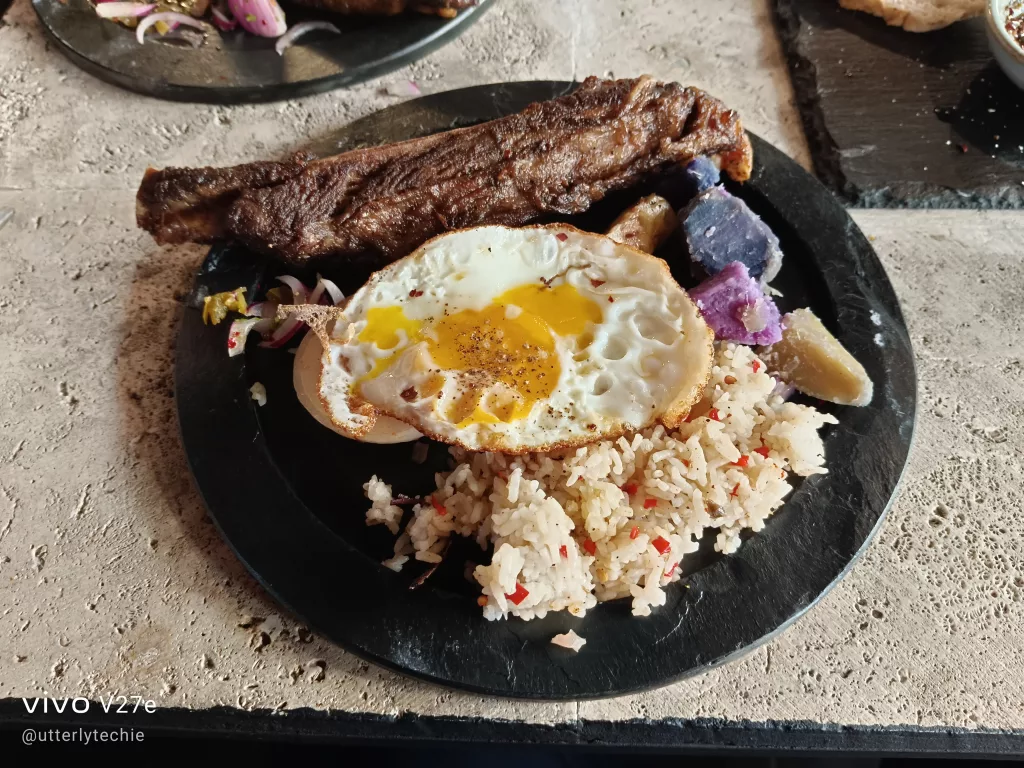 A standout photo from the vivo V27e is when dealing with the right amount of natural light. Just look at the photo below where the subject is a section of a mall without excess sunlight.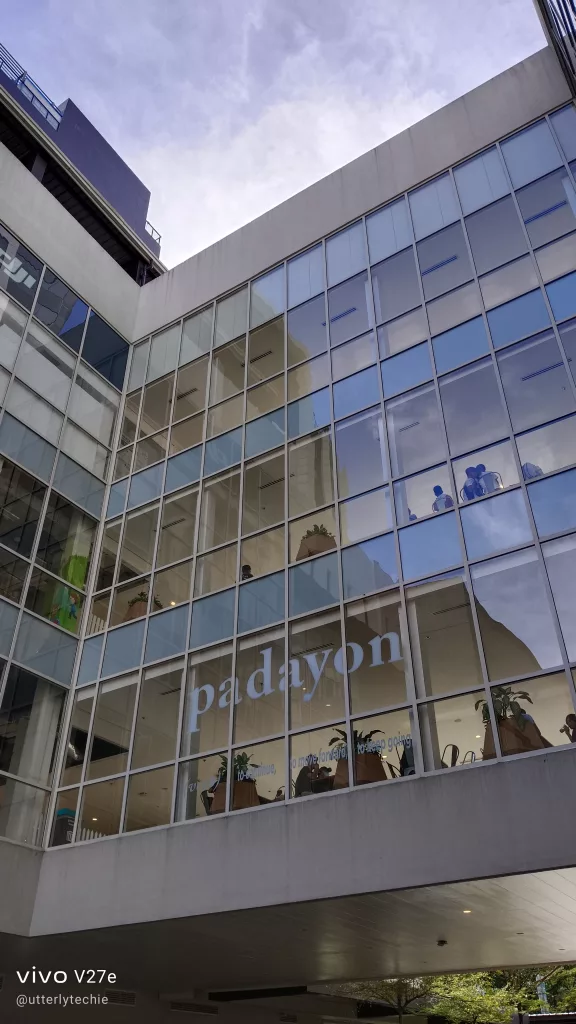 Another aspect that surprised me is how the image processing really works in 2x zoom photos and sometimes even in 5x zoom photos. This is, of course, granted that you have really good lighting. (No amount of night mode could help you in zooming in.)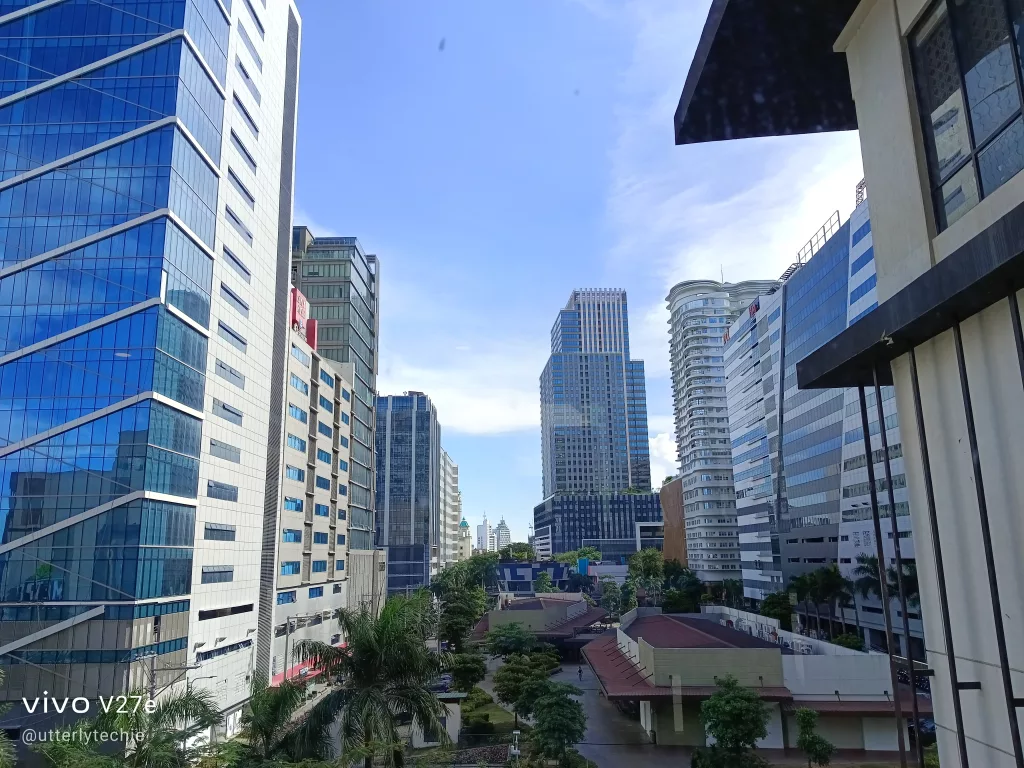 When you do choose to use Night mode paired with the 64MP main camera, it can produce surprisingly good photos! I basically took this photo with Night mode enabled and on auto. As long as your hands aren't super shaky, you can totally take shots like this.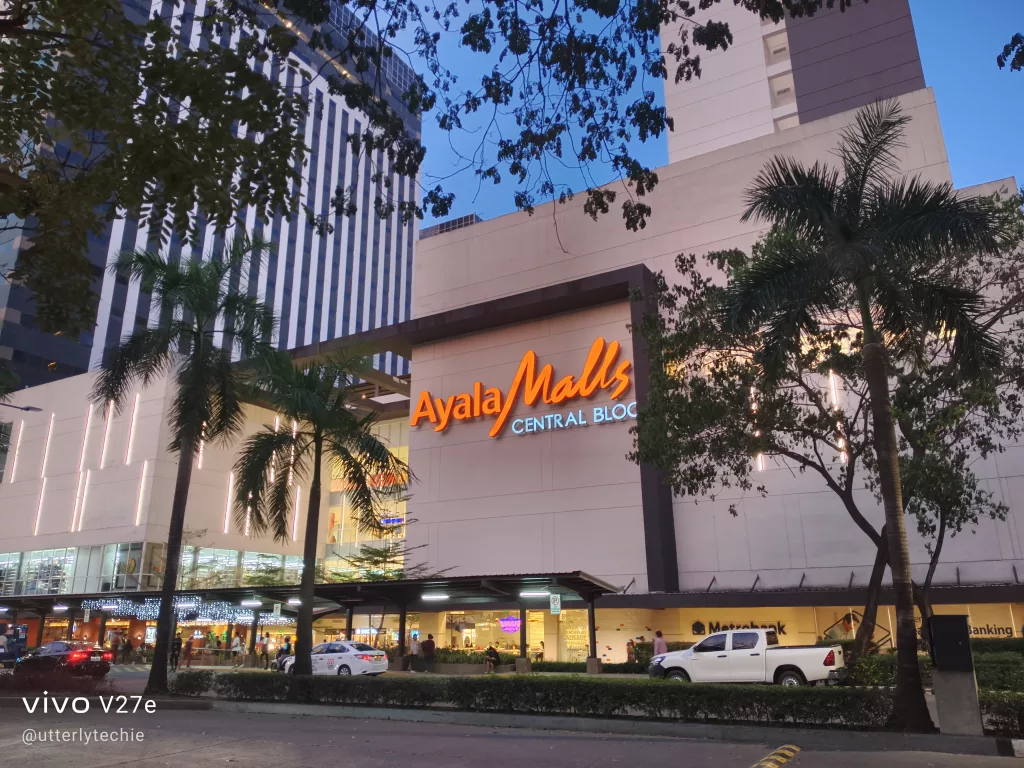 Night Mode works even if it isn't too dark yet! Take these two photos side-by-side. I find it CRAZY that I prefer the photo on the right even if some of the elements tend to be darker. There's an overall mood to it that I personally prefer.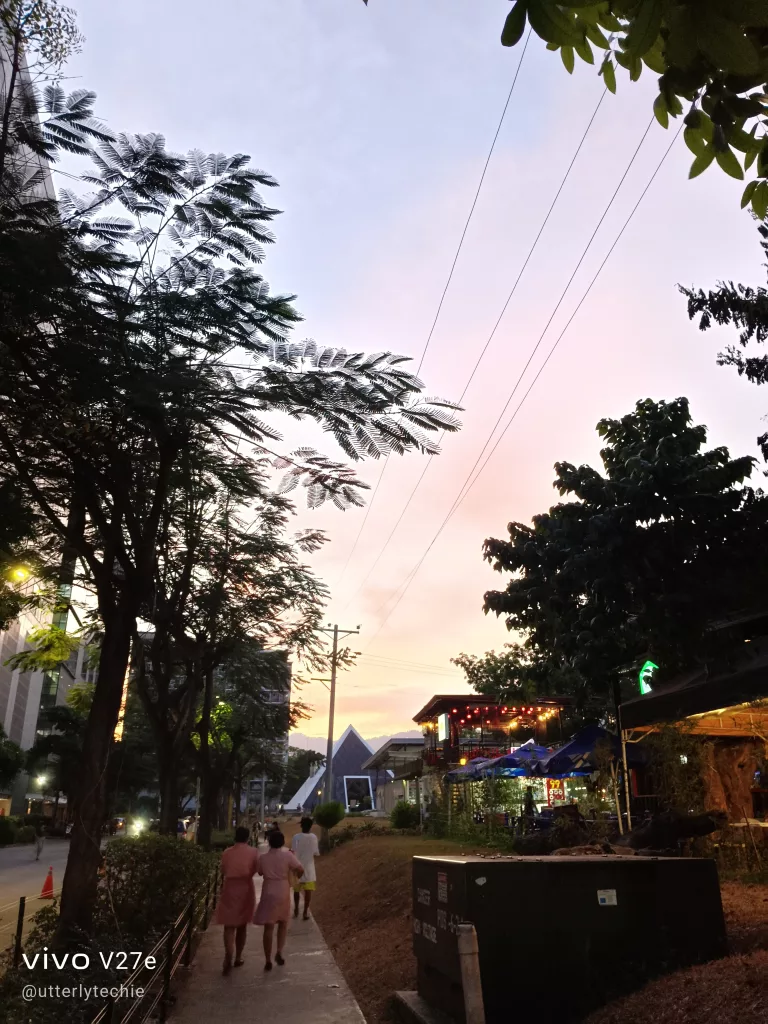 Indoor shots are also good even in slightly dimmed ligthing. The photo of the food below from Bell+Amadeus looked as accurate as in real life.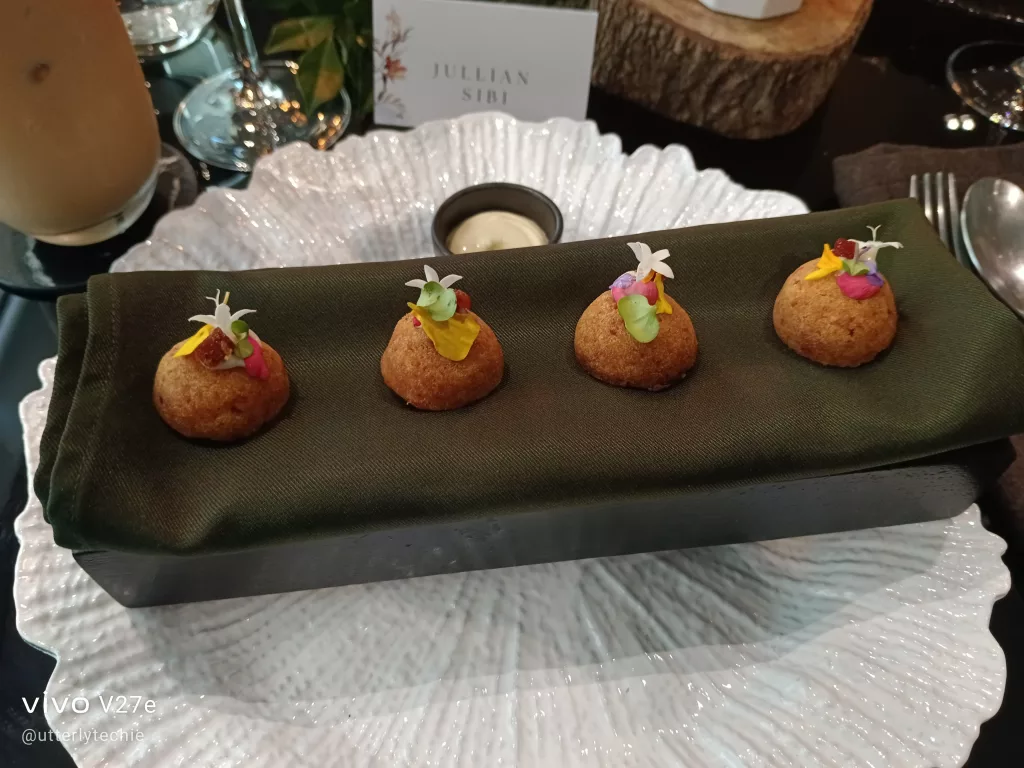 Aura Portrait Algorithm
The highlight feature of the vivo V27 Series is the Aura Portrait Algorithm. Combining vivo's image processing with the use of its built-in Aura Light help produce good portrait shots. I was skeptical at first, but the results below speak for themselves. Although the cutouts can be hit or miss at times, I like how the face is focused and the bokeh is just right. You can also adjust the bokeh based on your preference.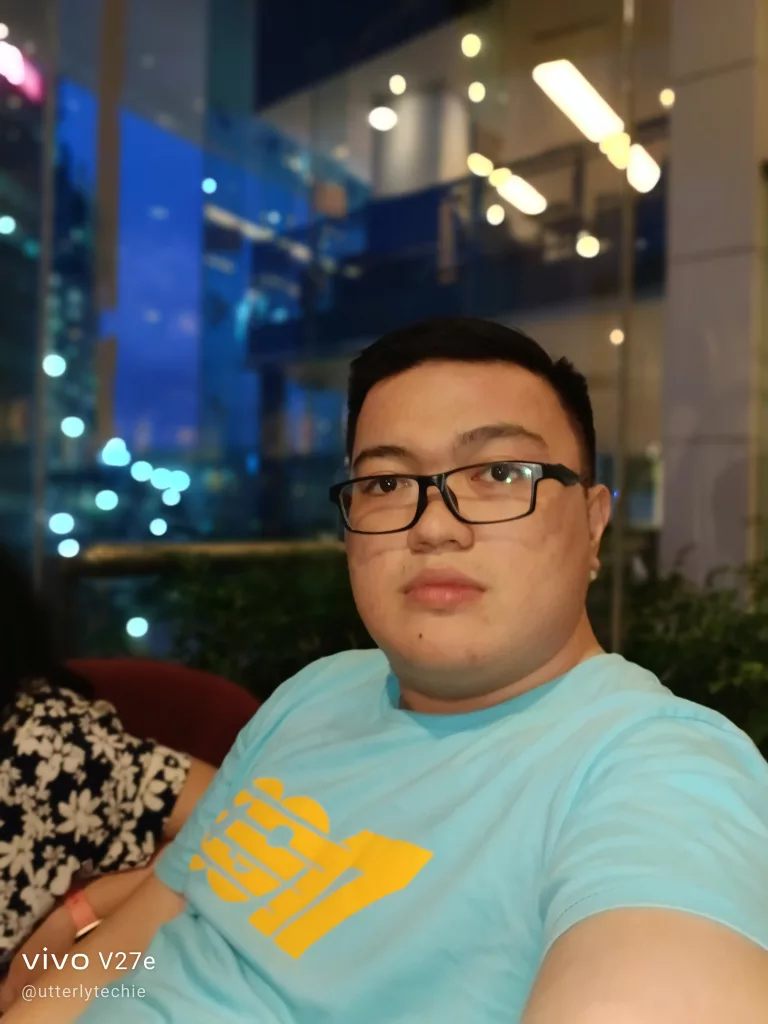 Front Camera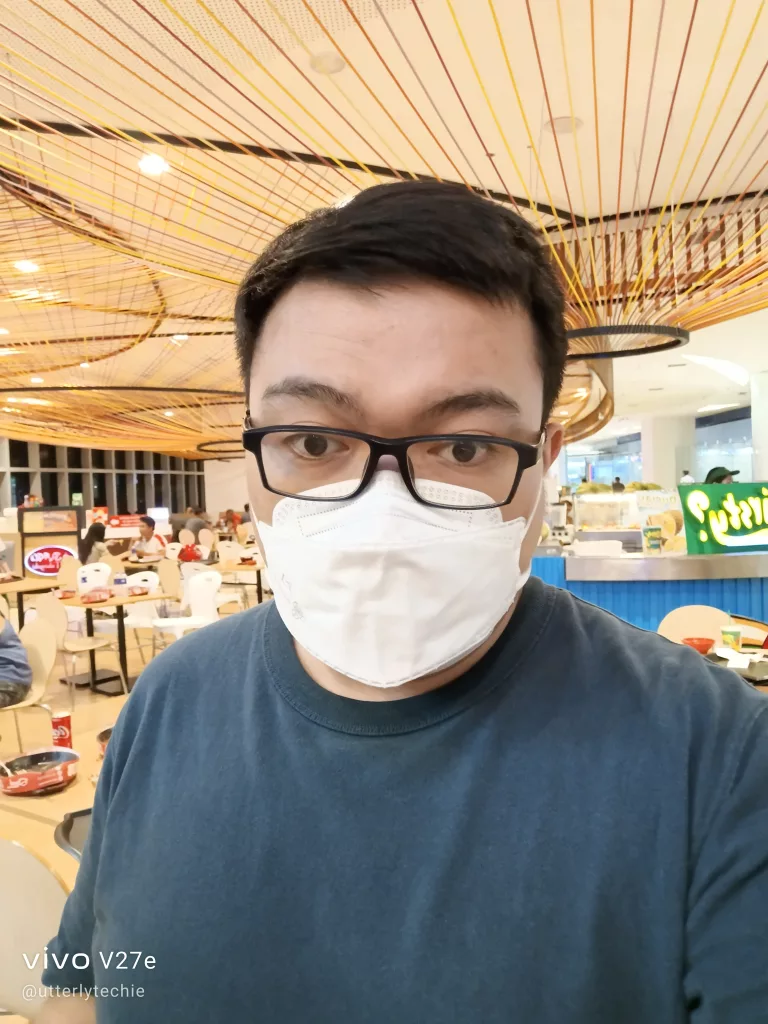 I already highlighted the photos above in my first impressions, but I had to use them again in talking about the front camera. Despite my initial reservations, I love how vivo's image processing made the photos coming out of the 32MP front camera look really good. Yes, the detail is there, but the colors don't deviate too much and I can also rely on the portrait shots.
All in all, the results I saw out of the vivo V27e's cameras really surprised me. (There's really a theme here, huh?) It may get some misses in some cases, but the hits really hit for me. One improvement I could see here is if vivo brings its V1 or V2 chip and the work they've done in that department to the V Series. It honestly makes sense for vivo to do it considering how the company named the chips.
Should You Buy the vivo V27e?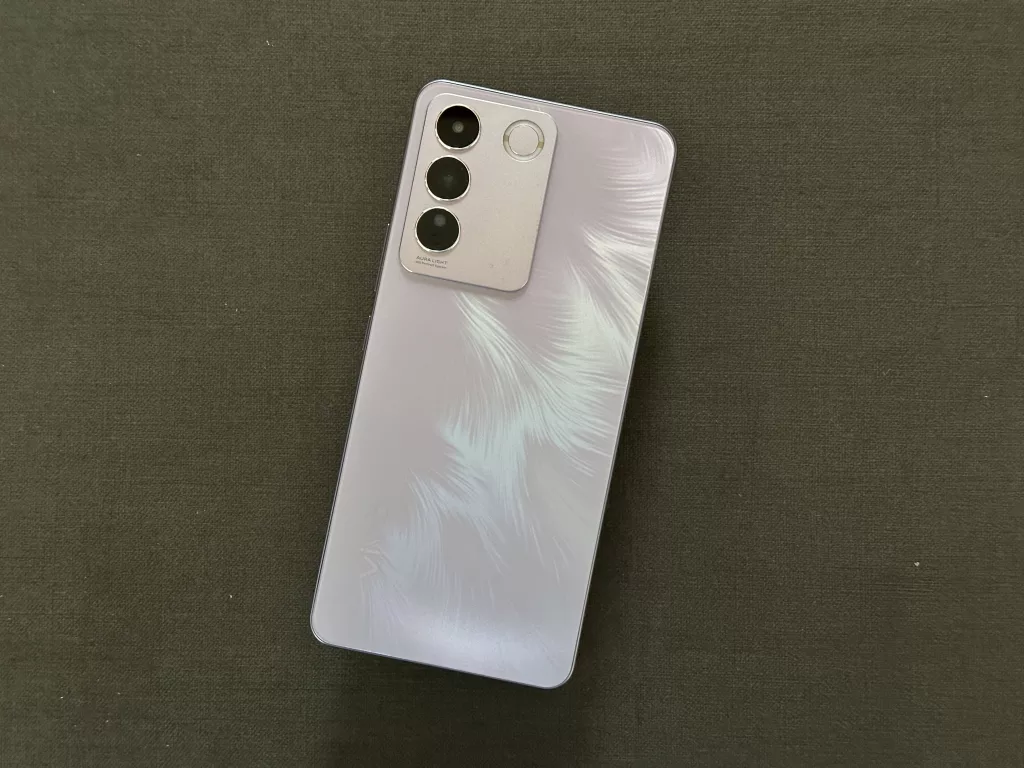 Like I said in the beginning, I went into this vivo V27e review with low expectations. Whenever a phone maker like vivo does the "e" model or a Lite version of a certain line of phones, it tends to have a significantly degraded experience. Whether it's the cameras or the performance, there would always be a reason for tech reviewers to point to the regular or Pro models instead.
The vivo V27e subverts my expectations with a good display, a 64MP main camera and a 32MP front camera paired with good image processing, good performance, and a great battery experience. With this phone, you don't need to feel like you got shortchanged because you got a lesser phone. Unlike the "e" models a few years back, it deserves to be in the V Series.
Some improvements I'd like to see in future "e" models include 5G support and 4K video recording in the rear camera. I feel like vivo can do it next year (or even later this year).
Pros
A very slim and light design with a great hand feel
Really capable 120Hz Sunlight AMOLED display
microSD card support
A smoother user experience thanks to the optimized combo of Funtouch OS 13 and the MediaTek Helio G99 processor
Battery life is deceivingly good considering its 4600 mAh battery
66W FlashCharge puts the battery story firmly in the positive
The 64MP main camera paired with vivo's image processing is a total win in most cases
Camera features like Night Mode and the Aura Portrait Algorithm really stand out
Cons
No headphone jack
No 5G and limited to 1080p video recording thanks to the MediaTek Helio G99
Could use a bigger battery
Some gestures in Funtouch OS 13 deviate from the rest of Android
Largely forgettable 2MP macro and depth cameras besides how they help with vivo's image processing
The vivo V27e retails for P16,999 and comes in two colors: Lavender Purple and Glory Black. You can get one offline via vivo's official stores and online through vivo's official website, Shopee, Lazada, and TikTok stores.