Ever since the realme 3 arrived in the Philippines in 2019, I've reviewed each generation of the Number Series. Throughout its history, realme focused on two things with the Number Series. Those are the cameras and performance. Continuing on this trend is realme's latest Number Series phone: the realme 10. On paper, it may seem that there are significant downgrades here. But are the upgrades and its lower P12,999 starting price worth it? Find out in my full review.
Disclaimer: realme Philippines sent me the 8GB+256GB variant of the realme 10 in Rush Black. It arrived on October 22 and unboxed it on October 26. I've been using the phone for almost two weeks at the time of writing this review.
Design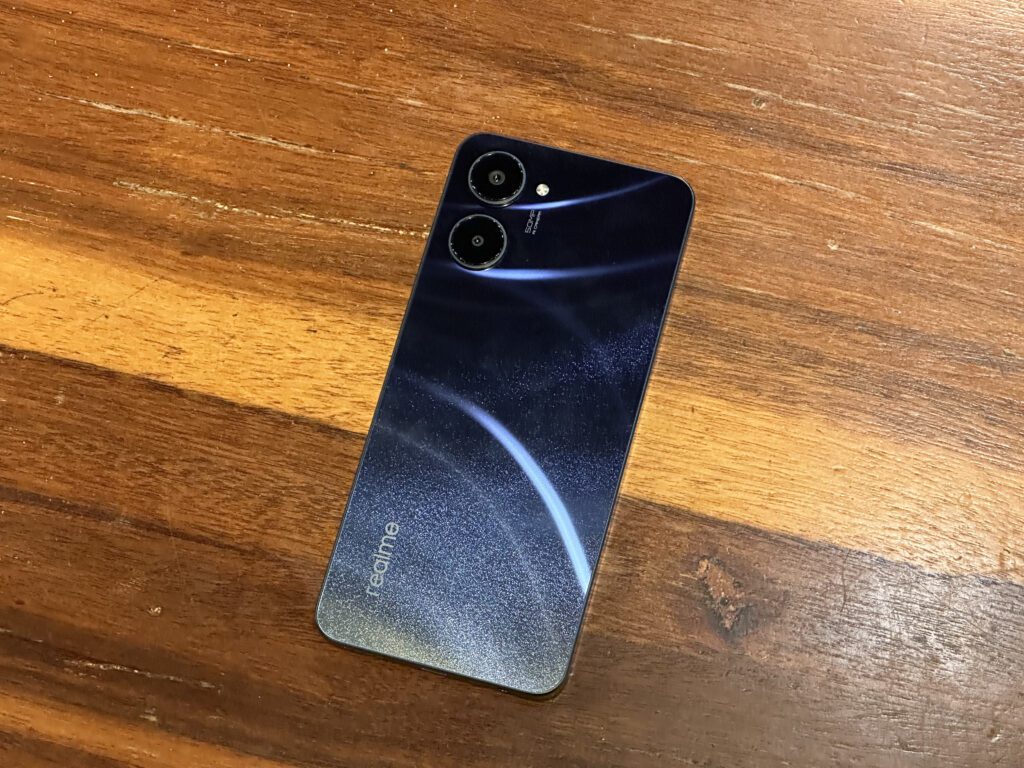 A real standout for me is this phone's design. realme has long been a brand that prioritizes design since the beginning, and I can still see that to this day. This phone's Light Particle Design comes in two colors: Rush Black (the one I have here), and Clash White. Both look stunning, but this color is a total fingerprint magnet. I would constantly clean it since the fingerprints are more obvious.
Buttons are clicky enough but I'm not into the volume rocker setup. (I much prefer separate volume buttons.) Good thing the power button feels different thanks to having a fingerprint sensor. It's also nice to see a 3.5mm headphone jack in this phone. This also supports up to a 1TB microSD card.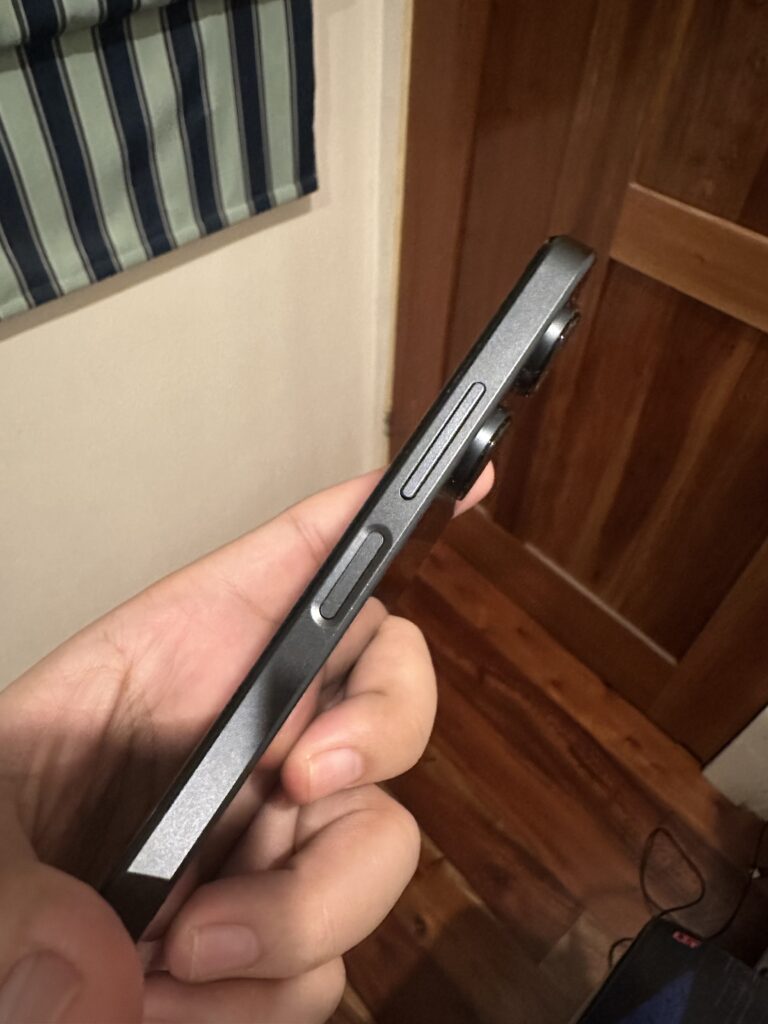 I thought I would hate its flat sides, but it actually doesn't feel bad thanks to its slim 7.95mm body. This phone doesn't have really sharp edges unlike phones that use a metal frame. It unfortunately doesn't feel more premium than its predecessor. (A friend of mine said that it felt like a toy.) This may not be realme's best showing, but I appreciate the effort that the company has made here.
Display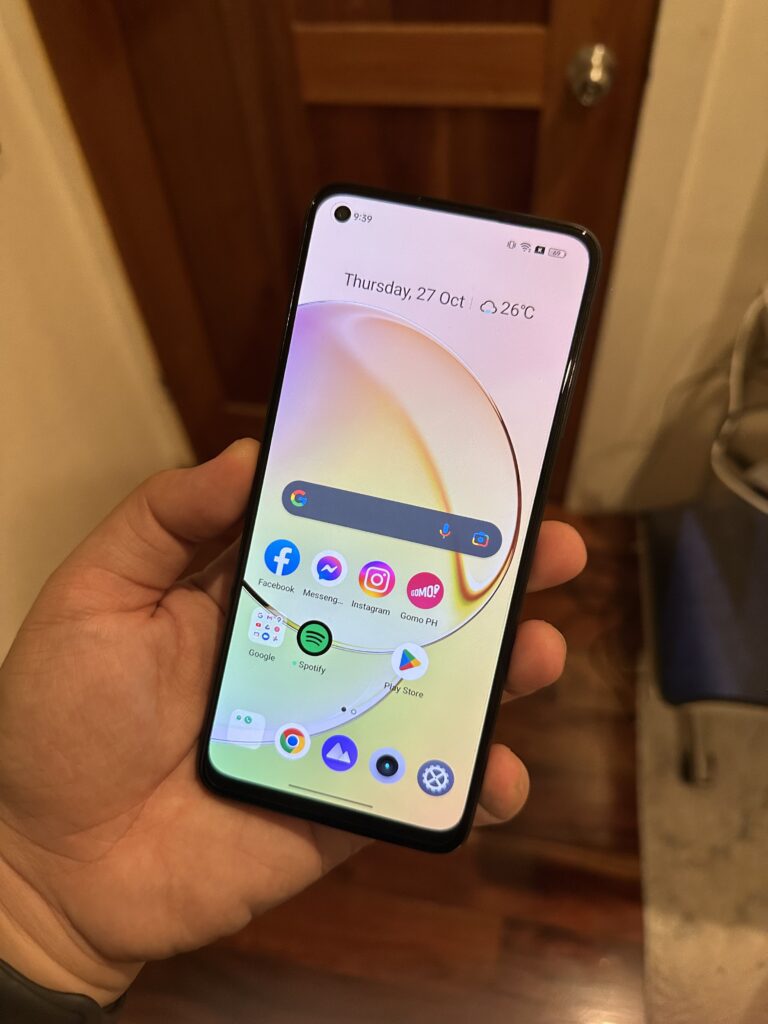 The realme 10 maintains the same 6.4-inch Super AMOLED Display as its predecessor. It keeps the 90Hz refresh rate and the 2400 x 1080 resolution as well. One minor upgrade is its brightness which now reaches 600 nits. I honestly didn't notice that increased brightness and there is still a sizeable bezel at the bottom. It would be nice to see a bigger improvement here, but keeping this display makes more sense.
Performance and Software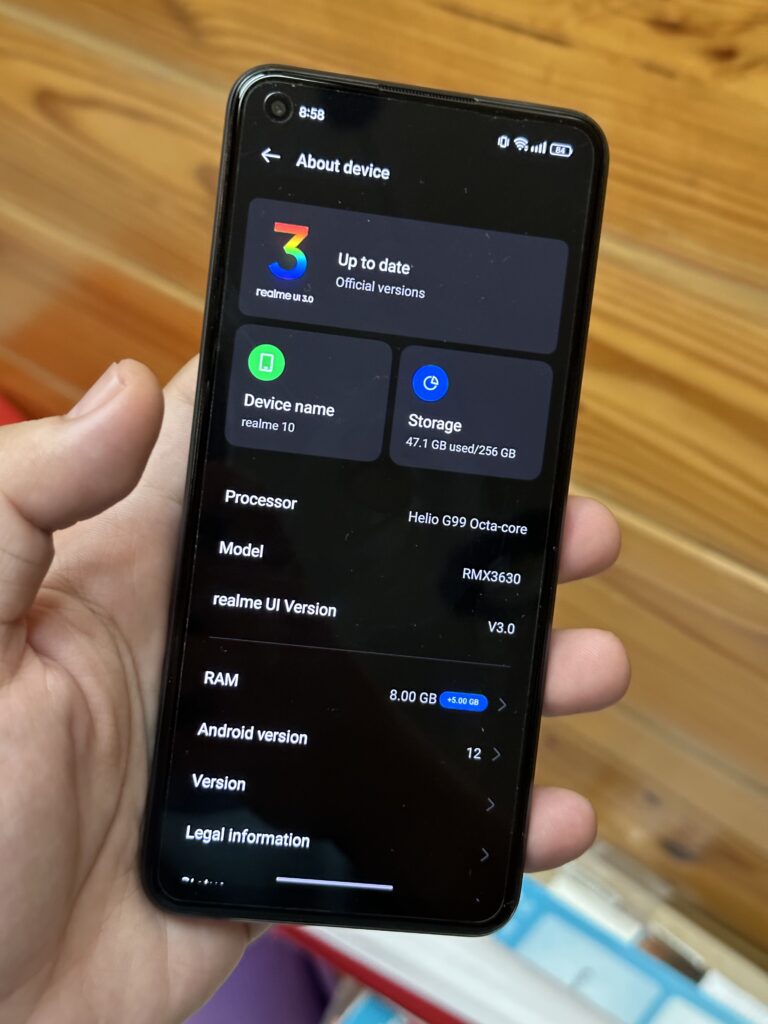 One of the big changes with realme's latest Number Series phone is its performance. It now has a MediaTek Helio G99 processor coupled with 8GB of LPDDR4X RAM. You can now choose between two storage options: either 128GB or 256GB of UFS 2.2 storage! (The higher storage option comes in at P14,999, the same as the realme 9's SRP.) It runs realme UI 3.0 based on Android 12 out of the box.
As of this writing, I haven't confirmed whether the models we'll be getting in the Philippines can support the new RAM Plus feature. This is basically an upgraded version of Dynamic RAM Expansion which can now reserve up to 8GB of Dynamic RAM for better multitasking. As you can see in the photo up there, I just have an additional 5GB of Dynamic RAM. This really affects the benchmark results. Regular users won't notice it too much unless they use a lot of apps.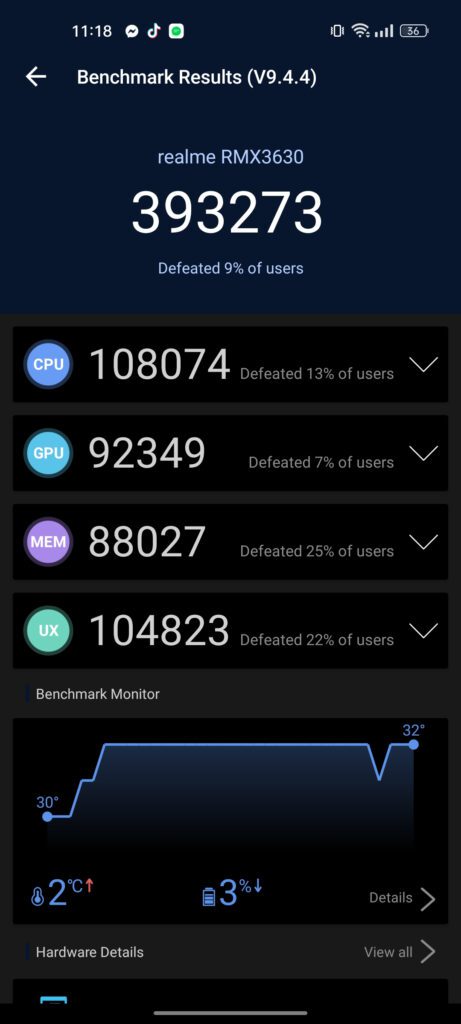 realme claims that this phone can get a 400,000+ score in AnTuTu benchmark. I didn't get that result here, but that probably has to do with that discrepancy in Dynamic RAM. I'll update this review if a software update arrives that enables the RAM Plus feature.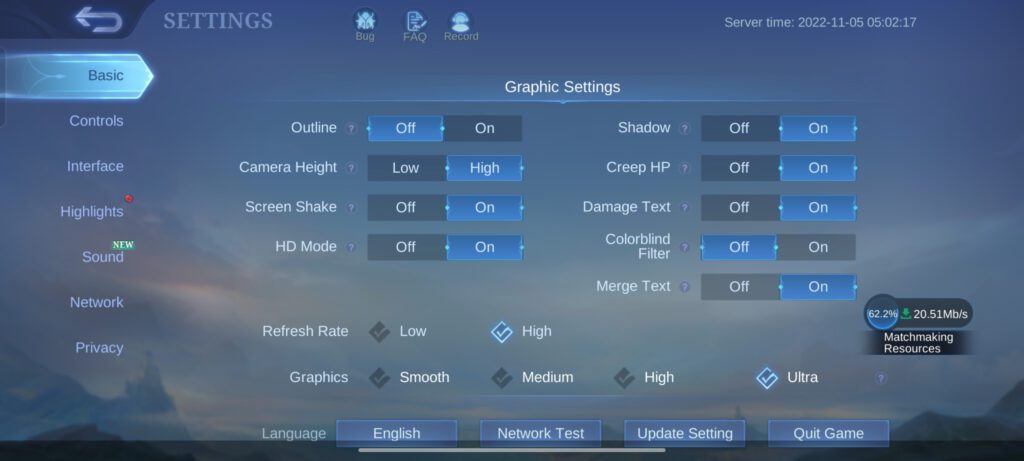 I was able to get Ultra Graphics and High Refresh Rate when playing Mobile Legends. When playing Pokémon UNITE, I got frame drops when playing at the highest possible settings. I did scale the settings down to the recommended settings (High Graphics, Medium Frame Rate) and it felt smoother. I also tried playing Genshin Impact on this phone and was able to go as high as Low settings at 30 fps. That's actually good considering the processor it has.
The LTE performance is decent but I wished phones in the P10,000-P15,000 range already have 5G support. It's becoming more mainstream in the Philippines, and I feel that it's best to put something you could potentially use in the future and not end up upgrading sooner because of the lack of 5G.
UltraBoom Speaker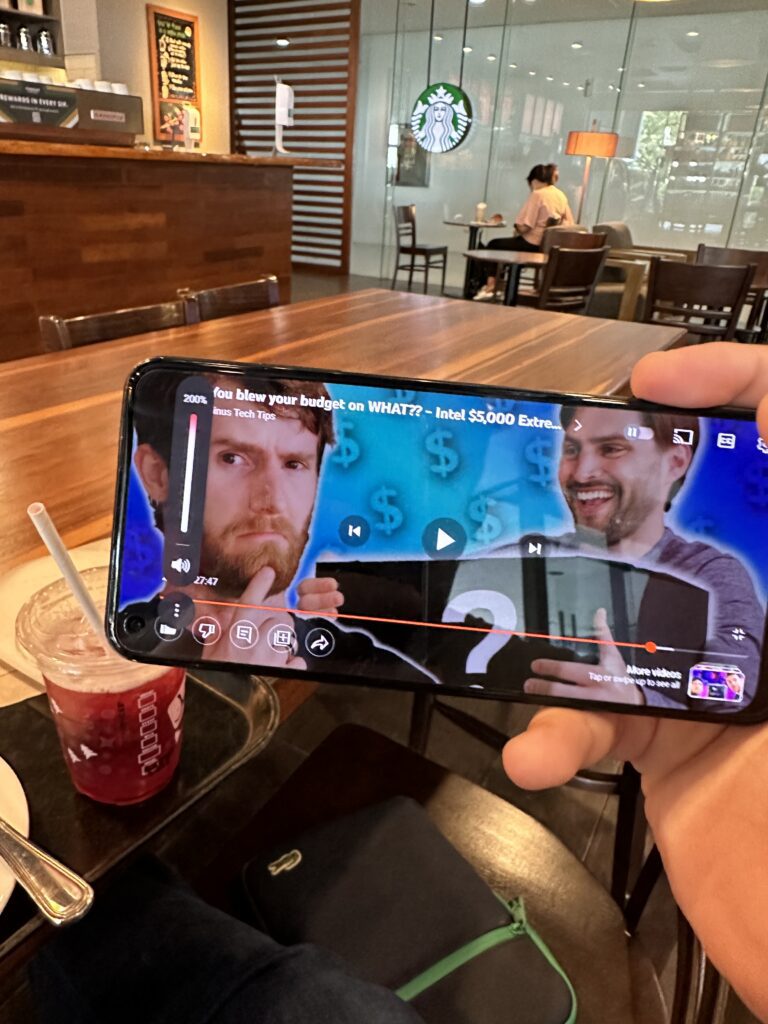 A highlight feature of this phone is its UltraBoom speaker. In case you're wondering, it's just a single downward-firing speaker. However, it has a 200% volume mode which really focuses on the vocals making them louder than the normal 100% volume. It does result in a more tinny sound in the lows and highs though. You should only use this mode in more challenging situations.
All in all, the performance of realme 10 really impressed me. Its performance is clearly a step above its predecessor and can really compete with other phones in its price range.
Battery Life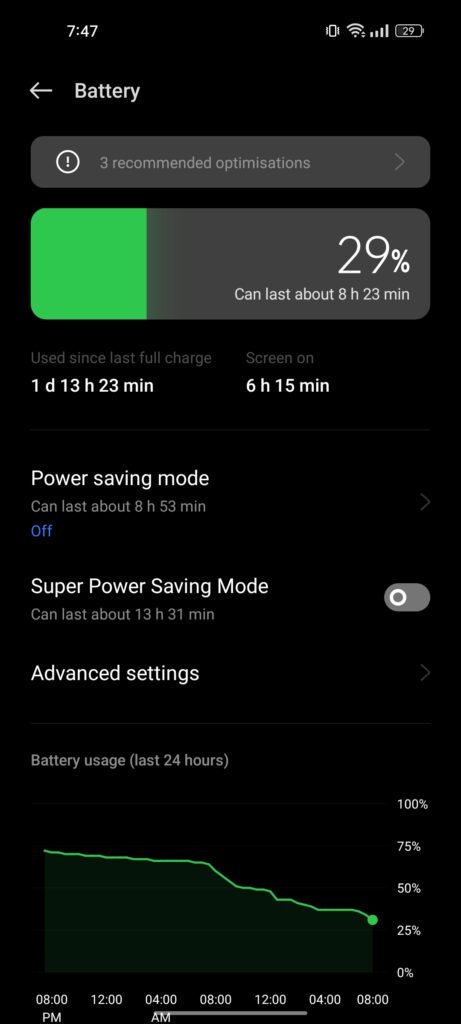 The more efficient 6nm process used to make the MediaTek Helio G99 makes the battery life on the realme 10 very good! It helps that this phone has a 5000 mAh battery coupled with 33W SuperVOOC fast charging. I generally get a day of use even with some gaming and YouTube mixed in there. Heck, I could even push it to a day and a half with lighter use.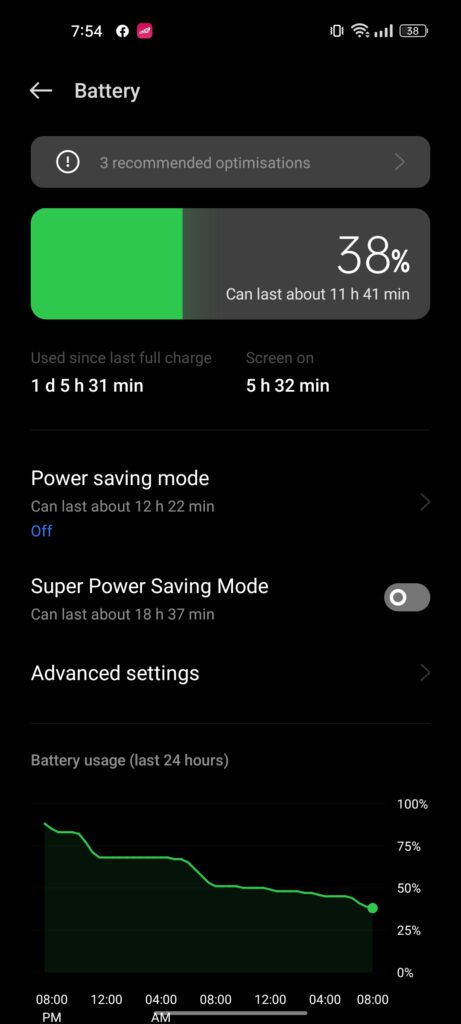 Cameras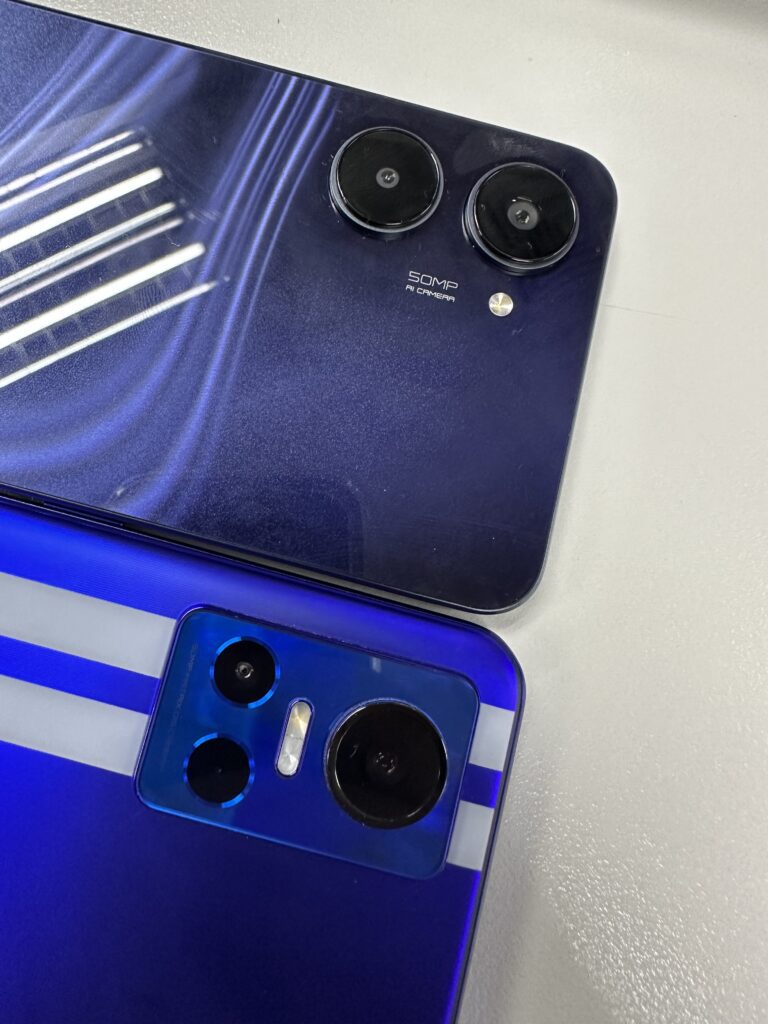 An aspect of this phone that worried me a lot was its cameras. Not having an ultrawide was a big red flag for me when I found out about the specs. It didn't help things when it only has a 50MP main camera paired with a 2MP Black & White Lens. Do these changes make the realme 10's cameras bad? Or will these end up becoming sleepers? Here are the photos I took.
Click on the photos for full-resolution versions!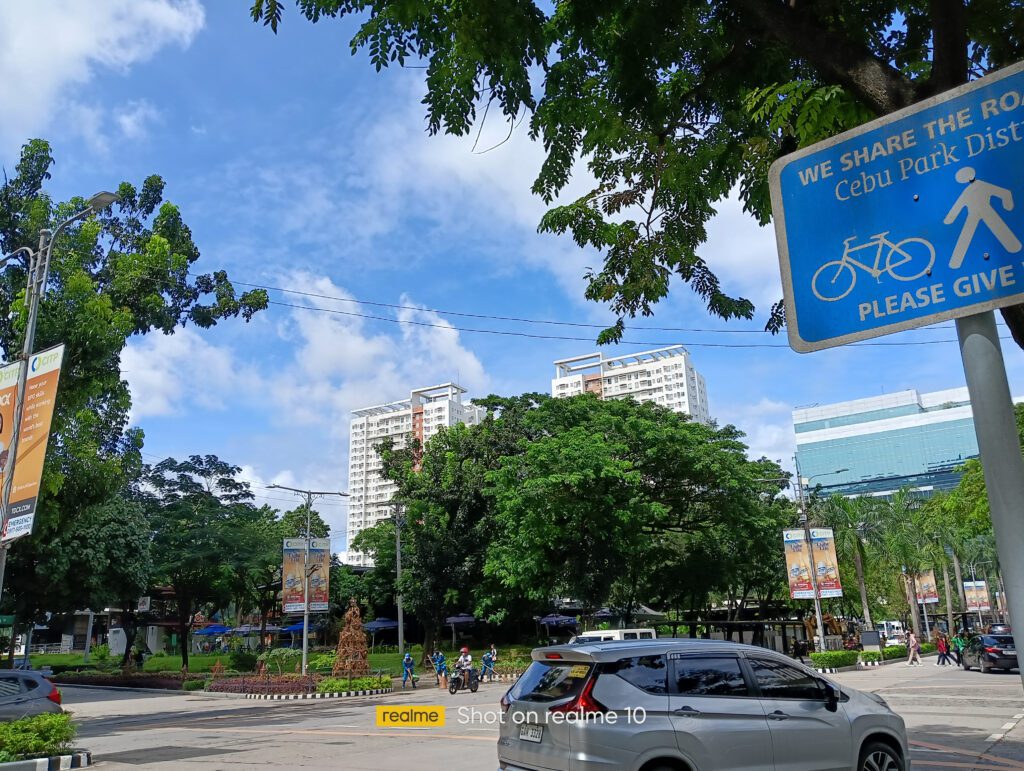 A lot of phones these days can pretty much take really good daylight photos. I actually love the detail I'm getting here. Despite just having a 50MP main camera, it takes sharp photos with good white balance and exposure when done correctly.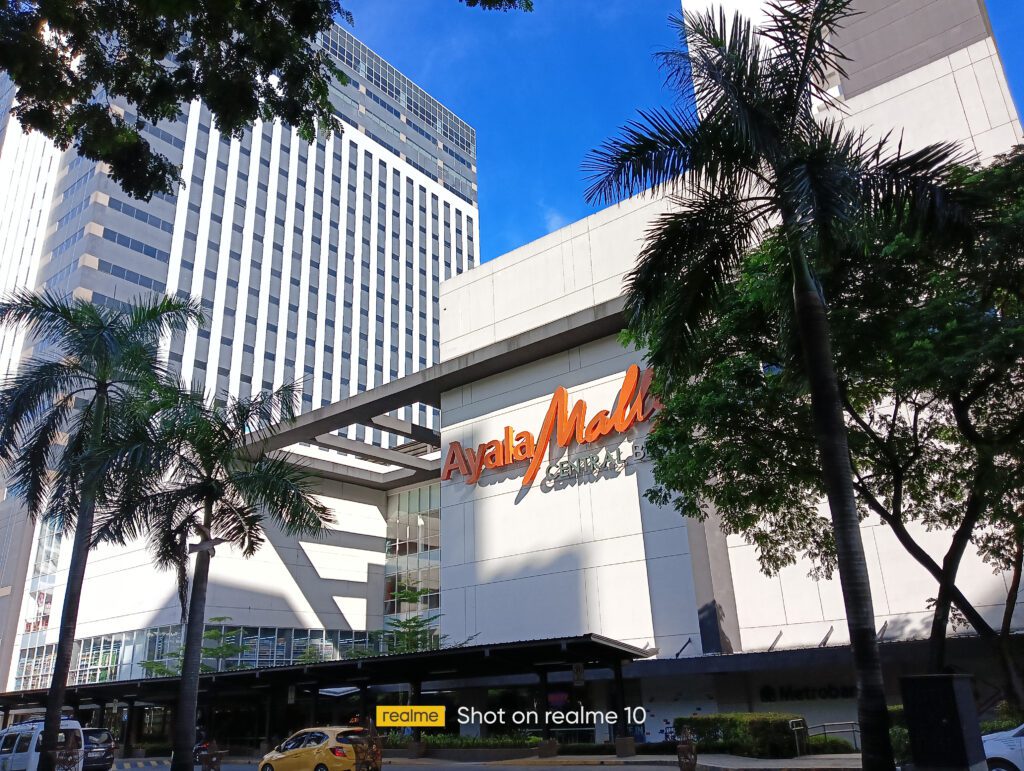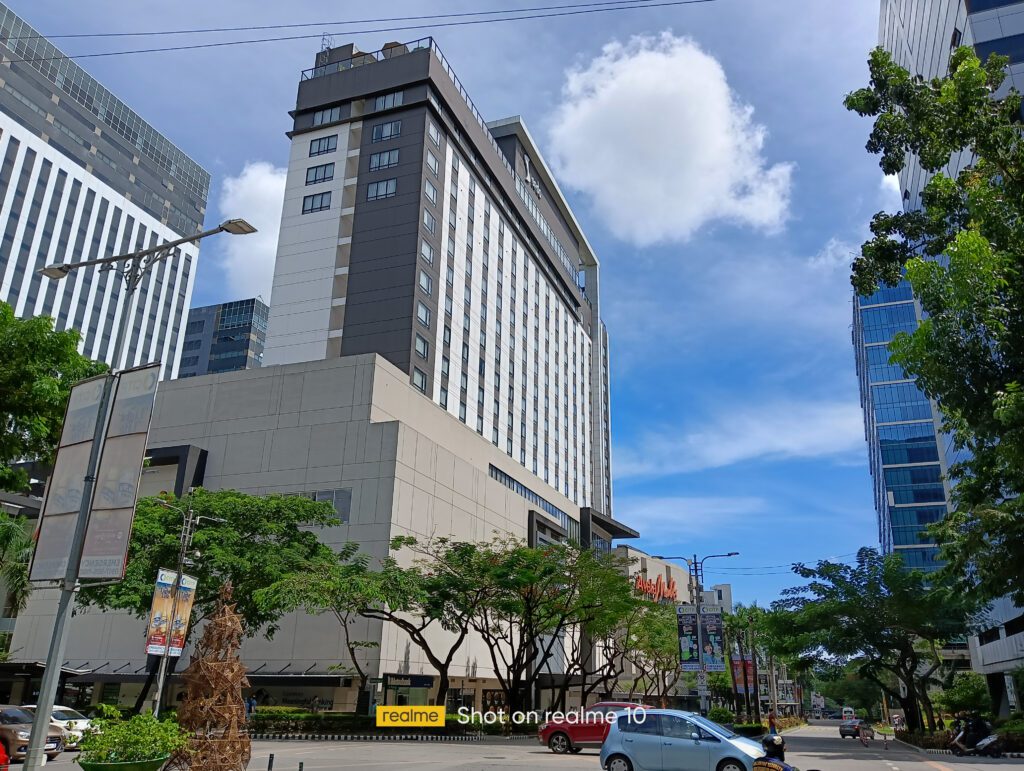 I know that only having 2x zoom is really limiting, but the quality you get even at 2x is really nice. There is a slight shift in color but that's probably the AI doing its thing.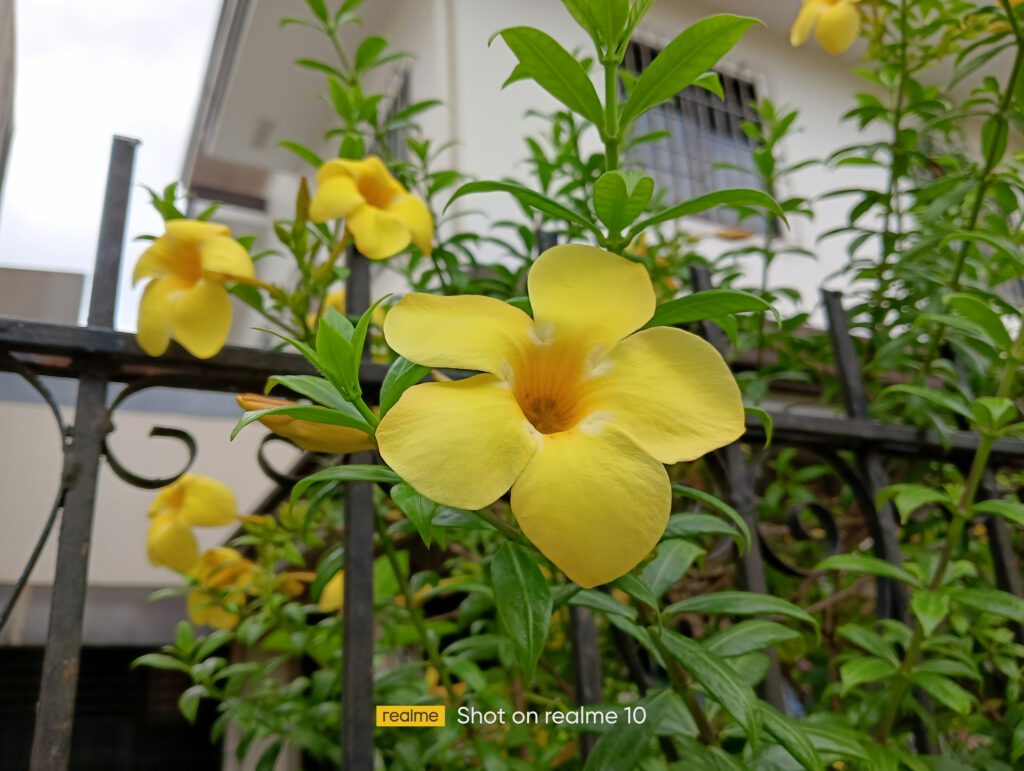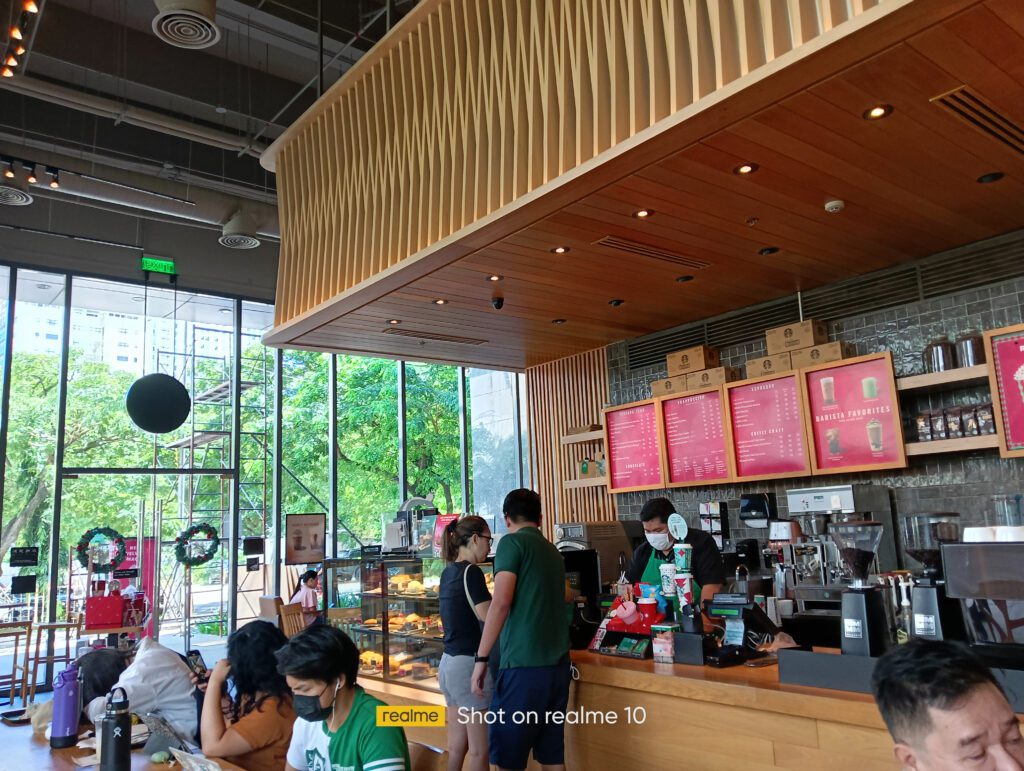 The night photos really surprised me. Sometimes it would be too much when you use night mode on some phones, but that's not the case here. realme did a really good job of finding the balance of bringing up the scene while not making it look like a daytime shot.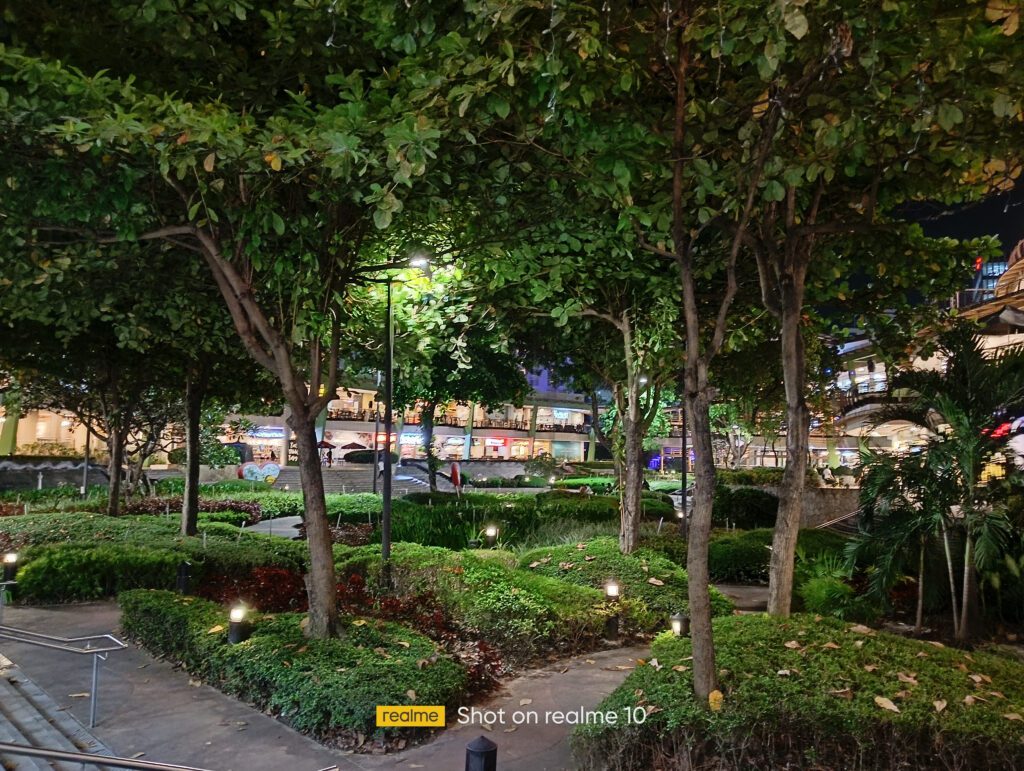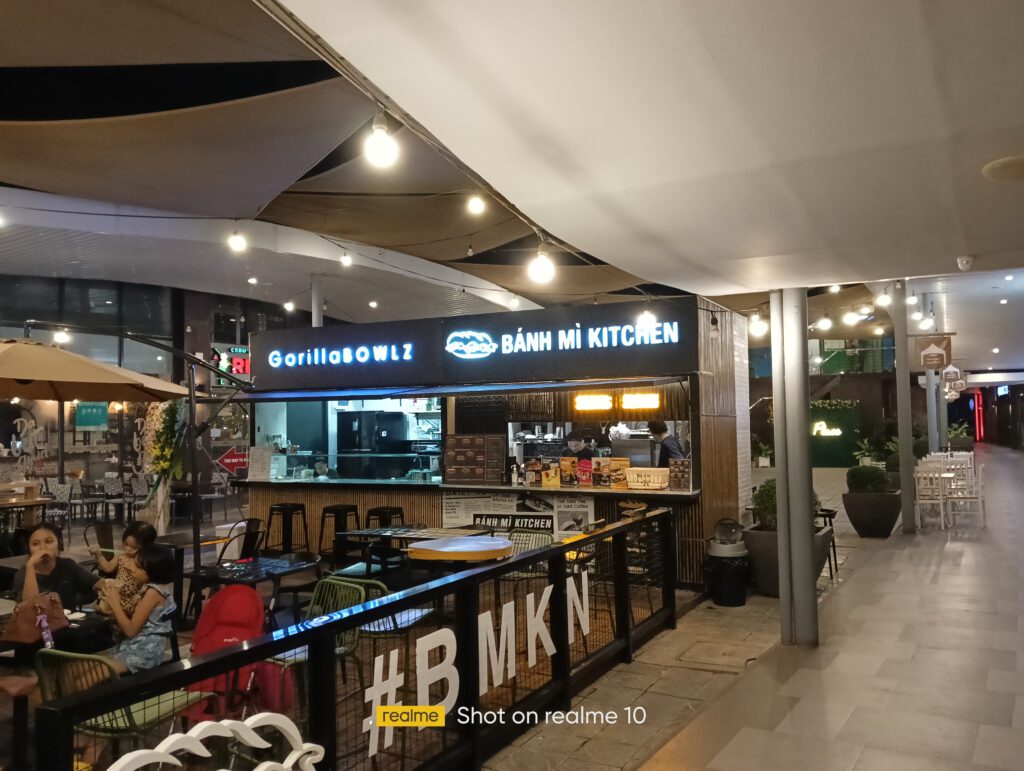 The 16MP front camera is a definite standout for me. Even when beautification is turned off, it can produce really good selfies at night! You do have to watch out for its HDR since it varies depending on the amount of light present in the scene.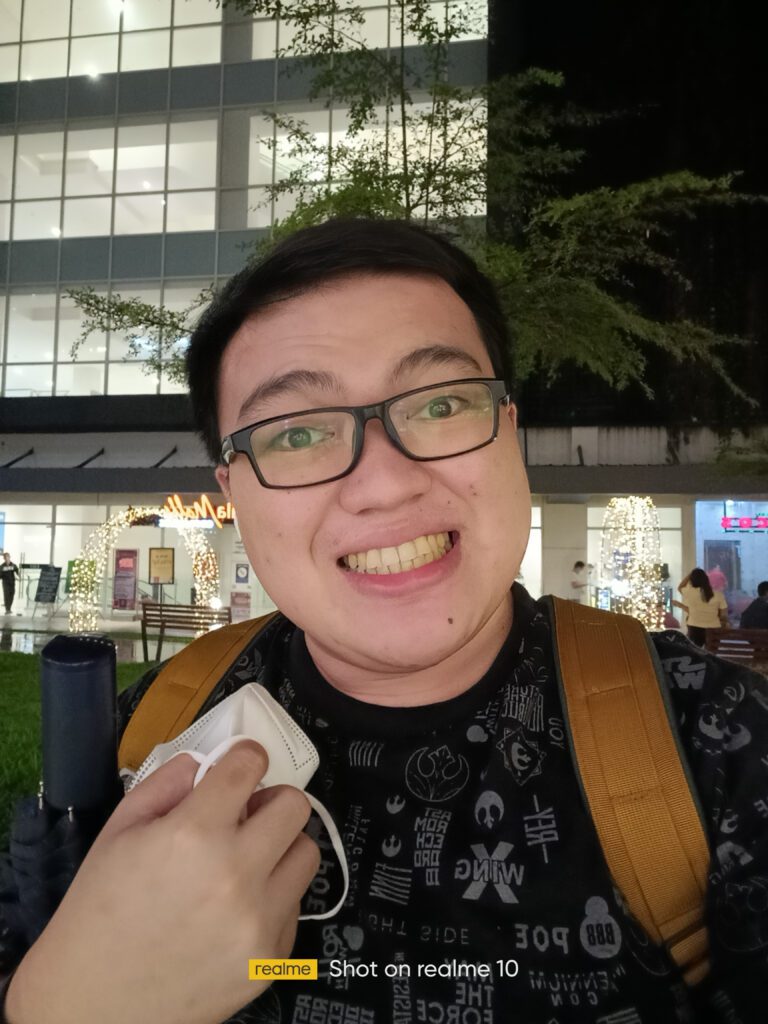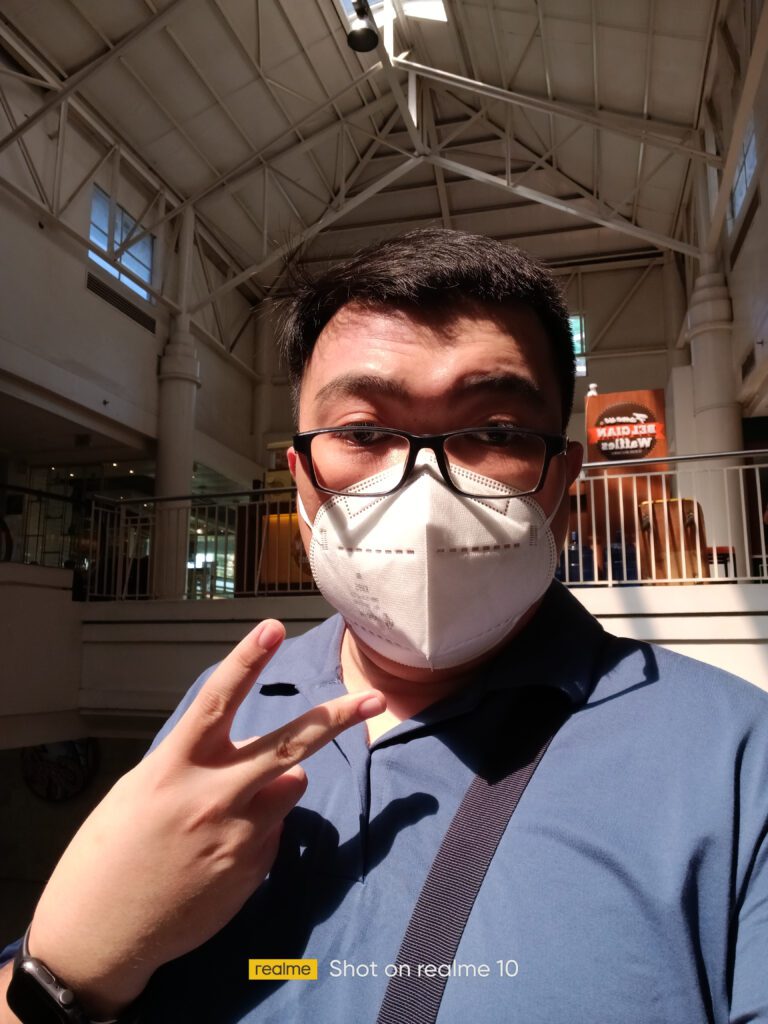 I thought I would hate the supposed camera downgrades, but I ended up liking the results! realme's camera software has gone a long way to optimizing what the hardware puts out. I just wish phone makers would just STOP IT WITH THE 2MP CAMERAS!!!
Should You Buy the realme 10?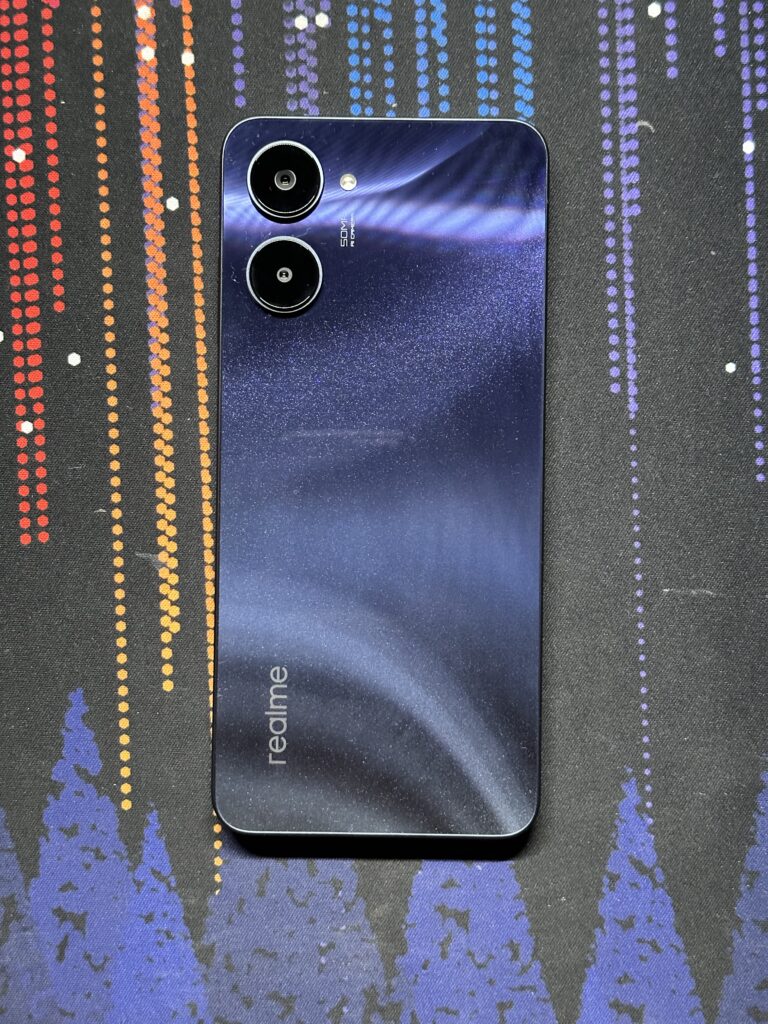 At first glance, the realme 10 seems like it lacked something to stand out. Sure, there was a missing ultrawide camera, no 5G support, and a lackluster speaker. I just think that everything else was really good that I could almost forgive realme for what it lacks. The 50MP main and 16MP front cameras were surprisingly very good. Its performance can basically keep up with even slightly heavy games. I'm glad that realme managed to strike a good balance between nice specs, an attractive design, and an attractive price tag. Here's hoping the rest of the realme 10 Series can be just as good as this one.
Pros
A really attractive Light Particle Design (even if the "Rush Black" color isn't really black)
The 6.4-inch 90Hz Super AMOLED display is slightly brighter
Performance from the MediaTek Helio G99 processor, 8GB LPDDR4X RAM, and UFS 2.2 storage is really good
realme UI 3.0 continues to be really smooth and is still one of my favorite Android skins
Nice to see a P15,000 phone with 256GB internal storage
Despite a downgrade in megapixel count, the 50MP main camera gives decent to good photos even at night
A really good 16MP front camera even at night
Cons
Build quality's not the best
Surprised to see a chin on a display of a midrange phone
No 5G support
The 200% UltraBoom SINGLE speaker feels like a gimmick more than something useful
Bloatware still exists
No ultrawide camera + a pointless 2MP black & white sensor
Limited to 1080p video recording and pretty much no stabilization to speak of
The realme 10 retails for P12,999 for the 8GB+128GB model and P14,999 for the 8GB+256GB model. Both models will be available in realme Stores, Kiosks, and authorized retailers nationwide. The 8GB+128GB model will be available through realme's e-commerce partners Lazada and Shopee starting November 11. There's even an early bird offer from November 11-13 where you can get a P2,000 discount in Lazada and Shopee.