Launched during Mobile World Congress 2023 in Barcelona, HONOR brings its dual-flagship strategy to the global market. This features the HONOR Magic 5 Series and the HONOR Magic Vs which are the latest iterations to the HONOR Magic Series lineup.
HONOR Magic 5 Pro: Showing Its Premium Prowess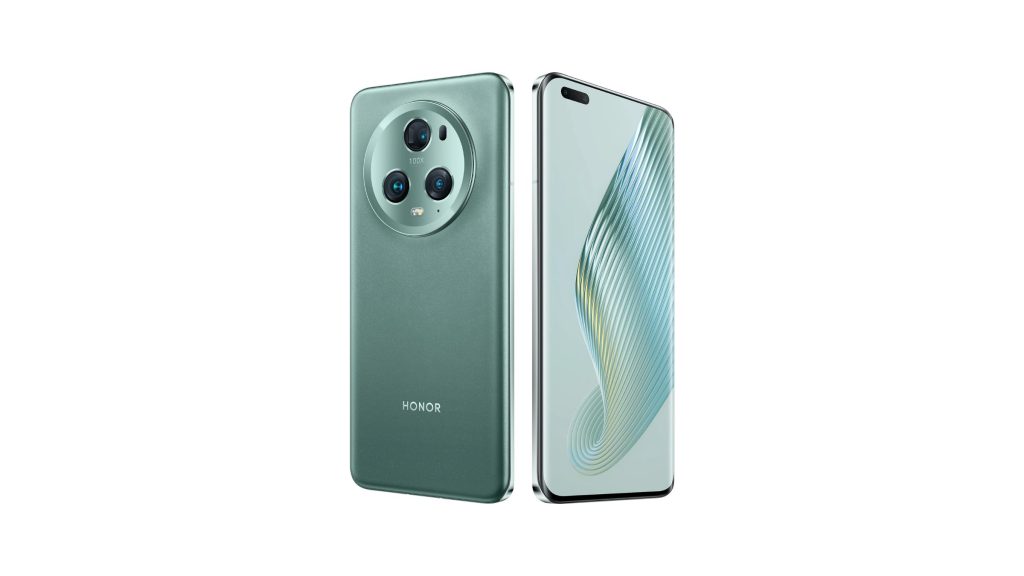 The bigger brother of the HONOR Magic 5 Series brings impressive breakthroughs in design, display, photography and performance. It even boasts the beating of several industry benchmarks in order to deliver a best-in-class user experience.
This phone boasts the Star Wheel Triple Camera system that adheres to the "Eye of Muse" design. It features a symmetrical dual-curved ultra-narrow bezels on both sides and show the camera module as the centerpiece of the back cover. This phone has a 6.8-inch LTPO display featuring a Quad-Curved Floating Screen which provides a more immersive viewing experience. With 1800 nits of peak HDR brightness, 1200 nits of indoor brightness, and 800 nits outdoor brightness, you are sure to see content clearly.
The HONOR Magic 5 Pro also features a Discrete Display Chipset that improves the visual quality of moving images. It also boasts low blue light emission, as well as being the first phone to have LTPO + 2160Hz PWM dimming to help minimize screen flickering.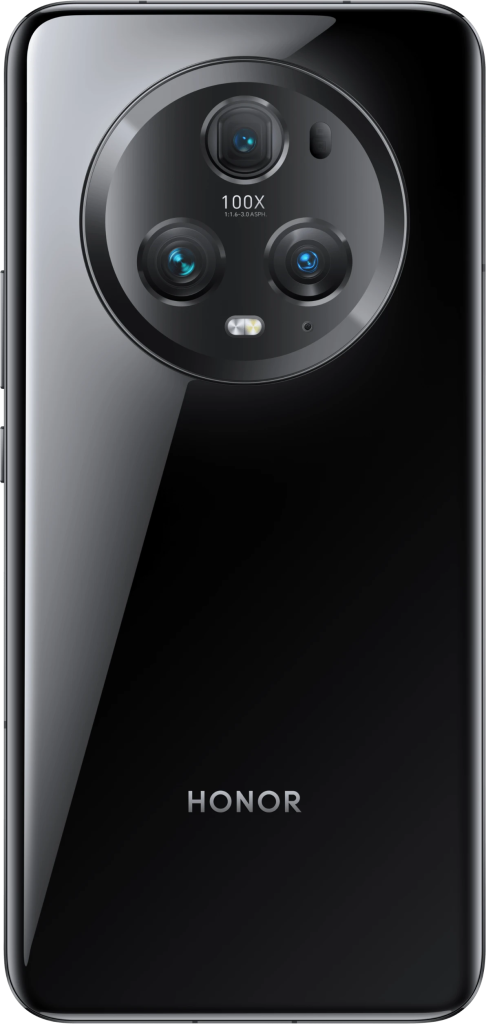 Truly A Flagship Camera Experience
You are sure to take really good photos and videos with what HONOR put in the Magic 5 Pro. It features a triple rear camera system consisting of a 50MP Wide Camera, a 50MP Ultra Wide Camera, and a 50MP Telephoto Camera.
These cameras take advantage of a lot of software features that use computational photography. We get drastically improved zoom photos with Ultra Fusion Computational Optics, a computational optical algorithm complementing the camera system. The HONOR Image Engine enables an all-new Millisecond Falcon Capture algorithm. This enables users to capture complex scenes with remarkable ease and clarity.
We also get better low light photos thanks to Super Night Capture capabilities. Another camera feature that HONOR really wants to show off is AI Motion Sensing Capture. This is capable of automatically detecting the highest point of a jump and capturing the frame in ultra-high definition. To put the technology to the test, HONOR has partnered with GUINNESS WORLD RECORDS, using the HONOR Magic5 Pro to capture the amazing moment of an official world record attempt for the World's Highest Between The Legs Slam Dunk.
Enhanced Privacy and Security
This phone features a Dual-TEE Security System co-developed with Qualcomm that offers hardware-level protection for users' data. Thanks to its Discrete Security Chipset, the Magic 5 Pro can provide maximum security for passwords and biometrics like face IDs and fingerprints.
Another feature that focuses on privacy and security is AI Privacy Call 2.0. Its industry-first Sound Energy Spatial Control Technology that generates opposite sound waves to prevent sound leakage for private phone calls.
Flagship Performance and Power
Powering the Magic 5 Pro is the latest Snapdragon 8 Gen 2 processor with 12GB RAM and 512GB storage. This phone also features the industry's first Wi-Fi and Bluetooth standalone antenna architecture. It allows the Magic 5 Pro's Wi-Fi performance to improve by 200% and reduce Wi-Fi latency by 30% compared to a more traditional antenna design.
It has a 5100 mAh battery with support for 66W Wired and 50W Wireless HONOR SuperCharge. This phone runs MagicOS 7.1 based on Android 13. It offers a range of smart features, such as MagicRing for multi-device collaboration and Magic Text for intelligent text recognition.
The HONOR Magic 5 Pro comes in two colors: Black and Meadow Green. Meanwhile, the standard Magic 5 which shares some of the features of its Pro sibling comes in two colors: Black and Blue.
The Foldable Phone Market FINALLY Has Competition!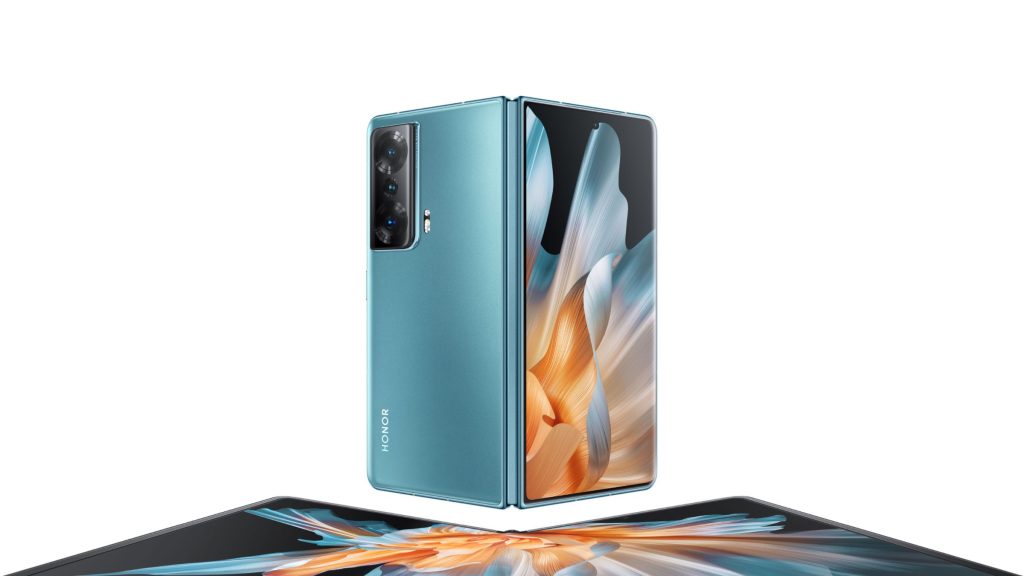 After years of having just one major player in the large foldable phone market, HONOR is entering the game with the Magic Vs!
The HONOR Magic Vs is exceptionally slim and light for a foldable at 12.9mm thin when folded and weighs 267g. Despite its slim profile, it still carries a 5000 mAh battery with support for 66W HONOR SuperCharge. It has a Super-light Gearless Hinge that was carefully crafted using single-piece casting technology. This reduces the number of structural components from 92 in the previous generation down to just 4. Thanks to this revolutionary hinge, the Magic Vs can withstand up to 400,000 folds as tested by TÜV Rheinland. This is equivalent to more than ten years of use based on 100 folds per day.
An Enhanced Dual Display Experience
The Magic Vs takes advantage of two displays: a 6.45-inch outer display and a 7.9-inch inner display. That outer display has a 21:9 aspect ratio and a 90% screen-to-body ratio. This phone features professional eye comfort solutions such as Dynamic Dimming, Circadian Night Display, and 1920Hz Pulse Width Modulation (PWM) Dimming.
Flagship-Grade User Experience
The HONOR Magic Vs has a triple rear camera system that composes of a 54MP Sony IMX800 Main Camera, a 50MP Ultra-Wide & Macro Camera and an 8MP 3X Optical Zoom Camera. Powering this foldable is a Snapdragon 8+ Gen 1 processor with the same 12GB RAM and 512GB storage as the Magic 5 Pro. It runs on MagicOS 7.1 based on Android 13 with features specific to foldables like Smart Multi-window and App Extender to support multi-tasking across applications and within the same application. This foldable will be available in two colors: Cyan and Black.
Local Availability
HONOR Philippines has been vocal on its social media platforms about these new phones. No word yet on whether they will bring these phones to the country, but only time will tell.
Should HONOR Philippines bring the HONOR Magic 5 Series and the Magic Vs to the country? Sound off in the comments!