After months on hiatus, techieSpeak IS BACK!
For the first episode back, I got a chance to talk to the people you usually see when realme launches new products in the Philippines. Days after the launch of the realme 10 Pro 5G Coca-Cola® Edition, I got to sit down with Anthony and Jimm and talk about their MWC 2023 experience. Of course, we spent most of the time talking about what realme launched at that event: the realme GT3. From their initial thoughts of the phone to whether there's a chance it'll arrive in the country, we get into all that and even more tech talk! I can't believe that techieSpeak Episode 20 is filled with so many spicy takes!
I would like to take the opportunity to thank the following:
Anthony and Jimm, for basically talking tech with me for an hour! It's always fun when three techies just sit in a room and go on and on about the tech we love.
Serene and Jen, for helping me set this interview up. I really appreciate that you accommodated this!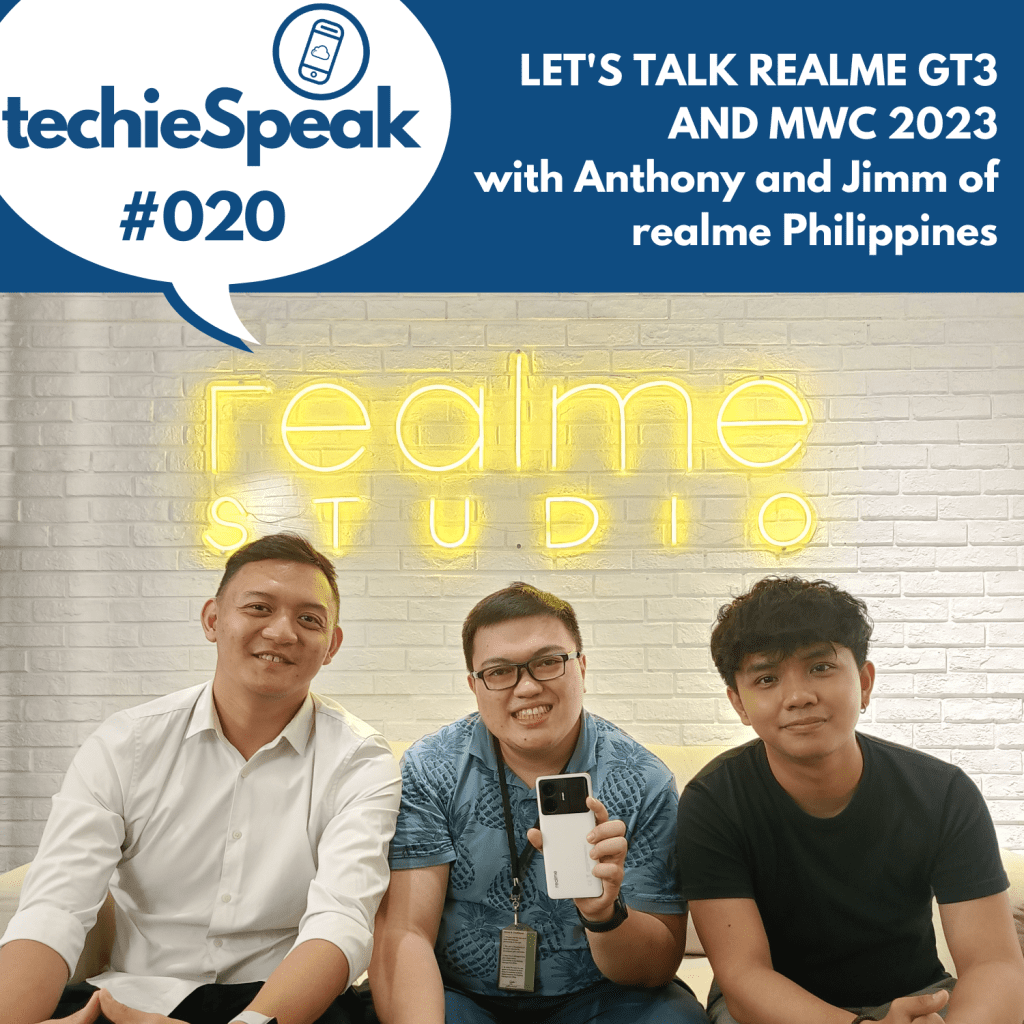 techieSpeak Episode 20 Show Notes
Podcast Episodes with realme Philippines:
The Creator Life Episode 66: "Cultivating the realme Community" with Anthony So of realme Philippines
techieSpeak Episode 2: The Journey to Being Number One with Austine Huang of realme Philippines
techieSpeak Episode 8: Reinforcing Disruption with realme GT Master Edition and realme Book
The YouTubers we were talking about:
Lim Reviews – https://www.youtube.com/@LimReviews
SuperSaf – https://www.youtube.com/@SuperSaf
Unbox Diaries – https://www.youtube.com/@UnboxDiaries
That moment when Vince of Unbox Diaries asked why 240W:
https://youtu.be/M-EgowjFxTU?t=654
The articles Anthony and I were referring to about future realme products:
https://unbox.ph/gadget/phones/realme-premium-flagship-device-coming-later-this-year/
https://unbox.ph/gadget/will-there-be-a-realme-foldable-coming-soon/