If you're an OPPO user, then you know ColorOS. It's OPPO's Android skin and there are a lot of changes since I used it. Recent versions give me the impression of speed that's getting closer to the stock Android experience. OPPO just launched the all-new ColorOS 12 operating system for its global users! This new version aims to provide its users with a seamless experience that's closer to Android 12. It now has an all-new inclusive UI, smoother performance, and rich features that help boost your everyday productivity as well as help achieve a better work-life balance.

This launch signals the rollout of the public beta of the latest version of ColorOS to its global users. OPPO is one of the first OEMs to run on Android 12. ColorOS 12 comes first on the OPPO Find X3 Pro in Indonesia, Thailand, and Malaysia. OPPO plans to bring the latest ColorOS to more devices covering more countries and regions in the coming months including the Philippines.
A More Inclusive ColorOS
With this new version, we get a new Inclusive Design! This is more accessible to all 440 million users across 68 countries. This new ColorOS comes with softer icons, animations, and information frameworks that are friendly to different languages and cultures. It also has an adaptable framework containing different phone formats. 
Smooth and Seamless = More Productive
ColorOS 12 continues OPPO's efforts to improve the user experience with emphasis on comfort and endurance. This new version brings improvements in reducing lags and stutters after prolonged usage. It results in a low 2.75% system aging rate in 3 years, an average of 30% lower memory occupation, and 20% lower battery consumption.
ColorOS 12 has a new Quantum Animation Engine! With more than 300 improved animations, it can achieve animated effects that are lifelike. It imitates the physical habits of resistance, inertia, and rebound. This makes for a smoother overall experience and aligns with how the human brain works.
Practical features like PC Connect (which we can find in a sibling OS of ColorOS), 3-Finger Translate powered by Google Lens, FlexDrop, and Phone Manager let you be productive through various scenarios.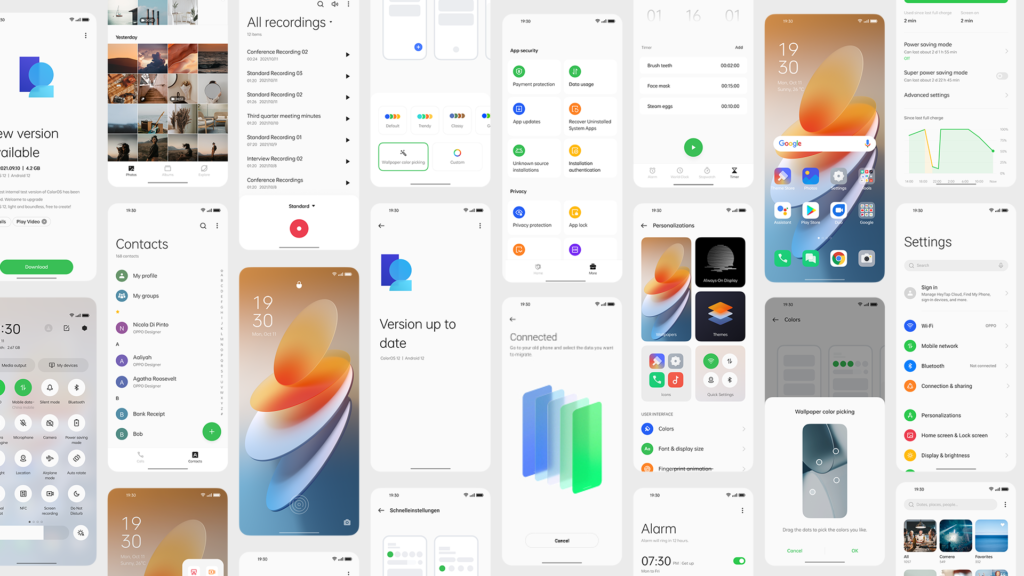 Privacy over Gimmicks
With ColorOS 12, OPPO listened to community feedback when it came to privacy. Since more and more people value their private and personal information, it may very well be essential. This new version comes with everything Android 12 has to offer on that front. These privacy-centric features include Privacy Dashboards, Approximate Location Sharing and Microphone and Camera Indicators. The OPPO team has also improved its well-received features like Private System, Private Safe, App Lock and others.
OPPO also made sure to be more transparent to its users especially when it comes to data compliance. With servers across the world, OPPO guarantees that user data stay in the nearby servers. Said data is saved in a non-plain text format and is transmitted using a proprietary protocol. OPPO also got a third-party supervisor in the data security field to handle process compliance since they handle certifications from organizations such as ePrivacy and ISO27001.
ColorOS is Also for Developers!
OPPO aims to make ColorOS a more developer-friendly Android OS. OPPO already lets developers use its free Camera SDKs which cover its camera capabilities including Ultra Steady Video Shooting, HDR, Super Wide-Angle, etc. With ColorOS 12, OPPO now lets developers take advantage of HyperBoost and Color Vision Enhancement.
Here's the ColorOS 12 Rollout Plan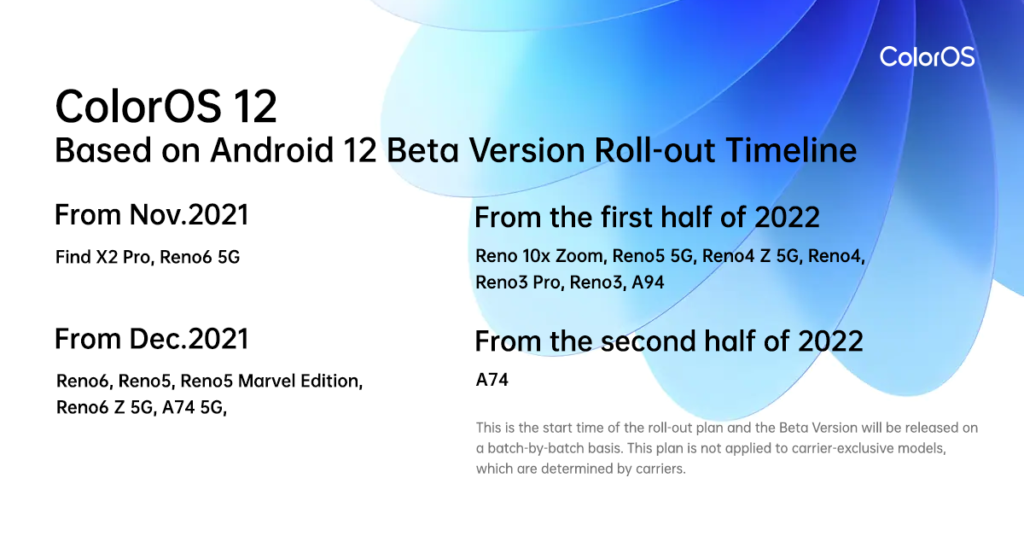 The Find X3 Pro 5G is the first phone to get the ColorOS 12 public beta. After that, OPPO will continue to rollout the new OS in more devices in more countries through the rest of 2021 and 2022. I'm happy that OPPO will bring this to over 110 models with 150 million users.
OPPO recently made a change to its software update policy. OPPO now guarantees the following for its devices released in 2019 onwards:
Three major Android updates and four years of security updates for the Find X series
Two major Android updates for the Reno and A series; One Android update for low-memory A series phones
Three years of security updates for the Reno and A series
For more info on ColorOS 12, you can head over to this link.