On this week's episode (techieSpeak 003), I talk about foldables!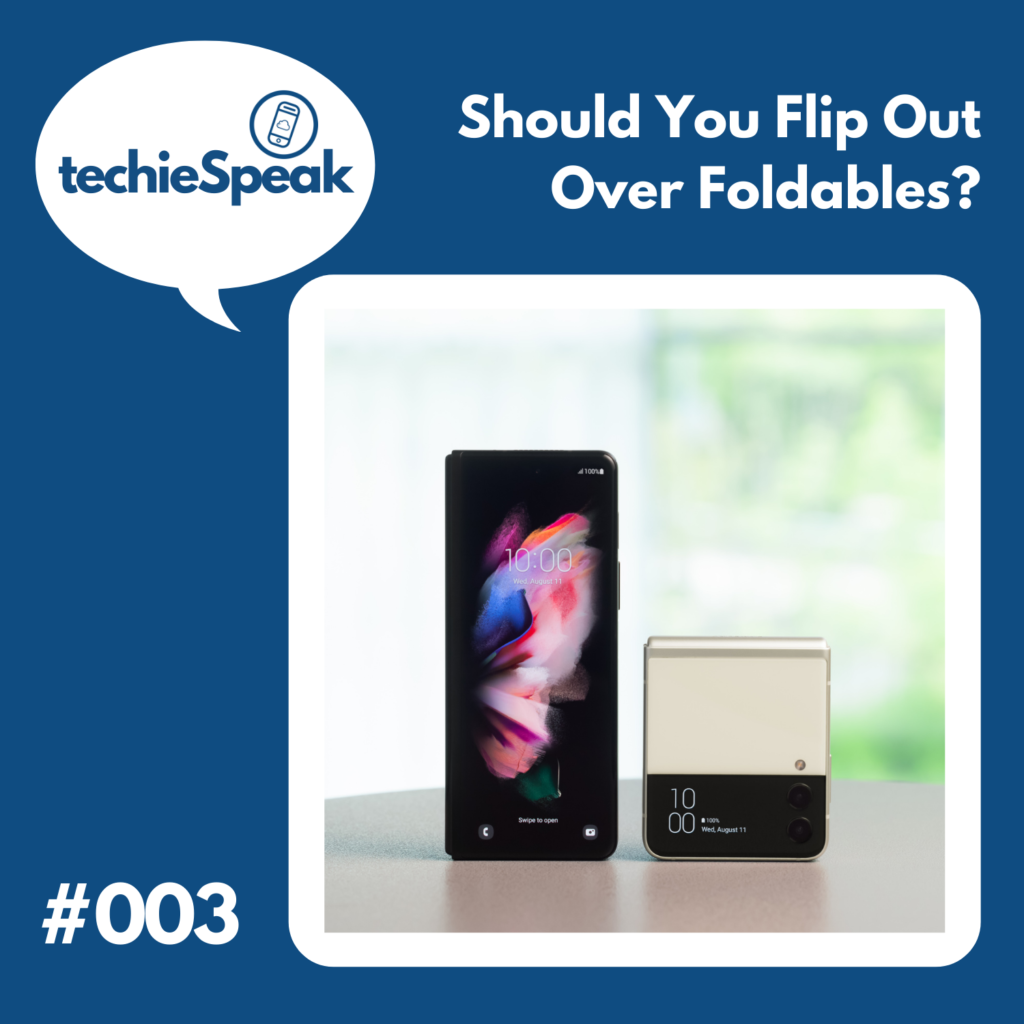 Thanks to the recent release of the Samsung Galaxy Z Fold3 and Galaxy Z Flip3, I wanted to share my thoughts on foldables. First, I share the timeline on the recent foldable phones. Then, I share my upsides and downsides of these devices. Hope you enjoy this topic as much as I had fun recording!
Listen to the episode here!
Follow the podcast on:
Spotify – bit.ly/techiespeak-spotify
Apple Podcasts – bit.ly/techiespeak-apple
(Go rate and review on here too! It really helps the podcast. Thanks!)
Let me know what topics I should talk about on social media:
facebook.com/utterlytechie
instagram.com/utterlytechie
twitter.com/utterlytechie
Follow me on social media!
facebook.com/julliansibi
instagram.com/julliansibi
twitter.com/julliansibi
SHOW NOTES
Royole Flexpai – https://www.theverge.com/2019/1/8/18174278/royole-flexpai-foldable-phone-android-ces-2019
Galaxy Fold issues:
Dieter of The Verge – https://www.theverge.com/2019/4/17/18411510/samsung-galaxy-fold-broken-screen-debris-dust-hinge-flexible-bulge
MKBHD – https://www.youtube.com/watch?v=vtqtyyGZvXM
Galaxy Fold delay – https://www.cnet.com/tech/mobile/galaxy-fold-release-reportedly-delayed/
Motorola RAZR – https://www.theverge.com/2020/2/13/21135809/motorola-razr-review-foldable-flip-phone-verizon-price-camera-display-battery
Galaxy Z Flip from Isa Does Tech- https://www.youtube.com/watch?v=t5KkYpvvyFk
Galaxy Z Fold 2 Reviews:
MrMobile – https://www.youtube.com/watch?v=QMJ2YonPS8g
Linus Tech Tips – https://www.youtube.com/watch?v=Wje1z63OS10
Huawei Mate X2 from Ben's Gadget Reviews- https://www.youtube.com/watch?v=Aix_HdWsrA0
Galaxy Z Fold3 / Galaxy Z Flip3 Videos:
MKBHD – https://www.youtube.com/watch?v=1uu9VWBgcBU
Isa Does Tech – https://www.youtube.com/watch?v=z7izbbJFrAY
GadgetMatch – https://www.youtube.com/watch?v=seMEe-CdLBw
What is an IP rating? – https://www.androidauthority.com/ip-ratings-explained-746306/
Subscribe to Isa Does Tech! youtube.com/isadoestech
Subscribe to Mary Bautista! youtube.com/marybautista