realme has been putting out a lot of realme TechLife products lately. While there are a lot to choose from, I'm personally excited for all their audio stuff! Judging by my take on the realme Buds Air Pro, it's no secret at all. I recently bought a realme Pocket Bluetooth Speaker and that one was a pleasant surprise. With that in mind, it excited me that realme is launching yet another speaker: the realme Cobble Bluetooth Speaker! It's currently on sale at both Lazada and Shopee during their 8.8 sale for P1,190. (that's P400 off the P1,590 SRP) Is it any good though? Find out in this review.
Disclaimer: realme Philippines sent over the realme Cobble Bluetooth Speaker for review. It arrived on August 3 and I've been using it as my everyday speaker since then. My usage is around 2-3 hours of mixed use a day consisting of music and podcast listening.
The Unboxing Experience
I just wanted to show you what's in the box here. There isn't much, but I didn't really expect there to be more stuff. It's a nice touch to have yellow cables in the box, realme. Hehe. (Even the stretchy tie that holds it in a neat way is useful!)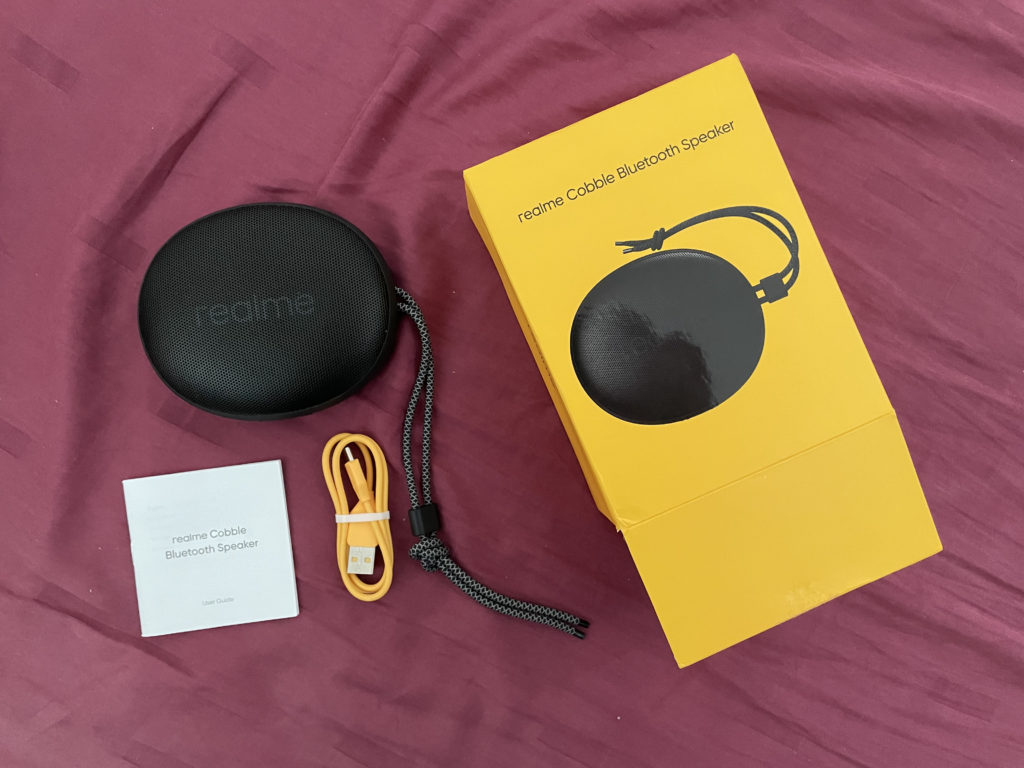 Design
I did mention that I also got its little brother in the Pocket Bluetooth Speaker. Little did I know that the Cobble would be way bigger! You certainly cannot fit the Cobble speaker even in big male jeans pockets. If you're really into a more portable design, then you might go for the Pocket. Despite the size difference, I didn't find the Cobble too heavy at 200 grams.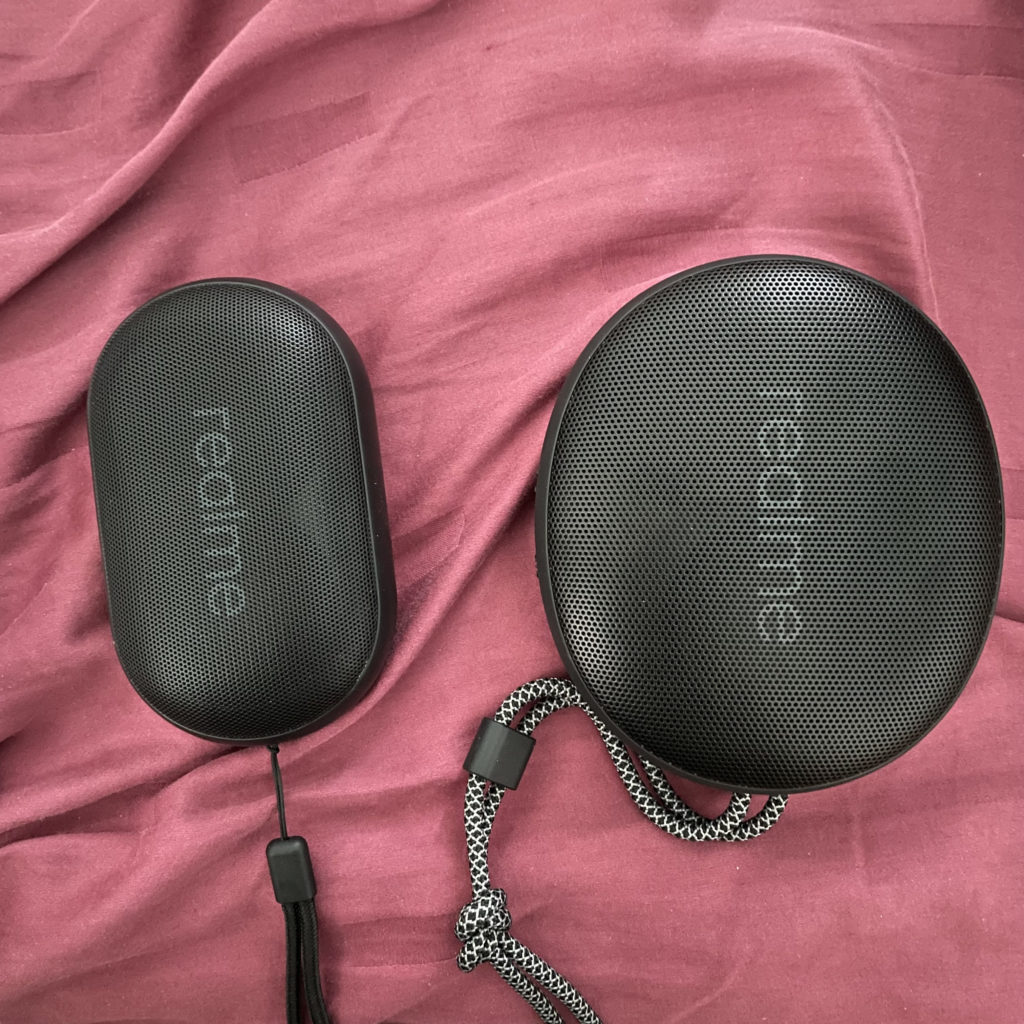 I got the Metal Black color but it also comes in Electric Blue (which leans more on the blue and purple range). The band is really useful since I can just hang it around my wrist while holding other things. The Cobble Bluetooth Speaker is IPX5 water-resistant, so I tried bringing it with me to the bathroom. (Yes, I listen to music in the shower. Haha!)
Functionality
There are two buttons on the speaker: a power button and a multi-function button. The latter lets you do some common functionality like Play/Pause, previous song, and next song. You can even set an action to switch devices, which is possible thanks to its Bluetooth 5.0 support.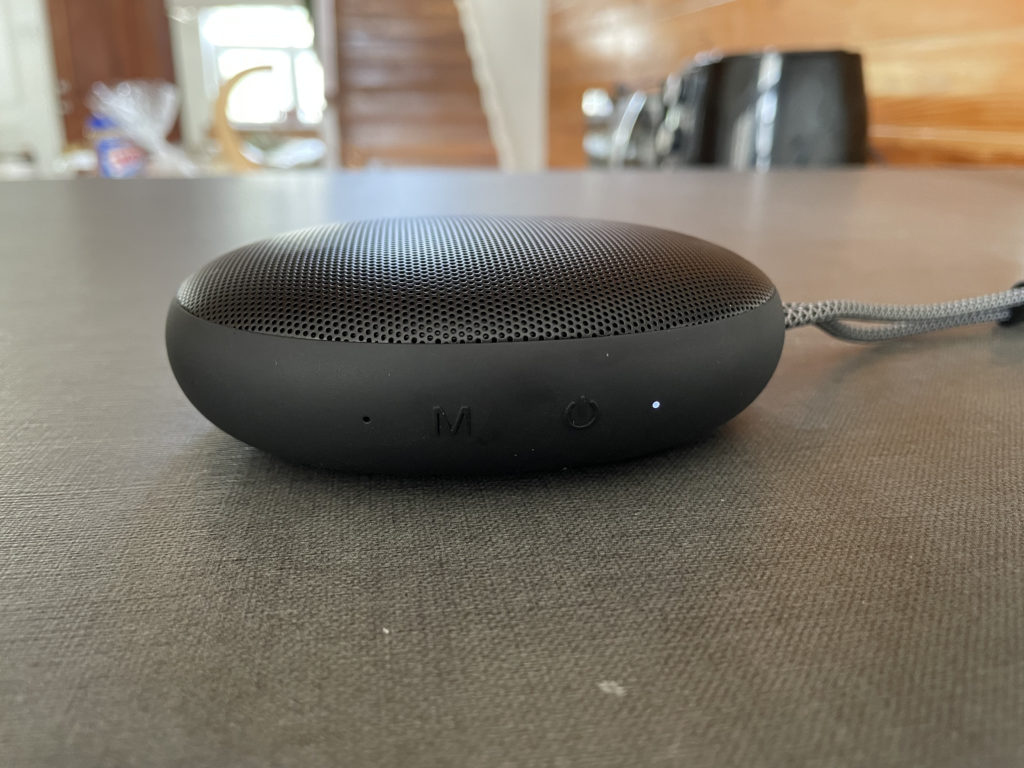 A curious omission for the Cobble speaker (and by extension, the Pocket as well) is not having volume buttons. I know that I can easily do that either by using Google Assistant or the phone's volume controls. It just sucks that when I get out of the beach, I need to get my phone or rely on the internet to adjust the volume. To be fair though, having volume buttons would also cause confusion especially with the phone volume. This is probably nitpicking on my part.
With the realme Link app, you can do more with this speaker! You can do the aforementioned multifunction button adjustments here, as well as switch between EQ Presets: Bass Boost+, Dynamic, and Bright. (More on how they sound later.)
You can also turn on Game Mode which reduces the latency when playing games to 88ms. There's also Stereo mode where you can pair up two of these speakers to have a stereo effect. (I wasn't able to test this since I only have one. Sad.)
All in all, I like that there's an app where you can access more functionality. It makes this speaker more flexible. Having the app on both Android and iOS is also a nice touch.
Battery Life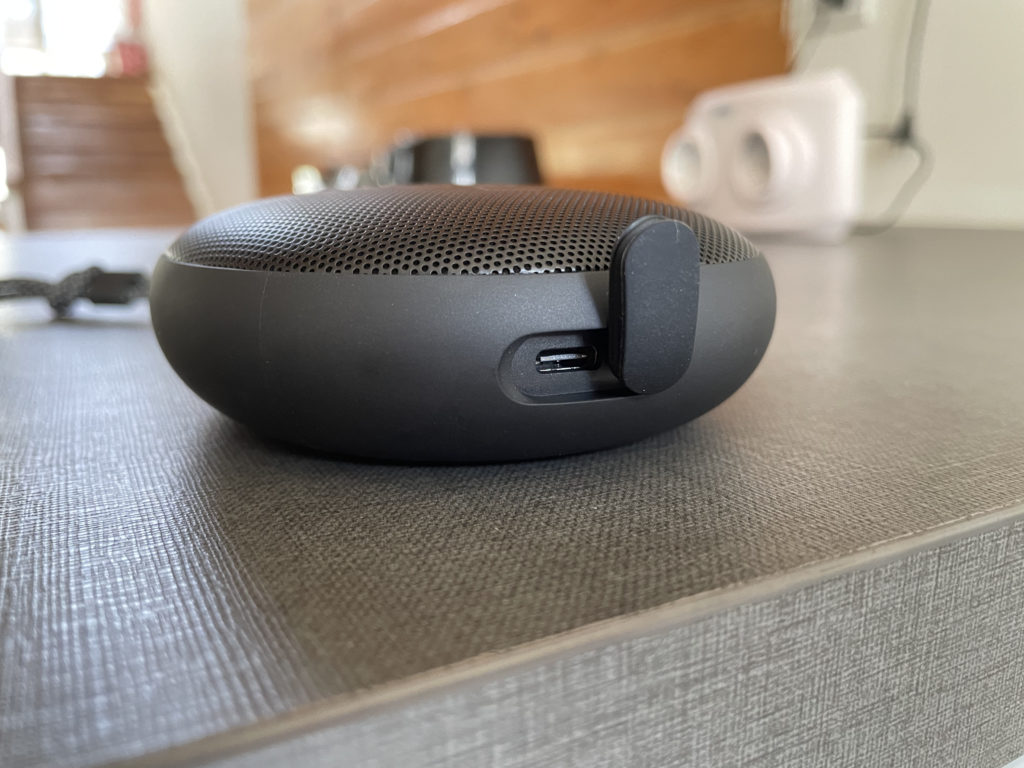 Bluetooth speakers these days have decent battery life and it mosly depends on its size. The realme Cobble Bluetooth Speaker has a 1500 mAh battery which realme claims to last for 9 hours on a full charge. Good thing it has a USB-C port for charging and an included USB-C to USB-A cable. (You can also use your own USB-C cables lying around.)
A funny thing happened during my testing of this speaker: I only got to charge it ONCE. That's even considering the 2-3 hours of mixed use I had in varying volume levels. That charging even happened right before I continued writing this review! What this means is you don't really have to charge it too often. Unless you're constantly using it, you could probabl stretch it to a week without charging.
Sound Quality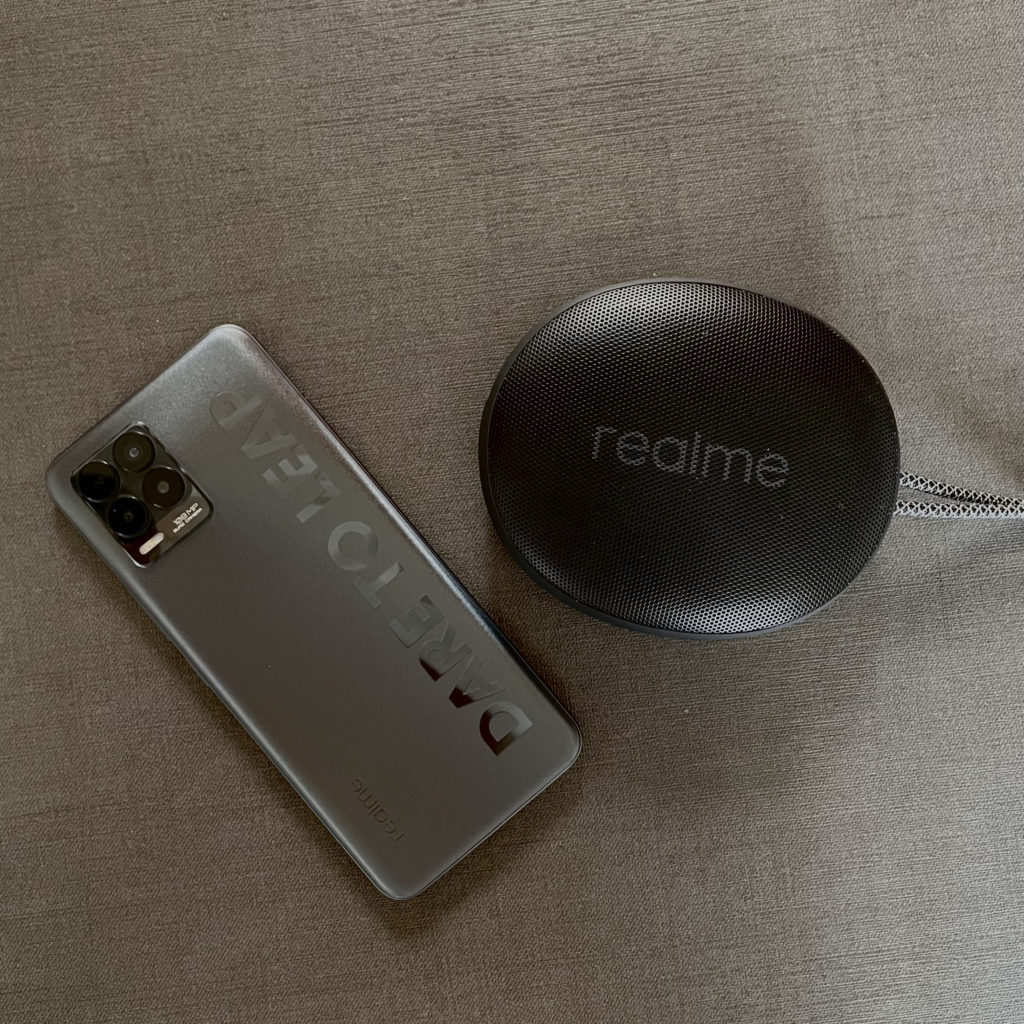 Of course, all of the things I said before this part don't mean much if the speaker doesn't sound good. This speaker has a 5W Dynamic Bass Boost Driver that the company claims to have clear sound even when outdoors.
Most of my testing was indoors and that's where I first realized JUST HOW LOUD this speaker can be! I couldn't even bring myself to go to full volume without trying to destroy my hearing because of how loud it is. (That's a good thing, by the way.)
I tried all the EQ Presets of this speaker. The best mode for me was honestly the default Dynamic mode. The Bass Boost+ to me sounded like there was a bit too much bass when in high volumes. Meanwhile, the Bright mode really highlights the voices and I would recommend this when listening to podcasts. For most music though, I would just stick to the Dynamic mode.
I noticed some delay with the Bluetooth audio when I'm watching YouTube videos on my laptop though. This doesn't really bother me too much, but it is noticeable when I watch. I don't notice the same issue when just listening to music or podcasts.
Should You Buy?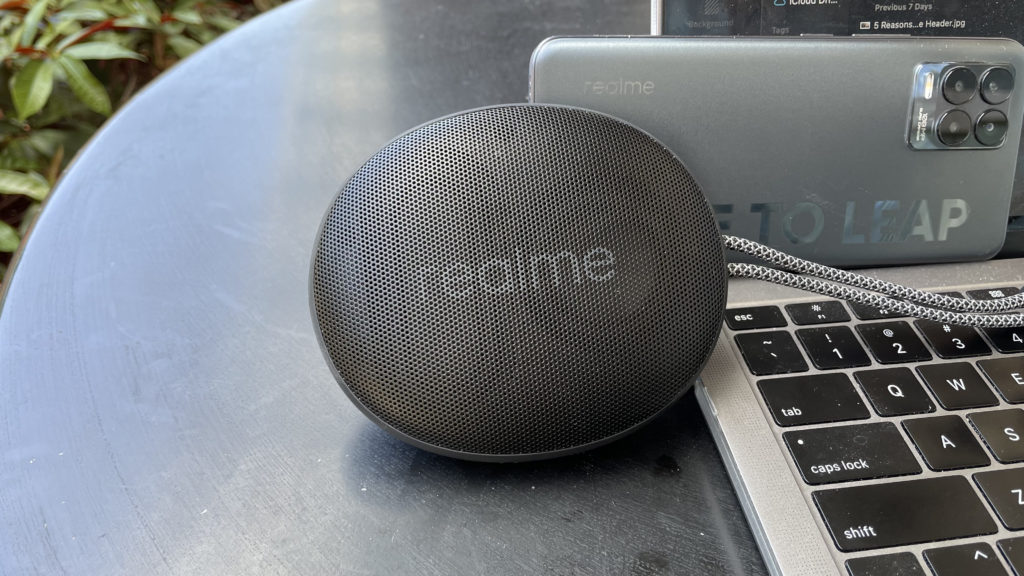 If you're looking for a speaker that can really get loud (even outdoors) without breaking the bank, I can wholeheartedly recommend this. It's a great all-around speaker that you can use for a lot of scenarios. Its size doesn't bother me too much and the battery life is good. This is true especially when you plan on using this for a day-use beach tour. I could mostly find issues that can be classified as nitpicks considering its price. With the realme Link being available for both Android phones and iPhones, I could recommend it to all sorts of people.