If you're ready to dive into the foldable future, then the Galaxy Z Fold3 5G is something you'll definitely consider. There might be people like you, the reader, who is on the fence about getting one. I'm here to share the features that make the Fold3 a great and reliable productivity device.
The S-Pen Now Has a Bigger Canvas!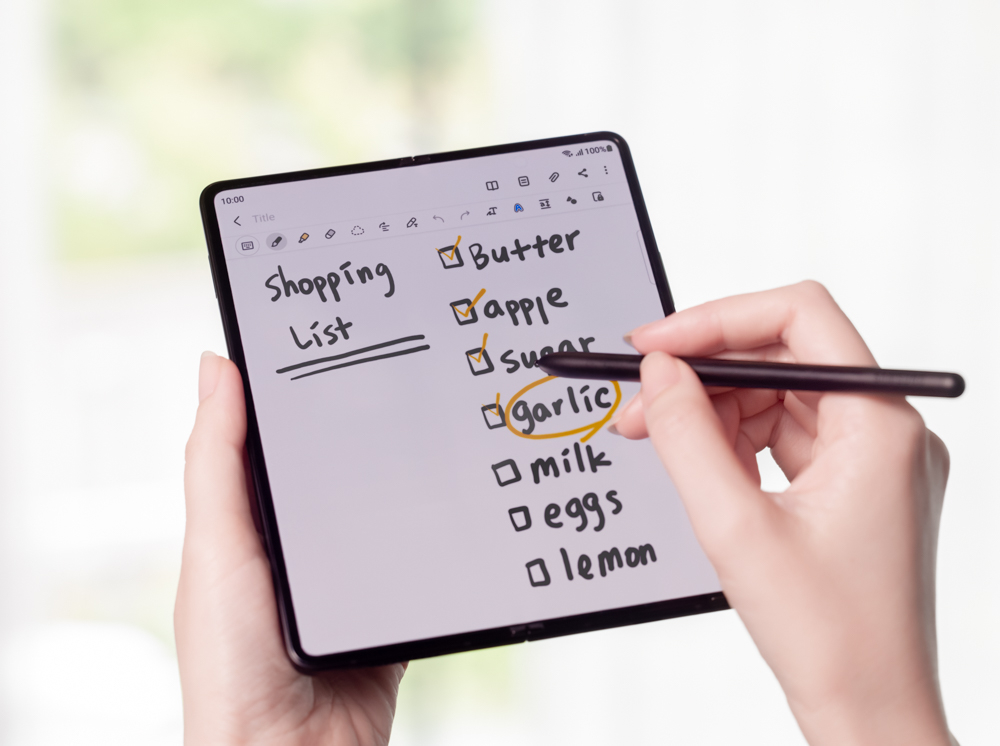 Galaxy Note series fans really LOVE the S-Pen! It's pretty much the gold standard when it comes to drawing or writing down notes. It's the one feature I'm sure most of them would say is a reason to get a Note. Now, you can also find that same functionality with the Galaxy Z Fold3 5G!
You can get S-Pen functionality with the Z Fold3 in two ways. There's the S Pen Fold Edition that comes with the Flip Cover sold separately and only works with the Z Fold3. You can also opt for the S Pen Pro that has Bluetooth and can work on other S-Pen compatible devices.
A Water-Resistant Foldable!
Like the Galaxy Z Flip3 5G, the Galaxy Z Fold3 5G now has an IPX8 rating. This means that this foldable can withstand accidental splashes and rain. Its main display has a new protective film that has 80% better screen durability compared to the predecessor. The device itself is built with Armor Aluminum and Gorilla Glass Victus. With all these in mind, customers who get the Z Fold3 will have fewer worries especially when it comes to scratches.
A More Comfortable Grip
The Z Fold3 is lighter, narrower, and thinner than its predecessor. Thanks to this, it has a more comfortable grip and better portability, even for those with smaller hands. When folded, the phone's horizontal width is 67.1mm, which is a 0.9mm reduction from its predecessor.

The fingerprint scanner is also easier to reach since it's at the point where the thumb touches the device. There's no need to touch the screen to unlock the phone.
Putting the "Pro" in Productivity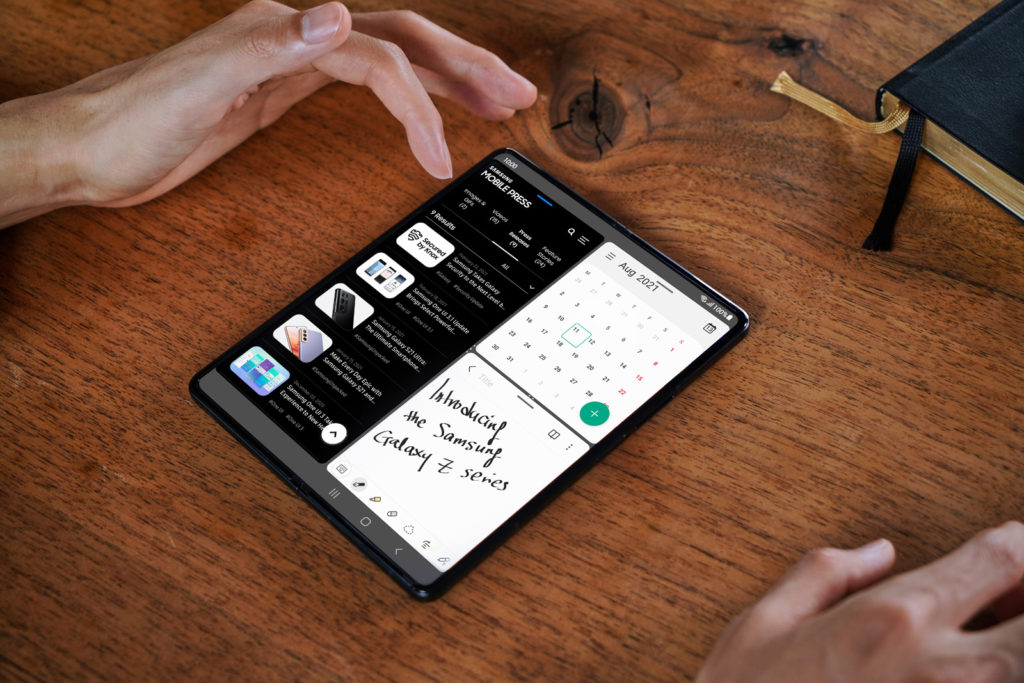 The Z Fold3 has a lot of features that help you become more productive while using it. There's this Multi-Active Window that lets users do multiple things like taking down notes while watching a tutorial video on YouTube. There's also a Task Bar feature that lets you easily switch between apps. Not only can you open apps you use most, but even a combination of apps and their placement on the screen.
All displays on the Galaxy Z Fold3 have a 120Hz refresh rate! This means that the phone can provide a smooth experience when scrolling or playing intensive games.
Samsung also wants to make sure that users of the Galaxy Z Fold3 will have the best possible foldable experience. This is why it works with a range of partners to develop apps that are optimized for the large screen. Some of the optimized apps include Microsoft Teams, Microsoft Office, and Google Duo.
Pricing and Availability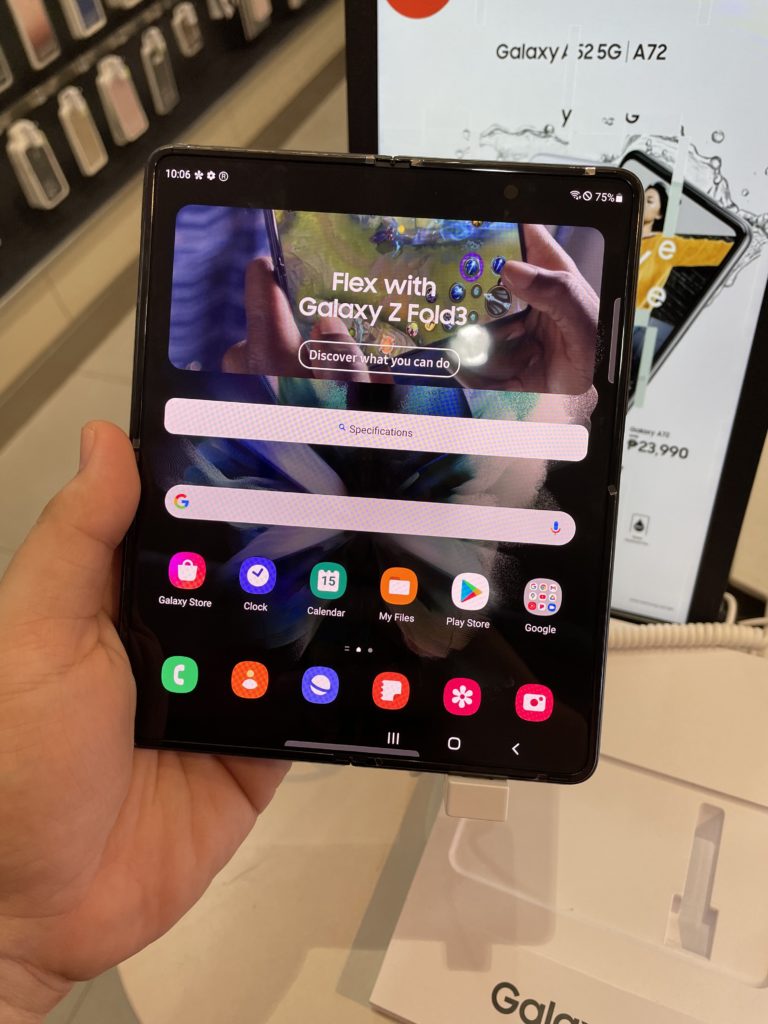 You can get the Galaxy Z Fold3 5G for P87,990 with 256GB storage. This model comes in three colors: Phantom Black, Phantom Silver, and online-exclusive Phantom Green. Meanwhile, the 512GB storage variant retails for P95,990. The 512GB variant also comes in three colors: Phantom Black, Phantom Green, and online-exclusive Phantom Silver.
Purchase of the Z Fold3 comes with deals worth up to P14,400. Customers can enjoy a FREE Flip Cover with S Pen worth P3,999, 1 year FREE Samsung Care+ valued at P9,499, and a 25W Travel Adapter worth P949.
You can avail of the trade-in offer with your old device to add up to P10,000 worth of tokens for the Z Fold3 on top of the traded-in device. In addition, customers will also have the option to trade in their device to get discounts worth up to P15,900 starting November 1. It includes a 1 year FREE Samsung Care+ worth P9,499 plus tokens worth up to P6,500 on top of the traded-in device.
Samsung enabled a stock alert system on its online store due to the overwhelming demand for these devices. You can visit samsung.com/ph and search for the Z Fold3 5G, and click "Get Stock Alert" to register. There's also the store locator (samsung.com/ph/storelocator/) where you can contact your nearest Samsung store for stock availability. If you can, there's the option of going to a Samsung Experience Store. There, you can have your name waitlisted whenever stock will be available.