I've had the pleasure of checking out every phone of realme's Number series released in the Philippines. My first one was the realme 3 with its dual rear cameras that have Nightscape Mode. In this review, I'm checking out the new realme 7. My first impressions of the phone were good so far, but I still have a lot to say. On the surface, it still manages to pack a lot of features in a phone that costs less than it should. But is it still a compelling smartphone? Find out here in my realme 7 review!
Starting With What's The Same in This realme 7 Review
I'm going to focus this realme 7 review in two aspects: comparing it to the realme 6 and going with its own strengths and weakness. I can't really avoid comparing this with its predecessor since they both share some elements.
They both share a 6.5-inch IPS LCD hole-punch display with a 90Hz refresh rate. After getting spoiled by that feature in the realme 6 review, I don't really notice it too much here. I'm still happy that they kept this feature here though. Having a high refresh rate display helps in terms of making the phone feel snappy all the time. It also helps that realme UI is a joy to use as a whole.
Another thing that stayed the same is its fingerprint sensor integrated into the power button. It's reliable enough for most scenarios. They both also have 30W Dart Charge technology. (More on that later.) Enough of the similarities! Here's what I think of the new stuff.
So Much Class in This Mirror Design
I gotta say: this Mirror Design on the realme 7 is really classy. Even the line that goes from the camera module to the bottom of the phone looks good! I also love that it has a more matte feel than the previous Comet Design. Although the realme 7 still gets smudged by fingerprints, it doesn't look obvious now.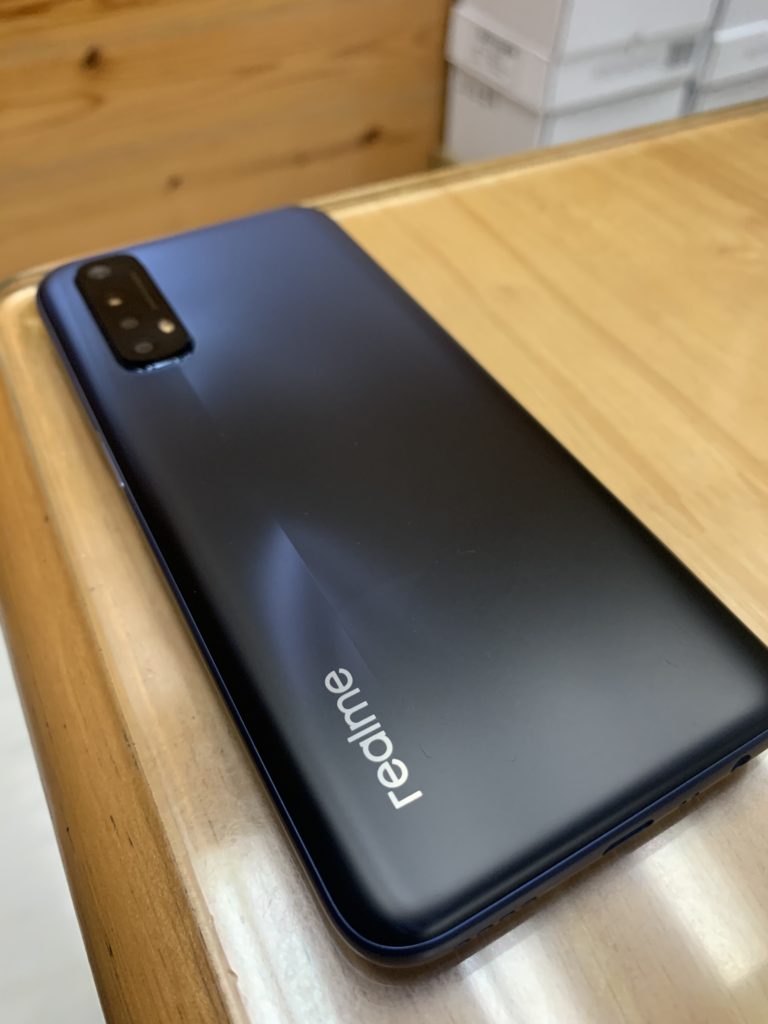 Good thing realme kept the slightly curved back for a better grip in the hand. The matte finish tends to be a bit slippery to the point where I almost dropped it! (Sorry! Good thing it didn't drop hard.) I'm glad nothing serious happened. It proved to me that the TÜV Rheinland smartphone reliability verification was no joke. After that experience, I really believed.
Can The realme 7 Game?
I was actually afraid of writing about performance in this realme 7 review. Despite the good performance of the realme 6, it kept having heating issues. It would be warm to the touch for me while playing games like Mobile Legends.
I'm happy to report that the realme 7 really improves on that aspect. This smartphone has the prestige of being the first with the MediaTek Helio G95 processor. On top of that, it has a Carbon Fiber Cooling System that helps sustain high performance and lessen the heat.
Here's an AnTuTu benchmark result for you:
This score is slightly higher than that of the realme 6, so it can really game! Based on my experience, I didn't feel as much heat from the phone while playing games here. It tends to get warm sometimes but it's not as consistent as the realme 6 was.
Unfortunately for the Mobile Legends fans out there, the realme 7 can only reach up to the High graphics setting. It's good enough for most people, but those who really want the detail might look somewhere else.
The 30W Dart Charge Meets a Big Battery
The realme 7 keeps the same 30W Dart Charge technology that the realme 6 had. (For the record, realme called it VOOC Flash Charge at the time.) A big difference with the 7 is its 5000 mAh battery. The company claims that the fast charging tech can charge the realme 7 from 0 to 50 in 26 minutes. To prove that, I did a charging test and got it on video!
In terms of battery life, I could EASILY get through a full day regardless of what I'm doing! If you're really light on your phone, you could possibly reach 2 days!
Is The Camera Upgrade Worth It?
The remainder of my realme 7 review is always about the cameras. In fact, some people choose their phones based on the cameras it has! Do the cameras on here hold up? Let's check the photos!
What's New?
The realme 7 has a 16MP Sony IMX471 front camera and a quad rear camera system. The latter consists of a 64MP Sony IMX682 main camera, 8MP ultrawide camera, 2MP B&W camera, and a 2MP macro camera. Unlike my previous looks on smartphone cameras, I'll be sharing my overall experience.
Click on any photo below to see the full resolution version.
The Roll Call!
I'm really loving the fact that there's more detail in the photos taken with the main sensor. By extension, it also helps out the ultrawide and 2x shots up there. We can't see many colors in this first set of photos so here's some more!
Color Me Curious
In this next shot, we see how detailed the varying shades of green are. I also like how detailed the clouds are in this. The colors tend to lean warmer though, so take that into consideration.
I know that the 2MP macro camera is a trend that a lot of enthusiasts (and tech reviewers) want to get rid of. (Myself included, to be honest.) There's also the case that photos can look decent if that camera is used with the 64MP main camera.
Here's another photo that takes advantage of natural light. This one really highlights how much detail that the Sony IMX682 sensor can get. I'm really happy that both the realme 7 and 7 Pro has this sensor!
The B&W portrait camera really does its job alongside the main sensor here. The detail on the hair is nice and the bokeh effect isn't that jarring to me. Some of the ones I've seen before tend to blur parts that you didn't want to be blurred.
For these next three photos, I took them under my desk in my room! I only had one light on to test how the new filters would look here. (Yes, it looks as chaotic as it can be.) I personally like how Cyberpunk turned out here.
Rehashing Photos… Hehe.
I may have shared this photo during my first impressions, but I really wanted to stress how good the detail and the colors are with the realme 7. For a phone that costs 50% less than an iPhone SE 2020, it produces amazing shots!
Truth be told, this was the only front camera shot I took with the realme 7. I just felt that there weren't really that many changes in this front besides taking Nightscape selfies. That's just me though. I'm pretty sure a lot of people would really love what this front camera can do.
As much as I would love to share my thoughts on the video capabilities of the realme 7, I wanna reserve that for my video review! That format lets me share my thoughts on that aspect properly. I can actually show you that said video there! Watch out for that soon on my YouTube channel!
Final Verdict
If you noticed throughout this whole review, I mentioned the realme 6 a lot. As much as I only wanted to do the realme 7 review without that perspective, I can't help but bring that phone into it.
In that way, I would NOT RECOMMEND you get the realme 7 if you already have the 6 (and especially the 6 Pro, but you already knew that). That phone has good enough performance, good battery life, an eye-catching design, and good enough cameras. On top of that, there's a P1,000 increase going to the 7 (P14,990 compared to the P13,990 of the realme 6).
But for everyone else? GO GET THIS PHONE. With its big 5000 mAh battery and 30W Dart Charge, you are sure to get a day and more out of it. The MediaTek Helio G95 may be a minor upgrade over the Helio G90T but the inclusion of a Carbon Fiber Cooling System is a big plus! The switch to a Sony IMX682 main sensor pays dividends to the photo quality you can get. You also get peace of mind knowing that the TÜV Rheinland smartphone reliability verification is there.
Each upgrade to the parts may be small and some of them could be considered trivial. Despite that, the sum of all of those upgrades makes the realme 7 another great smartphone for its price.