---
TechBytes is a weekly dose of tech gathered into one post! I will be putting articles that I've written from the past few days, related articles from various sites in the web, and tech videos! Since I posted late for this week, I'm doing TechBytes Supersized 2! More and more tech stuff!
---
Spectacular Spectacles!
Snapchat (now known as Snap Inc.) just released Spectacles, their big wearable push. They are glasses that has a camera which records 10-second videos. It then sends them to the Snapchat app on your phone via Bluetooth. I know that we all have this weird fear of being recorded all the time. (Thank you, Google Glass.) A reason why I think this will be more successful because it's made for a single purpose only. That, and they look like simple stylish glasses in their own right. (Maybe not as stylish as the usual ones.)
Another cool thing about this is the fact that they are sold in vending machines like this:
I think this is awesome in its own right. They only pop up in random places in the US (for now). This is a refreshing new take on selling consumer products. Despite the feeling of scarcity, I hope this will show up in other countries in the future.
MacBook Pro with Touch Bar Review Roundup
Reviews of the new MacBook Pro with the Touch Bar are in. You can read the roundup for yourself HERE, but here are some tidbits I got from those reviews:
The Touch Bar is not a gimmick, but it alone doesn't justify the high price of these new laptops.
Performance seems to vary from different reviews. It may be powerful enough for the average user but Pros want more than that sometimes.
The battery life is shockingly random for a MacBook. The MacBook Air manages to still hold the record for the best battery life on a Mac.
Despite knowing the higher-resolution screen eats up more power, I thought that the new laptops would do better. All I know is that I'm not getting a new laptop anytime soon.
OnePlus 3T
Months after the launch of the OnePlus 3, OnePlus launched the OnePlus 3T. It's basically a more powerful OnePlus 3. What makes it different from its predecessor is the faster Snapdragon 821, a bigger 3,400 mAh battery, and a 16-megapixel front camera (like the cool Oppo F1s).
I found it weird that OnePlus is doing this just 6 months after they put out the OnePlus 3. We'll see if this phone is as beloved as its predecessor or not.
Globe Tattoo LTE Mobile WiFi Price Cut!
After Globe did a price cut on both the Tattoo 4G Mobile WiFi and LTE Mobile WiFi, they are doing ANOTHER PRICE CUT for the latter! The Globe Tattoo LTE Mobile WiFi now costs P1495! Despite the shortcomings I mentioned in my review, this is a good recommendation to people who want faster internet speeds. With the lower price, it's becoming a better deal! Good job Globe!
---
Stories on the Blog
I FINALLY got my iPhone 7 from Globe last November 11! I got sooooo excited about it that I made an unboxing video and first impressions right here! Check it out!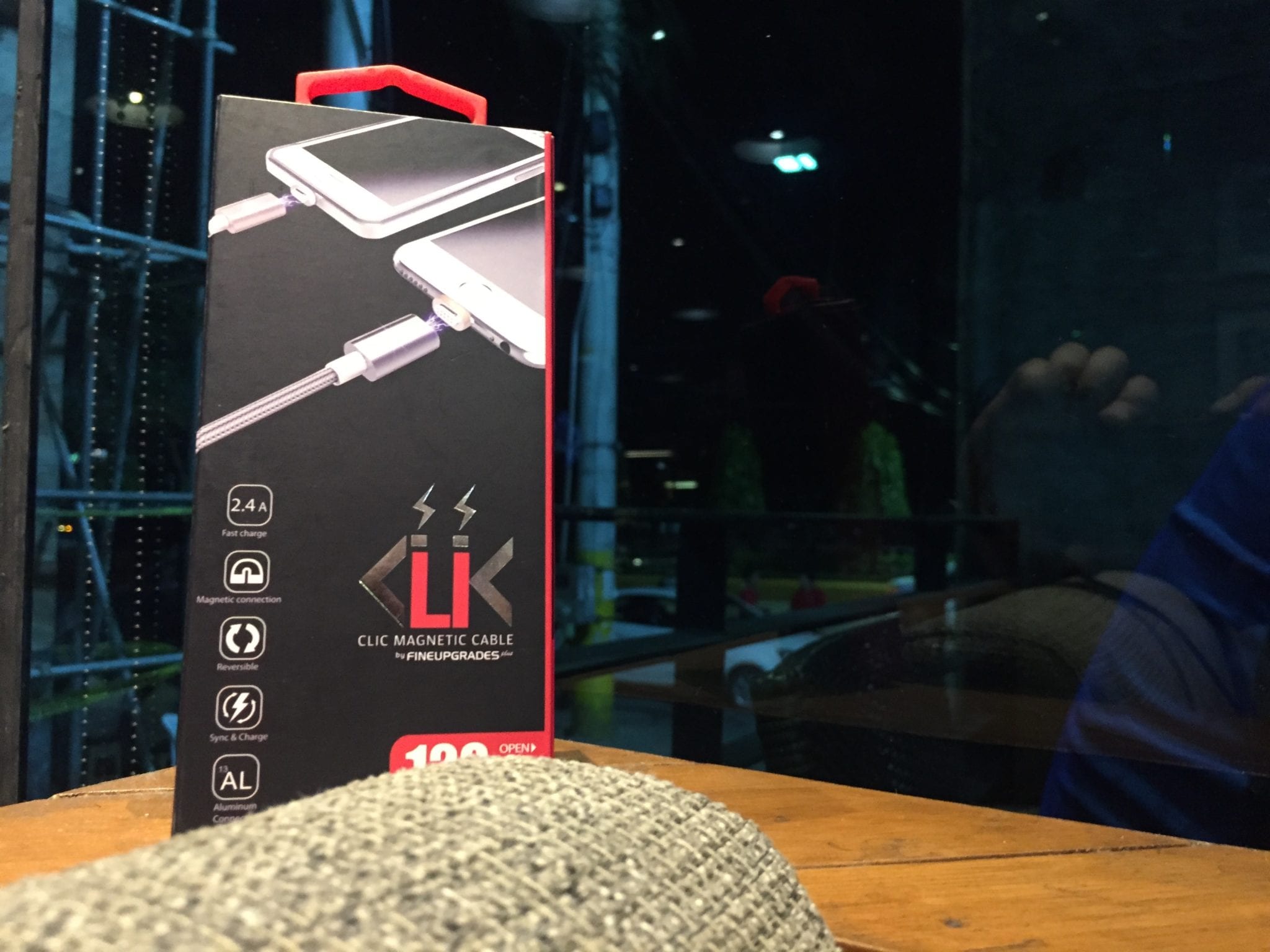 The good people over at Fine Upgrades sent me their newest product: the CLIC Magnetic Cable! It basically acts like the MagSafe technology found in Apple's MacBooks. Packaging is nice. Let's see if the actual product is.
---
Featured Podcasts
On the latest episode of Blogger Banters, we go crazy to the max! We had Rome of Basta Bisaya and Richard of Bisaya Short Films. We recorded it in Isidra Comfort Cantina, which serves some of the best food I've tasted yet!
On the latest episode of Too Embarrassed to Ask, Lauren Goode, Kara Swisher, and guest Dieter Bohn talk about what productivity "hacks" people should use to be more productive in their day. (P.S.: My Twitter gets a shoutout here! Follow me on Twitter HERE.)
On the latest episode of the Vergecast, Nilay Patel and the crew talk about how fake news affects our perception of everything. They also talk about their reviews of the MacBook Pro with Touch Bar and Surface Studio.
On Ctrl-Walt-Delete, Nilay and Walt Mossberg talk about the MacBook Pro with Touch Bar and how muddled the Mac lineup is now. They also tackled the spread of fake news.
---
Featured Videos
I literally just saw this while writing this post. It's actually insane that Google does this well.
Software – 1, Hardware – 0
I was intrigued by what was inside Google's Popup Store in New York City. If this isn't the best way to show off what Google has to offer, then I don't know what is.
MacBook Pro with Touch Bar Review from The Verge
Surface Studio Review from The Verge
---
Stories on the Web
(Same as before, just article names and links. Nothing more.)
---
This is it for TechBytes SUPERSIZED 2! Do you like this longer form version or would you still like it bite-sized every week? Sound off in the comments!