As a commitment to giving Filipinos access to the world's top cryptocurrencies, PDAX, the Philippines' homegrown cryptocurrency exchange, expands its listing with 9 new tokens! Previously, only PDAX Prime clients could access these tokens. Now, these tokens are now available to all mobile users! This allows users to have more token options, more reasons to trade, and more chances to increase yield from one's portfolio.
Know more about these new token offerings from PDAX below:
Apecoin (APE)
APE is the governance token for the Bored Apes Yacht Club (BAYC)–the NFT collection that set the bar for non-fungible artworks as an investment vehicle, drawing sales of more than $2.3 billion just a little over a year since the project launched. BAYC is composed of 10,000 unique "Apes" which have amassed a huge following including celebrities such as Madonna, Eminem, and Post Malone. Its current market capitalization stands at $1.5 billion as of writing.
Algorand (ALGO)
ALGO is the token that powers the Algorand blockchain. The Algorand blockchain is a layer-1 competitor network to Ethereum, designed for faster transaction speeds and less network congestion. It is currently capable of speeds of 1,000 transactions per second, taking in more than half a million transactions per da to service the growing number of decentralized applications (dApps) hosted on its platform. ALGO also boasts of a completely sustainable carbon-neutral footprint due to the efficiency of its network design and a $2 billion market cap.
BUSD
BUSD is currently the third largest stablecoin according to market capitalization which currently stands at $19 billion. Each BUSD token's value is pegged to the US dollar and backed by dollar reserves held in custody by the New York-based fintech company, Paxos, which undergoes regular auditing and compliance checks with US regulations.
Pax Gold (PAXG)
PAXG is a stablecoin whose value is backed by actual gold reserves instead of paper money. Owning one PAXG token is equivalent to owning one 400-ounce gold bar kept in the Brink's vaults in London. Developed by Paxos, the same company behind BUSD, PAXG was developed to make trading and investing in gold easier and more accessible than owning actual physical gold or investing in gold ETFs (exchange-traded funds). PAXG has a market capitalization of over $587 million.
Decentraland (MANA)
MANA is the cryptocurrency used in the metaverse world of Decentraland, where you can buy and sell digital real estate for real world value. You can also develop and monetize your property for various utilities such as developing and hosting games, opening an online store, holding exhibits or concerts, and many more. You can also stake MANA to participate in the governance token for Decentraland's metaverse, giving you voting rights for the future directions and operations of this vast virtual universe. Decentraland's economy has a value of $1.47 billion in market capitalization.
The Sandbox (SAND)
The Sandbox is a building platform where players can create and develop games and NFT items everyone can use. This is similar to popular world-building games like Minecraft. What makes The Sandbox stand out is the fact that you can own anything in the game for real-world value! (This includes the parcels of land and the NFTs used for the games developed within it.) SAND is the official currency of this metaverse. This token drives its own economy as well community governance, valued at a $1.45 billion market capitalization.
Gala (GALA)
Gala is a blockchain network that is turning the video gaming industry on its head. The network does this by providing a more proactive means for players to contribute to the development of games. It then redirects the revenue earned from the release of gaming titles to the player community itself. Game designers and developers have incentives to develop "games that players actually want to play". Players also get something back on their investment through play-to-earn reward mechanisms. This GALA token-powered gaming ecosystem has a market cap of $363 million. The GALA token also helps secure the network–keeping the whole gaming platform completely community-owned.
Green Satoshi Token (GST)
GST is the reward token in the popular move-to-earn app STEPN. This app pays users in exchange for walking, jogging, or running–with the help of the app's NFT sneakers and your mobile device's GPS locator. Aside from its move-to-earn feature, sneakers can also be collected and traded on the app's marketplace for profit. GST also has plenty of in-game utilities such as for repairing and upgrading your sneakers, as well as minting entirely new ones. GST has a current market capitalization of $18.8 million.
STEPN (GMT)
Aside from the previously mentioned GST, the STEPN move-to-earn app also has its governance token called GMT or the "Green Metaverse Token" whose market cap stands at $405 million. Aside from governance, GMT also has other in-game utilities such as leveling up your NFT sneakers (for every 10 levels). GMT will also be the highlight of the app's most awaited upgrade–GMT earning–which will allow users to be rewarded directly with GMT instead of GST.
Get Any or All of These Tokens Through the PDAX Mobile App!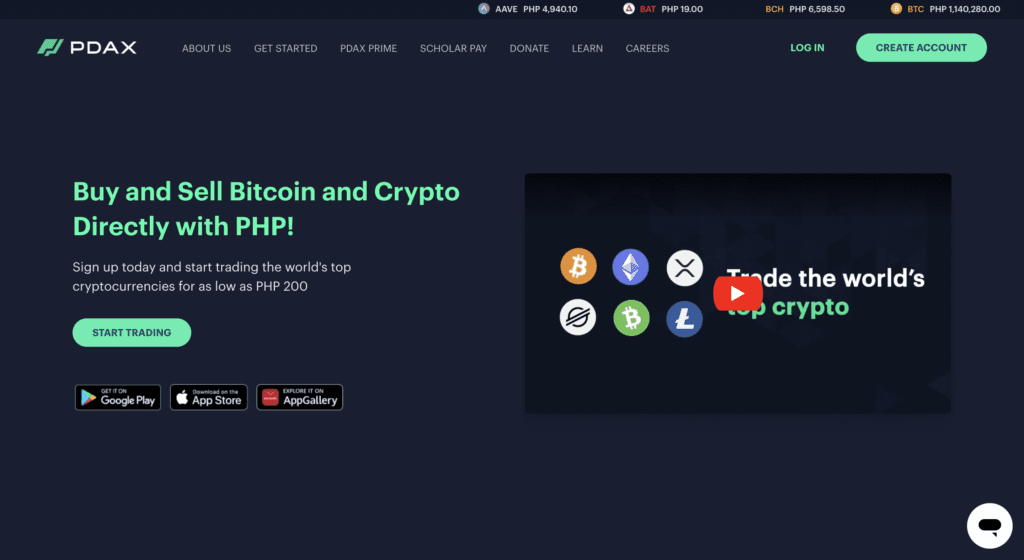 You can get any or all of these cryptocurrencies through the PDAX Mobile App!
Just make sure to verify your account and have enough balance in your wallet. For as low as PHP200, you can begin trading–directly with Philippine pesos.
For more detailed information on these cryptocurrencies, visit learn.pdax.ph. or browse our FAQ list for trading fees, quantity, and price steps.