Beyond The Box released its iPhone 13 preorders and pricing information! This includes multiple ways for you to preorder and pay for it. You can also get freebies if you preorder from 12 MN of October 15, 2021, to 9 PM of October 17, 2021!
How to Preorder
Everyone can get their iPhone 13 preorders from Beyond The Box through the physical stores (Virra Mall, Uptown Mall, Robinsons Place Manila) or Beyondthebox.ph! Whichever way you choose, there are freebies waiting for you!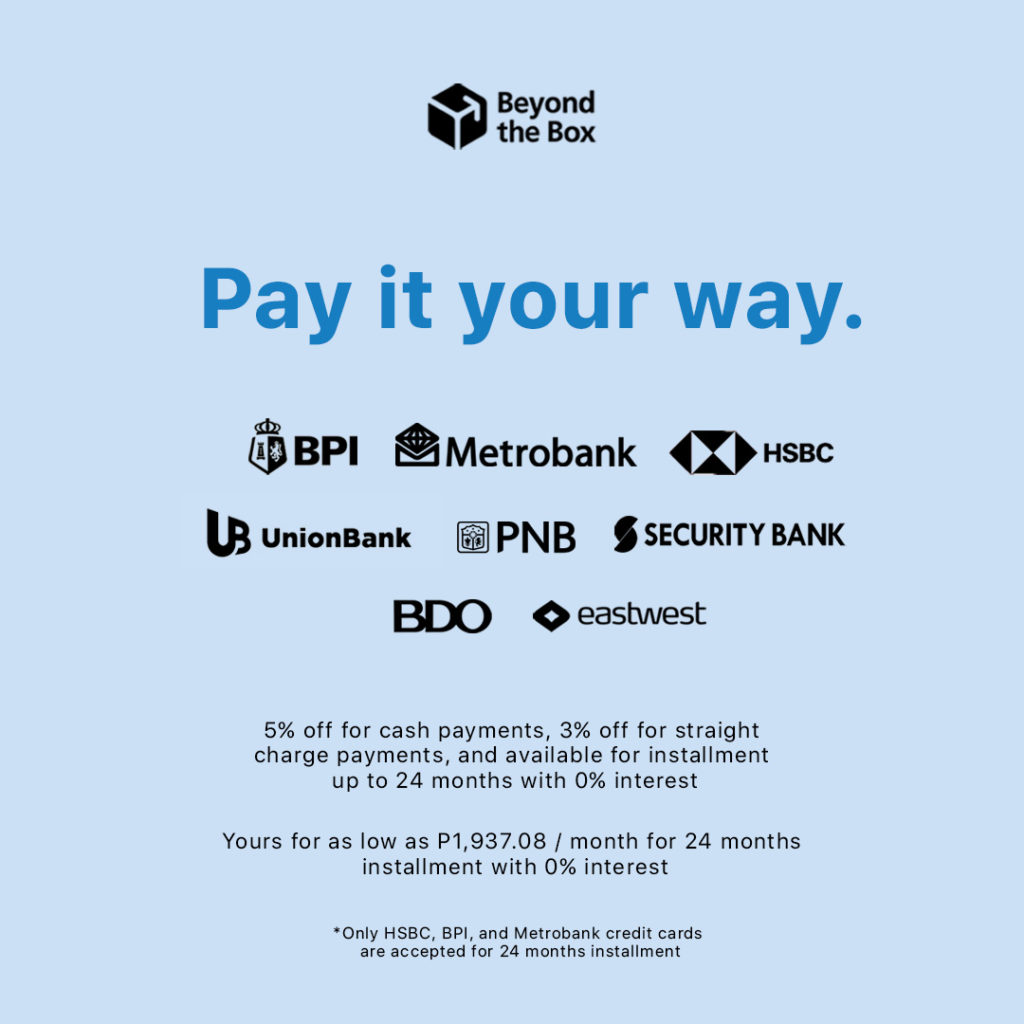 You can choose between different payment options when preordering your iPhone 13. If you'll pay with either cash or a straight credit card, you get a discount! (5% for cash, 3% for straight credit) There's also an installment option for up to 24 months at 0% interest. The following banks are available for installment: BPI, Metrobank, HSBC, Unionbank, PNB, Security Bank, BDO, and Eastwest Bank. (Note that only HSBC, BPI, and Metrobank credit cardholders can avail of the 24-month installment.)
Freebies and Deals for iPhone 13 Preorders
For those who decide to get their iPhone 13 preorders from Beyond The Box, you will get the following freebies worth P12,000:
Adidas RPT-01 Wireless On-Ear Headphones
Momax OnePlug 1Port 30W USB-C Charger
Mocoll 2.5D Full Cover 2nd Generation Screen Protector
P500 discount voucher from Tasteless Food Group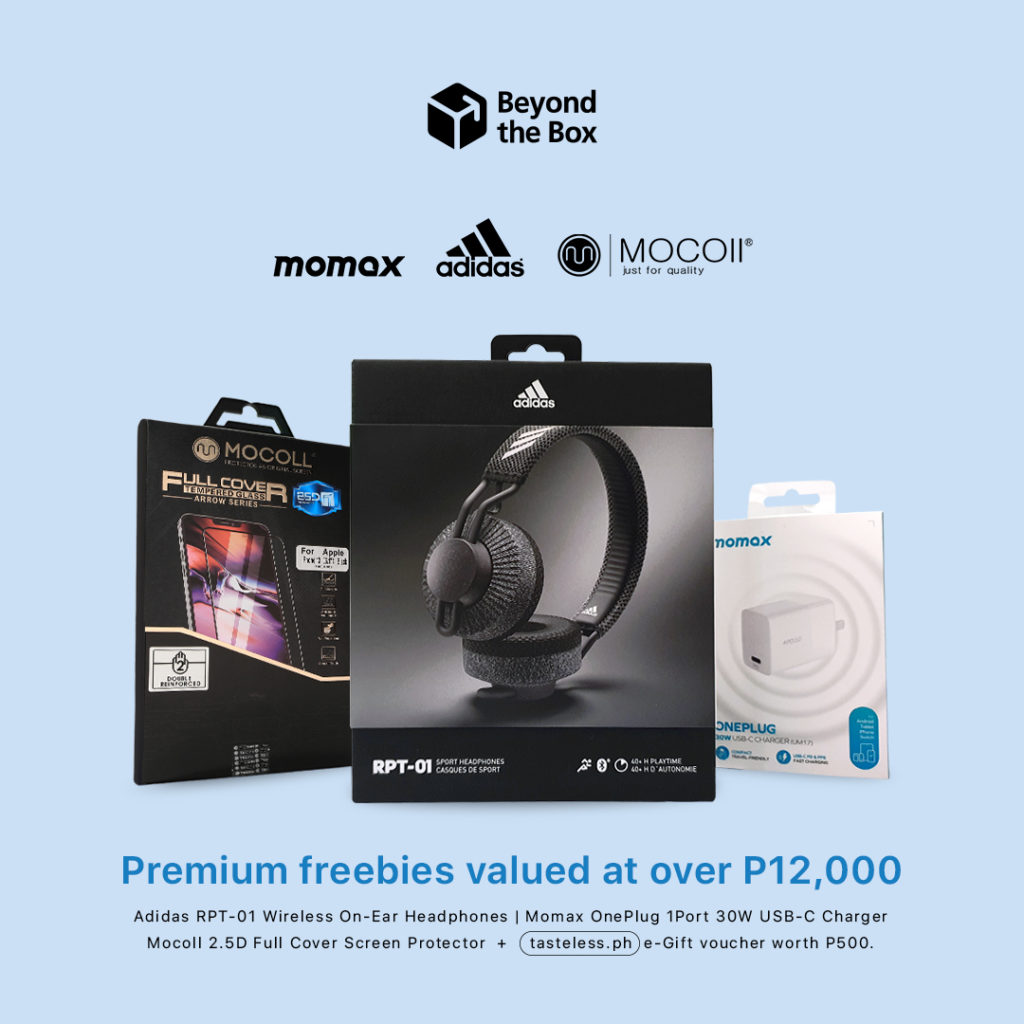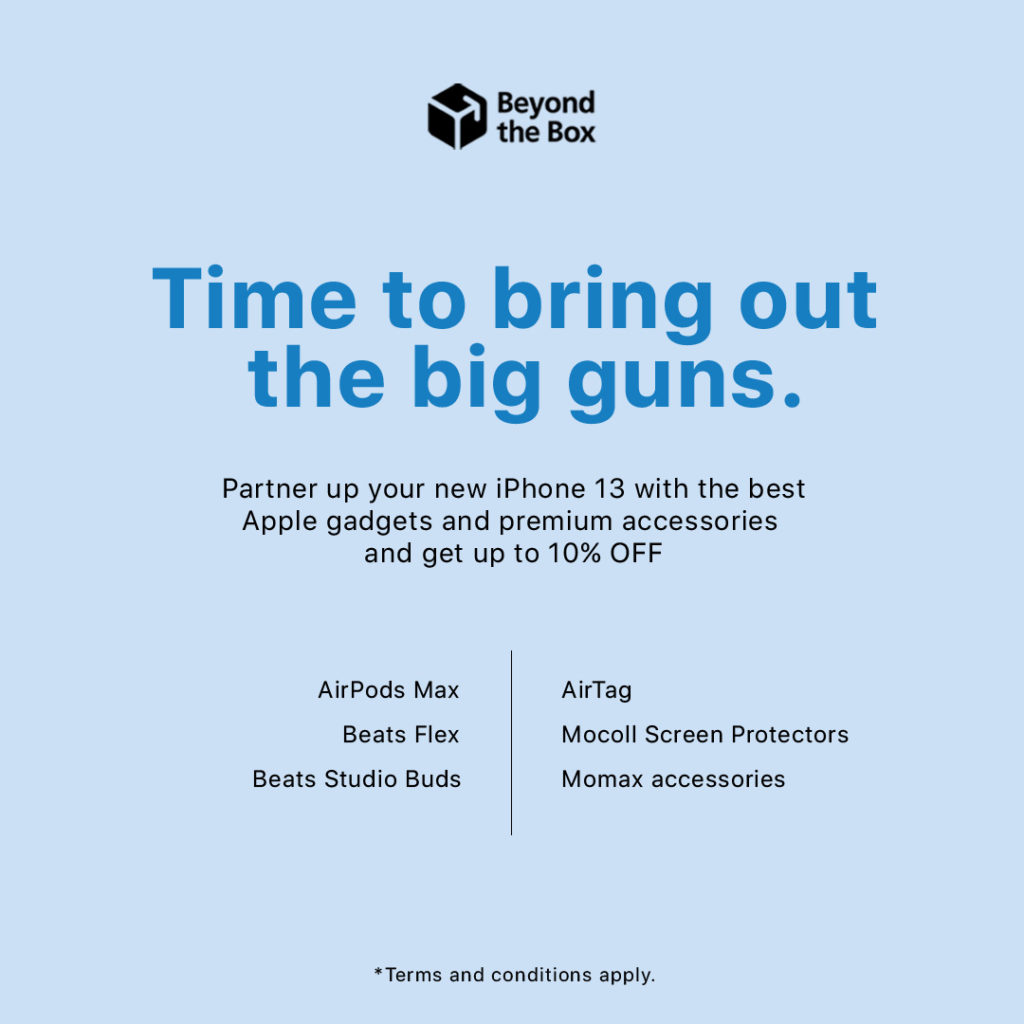 On top of all that, you can get up to a 10% discount on AirPods Max, Beats Flex, Beats Studio Buds, and AirTag! There's FREE shipping for Metro Manila orders and exclusive BTB Badges if you preorder online.
NOTE:
*Adidas RPT-01 will be available 3 weeks from pre-order; this will be shipped separately to the customer's delivery address.
*P500 discount voucher will be sent through email on October 22, 2021, and can only be used at https://tasteless.ph/
Pricing
Here's the official pricing for all iPhone 13 models purchased from Beyond The Box. (Swipe left and right on the table for mobile)
| | | | |
| --- | --- | --- | --- |
| | RETAIL PRICE | 12/0 INSTALLMENT | 24/0 INSTALLMENT |
| IPHONE 13 128GB | 52,490.00 | 4,374.17/month | 2,187.08/month |
| IPHONE 13 256GB | 59,990.00 | 4,999.17/month | 2,499.58/month |
| IPHONE 13 512GB | 71,990.00 | 5,999.17/month | 2,999.58/month |
| IPHONE 13 MINI 128GB | 46,490.00 | 3,874.17/month | 1,937.08/month |
| IPHONE 13 MINI 256GB | 52,990.00 | 4,415.83/month | 2,207.92/month |
| IPHONE 13 MINI 512GB | 65,990.00 | 5,499.17/month | 2,749.58/month |
| IPHONE 13 PRO 128GB | 65,990.00 | 5,499.17/month | 2,749.58/month |
| IPHONE 13 PRO 256GB | 72,990.00 | 6,082.50/month | 3,041.25/month |
| IPHONE 13 PRO 512GB | 84,990.00 | 7,082.50/month | 3,541.25/month |
| IPHONE 13 PRO 1TB | 97,990.00 | 8,165.83/month | 4,082.92/month |
| IPHONE 13 PRO MAX 128GB | 72,990.00 | 6,082.50/month | 3,041.25/month |
| IPHONE 13 PRO MAX 256GB | 78,990.00 | 6,582.50/month | 3,291.25/month |
| IPHONE 13 PRO MAX 512GB | 90,990.00 | 7,582.50/month | 3,791.25/month |
| IPHONE 13 PRO MAX 1TB | 103,990.00 | 8,665.83/month | 4,332.92/month |
| | | | |