This may seem like my first experience with the Infinix brand, but it's not the case. That honor belongs to the Infinix ZERO 5G. The specs on paper and the price-to-performance value really show off Infinix's strengths in the market. With that in mind, I got a chance to check out one of their latest phones: the Infinix HOT 30. It features a MediaTek Helio G88 processor, a 6.7-inch 90Hz FHD+ IPS LCD display, and a 5000 mAh battery with 33W fast charging. The most shocking part? Its price: P6,999! Are all of these worth your money? Find out in my Infinix HOT 30 review.
Disclaimer: Infinix Mobile Philippines sent over this Infinix HOT 30 review unit in Sonic White along with this Free Fire case. The HOT 30 with this Free Fire case is not sold in the Philippines as far as I know. I used the HOT 30 for a week as my primary Android phone then for over a month as a secondary phone.
Unboxing Experience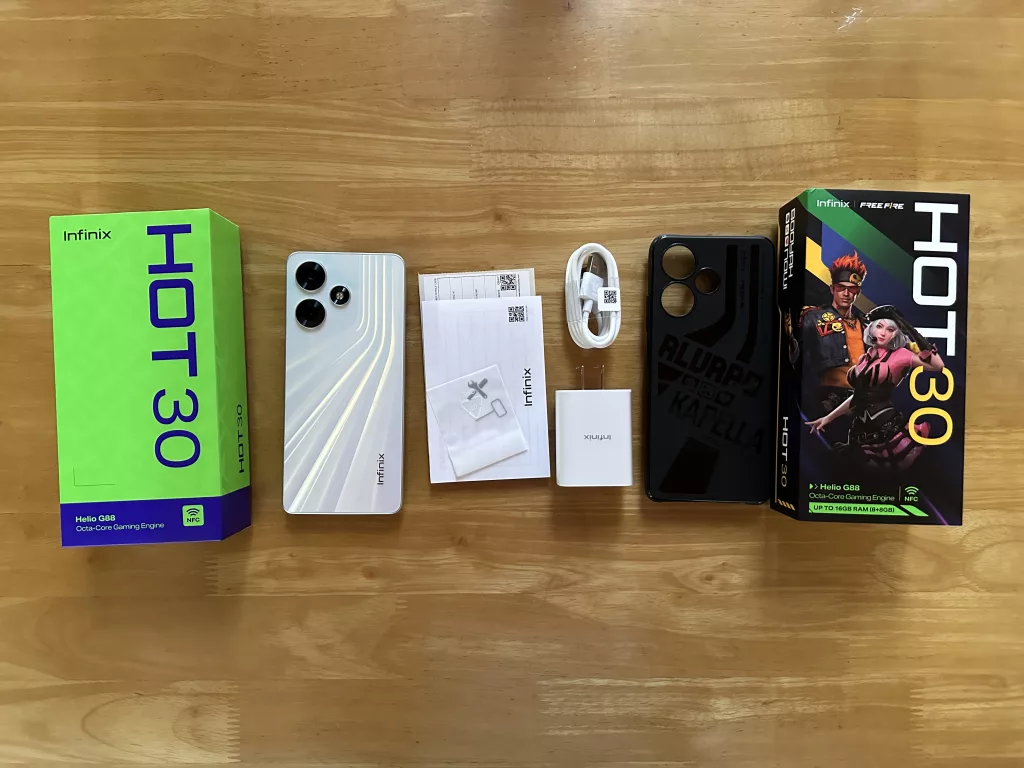 This is just your typical phone unboxing experience. It's nice to see entry-level and midrange phones from most brands still having chargers inside the box.
I'm actually into this Free Fire case. This case really enhances the grip of the phone. It's too bad that the Free Fire edition isn't available in the Philippines. (We'll see if Infinix will end up doing it. Hehe.)
Design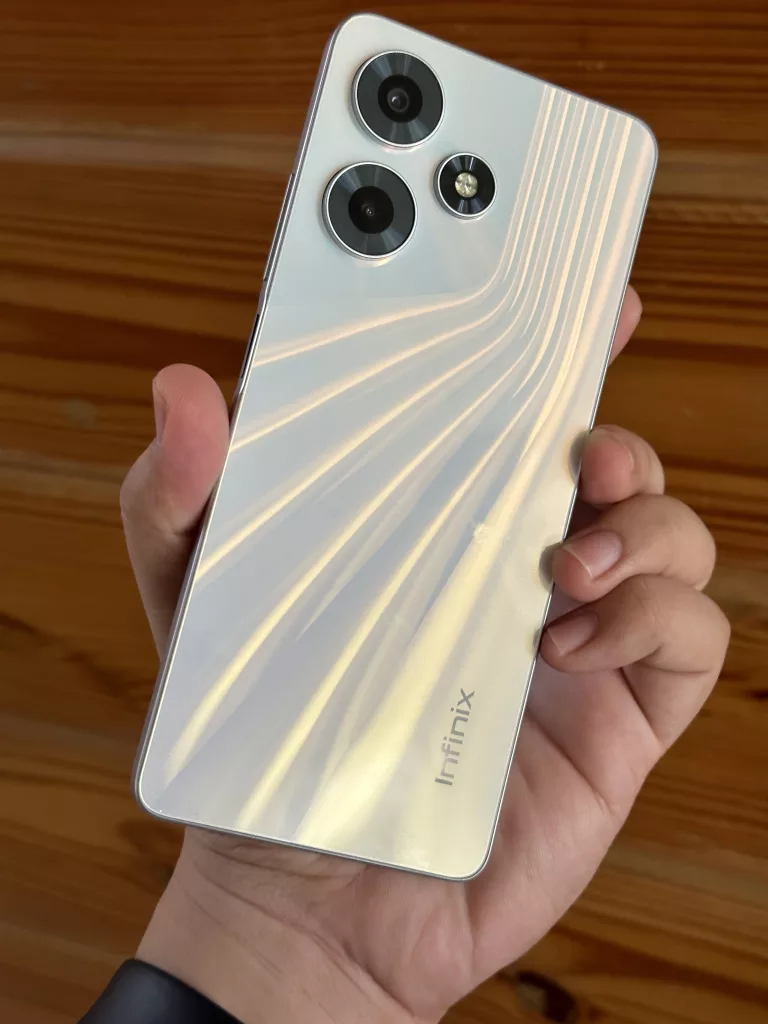 The HOT 30 has a Shifting Zone Design which has this light and shadow texture. This phone comes in three colors: Sonic White (the one I have), Surfing Green, and Racing Black. Despite it still being a fingerprint magnet, this design really looks appealing. I actually enjoyed playing around with the back thanks to the natural light at home.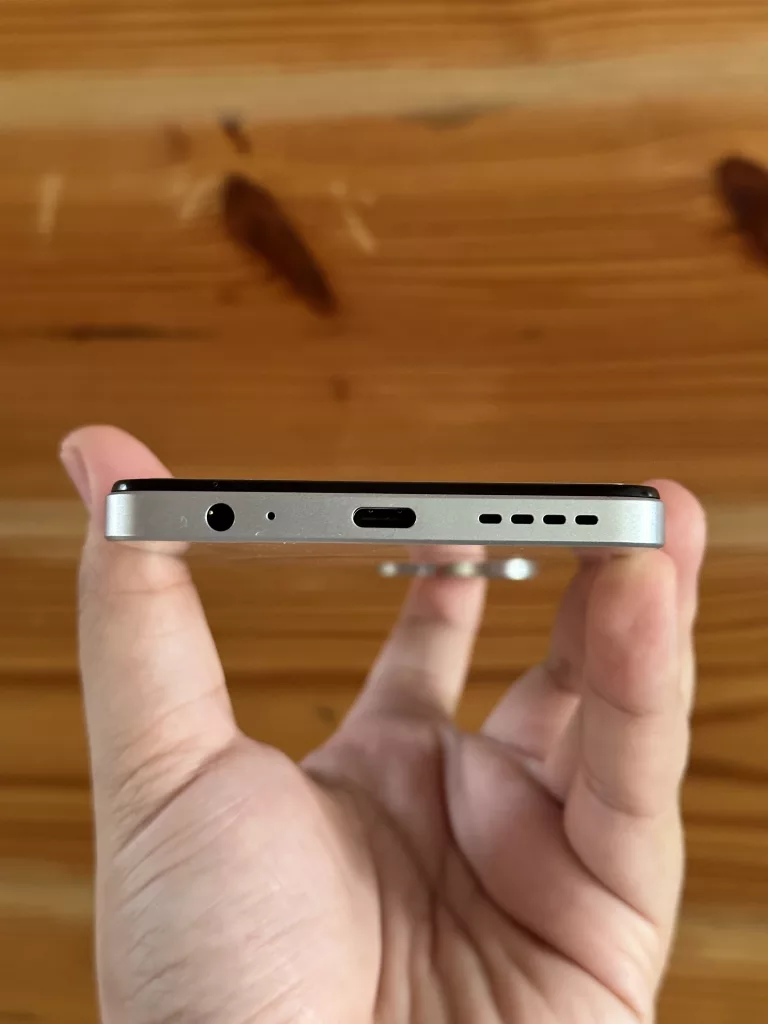 The buttons are clicky enough and the frame has a metal feel even if it's probably plastic. We also get a power button that doubles as a fingerprint sensor here which I find fast enough to unlock the phone. There's also a 3.5mm headphone jack which you may prefer using thanks to its single speaker, and support for two SIM cards and a microSD card. That microSD card is good if you prefer to download a lot of music and videos for offline use. (That's really useful during a flight.)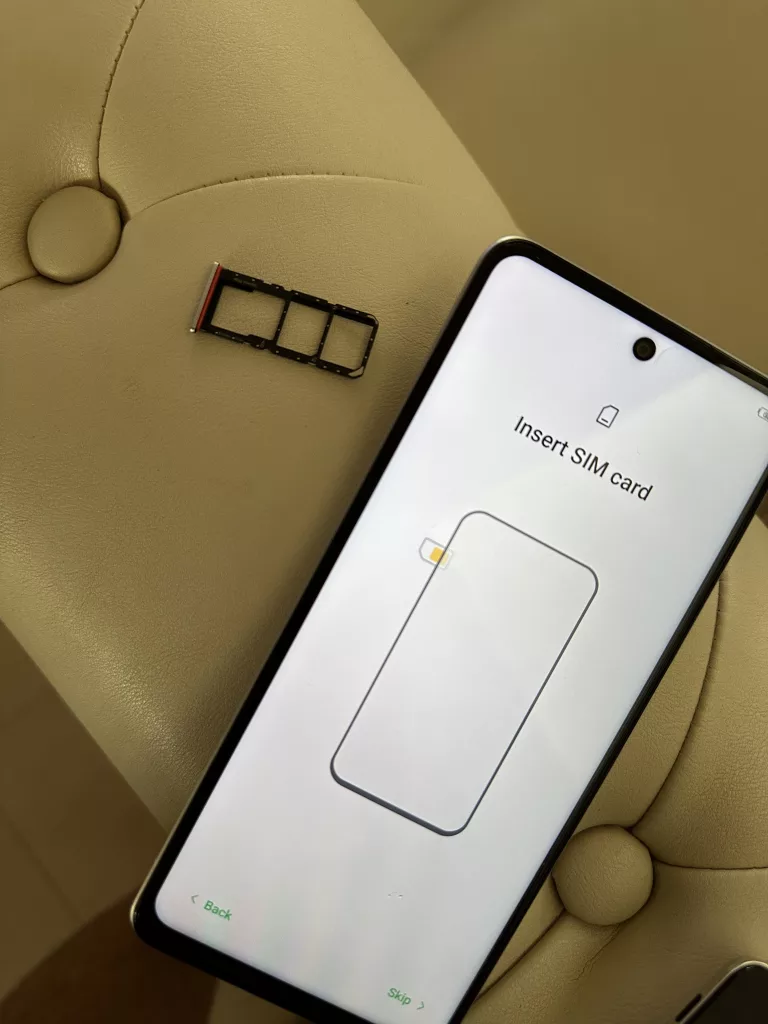 All in all, I really like it that Infinix pays some attention to the design of its entry-level phones. This used to be a compromise that you lived with. Good thing time usually makes things like this happen.
Display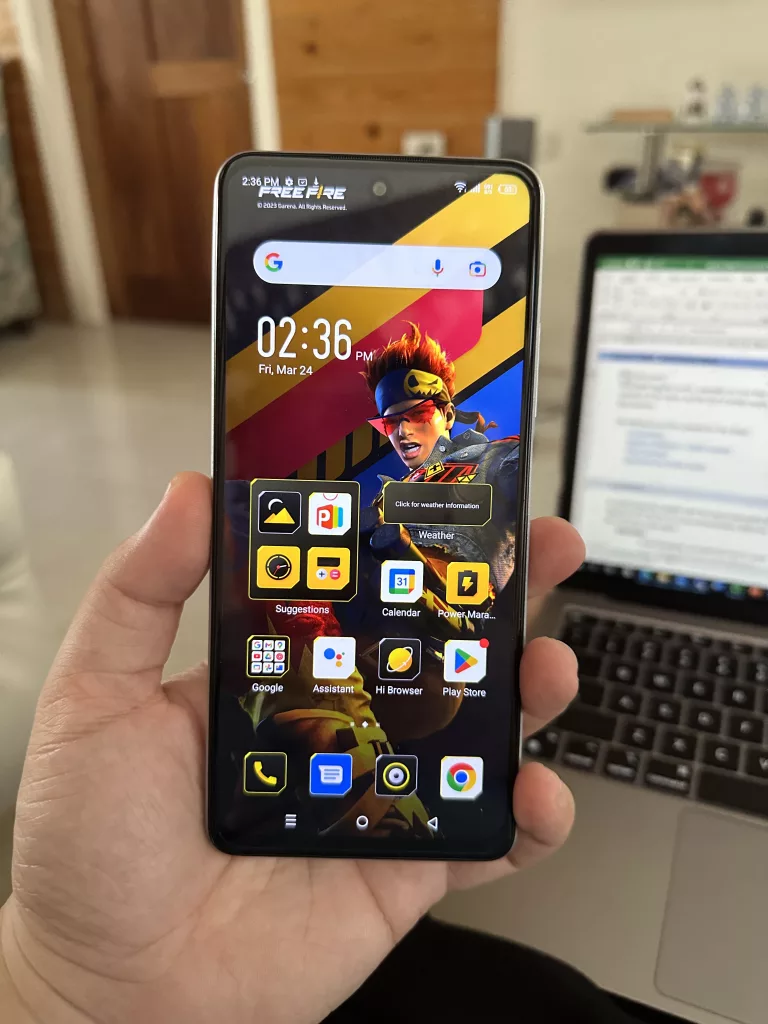 While the design certainly makes an impact, the display doesn't do that as much. The Infinix HOT 30 has a 6.78-inch 90Hz 1080p IPS LCD display. It also has up to 270Hz touch sampling rate, which gives you a phone that's more responsive when gaming. The colors on this display are good enough for the price and I wouldn't complain too much on this front.
Performance and Software
One thing that I have to commend Infinix for is bringing higher tiers of performance to the entry-level and midrange segments. The HOT 30 uses the MediaTek Helio G88 processor and comes with 8GB of RAM and a generous 256GB of storage. While it only had around 250,000+ in AnTuTu benchmark, I rarely noticed any slowdowns especially with mobile games like Pokémon UNITE and Asphalt 9. The only times I did was (funnily enough) going through the user interface.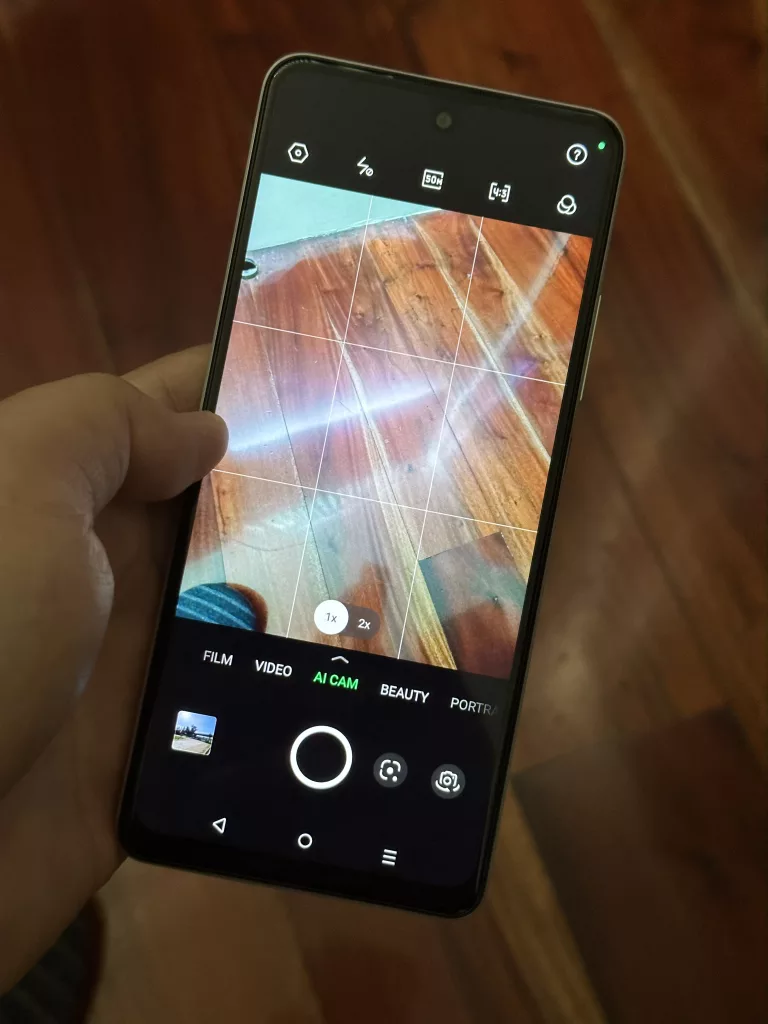 This phone runs XOS 12.6, Infinix's Android skin. One of the things I really didn't like about the Infinix Zero 5G was its software and user interface. Unfortunately, the HOT 30 also carries the same slow-feeling UI as that phone. It also doesn't help that XOS has duplicate apps and bloatware. This would have been a bigger problem if it weren't for the bigger 256GB storage.
For people on a budget though, my qualms on its user interface feel pretty minor.
Battery Life
A surprising thing about the HOT 30 for me is its battery life. I get through a full day of use easily with this phone, but I rarely get through a day and a half. I've seen other phones with a 5000 mAh battery and a 90Hz 1080p display have better battery life than this. To be fair, those other phones tend to be more expensive than the HOT 30.
Cameras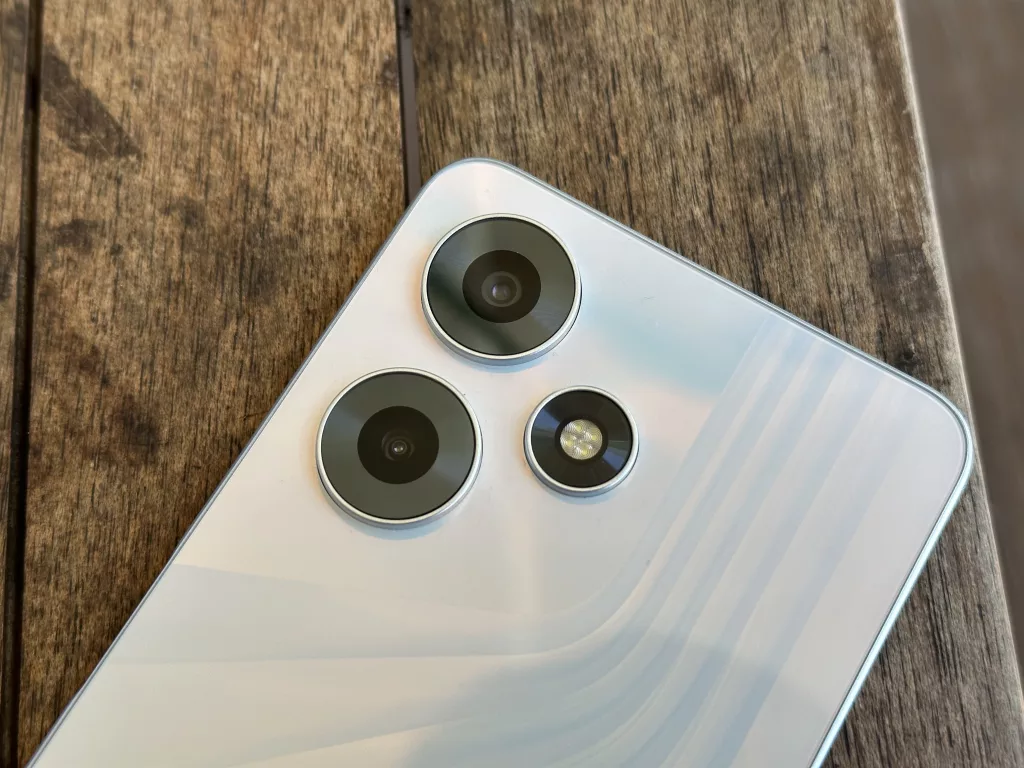 A few years ago, entry-level phones don't really get good cameras. Sure, they can be usable for casual use but they tend to be a primary target for having more limited capabilities. In 2023, that is no longer the case and I'm glad for that. The Infinix HOT 30 has a 50MP main camera and a depth camera in the rear. It also has an 8MP front camera for those selfies.
Are the photos coming out of this phone any good? Let's check them out!
Click on the photos for full-resolution versions!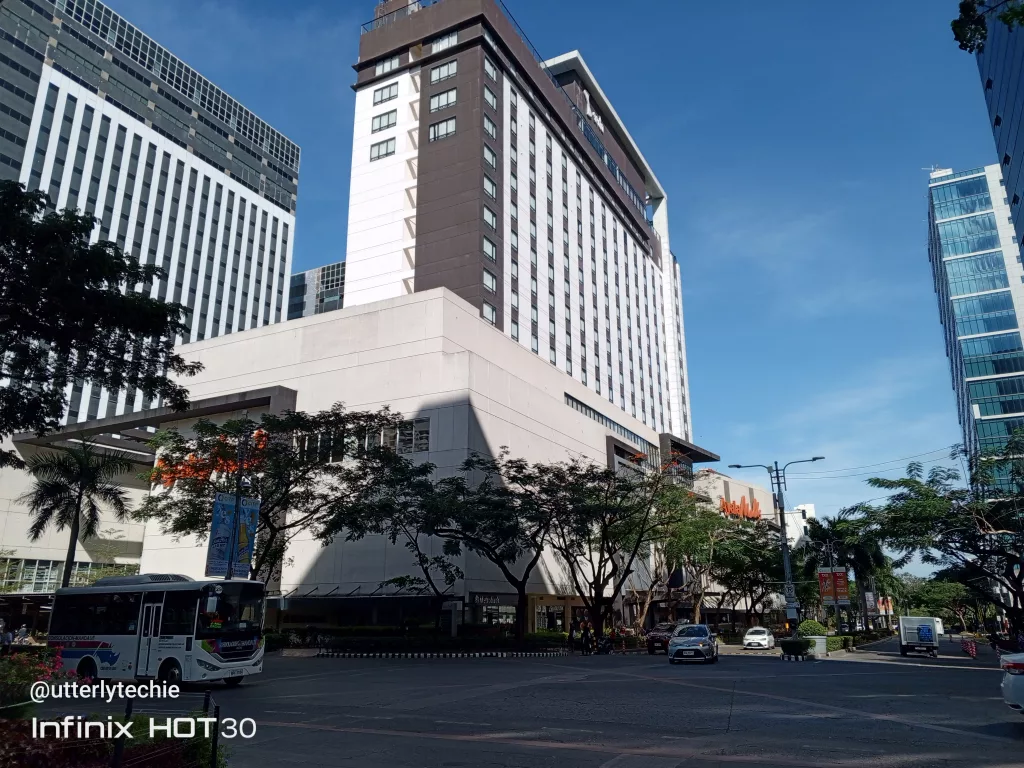 When there aren't a lot of bright colors, I actually like the photos coming out of the HOT 30! You don't get that overexposed look that used to be prevalent a few years ago. There may be times when the photo would lean towards having a muted look, but that's more like a personal preference kind of thing.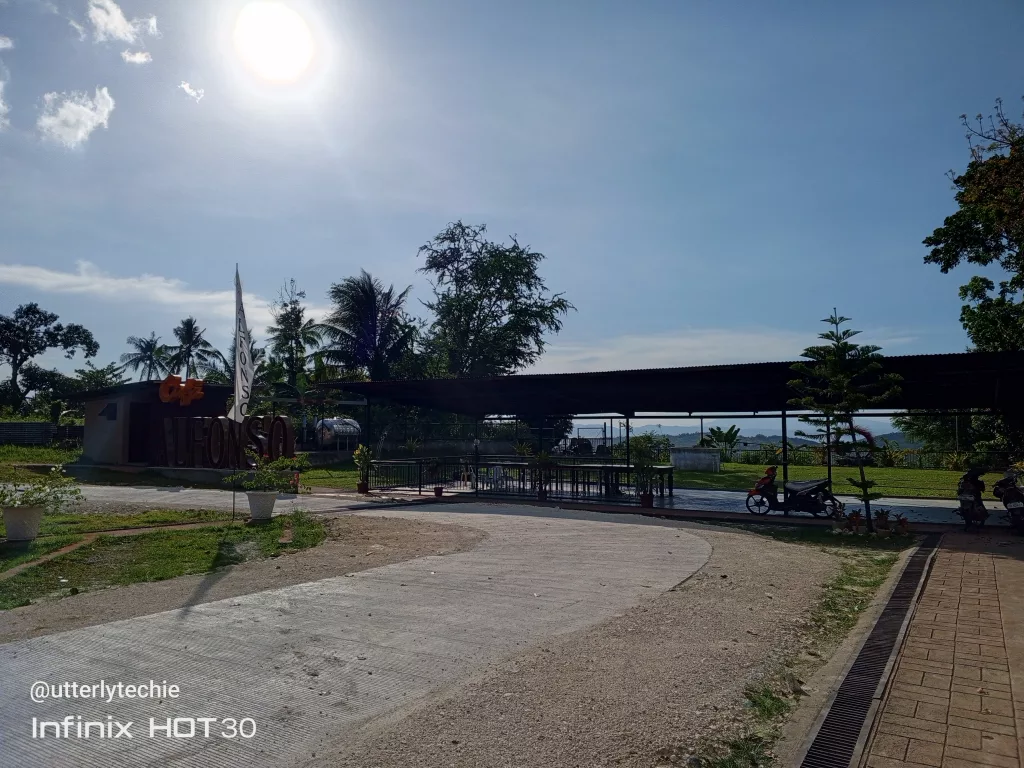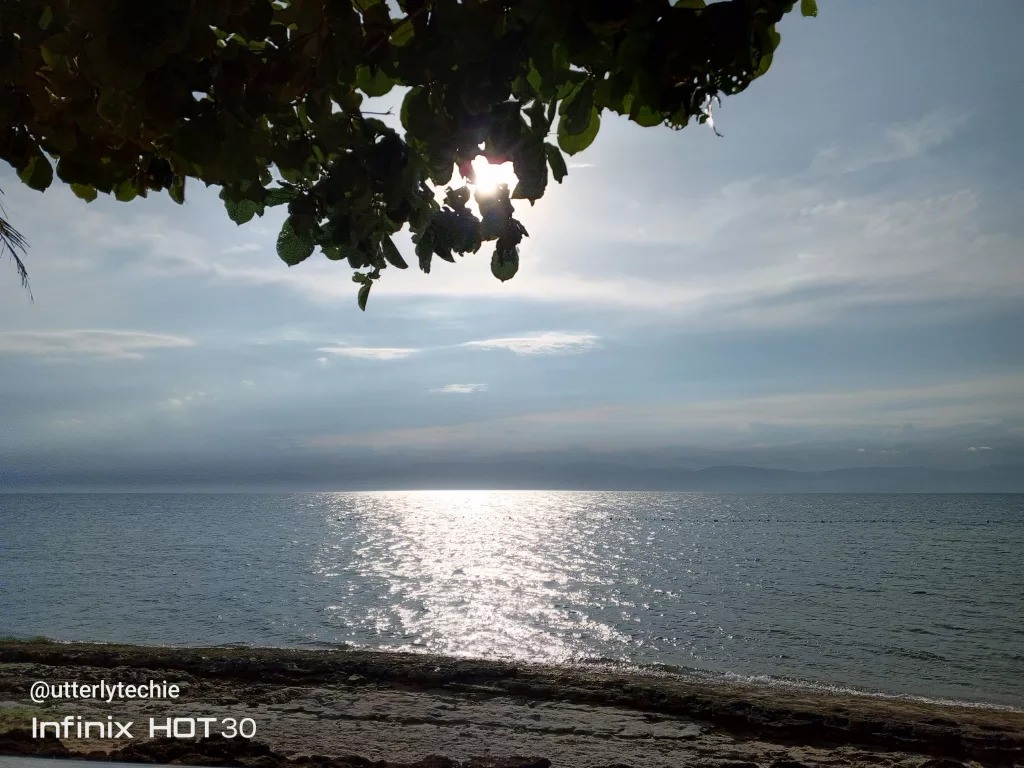 Indoor shots look decent even when there is less light. I typically take these shots during one of our family's weekly bowling sessions.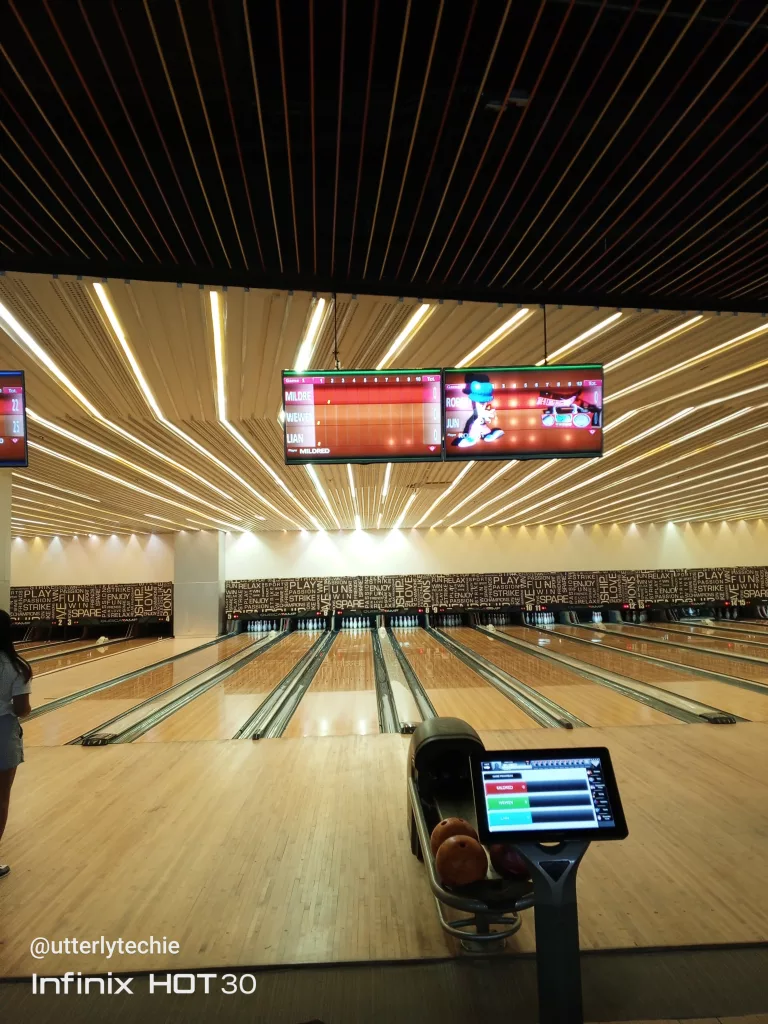 When I took the photo below, I was afraid it would turn out to be overexposed. Good thing it turned out okay even if it looks slightly yellow. (I took a similar photo with a higher-end phone and it still looked kinda yellow.)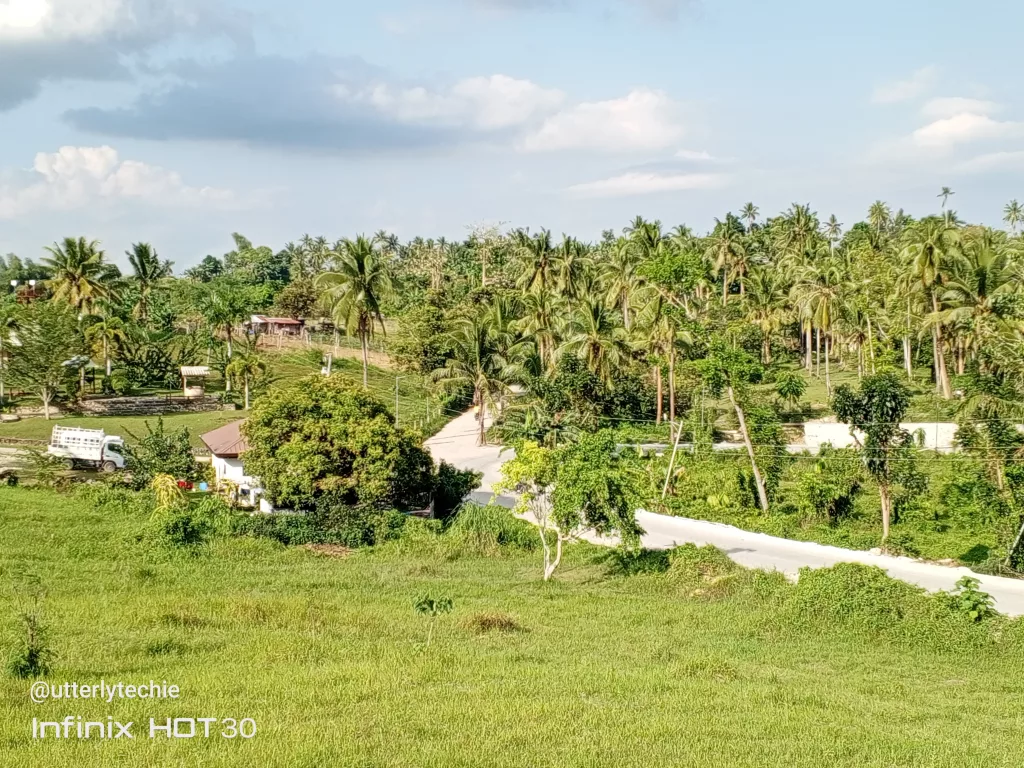 One advantage of just having a single 50MP main camera is the color consistency with the zoomed-in photos. Just look at the shots of the beach below.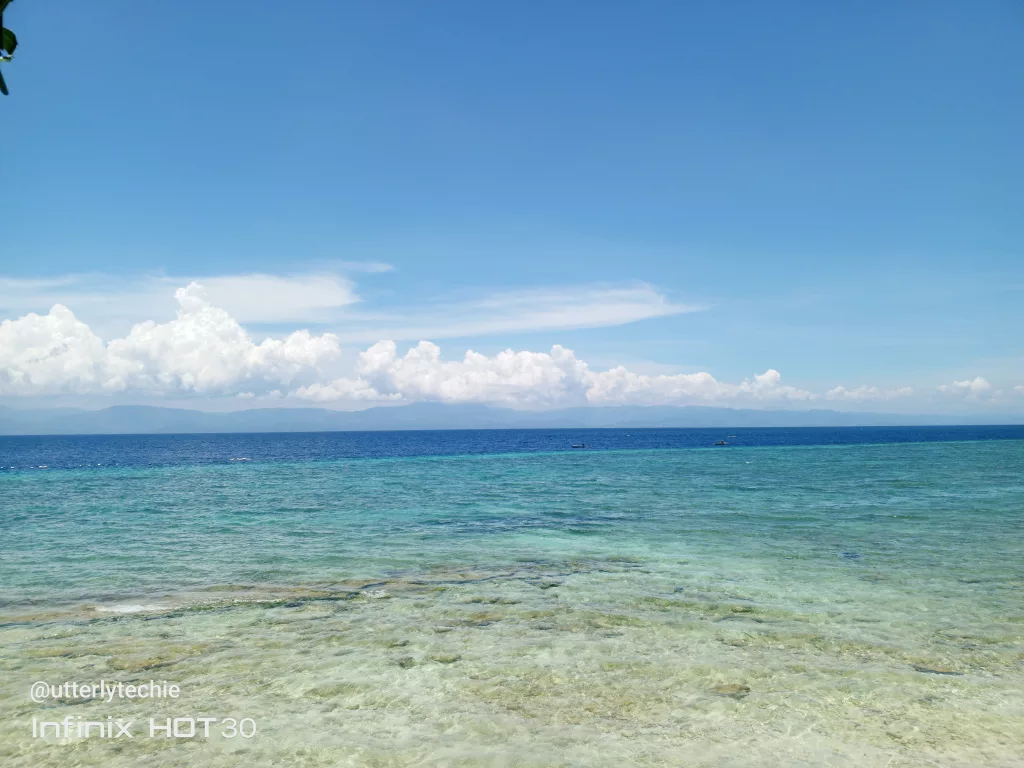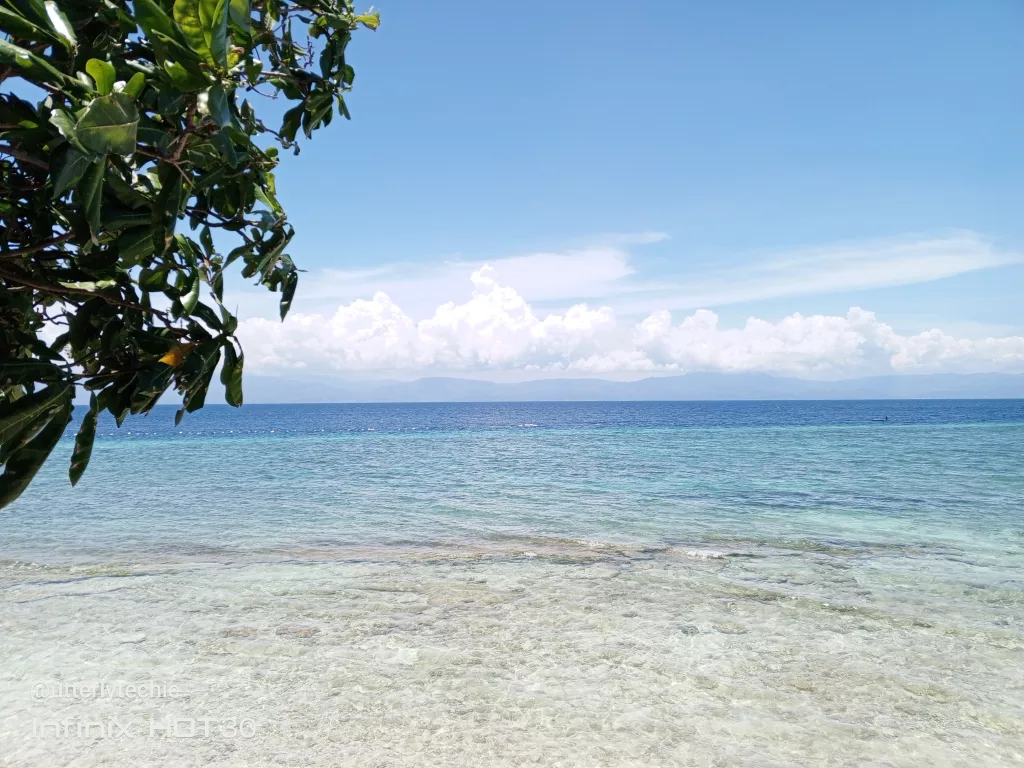 Night Mode
Another surprising thing about the main camera of the HOT 30 is its low-light performance. Although some colors can get kinda weird sometimes, I'm actually happy with these photos coming out of this phone thanks to its night mode. It even works better if you're near a light source! I'm loving the fact that even decent night photos are possible with phones like the HOT 30.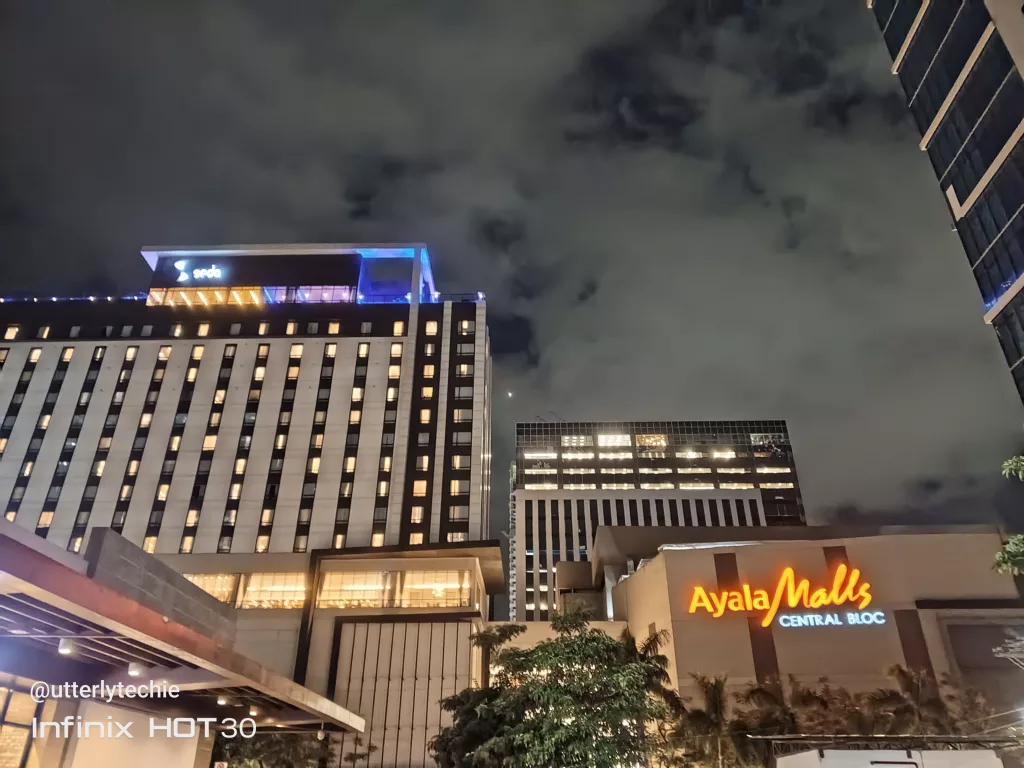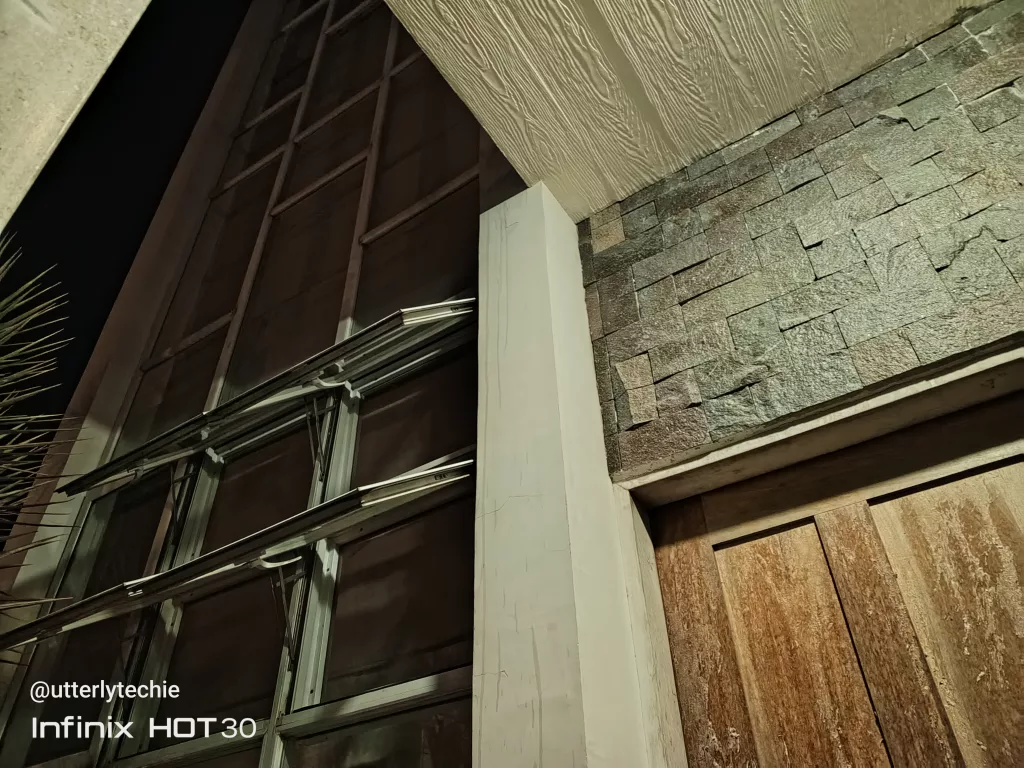 Even the photo that I took of a portion of our neighborhood actually looks pretty decent considering the light source was quite far from me.
Front Camera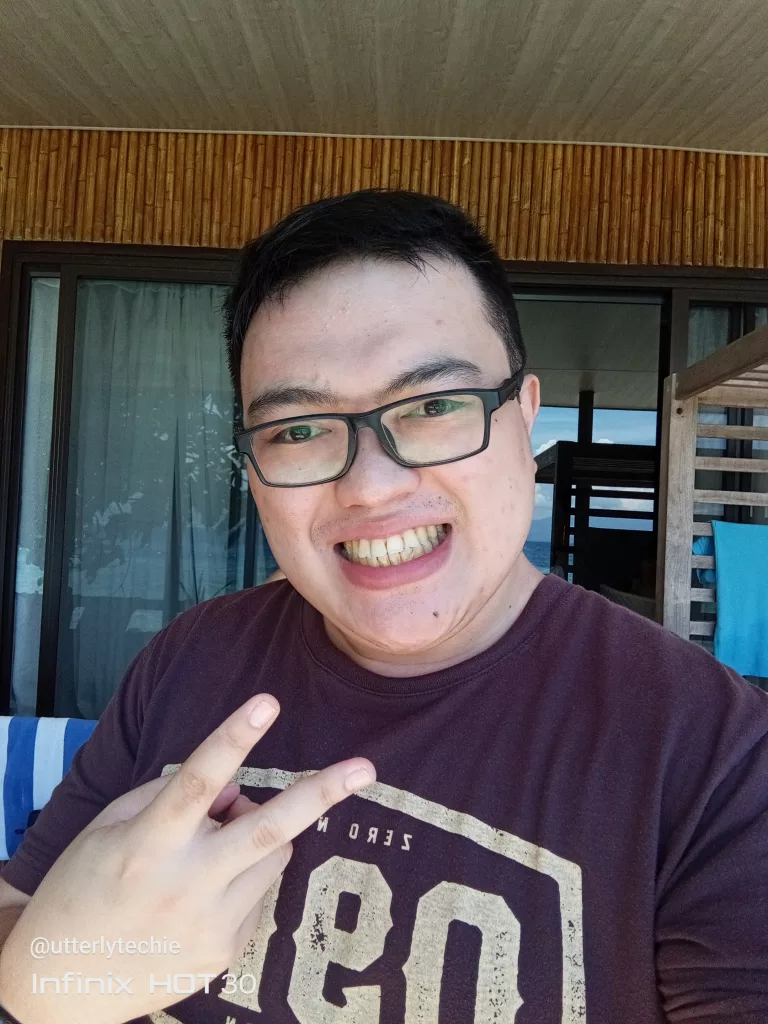 Its 8MP front camera takes decent to good shots depending on the lighting. I honestly wouldn't rely on it when taking selfies at night. You can certainly use it for most cases though!
All in all, this part of the Infinix HOT 30 review was the most fun to do. I didn't really think too much about it especially because there were low expectations from me.
Should You Buy the Infinix HOT 30?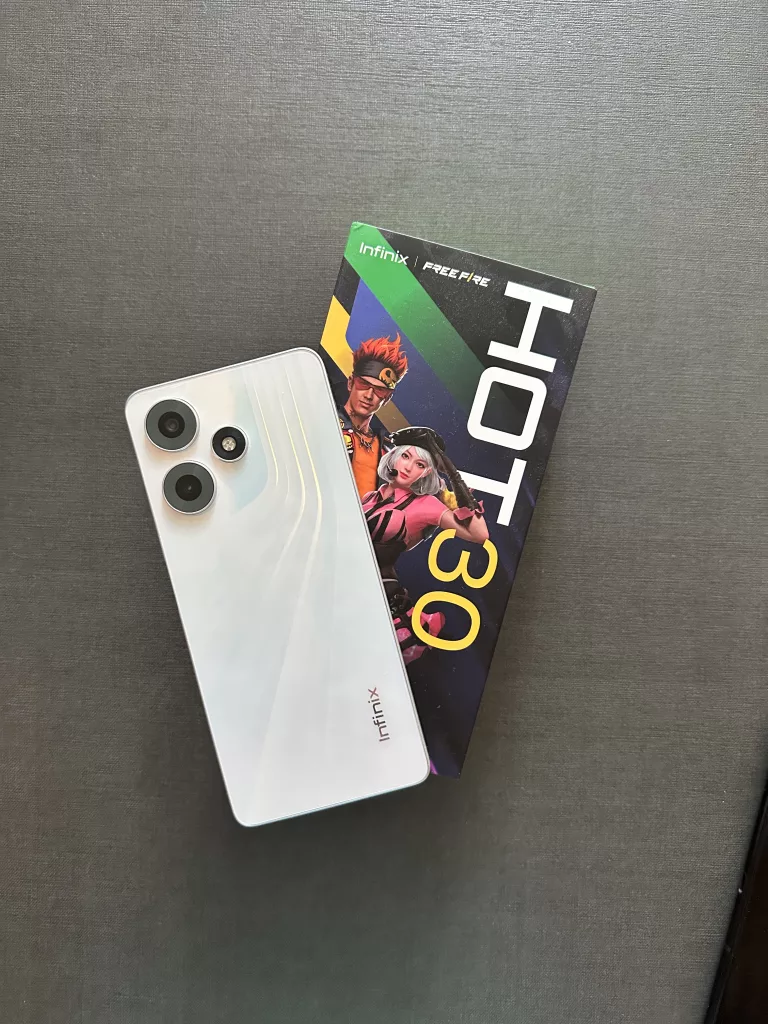 At the end of the day, a lot of what I said are either minor things or feel like nitpicks to people who are buying the Infinix HOT 30. With this phone's SRP being P7,499 (and currently hovers between P6,999 to P7,099), those people are pretty much looking for the best bang-for-your-buck. Things like a lack of software updates or bloatware go into the background when you have a sub-P8,000 phone that offers many features you would have found in phones that cost at least P10,000.
I would recommend other phones if you're looking for specific things like good cameras or good software. When it comes to performance or just having a well-rounded phone without breaking the bank, the Infinix HOT 30 is a phone you should definitely consider.
Pros
Its Shifting Zone Design is really mesmerizing
The display having 270Hz touch sampling rate is nice for gaming
Having 8GB RAM and 256GB storage for a sub-P8,000 phone is a total steal
The MediaTek Helio G88 is a good performer for the price
Good combo of 5000 mAh battery and 33W charging
Its 50MP main camera is really good for the price, particularly in low light
Cons
The phone is a fingerprint magnet; needs a case
Besides the size, its display seems kind of ordinary
XOS 12.6 holds this phone back
The brand's history for not providing software updates
Battery life can be inconsistent sometimes
Its 8MP selfie camera is okay
You can get the Infinix HOT 30 online for P6,999 via Lazada, Shopee, and TikTok Shop.