As Christmas draws near, HUAWEI Philippines wants to make Christmas brighter and merrier for Filipino tech buffs! With its Better Together 2022 Christmas Campaign, the company brings a slew of discounts and promos for its top products. You can take advantage of those if you purchase one of Huawei's laptops, tablets, smartphones, and smart wearables. Freebie bundles included in some of the items can be worth up to P3,389. The Better Together 2022 Christmas campaign is happening from November 26, 2021, to January 02, 2022.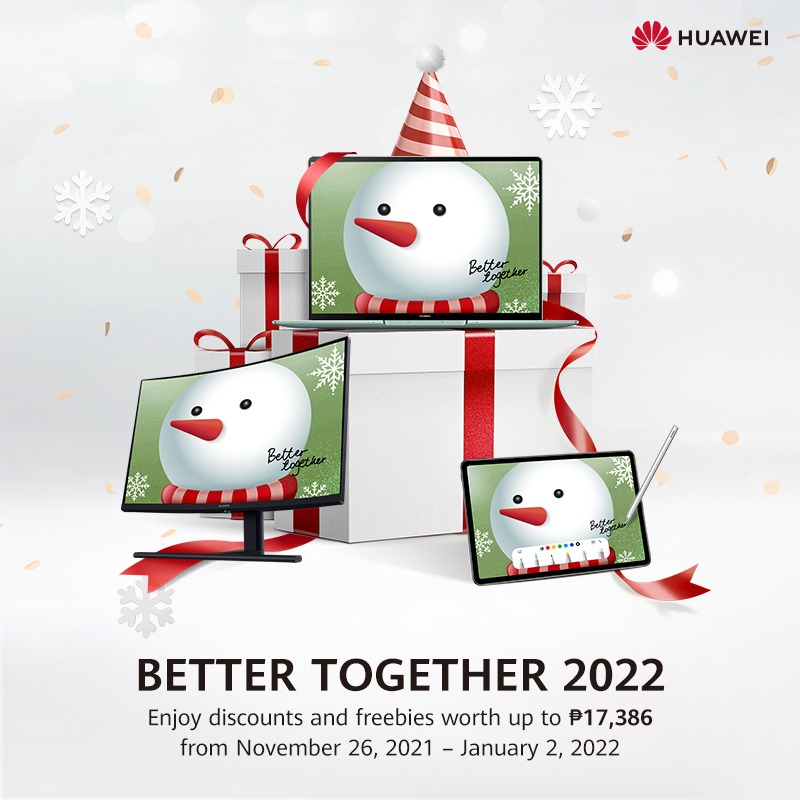 Enjoy Making Memories with the Huawei nova Series!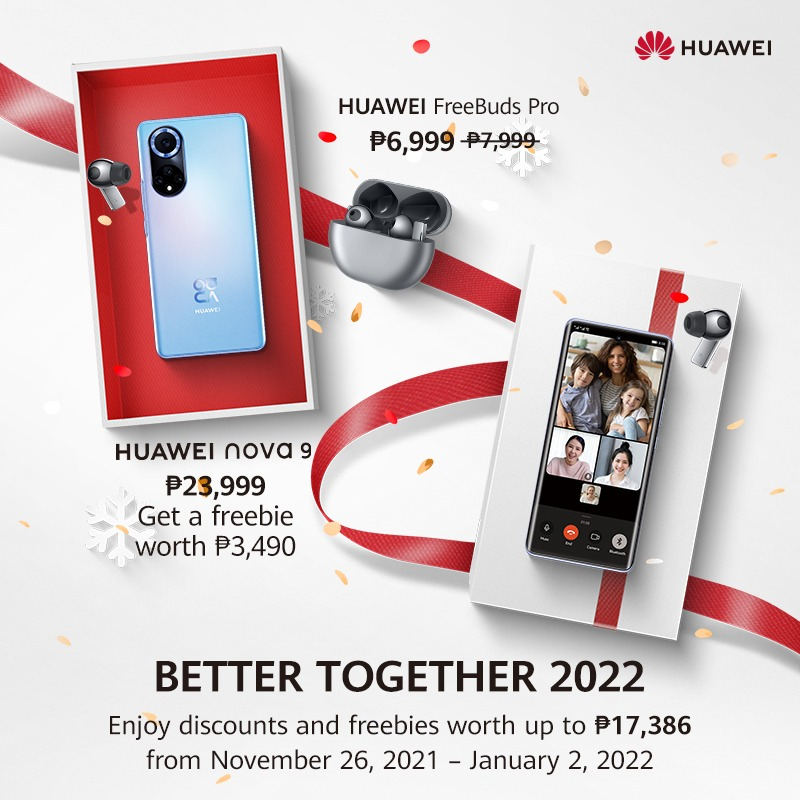 It's always during the holidays that people want to make more memories with their family and friends. As the tech-savvy generation grows up, they would want to take advantage of documenting all those moments. Good thing Huawei has two smartphones that let you take great photos for longer! You can get either the Huawei nova 8i or the Huawei nova 9 for P13,999. Whichever you choose, you get a FREE pair of Huawei Freelace worth P3,490.
If you need a pair of wireless earbuds for your long trip home for the holidays, there's the Huawei FreeBuds Pro. This one goes for P6,999 with a Freebie Bundle 2 worth P1,298. The bundle consists of a premium notebook and a Moonlight Lamp).
Get Creative with Huawei Laptops and Tablets!
Unfortunately, we only take a vacation for a few days during the holidays. This means that we still have to grind and work. Huawei can help you out with your work-from-home needs with its line of MateBook laptops and MatePad tablets.
All laptops in the HUAWEI MateBook D and 14 2021 series come with the Freebie Bundle 1 worth P3,389. That bundle consists of a tumbler and a Wireless Charging Lamp. You also get to take home a free AF30 mouse when you buy any of the HUAWEI MateBook D 2021 laptops. And if these business leaders and decision-makers aim to elevate their work from home set-up, the HUAWEI MateView GT 27" is also up for grabs for only P18,999 with Freebie Bundle 2.
If you're more on the go, then any of the MatePad tablets is for you! The HUAWEI MatePad 11 (6+128 GB), priced at P26,999, comes with a free keyboard; while the HUAWEI MatePad 11 (6 + 256 GB), retailing for P34,999, is offered with the Freebie Bundle 1. The midrange tablet HUAWEI MatePad Refresh is made more attainable with a price drop to P17,999. On the other hand, the budget tablet HUAWEI MatePad T10 comes with Freebie Bundle 2.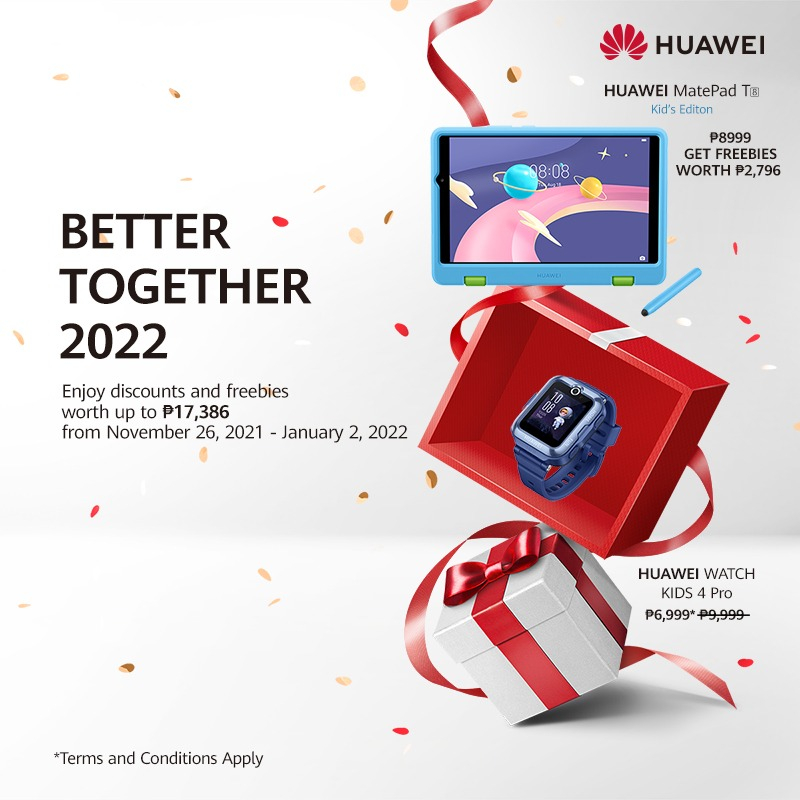 If you have children, then Huawei has gadgets are designed for them! The HUAWEI MatePad T8 Kid's Edition will surely be fun to unbox with the kiddos, especially now that it also comes with a premium notebook and Moonlight Lamp. Throw in a HUAWEI Watch Kids 4 Pro in that Christmas sock, too — now price slashed to P6,999.
Get Healthier with These Huawei Wearables!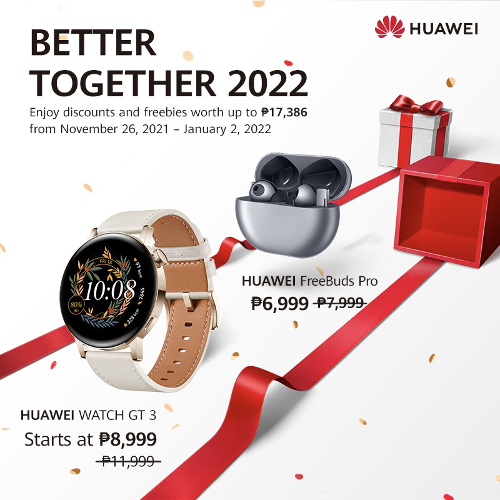 Huawei aims to help you stay fit and healthy even as the Christmas season rolls around with all the food! The company has a line of smart wearables that you can get at discounted prices. There's the new HUAWEI Watch GT 3 (46mm) for P12,999 with a free strap. You can also get the 42mm model for P8,999! If you're more into running, then there's the HUAWEI Watch GT Runner for P13,999 with a free pair of HUAWEI Freelace buds during the preorder period! Whether you preorder or not, you get a free strap and a Freebie Bundle 2. There's also the HUAWEI Watch GT 2 Pro that got a price drop to P8,999.
For more info on the HUAWEI Better Together 2022 Christmas Campaign, customers may visit the official HUAWEI Online Store or flagship stores on Lazada and Shopee. Customers may also visit aby HUAWEI Experience Store in major shopping malls nationwide to avail of the Better Together 2022 Christmas Promos. Information on HES is found on this link.