I have to be honest upfront: I would LOVE to do a full review of the Zenbook S 13 OLED. However, I feel that reviewing a laptop for less than a month is just not enough for me. Because of this, I decided to pivot and share my overall experience in using this ASUS laptop and Windows 11 for 2 weeks. It's been nearly a decade since I used a Windows laptop for personal use and I'm curious whether there's a chance that I'll go back to Windows full-time or not.
Disclaimer: I got the ASUS Zenbook S 13 OLED (UX5304) review unit on October 19, 2023. Highlight specs include an Intel Core i7-1355U processor, 16GB of LPDDR5X RAM, and 512GB of PCIe 4.0 SSD storage. As mentioned up top, I've been using the Zenbook for around 2 weeks.
Spoiled by OLED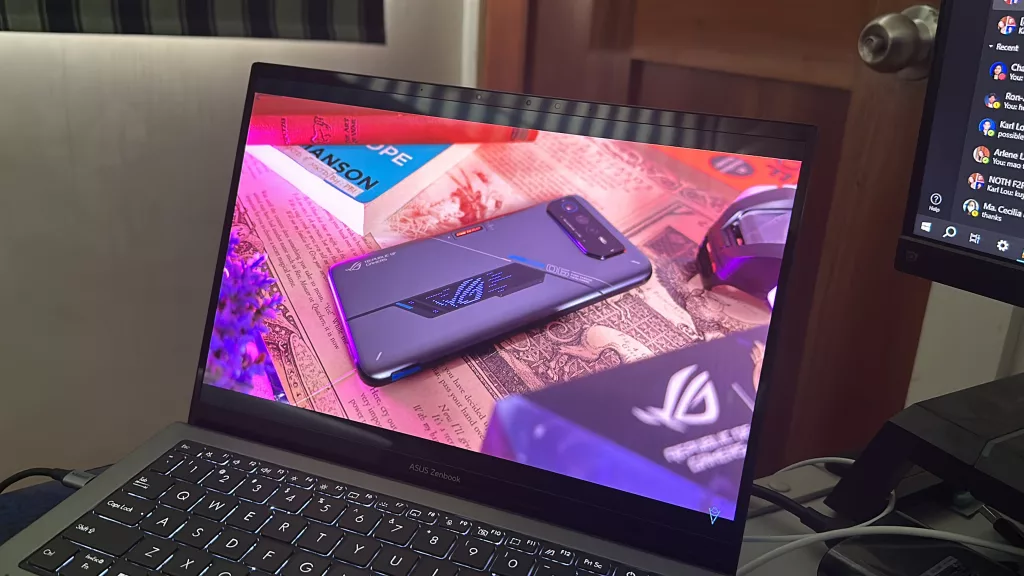 If there's one advantage that ASUS laptops have over even MacBooks, it's having OLED displays. While the recent Apple Silicon MacBook Pros use Mini LED displays (or Liquid Retina XDR displays, as Apple calls it), there's nothing quite like OLED on a laptop.
Every other laptop I used looked like it was dull at times, especially in more challenging scenarios. Thanks to the deep blacks I get with the Zenbook S 13 OLED's 2.8K OLED display, colors really pop when watching content! Even when in a darker environment, you will definitely see the OLED difference. I feel like this is the feature that I will miss the most once I return this laptop.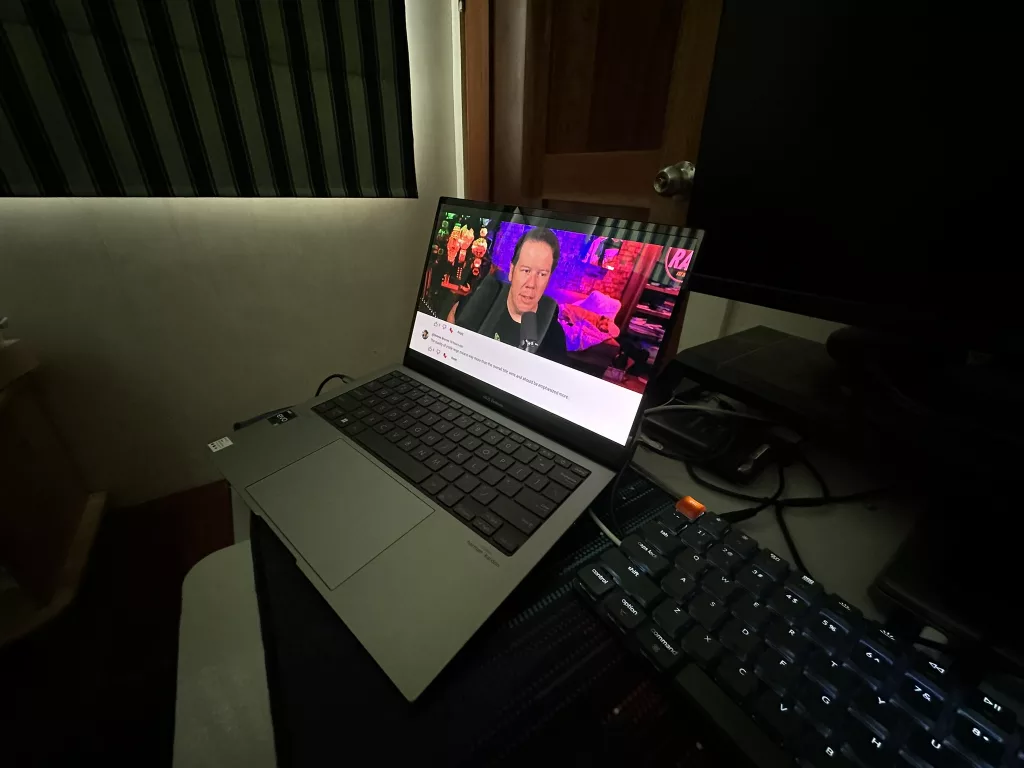 Thanks to its 16:10 aspect ratio, I am able to be more productive, especially with the (admittedly superior) window management functionalities that Windows has to offer. Speaking of Windows…
My Initial Thoughts on Windows 11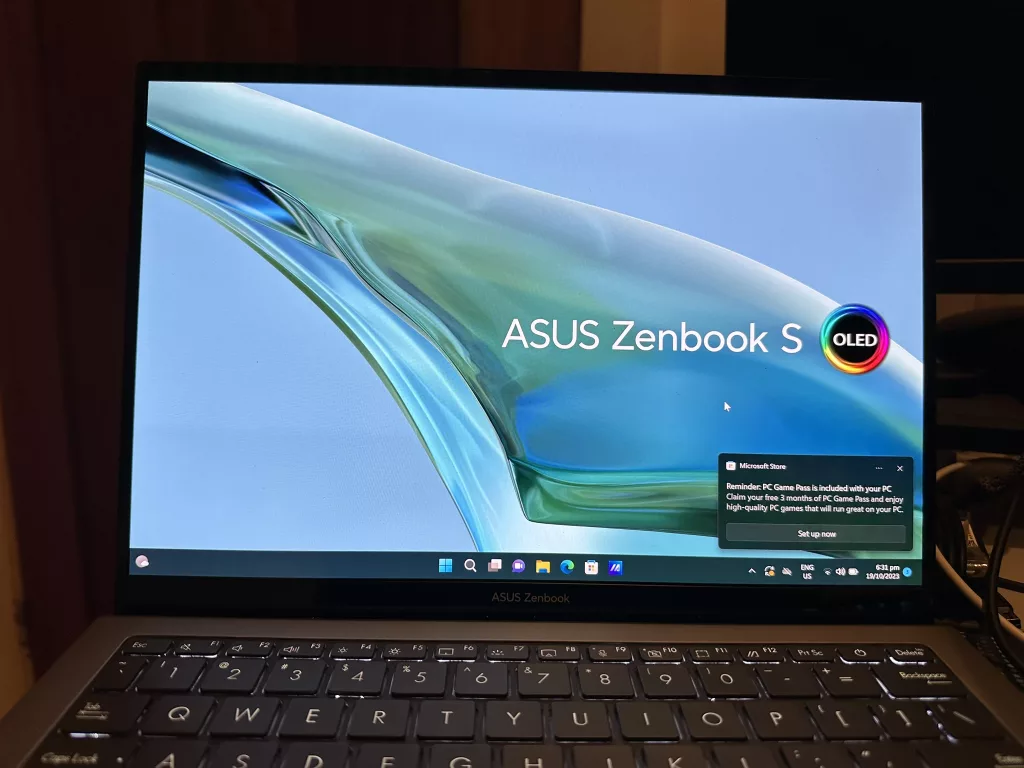 I mentioned up top that it's been nearly a decade since I used Windows for personal use. That doesn't mean I'm a total foreigner to Windows itself. This is, however, my first time using Windows 11.
My 2-week experience with the latest version of Windows is just refreshing, to say the least. While it still feels like the Windows that I'm used to, there are some modern twists to most of the UI.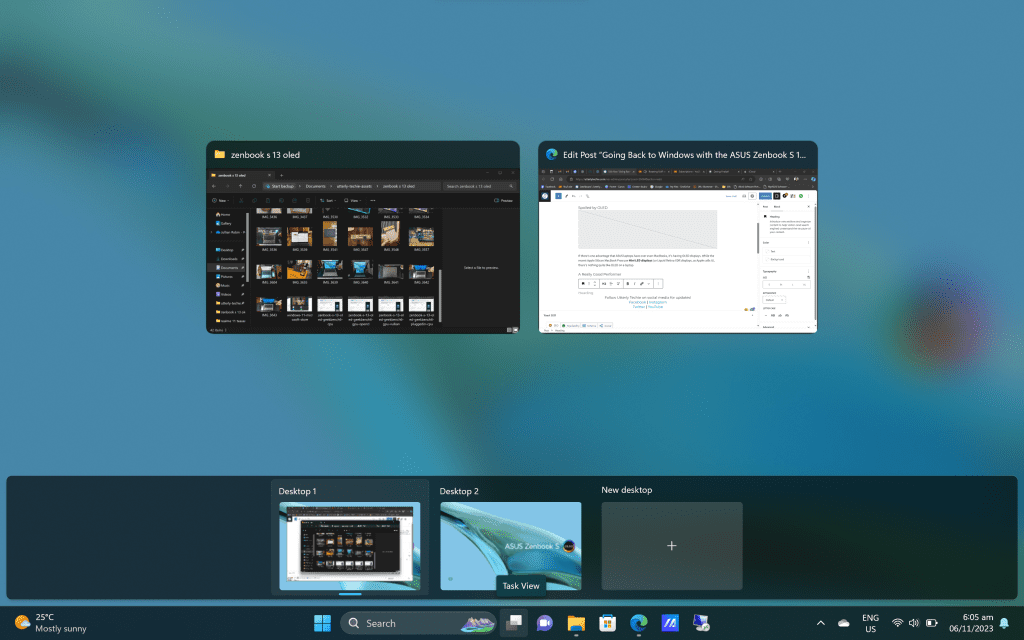 A feature I really appreciate is desktop groups. This is similar to how Linux and macOS do multiple desktops. It's nice to contain certain apps and windows on a certain desktop. As I mentioned above, I find window management superior on Windows than on macOS. Snapping windows into proper sections is just really intuitive here and continues to be the case on Windows 11.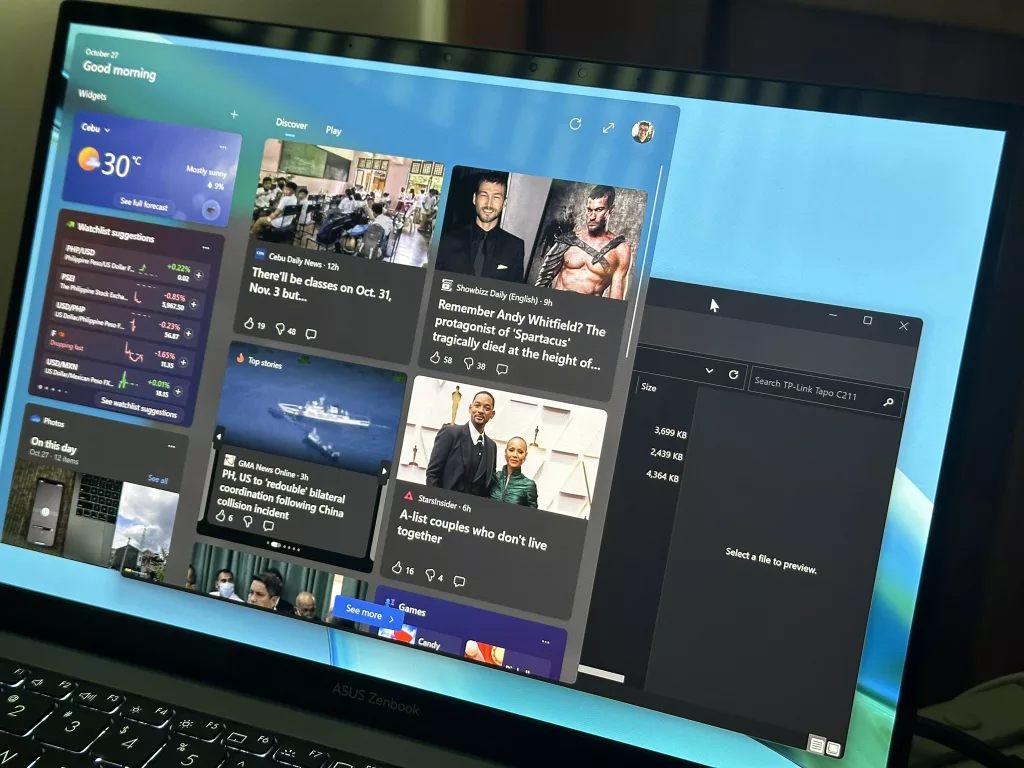 One feature that I was never really a fan of regardless of the operating system is Widgets. While it generally works on phones for glanceable information, I don't think it's as effective on a laptop. I especially don't like how Windows 11 implements this with a Widgets panel on the left side. Good thing you can remove the panel itself.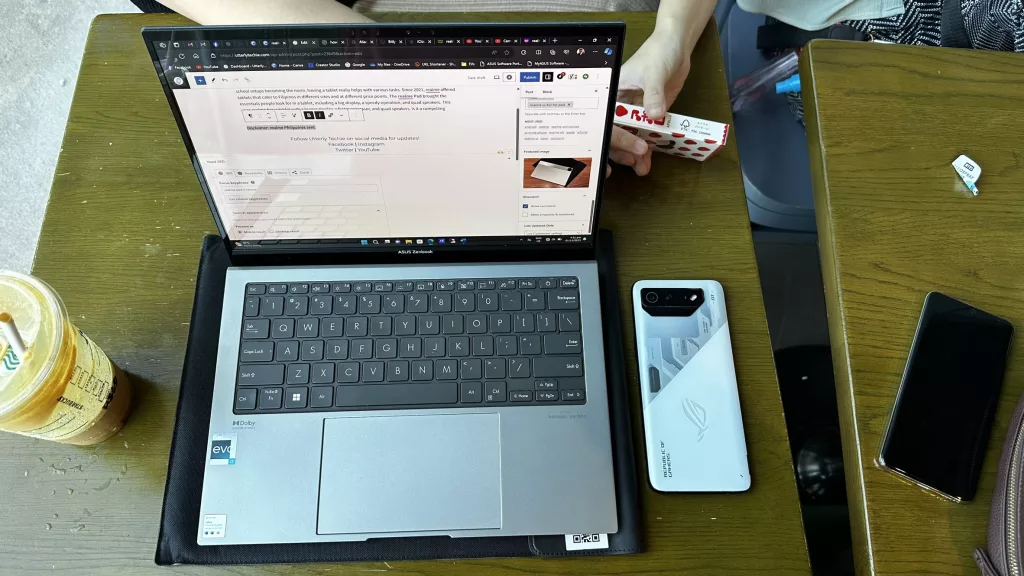 One last thing that I liked about Windows 11 is its Phone Link feature. It works in tandem with the Link to Windows app that's available on both iOS and Android. It lets you get your phone notifications, photos, and more on your Windows device. What surprised me was how much it worked well with my iPhone. While it isn't as seamless as the Mac-to-iPhone connection, I'm just glad that the functionality is there.
A Good Performer
While I was mostly okay with using a MacBook Air, one of the big issues I had during the Intel days was its performance. It was really slow and it would easily heat up when you push the number of browser tabs! With Apple Silicon, all that went away and I've never really looked elsewhere for years.
The other reason why I wanted to check out a Windows laptop is to see how far performance has come. The Zenbook S 13 OLED unit I got to use rocks an Intel Core i7-1355U processor with a base frequency of 1.7GHz. Complementing this processor is 16GB of LPDDR5 RAM and 512GB of M.2 NvMe PCIe 4.0 SSD storage.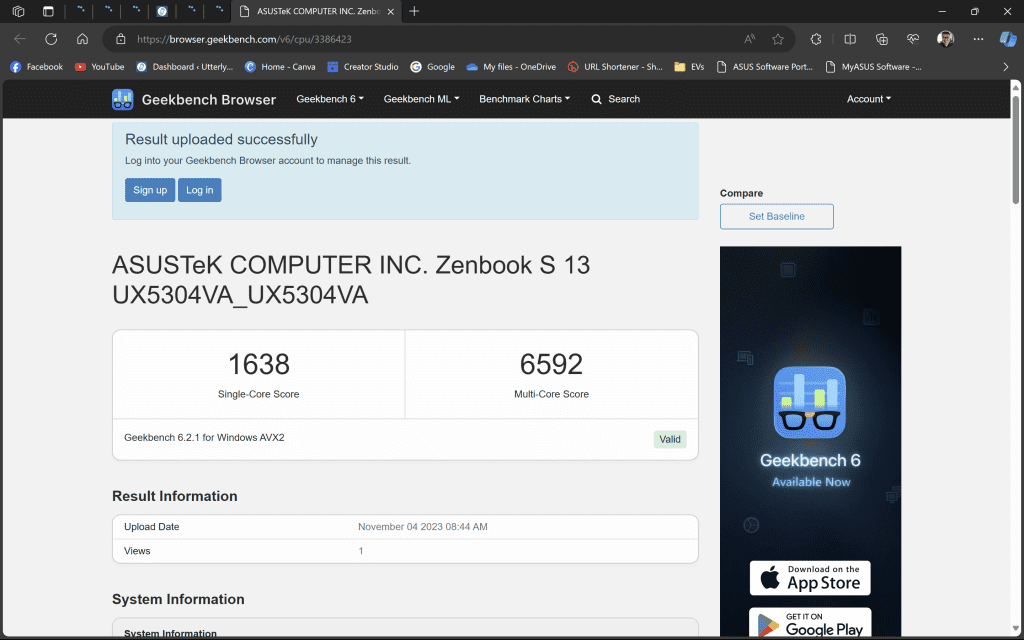 While the Zenbook S 13 OLED still pales in comparison to the M1 MacBook Air in terms of Geekbench and synthetic benchmarks, real-world performance feels closer to me. I generally use my personal laptop for writing my articles, social media, and doing my whole podcast routine. The latter involves audio recording, editing, and mixing.
After 2 weeks of use, I think that the Zenbook S 13 OLED could easily fit into my use. Adjusting to Windows won't be a big deal, but I can totally get used to it. My main beef with using this laptop is how inconsistent the performance actually is. I get more hiccups even when using multiple tabs in the Edge browser.
Another thing I noticed is that it gets noticeably hot around the center part of the bottom of the laptop. I sometimes use my laptop on top of my lap (thus the name) and I immediately feel that heat when that happens.
How's the Battery Life?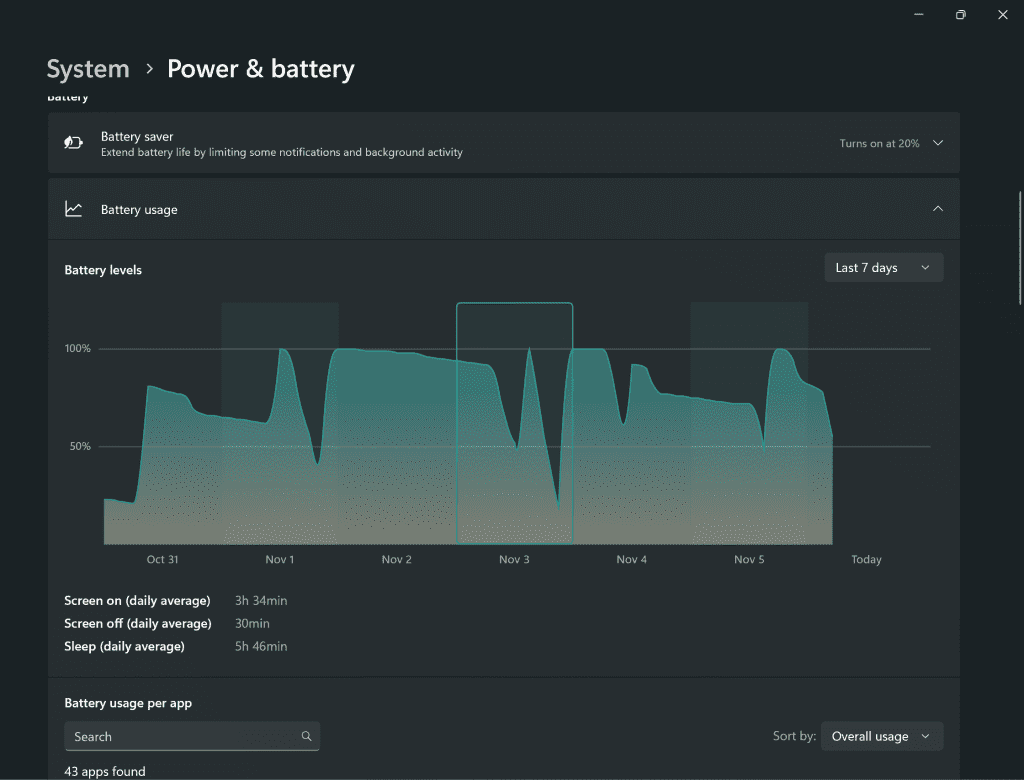 If there's one thing I expected out of the Zenbook S 13 OLED from the beginning, it's that the battery life would be okay at best. The screenshot you see up there is a snapshot of a day where I was mostly watching YouTube, browsing the web, and writing articles with at least 50% brightness. I'm sure ASUS did its best to reduce the impact of that high-resolution OLED display on battery life. I did get around 6 to 7 hours of battery life with mixed-use workloads. While that is good for a typical day for me, it is noticeably lower than what I'm already used to.
Can't Be Bothered to Optimize for Standby Time
Yes yes, my MacBook spoiled me with its insane battery life. But when you have 2 laptops that basically have similar functions and the processor is what sets it apart, I can't help but compare. One thing that laptops with processors that use the x86 architecture still haven't figured out is saving battery life when on standby. Unless I select the Sleep option before closing the lid, I expect the Zenbook to shave some battery when I'm not using it.
I am hoping and praying that the Windows on ARM ecosystem gets better because battery life will definitely be an obvious improvement.
Glad for the Windows Experience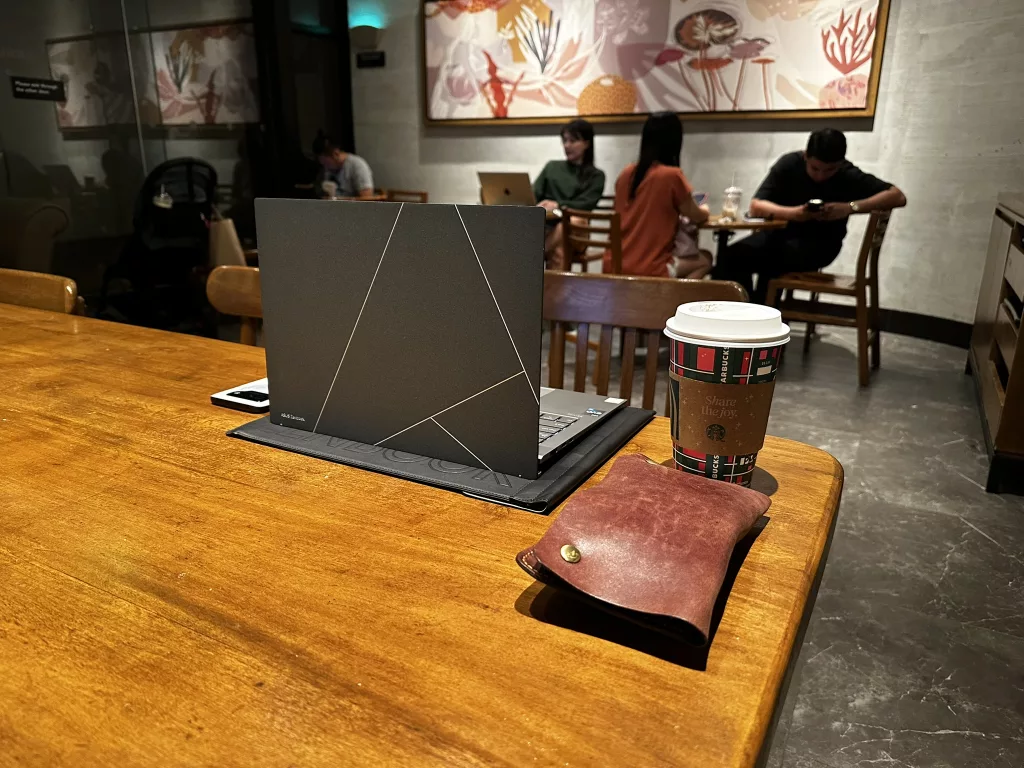 I honestly thought that I would be whining a lot when using the ASUS Zenbook S 13 OLED, especially with Windows 11. Good thing that wasn't the case at all! What really spoiled me throughout this experience was definitely this laptop's ergonomics, OLED display, and performance. The Intel Core i7-1355U really impressed me even if I need to plug the laptop into power to take full advantage of the chip.
My standout favorite is DEFINITELY its OLED display. Despite its apparent impact on battery life especially when watching videos, I just appreciate how good it looks. I almost stopped caring that the battery was slowly fading away since OLED really makes the colors pop and how deep the black levels were.
I almost forgot to mention that its thickness and weight also stood out to me. Having that much power in a laptop that's just 1 cm thin and weighs just 1 kg is just unheard of! (Only one brand really comes to mind that can come close to this.)
Ultimately, I wouldn't be switching to a Windows laptop full-time anytime soon. The experience was great and everything I expected ASUS to do well really stood out. The majority of my complaints were primarily problems that were either from Windows or from Intel though. My Windows experience in 2023 did open some cracks should certain circumstances come to pass.