Lenovo recently unveiled its newest laptop in the Yoga lineup: the Yoga Slim 7 Pro with OLED Display! In case you didn't read that product name, its standout feature is that OLED Display.
Being In Awe of That OLED Display!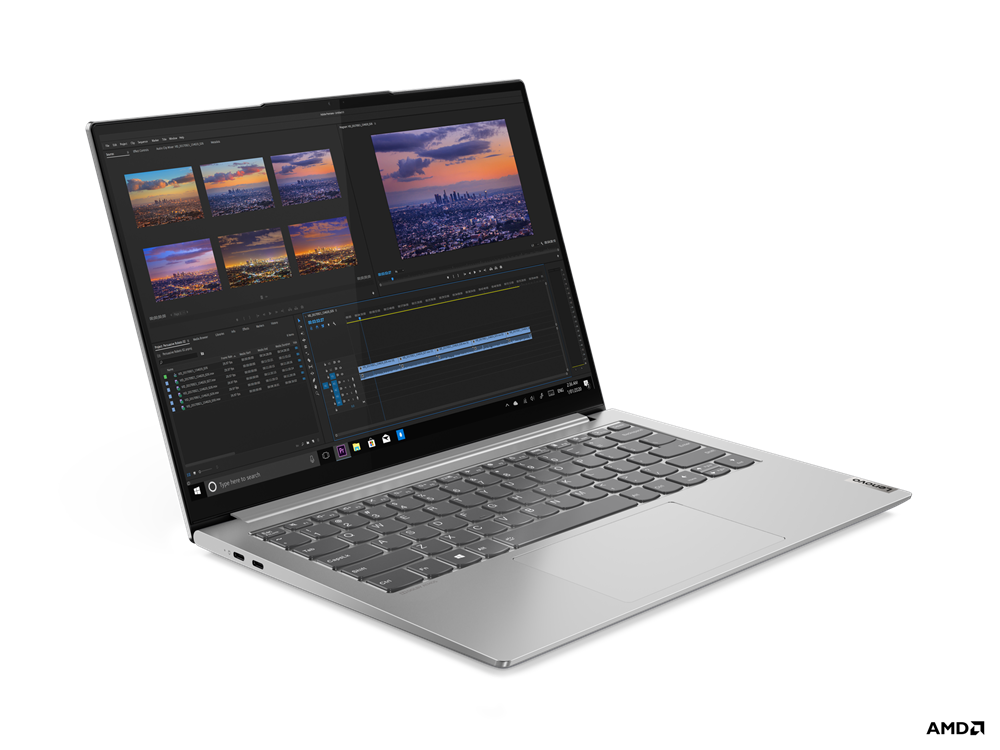 It's pretty amazing that there aren't many OLED displays on laptops. It took until 2017 for Apple to introduce an OLED display in a phone, so it's not really that surprising. This is why it's nice to see one on the Yoga Slim 7 Pro. With a 91% screen-to-body ratio and 16:10 aspect ratio, you get more space for vertical content! You also don't have worry about too much black bars with that display.
This 14-inch display uses a Samsung E4 OLED display and has a 90Hz refresh rate with 1 ms response time. Both of these technologies give you superior color reproduction and buttery smooth scrolling and animations. With support for Dolby Vision HDR, you can be sure to see more colors as well.
You won't lose out on audio quality as well thanks to two 2W Dolby Atmos certified stereo speakers that will give you a more immersive audio experience.
Slim Yet Powerful Thanks to Ryzen!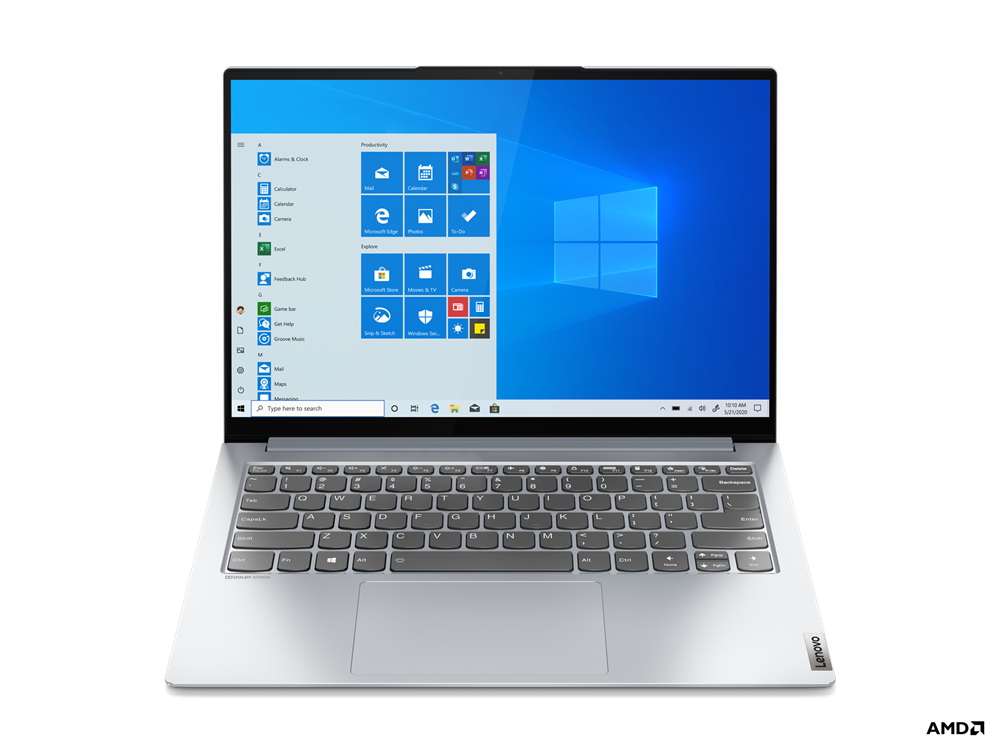 We are no longer in the days when thin-and-light laptops would lose out on performance. The Yoga Slim 7 Pro carries up to an AMD Ryzen 9 5900HS mobile processor. Its 8-core design means that you can expect performance previously seen in gaming laptops in this thinner form factor. It is also capable of up to 50W thermal design power when paired with the NVIDIA GeForce MX450. The redesigned cooling solution helps in keeping the laptop cool and quiet even in an intense gaming session!
The Lenovo Yoga Slim 7 Pro comes in a Slate Grey color and its price starts at P64,995! This laptop will initially come with Windows 10 but expect a FREE upgrade to Windows 11 once that becomes available. It'll come with 3 years of Lenovo Premium Care. This move by Lenovo gives you peace of mind that you can use the laptop for longer than most. If problems arise, Premium Care makes sure that you have front-of-the-queue and straight-to-the-experts customer support service.
Improve your Work-from-Home Life with Lenovo Go Accessories!
Alongside the Yoga Slim 7 Pro, Lenovo Philippines also unveiled their new Lenovo Go lineup of accessories. These aim to help users achieve their full potential in any line of work. Tying all of these accessories is the Lenovo Go Central software. It helps users manage and control compatible accessories from a single application.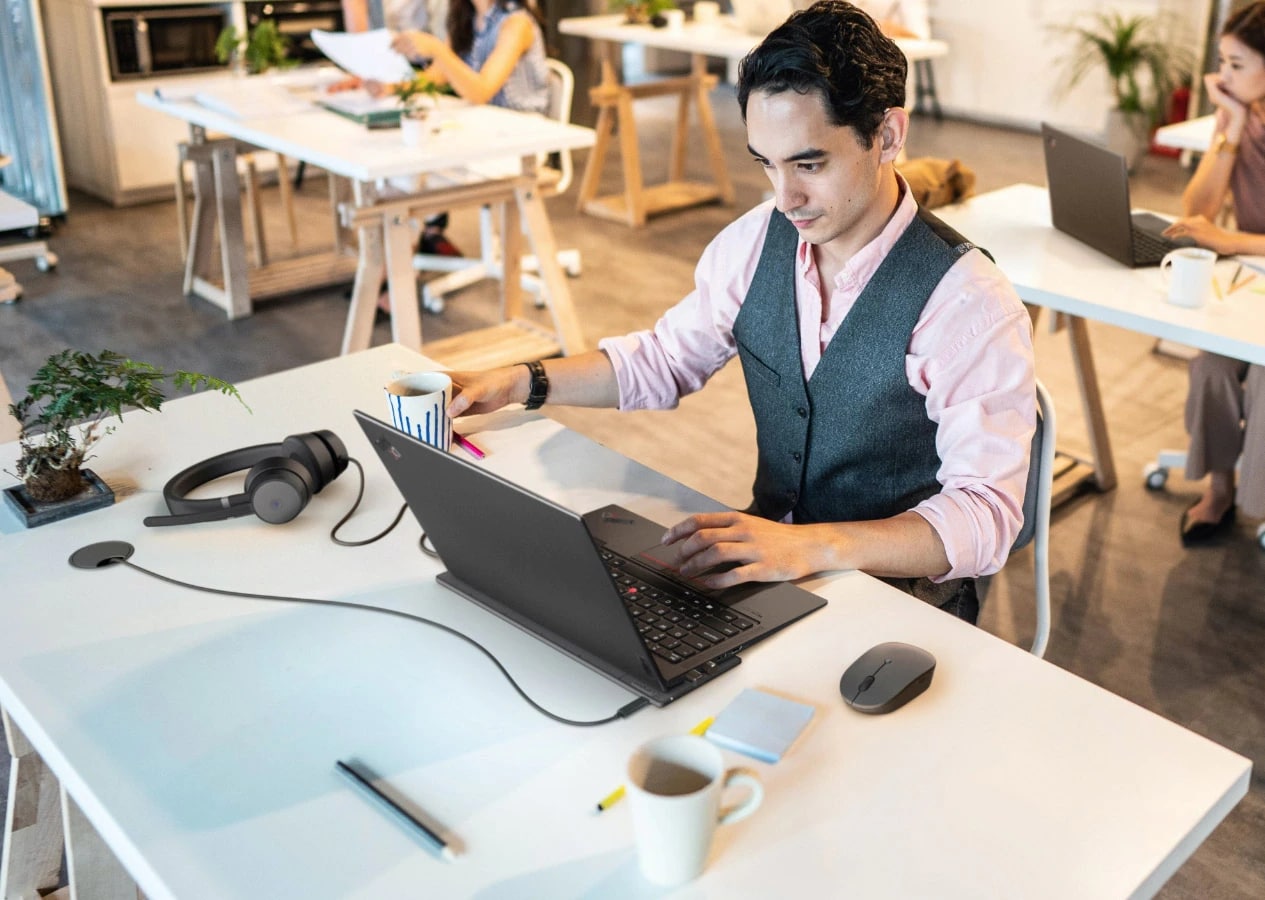 Here are the initial accessories that are part of the Lenovo Go lineup:
Mouse and Keyboard
The Lenovo Go USB-C Wireless Mouse provides a vital point-and-click functionality in a lightweight and travel-friendly solution. You can use this mouse up to three months with its precision blue optical sensor that is able to work on almost any surface.
For users that prefer a more ergonomic mouse, there's the Lenovo Go Wireless Vertical Mouse. It has a comfortable UV-coated cork material that is easy to wipe and clean. You can count on it to have precise pointing accuracy thanks to its 2400 dots per inch (DPI) sensitivity. It also has six programmable buttons for your preferred settings.
The Lenovo Go Wireless Split Keyboard has a tactile key feeling with vertical tenting for more natural typing and a negative tilt to reduce wrist stress.
For people who need a number keypad for heavy spreadsheet use, there's the Lenovo Go Wireless Numeric Keypad. It's highly portable and has rechargeable batteries.
Power
If you need the flexibility of wireless charging for devices that don't have it, then the Lenovo Go Wireless Charging Kit is for you! It operates on a unique Power-by-Contract (PbC) patented technology that is capable of wirelessly charging 13" or 14" laptops.
There's also the Lenovo Go Wireless Mobile Power Bank that has a 10,000 mAh battery capacity. It has support to charge up to 30W of devices: one through Qi wireless charging, and two via USB-C.
Audio
If you don't want to use headphones all the time for work, then the Lenovo Go Wired Speakerphone is for you. The speaker phone works well with Microsoft Teams and includes two omni-directional microphones for beamforming and far-field pick-up to improve voice clarity.
Don't worry if you really prefer a headset, because there are two options for you! Both the Lenovo Go Wired ANC Headset and the Wireless ANC Headset deliver the same outstanding on-ear audio experience in two different packages. The wired one supports both USB-C and USB-A and the wireless one supports dual Bluetooth connectivity for simultaneous pairing with two devices. Like the speakerphone, both support Microsoft Teams. They also offer advanced active noise cancellation with a customizable audio experience through software.
If you're more of an in-ear kind of person, then there's the Lenovo Go ANC In-ear Headphones. It works with any device with USB-C, and brings the same high-quality active noise cancelling audio experience in a highly portable in-ear package. There's also an ambient "talk-through" mode at the tap of a button similar to transparency mode on other earphones.
If you happen to buy multiple Lenovo go devices, then you can't go wrong with the Lenovo Go Tech Accessories Organizer. It protects multiple devices with compression-molded compartments and splash-proof zippers. It has dedicated sections for the mouse, power bank, earbuds, and power cable. You also get space for a smartphone and pens, so everything has an easy-to-reach place.
All these devices will be available in all Lenovo Exclusive Stores and authorized resellers, and in the Lenovo Yoga Flagship Store in Lazada. For more information, follow Lenovo Philippines's official Facebook page or visit www.lenovo.com/ph.